Crypcore-The First dynamic coin in the crypto currency market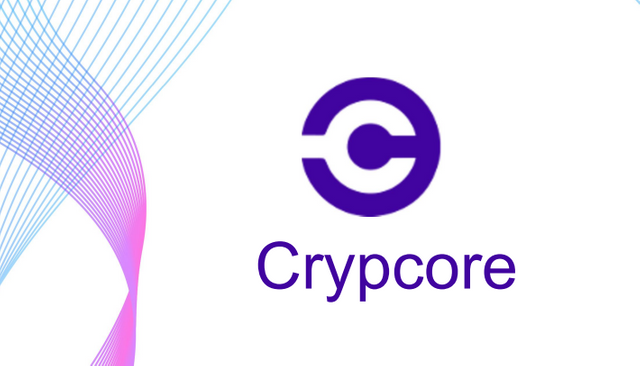 Crypcore is a project which is looking to explore the possibility of creating a stable coin that is going to be crypto collateralized and combines pure crypto exchanges, a solvency system and the cryptonote protocol. The stable coin created by Crypcore is going to help eliminate wild price swings which have been a problem in the crypto market for quite some time now. Price volatility has been present commonly in Bitcoin, the first-ever crypto and solutions have been put in place but they are not good enough.
Stable coins that are being created to solve price volatility are pegged to another asset which has a stable value, for instance, fiat currency in banking institutions. Crypcore is, however, going to introduce a stable coin that is going to be completely different in that it is going to be collateralized by other digital assets, eliminating the fiat currency from the equation. The Crypcore is going to have some amazing features to offer to its users which I am going to share with you in this article.
Crypcore features and services.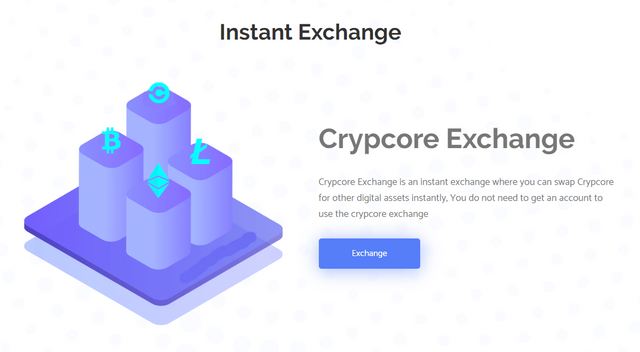 Stable price.
Crypcore is going to leverage the crypcore exchange to maintain a stable price although the price will change occasionally based on a transparent price determining the mechanism. The price stability of the Crypcore stable coin is going to be of great importance to traders because they will be able to plan their strategies long term with the fear of abruptly losing funds being eliminated.
Exchange for another cryptocurrency.
As a participant of the Crypcore ecosystem, one will be able to purchase any currency which is stable and rated highly on the market having worth than 100 million USD on the investing.com market. The Crypto stable coin is going to have a wide range of usage by holders which will hopefully help the Crypcore platform achieve mass adoption within a short period of time.
Transfer to the debit card.
On the Crypcore exchange, they will accept a debit card to purchase cryptocurrency which is going to require complete verification. The entire procedure is going to be very secure and very confidential which is a guarantee that no fraudulent individuals can be able to access your funds at any time. Such a guarantee of security and privacy is what should encourage you to become a part of this innovative platform because those are features that lack in majority of crypto platforms lately.
Accessible.
When you become a part of the Crypcore ecosystem, you are going to have a variety of wallets that will make it easy to navigate around the platform. The multiple wallets are also going to assist the Crypcore ecosystem to attract a wide range of users such as developers that have worked with Monero who will find it extremely easy to integrate Crypcore into their projects.
Protection against fraud.
Crypcore is planning to integrate three layers for security and strict checking policy for each transaction. Security is going to be a top priority on Crypcore and to further prove so, the platform has guaranteed protection from various reputable companies around the globe. I don't know about you but I cannot wait to become a part of the Crypcore ecosystem.
Anonymity.
The Crypcore project is born of Monero, a crypto asset that is highly ranked in terms of privacy on the crypto market. To ensure complete anonymity, Crypcore is going to integrate ring signatures, confidential transactions and stealth addresses.
CONCLUSION.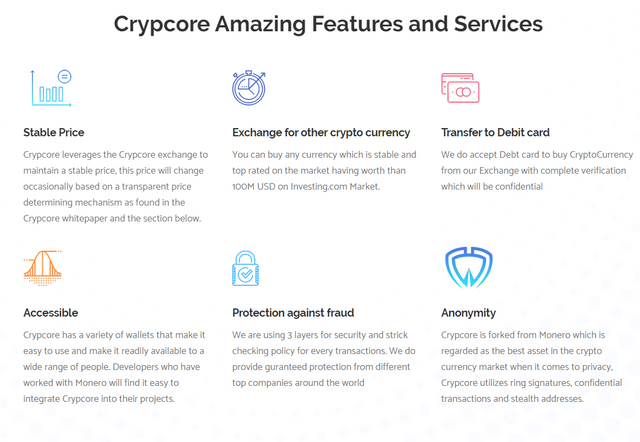 Become a part of the Crypcore ecosystem and enjoy the above-mentioned features and services while getting to trade in a unique stable coin. Check out more about Crypcore from their website to know more about the innovative project.
For more information, please visit:
🔗 Website: https://crypcore.com/
🔗 Whitepaper: https://crypcore.com/crypcore_whitepaper_version_1.pdf
🔗 Telegram: https://t.me/crypcore_group
🔗 Facebook: https://www.facebook.com/Crypcore-106479097438958
🔗 Twitter: https://twitter.com/crypcore1
🔗 Reddit: https://www.reddit.com/user/crypcore
🔗 Bounty: https://t.me/https://t.me/Crypcore_bounty
══════════════════════════════════
★ Author: jamesndungu1
★ BitcoinTalk Profile: https://bitcointalk.org/index.php?action=profile;u=1856049
★ Images credited to Crypcore