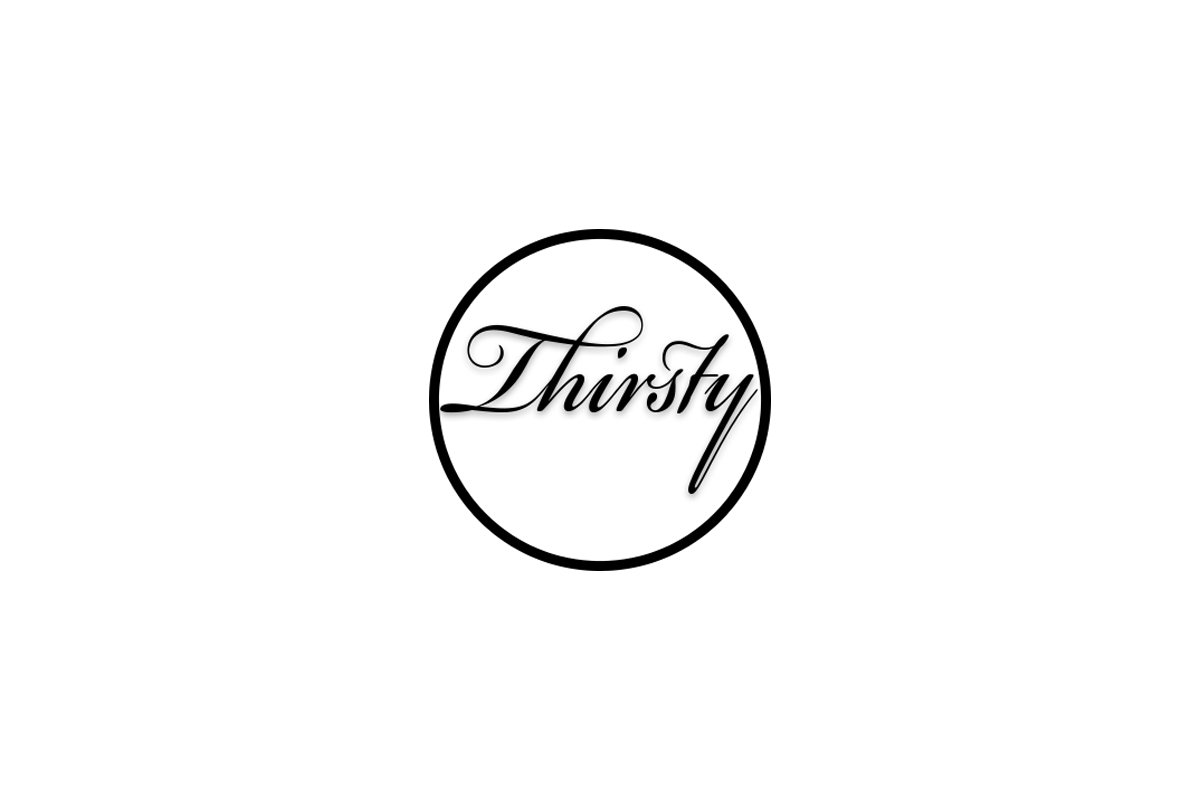 Our much anticipated crowd sale event for our #THIRSTY Digital Asset, a corporately managed Bitshares UIA, begins today.
Our aim is to raise $300,000 in capital to further fund our projects moving forward. Regardless of if we hit our goal, we will be releasing our flagship music application in coming weeks.
Overview
Thirsty Entertainment is issuing THIRSTY digital assets on October 1st. Early investors have the opportunity to receive a share in 25,000 THIRSTY digital assets during a THIRSTY crowd sale (March 1st – March 31st).
THIRSTY digital assets allow share holders to vote on director proposals and receive dividends each financial year. Investors also receive a copy of our private business proforma.
Early investors will receive three stock splits before assets are issued on October 1st. This means that 200,000 THIRSTY assets will be available to those who invested during the THIRSTY digital asset crowd sale.
The percentage of shares issued to an early investor is dependent on the overall amount they contributed during the crowd sale campaign.
Those who participate in the crowd sale will be able to see the amount they have contributed and the overall amount contributed to date. Once the crowd sale is complete (April 1st), investors can view the amount of assets they will receive on October 1st from this website.
In order to register your account you must have an OpenLedger account. You will not be able to register for the crowd sale without an OpenLedger account. This is due to the fact that THIRSTY assets will be distributed into your registered OpenLedger accounts.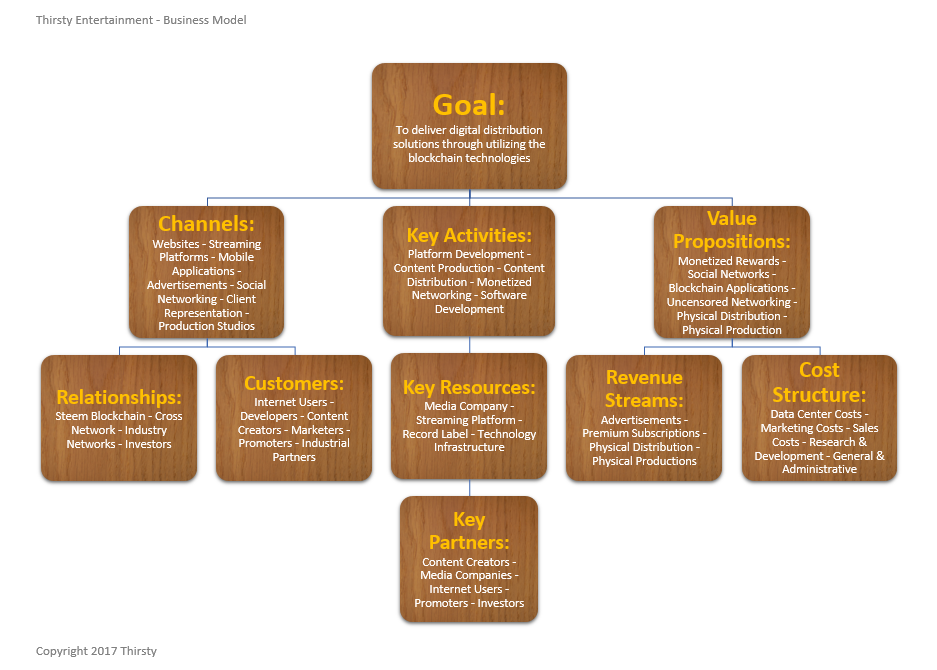 Our company business model
Interview with our founder & CEO, Thomas Kohi
THIRSTY Asset Schedule (2017 – 2018)
Initial Shares Issued:
100,000 (THIRSTY) User Issued Assets created on the Bitshares network
30% employees (30,000)
30% founder (30,000)
25% co-founder (25,000)
15% seed investors (15,000)
+20% Crowd Sale (25,000)
Employee Share Incentive:
2000 (THIRSTY) UIA is to be split among employees each week, excluding the founder and co-founder.
This share incentive is to set to expire following THIRSTY Crowd Sale (March 30th), at which point all staff will be paid a regular wage.
Crowd Sale Issuance:
An additional 25% (25,000 THIRSTY) UIA are to be created and issued to investors during crowd sale (1st March – 31st March).
Amount issued to each investor is decided upon the percentage they contribute during the funding round (% of 25,000 THIRSTY = % of total capital contribution).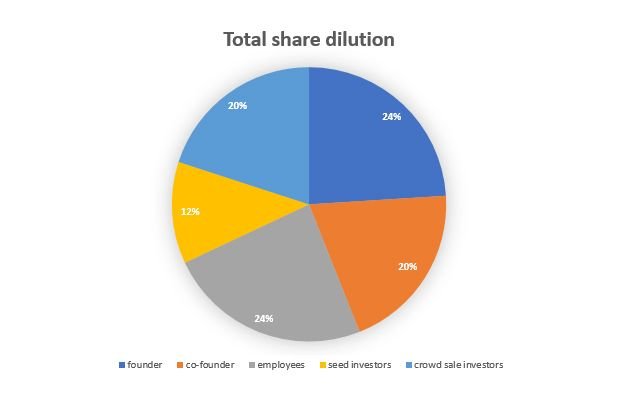 Stock Splits:
There are to be three stock splits before THIRSTY digital assets are issued to share holders.
Each split is to occur once every two months starting one month after the initial crowd sale issuance before public issuance on October 1st.
– April 30th: 125,000x 2 = 250,000
– July 30th: 250,000 x 2 = 500,000
– September 30th: 500,000 x 2 = 1,000,000
Initial Public Offering:
All 1,000,000 assets are scheduled to become available on public exchanges on October 1st 2017. All THIRSTY asset holders will be issued their due amounts on October 1st and will be free to trade their assets freely.
Future Asset Issuance:
Future asset issuance is to be decided by a Board of Directors to be appointed by majority shareholders, whom will be appointed before the announcement of our first annual earnings report (June 2018).
Market Liquidity:
To ensure liquidity on our October 1st issuance, Thirsty Entertainment will be funding THIRSTY with $10,000 AUD.
Capital Allocation
The funding raised during this crowd sale is to be delegated toward our company sectors. Each sector has been delegated a percentage appropriate to its immediate priority*.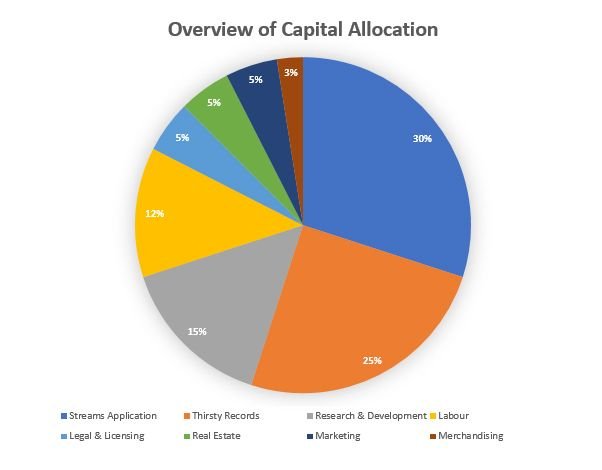 Streams Application

30% of our capital is to be dedicated to our music streaming platform, built on the Steem blockchain, as this is our most innovative project in 2017. The development of this platform is crucial to the growth of our business as it provides a distribution network for our music label and others, and also profitable revenue streams for our business.
Thirsty Records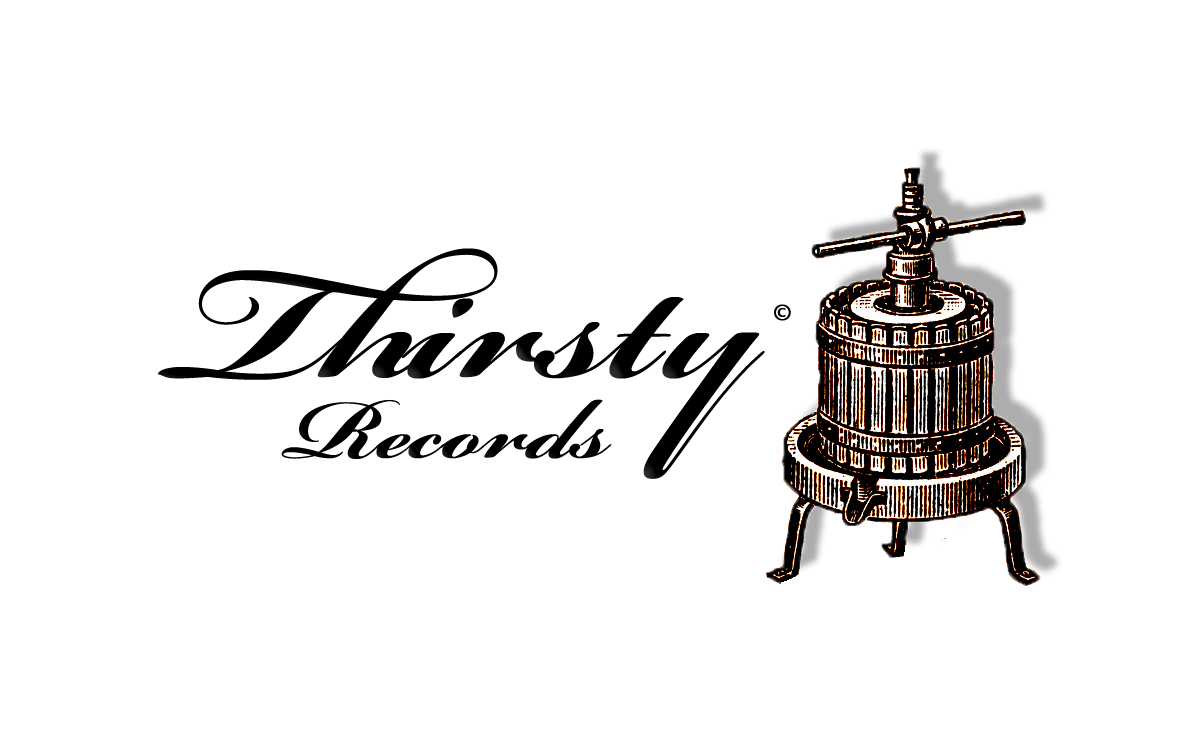 25% of our capital is to be dedicated to our music label. Thirsty Records harnesses Blockchain applications to distribute musicians, generating revenue through the production services. Thirsty Records' Studios are based in each of our global headquarters, the first of which is based in Townsville, Australia. Each studio contains state-of-the-art production equipment and software.
Research & Development
15% of our capital is to be dedicated to research & development of new technologies. With the launch of our first streaming service, our next goal is to create multiple networking platforms for different types of media distribution, such as video, text, and games. Our research & development team will be responsible for growth into other market sectors.
Labour
12% of our capital is to be dedicated to our staffing and wages. Until our revenue streams are producing sustainable income, we will be paying our staff wages with 12% of the capital raised during our crowd sale. This also includes the salary of employees yet to join our team, and any excess funds not spent go back into our capital fund to be spread across our other sectors. Our staff are very important to our company's success.
Legal & Licensing
5% of our capital is to be dedicated to the ongoing upkeep of our legal responsibilities as a registered company. This allows us to pay for legal consultancy and for us to pay for licenses.
Real Estate
5% of our capital raised will be dedicated to global expansion. The funds allocated to real estate allows us to base ourselves in different cities.
Marketing
5% of our capital is to be allocated to marketing. Marketing is a very important part of business, and as such, a marketing team will continue to advertise us through different outlets. Funds will be used to further market the Thirsty brand.
Merchandising
2% of our capital is to be allocated to merchandising. Merchandising is a small part of our business model and helps market our brand. As such, a small amount of capital will be dedicated to merchandising.
*Capital contributions are subject to change as our projects develop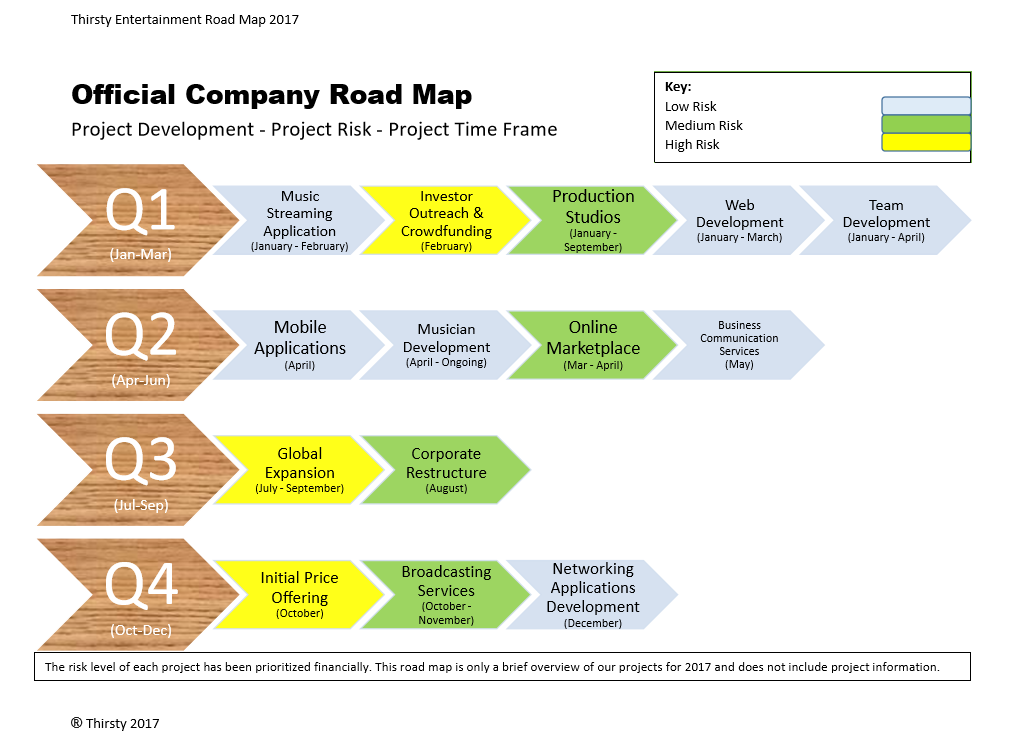 How to Participate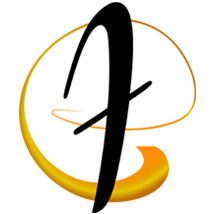 Register for our crowd sale:
https://thirsty.online/product/crowd-funding-campaign-for-thirsty-entertainment/
Earn 5 STEEM by supporting our Thunderclap campaign:
https://www.thunderclap.it/projects/53155-thirsty-crowd-sale
---
Looking for a job?
We are currently looking for enthusiastic & passionate people to join our team.
For more information, please forward your expressions of interest to contact@thirsty.online
---
---
Thirsty merchandise now available in our online store!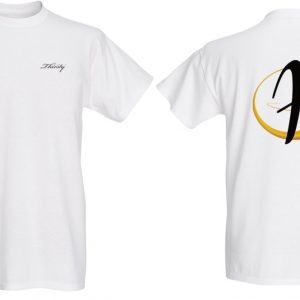 https://thirsty.online/shop/
---
Follow our Social Media feeds for future updates
Facebook: https://www.facebook.com/thirstyofficial
Twitter: https://twitter.com/ThirstyOfficial
Medium: https://medium.com/@contact_35388
Linked In: https://www.linkedin.com/in/thirsty-entertainment-69ab1b137/
Google +: https://plus.google.com/u/0/110699929321675267115
Youtube: https://www.youtube.com/channel/UCbx3Spjr8TemnVab0Qpdo7g