As blockchain software applications steadily stamping its technology through out the financial aspect in doing business. Democratizing Venture Capitalism or DCORP is spearheading the campaign of making it the world's first decentralized derivatives exchange. People from the crypto world should not let this opportunity passed. A lot of potentials that are indeed in store for businesses that are bracing for these new standards of financial system platforms.
So what exactly is DCORP? It is perceived to be the very first decentralized derivative exchange. The whole ecosystem will revolve around Ethereum blockchain platform as it is where tokens and smart contracts do their respective work. With all the tokens that are evolving in Ethereum platform, it ought to have different values. Values that the tokens represent in conjunction with its respective real-world applications.

Basically DCORP is a trading platform for tokens and other popular cryptocurrencies using Ethereum blockchain platform and smart contracts. Traders can take advantage of the different features of what DCORP has to offer. Ranging from decentralized leverage solutions, decentralized smart contract risk hedge products as well as future options and speculations that are redefined for the blockchain. It will be the next-generation blockchain based future and option trading platform. It will be simple and easy to use low cost trading application for users to appreciate and be always positive with the experience of using it. Using Ethereum as its base blockchain platform, rest assured that DCORP is immutable, secured, transparent and zero downtime ledger operation. ERC20 compliance tokens will be seamlessly tradable under DCORP exchange platform for faster executions and order completions.
Comparisons to other Decentralized exchanges
Centralized cryptocurrency and token exchanges are often compromised with different DDoS issues and some are not as reliable and secured. Remember Mt Gox? Anxiety builds up specially for traders that rely so much on their assets from trading. These are the reasons why decentralized trading platforms (DeX) were starting to pop up. Several pioneer DeX are NxT and Bitshares. Just recently Waves DeX add to that category and Komodo DeX is waiting in line. So how is DCORP differ from all of these current and upcoming DeX ? First of all, as mentioned earlier DCORP is an ERC20 compliance so it will initially support tokens that are being catered by Ethereum blockchain. Naturally it will operate under the supervision of a smart contract, basically it is autonomous. Then it will allow multi-token derivatives that will enable it to spread to lower risk circumstances. It will have a very unique and clever model of ascending stakes thus maximizing leverage in an anonymous environment. Hansco Leek, one of the board member and with a role of Service Manager laments:
Bringing derivatives into blockchain is the first of its kind and DCORP would operate as that to its trading platform. In our course of developing DCORP , we did consider Nxt platform but instead lead us to choose Ethereum platform for its smart contract exposure and our developer are used to Solidity which is the programming language for smart contract in Ethereum platform.

DCORP is about to start a Crowdsale
Folks, you will be able to support this great project and be one of the early bird investors to DCORP. Crowdsale will commence on the 1st day of June and to spice up that event with so called Angel day , participants will have an extra DRP tokens for every ETH being given up. But as days go by lesser bonus will be received. Take a reference from the image below so that it will guide to how much you and willing to give and when is the good time to do it.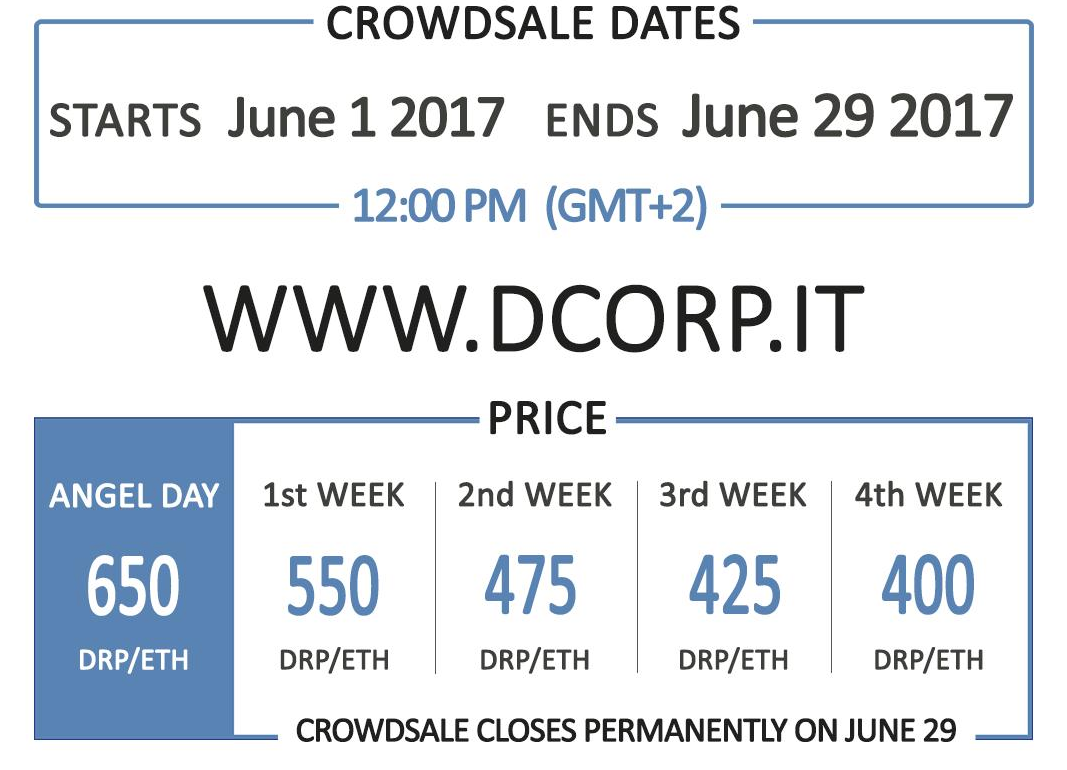 Exciting time ahead for tokens that are Ethereum-based , as holders will be able to track down the values of their assets and readily trade it for their convenience. DCORP has the security, robustness, faster executions and immutability of the Ethereum blockchain and different reputable financial institutions are looking at this technology to be able for them to implement it with what purpose it has to offer.