Dear Steemers,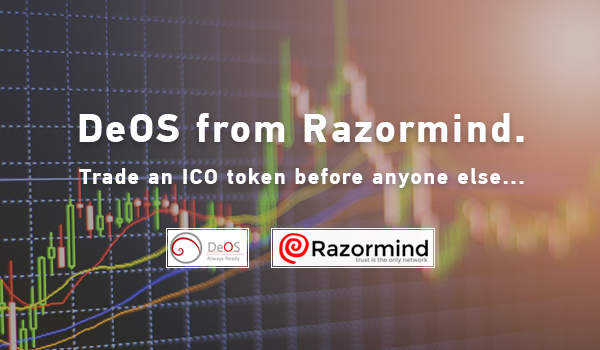 OpenLedger, CCEDK, ICOO and the rest of the decentralized conglomerate are pleased to offer the DeOS as open asset OPEN.DEOS from Razormind available for pre-launch trading on OpenLedger.
What is DeOS

After just one week, Razormind's crowdsale for its blockchain powered DeOS (Decentralised Operating System) raised 2,947 BTC ($1,936,031) in exchange for DEOS tokens, the platform's provisioning currency.

DeOS is a global public blockchain as a service, which will allow users to securely register their assets, identities, auditable records, data, and run smart contracts without the pay-as-you-go "gas" model as with Ethereum, said a statement.
OpenLedger has access to a limited amount of DeOS coins, and will therefore be making OpenLedger IOU asset OPEN.DEOS available for trading in selected markets.
A limited amount of 50 000 OPEN.DEOS (at launch time possible to be withdrawn direclty to your DeOS wallet) made available next 48 hours at initial rate 1000 DeOS at 1 BTC, although Razormind site have change to next level 500 DeOS at 1 BTC.

It means with the subscription fee of 4% deducted an amount of 960 OPEN.DEOS will be sent for every 1 BTC ordered.

First come - First served offer!

You are always welcome to ask how much is left at e-mail:ronny@ccedk.comOnce DeOS coins are released at estimated launch time the same IOU asset (OPEN.DEOS) currently trading during pre-launch will become freely transferrable and withdrawable. You will also be able to make DeOS deposits to OpenLedger at that time.
Please remember - DEOS is not meant as an investment vehicle or any form of security.

More about Purchase Terms as found on http://razormind.co.uk/crowdsale
THE AVAILABLE TRADING PAIRS FOR DEOS TOKENS ARE AS FOLLOWS:
Subscribe to ICO Prelaunch on CCEDK here

NEWS:
For the latest news and updates please follow us:
ICOO Social Networking
Facebook https://www.facebook.com/icooio/?fref=ts
Twitter https://twitter.com/icoo_io
LinkedIn https://www.linkedin.com/company/icoo---the-official-ico-pre-launch-token
Website: https://icoo.io