Three Years, No Guts, All glory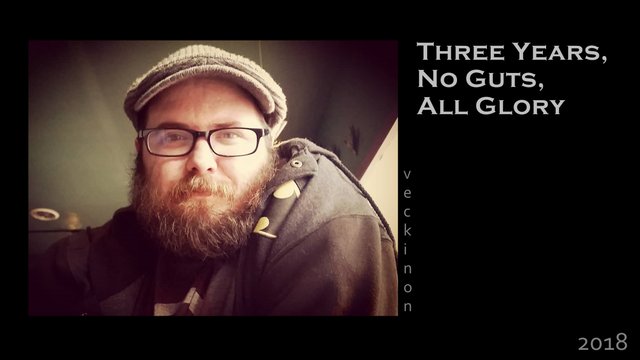 It just so happens that three years ago today, I was sitting in a hotel room in Seattle, both unbelievably scared and completely ready to have my guts cut out the next morning. When I think back on it, even the memory of how I felt and the desperate situation my health was in at that time can be a bit overwhelming.
Since having my large intestine and rectum surgically removed that day, I get yearly MRI's to check for evidence of Crohn's disease spreading to my small bowel (assuming I do not become symptomatic before that time).
Despite the fact that I have not had any Crohn's symptoms since my surgery, I still get very nervous and a bit emotional when my yearly MRI approaches. Being asymptomatic does not necessarily mean that there is no damage being done to your digestive system with Crohn's disease. I have already learned this and don't need a reminder.
So, earlier this week, I went in for my yearly MRI. I didn't tell anyone, save for my partner, Kim, that it was coming up. I prefer not to get anyone's hopes up. I went and laid in that clamourous and cramped little white tube.
"Hold your breath." It would say.
I would hold my breath for so long I would almost start to panic. Worrying that I would start to jerk about, ruining the technicians work and lengthening the process.
"Relax."
I would try. But, while quickly catching my breath, all I could think about was how I was going to tell my family my disease had returned if the results were not favorable. That sad look that would fill their eyes, while at the same time they would nervously spout every cliche variation of "It's gonna be alright, you'll beat this," that they could muster. I didn't want to deal with that.
This went on for what felt like all day--though it was only maybe 30 minutes.
"Hold your breath."
Try not to panic.
"Relax."
Panic.
When it was over, the technician helped me up and optimistically said, "Well, I'll see you next year."
"Yep. Thanks" I said.
"I hope it's not sooner." I thought to myself.
My follow-up appointment with my doctor is not until next week and I wasn't sure if I would get the results before then.
But, I did get my results yesterday. And what do you know? One more year of remission! I have no words for how grateful I am.
Best wishes,
@veckinon