Hello my little mozzarellas flowers :)
Today I'll write a recipe for cauliflower "dough" and talk a little bit about toppings I put on it to look like a pizza. I've found this recipe a few years ago and totally forgot about it. 2 days ago I bought cauliflower and wanted to make cheese cauliflower recipe but I stumbled upon this recipe so I changed my mind. All of the ingredients are right with my LCHF or KETO diet.
I am so happy that I finally made this recipe because when I found this recipe again I remembered how delicious it was last time and how much my mom and my friends liked it. So I just had to share it with you. I realized that my Steemit account has slowly starting to become my health guide. Well, that's awesome!
First, let me tell you something about this recipe and some nutrient facts. Then we will go through ingredients, time of preparation, steps and a question, of course.
---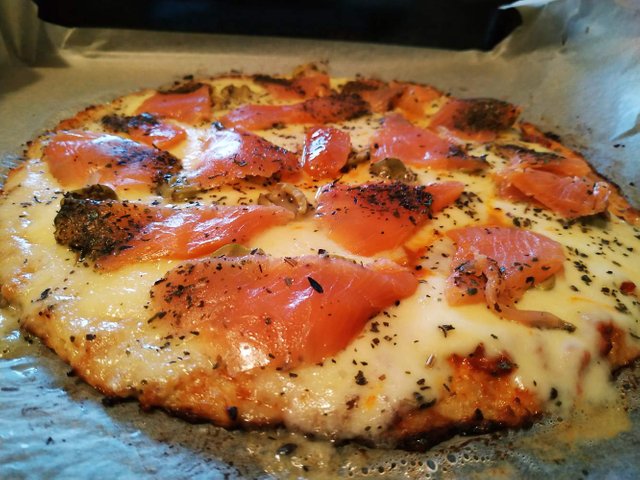 ---
WHY DID I CHOOSE THIS RECIPE FOR TODAY + HEALTHY FACTS?
Well, I was sick for the last few days, had the flu so I wanted something healthy but also very simple to make. As I said, I had cauliflower in my fridge and I've stumbled upon this recipe so it was convenient for me to do it. Let me write about those healthy facts I researched for us.
---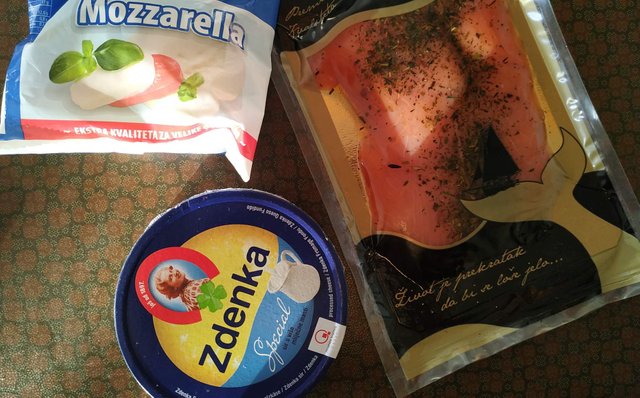 ---
SALMON
I love salmon a lot and I'm so sad it tends to be expensive sometimes. You can fry it with chia seeds, eat it raw, inside sushi, have a salmon soup, or make a sandwich out of it.
Nutrition facts (on 100 g):
200 cal
13 g of fat
0 g of carbs
30 g of protein
Also, salmon is an awesome source of omega-3 fats and those buddies can help you fight with inflammation. It keeps ALL of your body cells healthy which means it helps you with some types of cancer which is a wicked thing to deal with.
---
CAULIFLOWER
Many people around me don't like cauliflower because either they don't know how to make it interesting and tasty or they just don't like that weird taste. For me, that taste can develop interesting while combined with the right spices.
24 cal
0,5 g of fat
5 g of carbs
2 g of protein
Also, it helps you with improving your heart and digestive health, and it is a mighty antioxidant. We all need vitamin C when we're sick with the flu and this little fellow can provide around 73 percent of the recommended daily amount of vitamin C.
---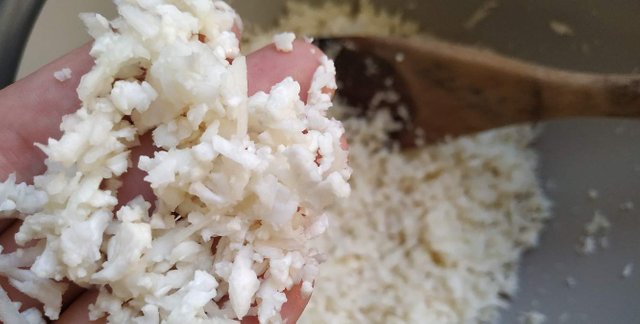 ---
I also put mozzarella and olives but I'll talk about them in the next post because I think I've just come up with a recipe including them. Of course, there are on my pizza because of the texture and taste but they are also healthy and nutrient-rich so I like to include them into my recipes as much as I can. Especially in the salad recipes.
Let us begin with the recipe. Here is a pic of my first stage hope you'll like it :)
---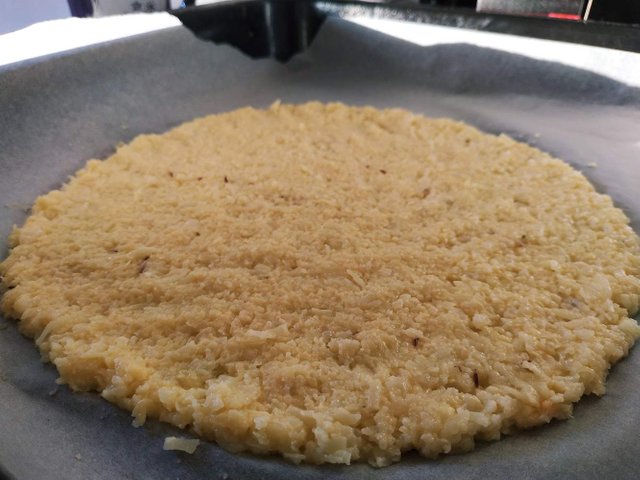 ---
INGREDIENTS
DOUGH
1 medium cauliflower
1 cup of parmesan cheese
1 egg
1 pinch of salt
1/2 tbs of cumin
TOPPINGS
1 spoon of paprika spread
250 g of mozzarella cheese
10 olives
50 g of fresh salmon
2 pinches of basil
---
TIME OF PREPARATION
25 minutes for preparing the dough
30 - 40 minutes for baking
IN TOTAL: around 1 hour depending on your oven
---
STEPS
Grate the cauliflower, salt it and rest for 20 minutes. Stir it up few times in that time.

After those 20 minutes put it in a dry pan on a medium fire and stir it for about 10 minutes or less to get some of the moisture out of it.

Mix one egg and a cup of parmesan cheese along with semi-cold dried cauliflower. Make some kind of half cm thick shape on the baking paper.

Bake it on 200 C / 400 F around 20 to 25 minutes until it crusts. Take it out of the oven, put those topping on and return in the oven for about 10 minutes more.

Enjoy your cauliflower pizza with salmon and mozzarella.
---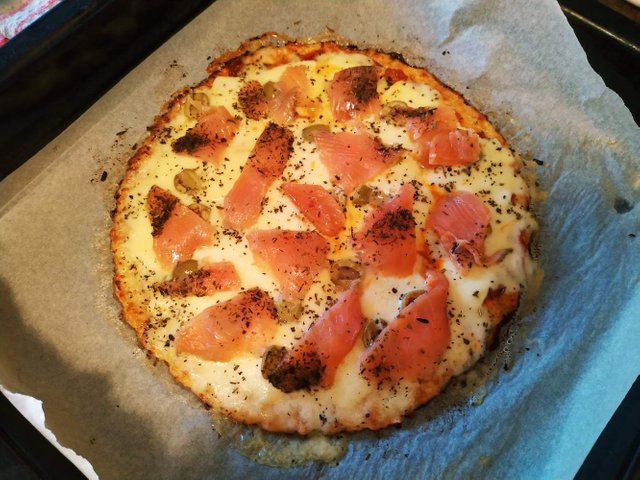 ---
I really hope you will try to do this even if you don't cook or bake. It is so easy to make it and it has a very nice nutrition composition. Also, I hope you will like it and share it with other people who maybe cannot eat gluten or is on an LCHF or KETO diet. Aaaalso, here comes my question.
---
QUESTION OF THE DAY
What is your common problem or obstacle with cauliflower?
---
As always, thank you for your time and I hope we'll enjoy this recipe together.
Steem us to the moon! Cheers :)
Posted using Partiko Android