Australia v India, 1981 - India win by 59 runs
Historical context: India had lost every Test series they'd played in Australia since 1947
India's greatest ever comeback win?
Australia have more Test wins than any other cricket playing nation in the world and yet throughout their history, they have found themselves on the wrong side of many great turnarounds. The 3rd match of India's 1981 tour was a case in point but in general, it also signifies one of the greatest comebacks in Test match cricket. Indeed, I would go as far as saying that this is India's greatest ever comeback in a Test Match. I'd love to hear what the many Indian cricket fans here think of that statement and where they feel this performance ranks against say the win against Australia in 2001 or victory against England in 1971?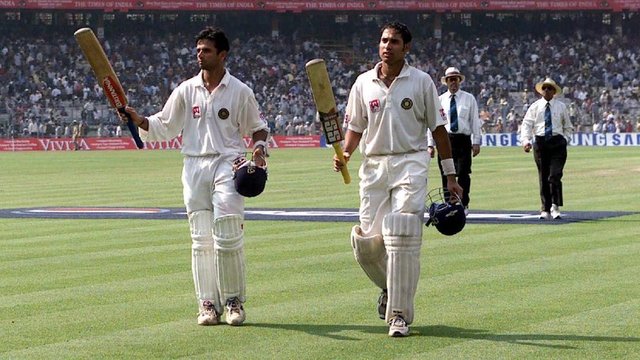 Dravid & Laxman helped India recover from following on against Australia in 2001. Is this the best comeback victory for India in Tests?
Suni Gavaskar's moment of madness
The first name on many people's all-time great XI to open the batting would be the little maestro, Sunil Gavaskar. He was as courageous as he was talented and he had a penchant for making very big scores from the top of the order. As India's captain for the 1981 tour of Australia, a lot rested on his diminutive shoulders, especially when considering that the opposition boasted a fast bowling attack lead by another superstar for the ages - Dennis Lillie. Lillie v Gavaskar, any cricket fan would pay good money to see this showdown but it was the Australian quick that took the honors for most of the series as Gavaskar made scores of 0, 10, 23 & 5 up until the final innings of the final Test. Indeed so frustrated was Gavaskar with his and his team's performance that he allowed a dispute with an umpiring decision to boil over into an incident that nearly finished this match prematurely.
Watch Gavaskar's anger at an umpiring decision
Kapil Dev leads India to victory
Batting first at the MCG in the final Test, India made a disappointing 237 all out and were indebted to a century from Gundappa Viswanath to get them that far. In reply, Australia put themselves in a very strong position as a result of a century from Allan Border who received support along the way from captain Greg Chappell, Doug Walters and Rod Marsh, that gave the Aussies a formidable 1st innings lead of 182.
However, India showed remarkable courage and skill to fight back on a deteriorating pitch against an Australian bowling attack that had dominated them for the majority of that tour. This match proved to be a great comeback not only for the Indian team as a whole but also for their beleaguered captain Sunil Gavaskar who put on 161 for the opening wicket with Chetan Chauhan to all but wipe out the 1st innings deficit. The rest of India's top order took encouragement from their captain's efforts and all chipped in with valuable runs that saw India to a total of 324 and a lead of 142. While the lead was not much, it would give India's bowlers something to work with and they knew that if they could make early inroads that their hosts would be under immense pressure.
This is exactly what happened as Australia lost 3 quick wickets at the start of their chase to give India hope and bring doubt amongst the remaining batsmen. However, Kim Hughes and Bruce Yardley dug in for over an hour to begin to take the game slowly away from India. Enter Kapil Dev, another player in this game who would go onto claim legendary status in the annals of the game. At this point in his career, he was a fairly raw and inexperienced 21 year old but he produced an inspired spell to rip through the Australian batting line-up and ultimately dismiss them for just 83 runs.
Watch Kapil Dev's brilliant spell to seal victory for India
This remarkable comeback win in the final Test of the tour, helped India draw the series, the first time that they had ever avoided a series defeat to Australia at home in their history, a losing streak that stretched back to 1947. 2 years later, the India team would go on to claim victory in the 1983 World Cup while the same Australia side would visit England later in 1981 and once again find themselves on the end of an incredible comeback.