BBL Fantasy Line-Up
The Fox Sports Supercoach Fantasy Game is, in my opinion, the best fantasy cricket platform around. I know some people find this game to be quite tricky and when you first look at the site perhaps it is more complex and less intuitive than a few of the alternatives but once you get through that the balance of player selection and involved point-scoring make it very addictive for any cricket lover.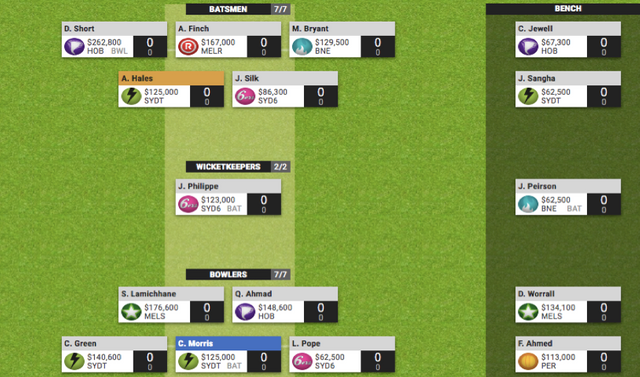 After 48 hours of deliberation, I think this is my final team for the first round that starts on Tuesday. Because The Sixers, The Heat and The Thunder all play twice in the opening round, I've gone heavy on their players who will essentially get 2 chances to score points. By comparison, The Strikers aren't involved at all.
Batting
The big money buy is D'Arcy Short. He is, in fact, the most owned player (45% of teams have him) in the contest and in that respect he represents a high risk, high reward investment. However, his stats over the last couple of seasons show how effective he is in this form of the game and playing his home fixtures down on the true tracks of Tasmania means he should get ample opportunity to score some big runs from the top of the order. Add to that the fact that he clocked up double digits in the wicket-taking column last year and you can see why he has the price tag he has and why so many have put him in their side.
I've also included Aaron Finch who following his brief spell with the Test team this time last year is back where he belongs in limited-overs cricket. I've watched Finch destroy many bowling attacks for my local side Surrey in the T20 blast and I'm hoping that he will do the same in his native Australia.
Opening batsmen are always going to cost a little more in this game and with good reason as they get the advantage of the powerplay and potentially 120 balls with which to score. As such, I've invested in Alex Hales and Max Byrant who both have the potential to get big points from the top of the order. While Hales is a debutant in the Big Bash he has plenty of experience at both international and franchise level and as such I think is undervalued relative to a few other players who I could have gone with. I mentioned Byrant in my preview of The Heat last week. He is a gifted ball striker and I'm hoping that with a little more experience and the wise old heads of AB Devilliers and Chris Lynn beside him he can take that natural ability and turn it into match-winning performances.
Thereafter, I guess we are into the bargain buys. Jordan Silk had a great season last year for the Sixers and is a proven match-winner in the middle overs. Again at 86k he represents good value for money and of course, he'll be playing twice this round so I'd hope to see a good return from him this week. Elsewhere, young Jason Sangha made a couple of fifties in his debut season in the BBL but seems to have gone off the boil a bit in domestic cricket lately. In fact, he seems to be having more success with the ball than with the bat but that all-round ability could make him a bargain if he can maintain a place in The Thunder side. Last but not least is young Caleb Jewell who broke into the Hobart team last year and with Matthew Wade away on international duty he may be given more opportunities this time around. He had an explosive start to the domestic season with back to back scores of 45, 64, 104 and 52 for Tasmania and while he's not been able to maintain that form of late there is definite potential there at a very reasonable price!
Wicket-Keepers
I've gone for young Josh Phillipe as my number 1 pick behind the stumps. The Sixers keeper-batsman is highly regarded by many down-under and will be hoping to use this season's Bash to put pressure on the likes of Alex Carey and Matthew Wade in the national team particularly given that the T20 World-Cup will be held in Australia later this year.
Again batting towards the top of the order will be a big advantage towards point scoring while he also has last season's most effective bowling line-up to hopefully present him with a few catches and stumping opportunities.
As reserve keeper at present, I've gone with The Heat's Jimmy Peirson. Brisbane have England's young Tom Banton who could keep wicket for them but he is only available for the first 8 games so at some point at least Peirson will get a game. Something similar could be said of Harry Nielsen at the Strikers who is something of a sure thing once Alex Carey leaves for the Aussie squad. The fact that Peirson is cheaper and allows me $13k spare that could be crucial to make some early season changes means I've gone with him for now.
Bowling
As with last year, I've gone spin heavy on the bowling front. Lamichhane and Qais Ahmed both had effective albeit stunted seasons in last year's Bash but both should be available for the duration this time around and will be their respective sides main wicket-taking threat in the middle overs. Joining them on the spin front are 2 local cricketers in Fawad Ahmed who has moved to Perth Scorchers and given that he is likely to be their go-to guy for wickets outside the power-play he represents very good value for money as might Lloyd Pope if he can get into the Sixers team again this year.
Elsewhere Chris Green has the advantage of playing twice in round 1 and could score points with both bat and ball. He might not be a prodigious spinner of the ball but his wicket to wicket bowling makes him very difficult to score off and with the Thunder playing a match against The Hurricanes at Alice Springs on a pitch that has often been criticized for not being up to scratch then he might be a decent bet at least for this round.
Finally seamer wise I've taken a bit of a risk with Daniel Worrall and his injury problems. If he can get fit and stay fit I think he'll be a snip at 130k and I'm also eyeing up his soon to be Stars teammate Pat Brown who will replace Dale Steyn midway through the tournament - at 70k he could be a great signing later on! I also see Chris Morris as a good bit of business given his wicket-taking abilities at the death of an innings. He was excellent for Dehli Capitals in this year's IPL taking 13 wickets in 9 games and of course, he can still hit a very long ball in the closing stages. $125k almost seems to be the starting price for an experienced overseas star (Hales is the same price as is Liam Livingstone who I gave serious consideration to selecting too) who is making their debut in the Big Bash. I guess you can never know how a new player will fit into a team or a league but at that price, I think he and a couple of others are worth the gamble.