BBL 09 Preview - Brisbane Heat
The problem with the Heat over the past few years is that they have been very top-heavy with their batting and at times pretty ordinary with their bowling. I've always been of the opinion that you pick a winner in T20 by looking at how good their bowling attack is as opposed to just how powerful their batsmen are and if Brisbane Heat's run of just 1 semi-final in the last 6 years is anything to go by then that formula seems to hold true.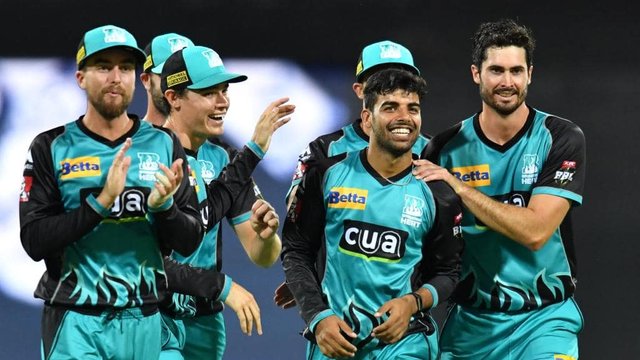 source
So what might change this year? Well in terms of pure force at the top of the order not much and so The Heat will continue to be a side worth watching regardless of results. Brendon McCullum, one half of "The Bash Brothers" has retired but in his place Brisbane have secured the signatures of England's Tom Banton and T20 legend AB Devilliers who since his retirement from international cricket has become everyone's favourite gun for hire. Banton's impressive form in T20 and 50 over domestic cricket lead to him making his England debut this winter in New Zealand and Brisbane will have his services for the first 8 games of the tournament. Thereafter, AB will take his place as Banton joins up with the England squad in South Africa. The partnership and weight of runs contributed by those 2 and Chris Lynn will be crucial to their chances of making the top 4.
Also at the top of the order and hoping to build on a promising start to his T20 career is young opener Max Bryant who is capable of some powerful hitting of his own. Bryant got a lot of good starts for the Heat last year but it wasn't until the final match of the season that he really made one of them count with a fluent 71* (his first half-century at this level) against the Melbourne Stars. It's been a similar story in this year's domestic 50 over game for Bryant where he's scored freely enough at the top of the innings but failed to really push on and make any match-winning scores.
In general, ensuring that one of their bigger names/bigger hitters manages to keep batting into the later stages of an innings more often than not will be crucial for the Heat. Once again there doesn't look like there is too much to worry teams if they can get through the top 3 and a lot will ride on the broad shoulders of all-rounder Ben Cutting to potentially add some much-needed momentum in the last 5 or 6 overs.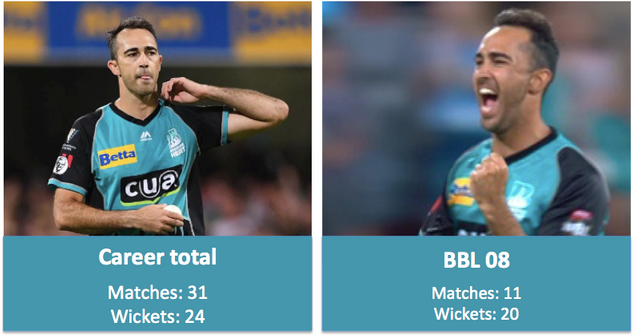 Lalor has been a bit of a journeyman cricketer but last year managed to almost double his career total of T20 wickets
Bowling wise, it wasn't really until later in the tournament that the Heat started to take regular wickets while in the field and that was largely down to Josh Lalor's purple patch. The Heat have added Ben Laughlin, the all-time leading wicket-taker in BBL history to their ranks. At 37-years-old Laughlin is in the autumn of his career but as a pure T20 cricketer he has still shown enough in tournaments around the world to suggest that he could be a useful signing for the Heat. The other potential trump card that the Heat could call on would be James Pattinson who whose pace and hostility would actually see The Heat's bowling attack live up to their name. Whether he is fit enough to play every match and how Cricket Australia choose to use/manage him will play a large part in determining the effect he can have on this tournament.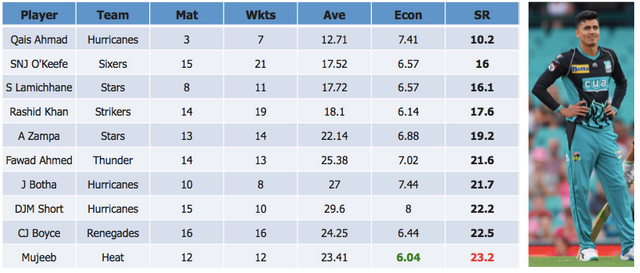 Mujeeb was very economical but every franchise other than the Scorchers had at least 1 spinner with a better strike-rate than him
In the spin bowling department, The Heat have stuck with Afghan mystery spinner Mujeeb Ur Rahman as well as bringing in his fellow compatriot Zahir Khan for when the former is unavailable due to international commitments. Mujeeb bowled tidily enough for the Heat last season but without the real kind of penetration and wicket-taking ability that a side would want from its frontline spinner. It was a similar story too for Aussie wrist-spinner Mitch Swepson who managed just 9 wickets in the tournament and was generally expensive for a guy bowling largely in the middle overs. Indeed, the fact that the Heat like to use Mujeeb during the powerplay seems to me to somewhat rob them of that ability to strangle sides in the middle overs and the better teams know that if they see him off early on that scoring opportunities will present themselves later in the innings. At 26-years-old, it's probably time for Swepson to either shake off the tag of promising leggie and actually deliver on the big stage or slip into cricketing obscurity.
All infographics my own with raw data for stats taken from cricinfo and images from wikicommons
I also run a referee account on Sportstalk @ref11 - you can vote for me here