The match that made me fall in love with Test Cricket
Although I've a vague memory of watching this match live, but I can't forget the countless number of times I have watched the highlights of this match with my father's commentary to go along with it. This is one of his favorites and it can easily be counted among the best test matches in all of cricket's history.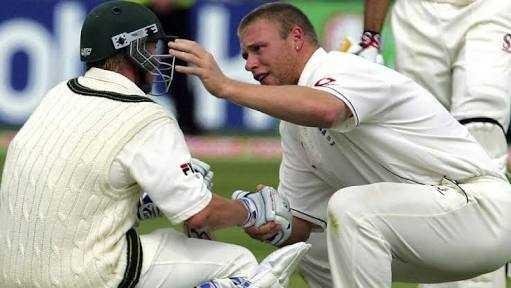 SRC
It was the 2nd test match (Aug 4-8) between England and Australia at Birmingham. Australia at that time was a class above all. I have never seen a team with that many greats in the playing XI. The English side wasn't a bad side at all, but on paper Australia clearly had the advantage. The first match of the series clearly reflected that with Australia cruising to victory in just a little over 3 days and by a margin of 239 runs. Glenn Mcgrath with his figures of 9/82 was too much for the English side and was awarded the man of the match for his brilliant efforts.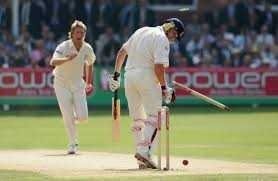 SRC
With that performance, Australia were clear favorites for the 2nd match and also the series, but England had other plans. The 2nd match started with England batting first. On the backs of Trescothick, pietersen and Flintoff scoring fifties England managed to put 407 on the board, what was impressive was the scoring rate which gave a clear signal that England weren't going to give up that easily.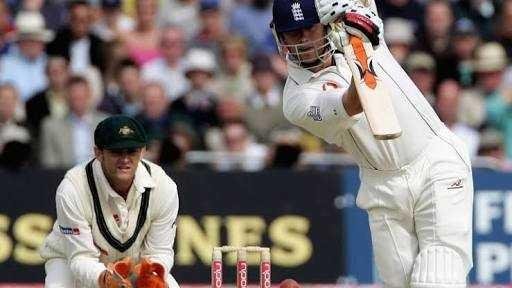 Src
Australia in reply scored 308 with fifties from Langer and Ponting giving England a lead of 99 runs. The English side didn't start their 2nd innings well and despite a great 73 from Flintoff only managed to score 182 runs. Because of a healthy 99 run lead England managed to give Australia a target of 282 runs despite a poor show in the 2nd innings. Chasing 282, Australia slumped to 175-8 still needing 107 runs to win the match. With that scoreline, you'd think that England would've easily won the match but instead we were witness to defiance of the highest class you'd ever see in a cricketing field. A wonderful display of batting from Warne, Lee and Kasporwicz almost took this game away from England.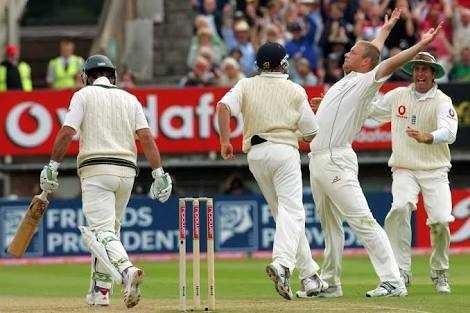 SRC
England went on to win the test series 2-1 owing to Andrew Flintoff's all-round effort and the new talent they had unearthed in the form of Kevin Pietersen.
This was the first time I witnessed the intensity, pressure of test cricket. This was the test match that made me fall in love with test cricket and easily among the greatest test matches ever played.
When your hear the words 'greatest match', which ones come to your mind? Do tell in the comment section.
Thank you for reading.
This was also posted on my Scorum blog

Do you use eSteem? eSteem is a Mobile& PC app. for Steem with great features. Also, you get Incentives posting through eSteem apps. eSteem Spotlight; eSteem provides rewards for it top users in Leader Board with most Posts, Comments and Highest Earners.
*** ###
Join eSteem Discord https://discord.gg/UrTnddT
###
Join eSteem Telegram http://t.me/esteemapp