Olé ! Olé to you nonetheless!
Olé ! Olé to you nonetheless!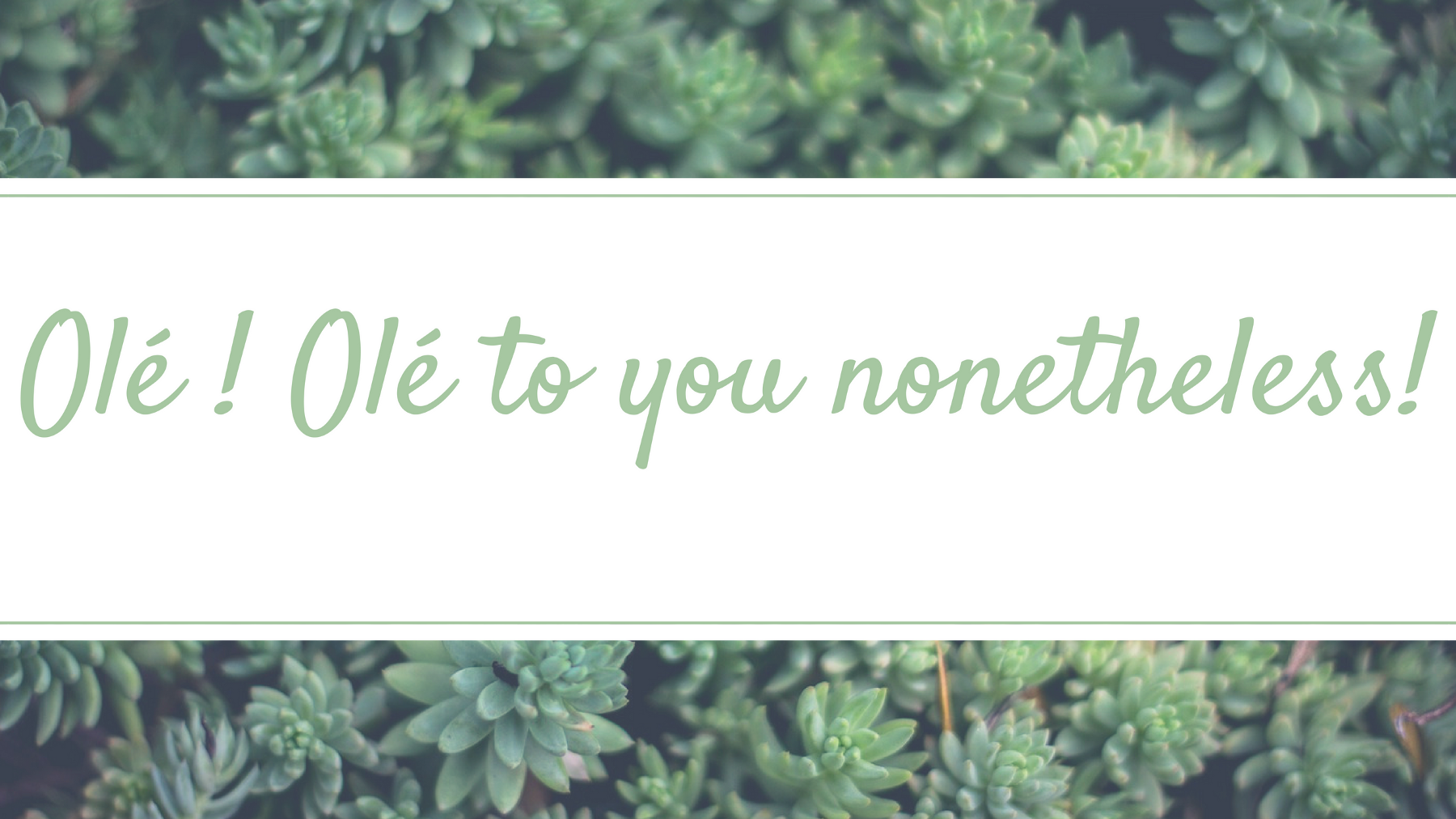 Award your creativity despite dislike
When it comes to give kick-start to your creative elusive genius, it means considering several other factors which might erode you of the joy of starting your journey on creative roadways.
However, I have a line to share with you, which is 'Olé ! Olé to you nonetheless!'
You might or might not get appreciation for your creativity but that's the spark that you have within you that keeps on inspiring you and you might wonder 'why?' You might question 'until when?' And you might be puzzled whether you should do something for it or just leave it like that.
We all are blessed with creative instincts in some or the other field. One might be of being a writer or dancer or singer or really really something great in technology field as well. After all, technology also evolves out of creative minds.
There is a thought and I feel it's a fact.One cannot achieve something great of their own initiative. This is not to demean somebody's ability but is the very realization that every good gift in this universe has divine source.
A dancer, at one moment in life, has those moves nailed, moves completely new to his knowledge and practice and just on the bits of music his body moves, turning that moment into splendor. This is the very moment which might not be replicable and that brings frustration.
That's why, the very words that I have come with might bring you delight to encourage you to continue on course of creativity. I want to encourage you to keep on learning, experimenting on those amissible sparks of creativity as they keep on coming.
I want to say 'Olé ! Olé to you nonetheless!' Bravo! If you overcome the frustration and keep on experimenting on those so called amissible sparks and one day your creativity will be rewarded and then you would hear a lot of Olé ! & Olé! & Olé!
Until then 'Olé! Olé to you nonetheless!' for keeping on trying because creativity doesn't always have to be a beautiful scenery painting. It can be abstract painting and still can be showcased for capturing thoughts of mind at that time.
Your ingenuity is what will be rewarded. Stay real! Stay genuine!
Until then 'Olé! Olé to you nonetheless!'
-Musy