Gifts from my Heart, Gifts from my Kitchen #2 - Passionfruit Curd & Apricot Mustard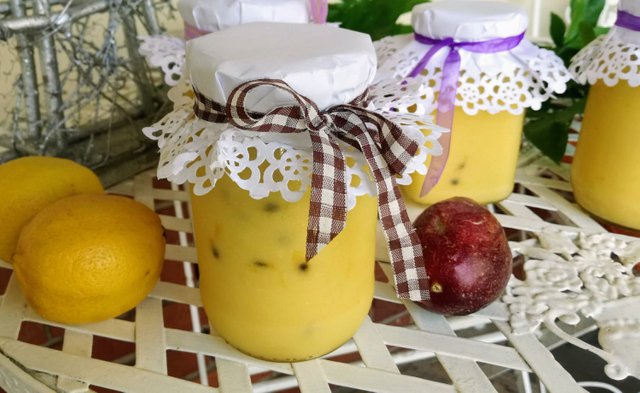 Today I will be showing you how to make Passion Fruit Curd & Apricot Mustard, two absolutely delectable gifts from my kitchen, both super easy and quick but must confess I could not stop myself from opening one of each. The Drunken Fruit I made a couple of days ago however are still sealed, tempting me with their luscious looks but they are Gifts from my Heart, Gifts from my Kitchen, so they will have to bide their time until delivery :)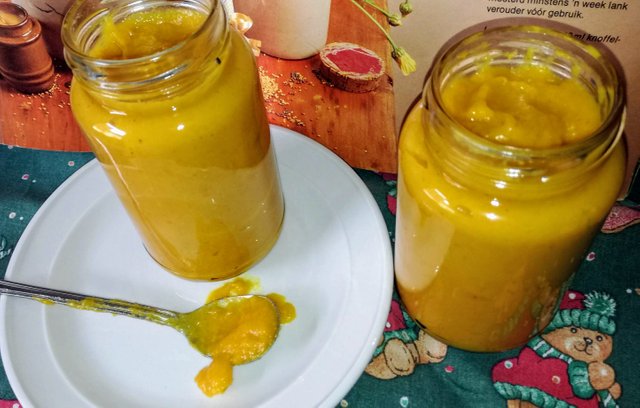 I found the Apricot Mustard recipe in a delightful little local book Geskenk Resepte - Gift Recipes by Annette Human, a real treasure trove of ideas for gifts from the kitchen. This Mustard has a real nice zing to it, as all Mustard should have, an interesting mix containing dried Turkish Apricots, Honey, Sherry, English Mustard Powder, Ginger & Curry Powder - no added sugar!
This is absolutely scrumptious eaten with any savoury dish and even makes a yummy dip for snacks.
A handy tip to remember when making your own Mustard Sauce - if it dries out a little simply add a little sherry, give it a good stir and you have a little more sauce on hand. However, this is so delicious that I cannot see it standing on the shelves for very long, so that's unlikely to happen :)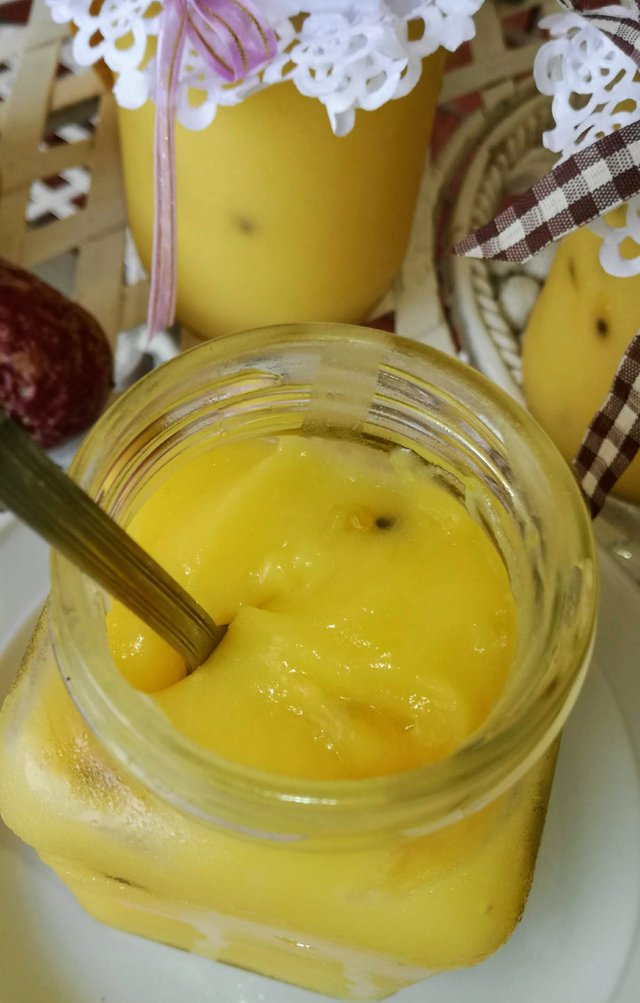 The Passion Fruit Curd is a variation of a Lemon Curd recipe that an old friend gave me years ago - Passion Fruit replaces some of the Lemon juice. This is one of the easiest preserve to make, throw everything into the pot, stir until it starts bubbling, and Bob's your uncle, it's ready for bottling! Store it in the refrigerator - will keep for up to three weeks.
Delicious eaten on toast as well as a fabulous pastry/ choux puff filler.
RECIPES
Apricot Mustard
Yields 2 small bottles - approx 300 ml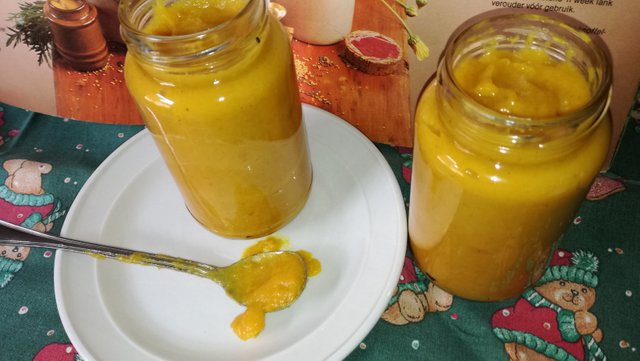 250 gram dried Apricots - I used Turkish Apricots but any type will do
750 ml Water
40 ml English Mustard Powder
10 ml Curry Powder
5 ml ground Ginger
80 ml Honey
50 ml Sherry

Cook Apricots in water till soft and swollen, drain

Place all ingredients into blender & blend till smooth

Spoon into sterilised bottles & seal

Looks real messy when placing into blender but do not fear, you'll end up with a delicious Mustard, nothing could be easier!

Passion Fruit Curd
Yields 3 medium & 1 small bottle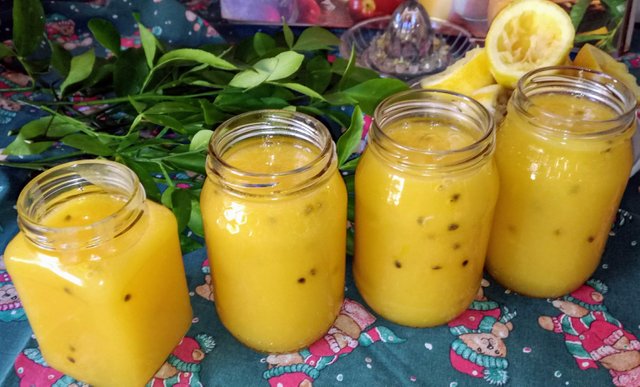 500 gram Butter
625 ml Sugar
Rind & juice of 3 lemons
Pulp from 3 Passion Fruit
4 beaten Eggs

Place all into deep pot on a medium heat, stir until it starts bubbling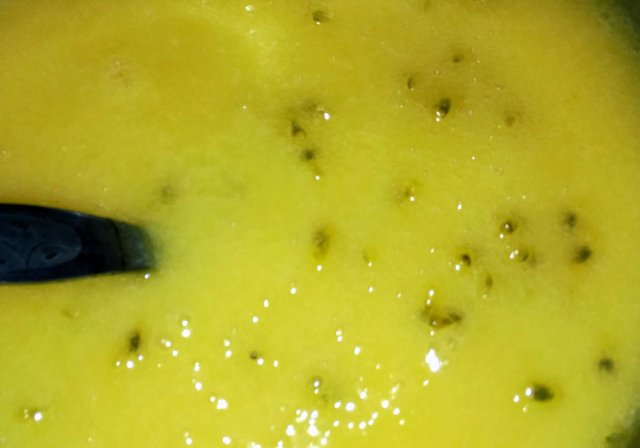 Remove from heat, spoon into sterilised bottles & seal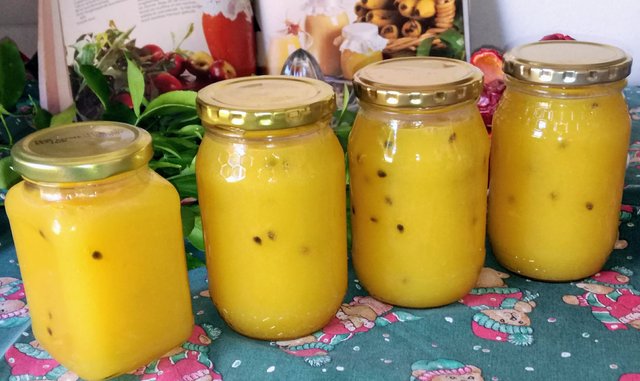 Place into refrigerator to set curd before using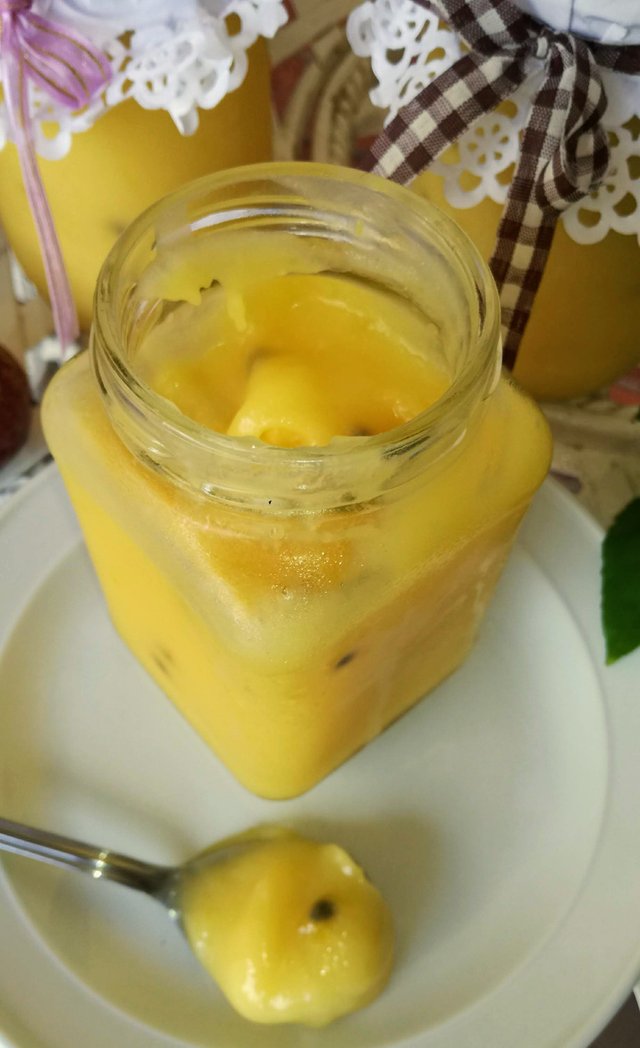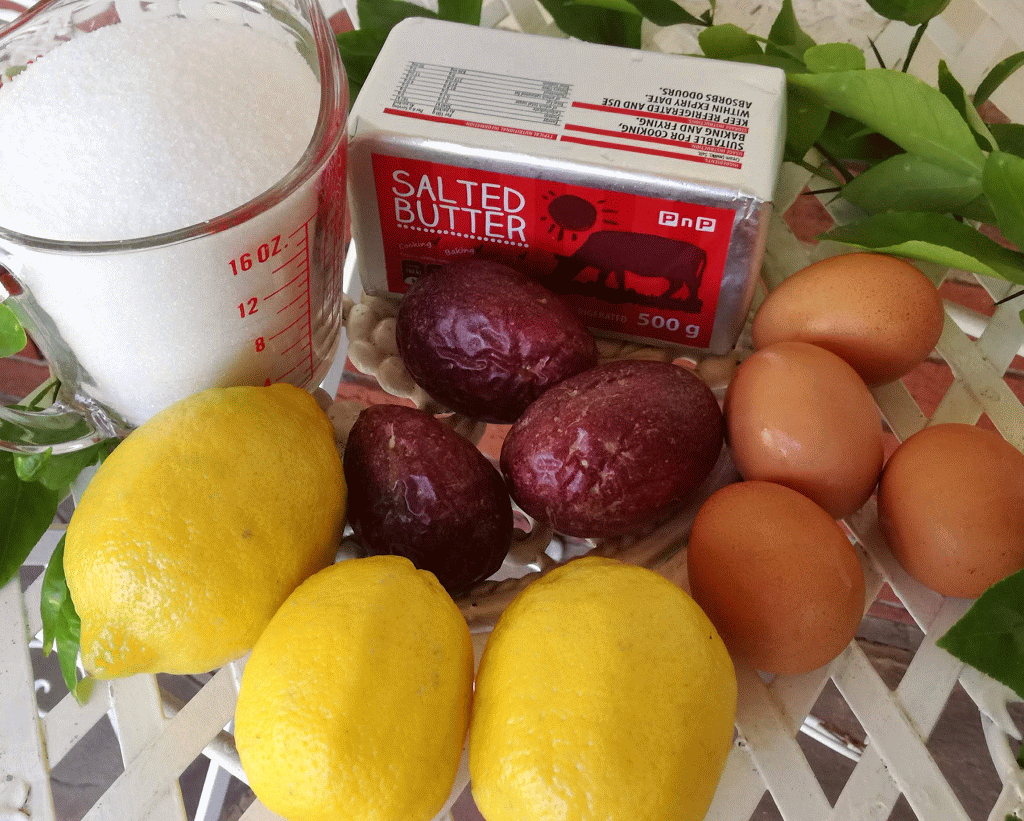 Cover lids with paper doilies & ribbon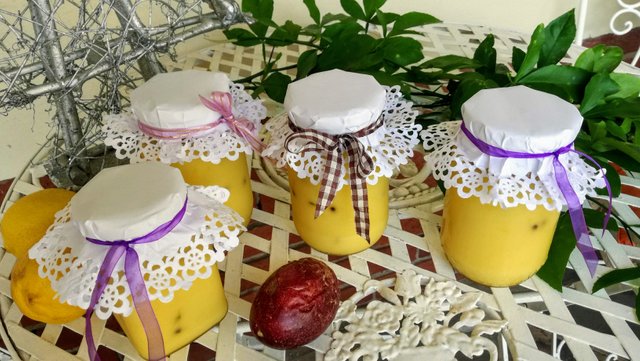 An all yellow theme today - Passionfruit Curd & Apricot Mustard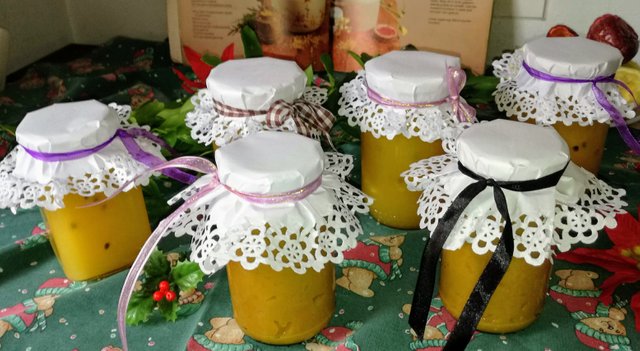 Drunken Fruit, Passionfruit Curd & Apricot Mustard all waiting for final packaging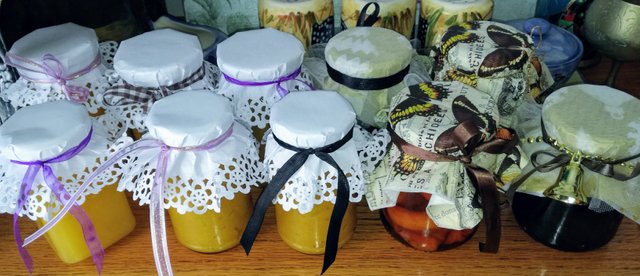 As promised I will give you some ideas for packaging & labeling using everyday household items that you may normally throw away, so keep on collecting items as per my first post - link below.
LINKS TO THIS SERIES
1. Gifts from my Heart, Gifts from my Kitchen - Drunken Fruit
Go well my friends, have a great weekend, till next time for Gifts from my Kitchen #3.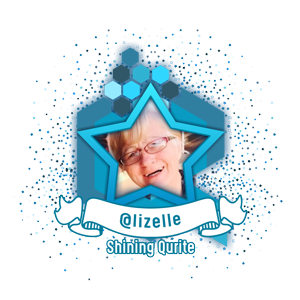 Original Content by @lizelle
Thank you for stopping by
Comments, upvotes & resteems all much appreciated :)
Copyright @lizelle - All Rights Reserved


Team South Africa banner designed by
@bearone