CREATE NATURALLY - FEELING FREE
I want to review one of the essential elements of creativity and a theme: FEEL FREE!
Feeling Free is to risk, to venture and to explore solutions and desires. If we want to embrace a creative lifestyle and enhance creative skills a sense of freedom is quite desirable. There are different ways to bring freedom into our lives. One is to remember childhood wonder. Ideally a part of your childhood was playful and imaginative without boundaries. Recapturing those feelings can benefit the adult. You can bring the adult and child together into a state of being of profound freedom.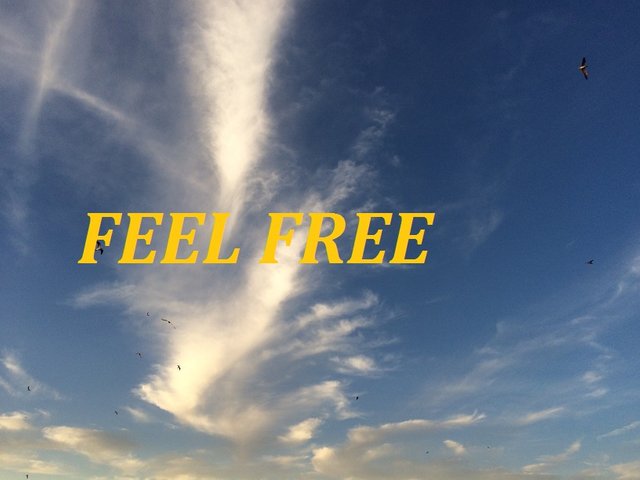 Nurture the creative child and allow the child to mature creatively. The child has a natural sense of wonder, awe, curiosity and imagination and is more than willing to play. Are you? The child is fascinated and curious about life and nature. Are you? Most children are famous for continually asking questions to understand life. Do you still ask questions? The child is the original seeker and is still within you. So be in touch with this wondrous feeling and state of awareness – it will bring you a more fulfilling life, you'll have more fun and you may just help save the planet.
Imagine yourself as free as one of the birds in the photo. Flying provides a sensation of freedom and openness conducive to creative brainstorming.
Also a great sense of freedom can come from inner peace. Cultivating inner peace and removing distractions enables a state of feeling free. Accepting responsibility (the ability to respond) provides a confident strength that fosters freedom.
Accepting responsibility and not being overwhelmed by life situations is very important.
There are Feeling Free exercises that can be used to help open one up to this positive state of being. Use the imagination to experience life as a bird, a dolphin, a whale or any being that runs or swims free.
Can you create a feel free logo to increase your creative confidence and unlimited feelings of expansiveness?
What are your images of feeling free?
Sailing
Bird in flight
Dolphin
Wild cat
Child at beach
Horseback riding
The flowing water in a fountain
What experiences have you had of your best moments of freedom? Remember and embrace the feelings.
Feeling free is the essence of being totally alive.
All writing by Daniel Hime copyright 2018