I had recently visited the Malay Village called Kampong Glam in Singapore.
I was amazed by the amount of art around the area and I felt inspired to start a series of post for the photographs that I had taken.
For 29 days, I would post a photograph that I had taken at Kampong Glam and I would try to give my personal reflection of the Art piece that I had taken a picture.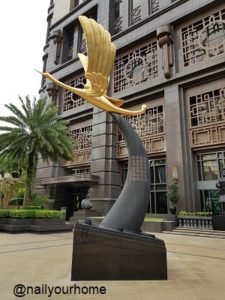 In the Chinese culture, Crane has the meaning of longevity because it can live for a long life span.
By the use of the colour of gold, I would probably interpret it that the artist wanted to illustrate the golden years of longevity.
It is really terrible when one lives for a long life of misery.
Being able to live long would be a blessing when it is a long life of happiness and joy.
The photograph was taken by @nailyourhome at Kampong Glam (Malay Village) in Singapore.
Disclaimer: I am not in any position to instruct anyone what they should do. I am not responsible for any action taken as a result of this post. My post can only be a reference for your further research and growth. By reading this post, you acknowledge and accept that. No photographs on my post should be used elsewhere without my permission.

---
Posted from my blog with SteemPress : http://nailyourhome.steemblogs.club/2019/10/11/amateur-mobile-photography-of-art-kampong-glam-1/
---