Photography: Me Myself and I during lockdown - A competition by @nathanpieters 📷
Time is flying when you're having a lot of tests in the hospital, and you're trying to do your normal day job as good as possible. Actually, a lot of things happened in the world since my last post in December! This will be my frst post on the Hive blockchain. Thanks for changing the @Steempress plugin so soon, makes my life a bit easier for posting.
So… I hear you thinking; how is your health doing? Not going to make a long story of that because we need some fun elements during these times. Healthwise it only got a bit worse actually… Since February approx. I had my first hyperventilation attack. Never been that scared in my life I can tell you! It is easier to faint and not knowing anything about it. But I had multiple of these moments since then. They're getting a bit better, while doing breathing exercises.
Regarding the fainting I should get some tilt training, but there is a problem with the current Corona situation. The problem is that the tilt training is postponed because the hospital is busy with helping other people. My cardiologist wanted me to have a second opinion at another hospital in Amsterdam. But the waiting time for the specific section is normally already a few months and I can count a few months on top of those I guess. BTW I'm not complaining! My health issues can wait till there is time for other tests again in the hospital. They're a bit busy right now, and I'm very happy that all the (medical) people working their ass off to help the people who need it more than I do.🥰
Quarantaine contest
Now the fun part! One of the members (@nathanpieters) from our Splinterlands guild is hosting a quarantine contest. Here in the Netherlands we have to stay as much as possible at home (not a total lockout yet!). While I'm already very experienced with the remote working situation after a year being sick (and "alone") at home. I know you need to let off some steam every now and then during the day. I tried to capture how I'm trying to achieve that.
First, I'm still able to work from home, so I can't relax the whole day as you can see, I can have some passionate debates with Me, Myself and I. Wow I can tell you it will consume a lot of energy as I'm quite stubborn…😅
After such an event I need to get out, and luckily, I have a small backyard to rig my board and sail and surf the endless grassy waves in my own garden (nearby the water so I hear the waves 🤙). Simply put my mind set to zero and let the wind blow through my hair.🏄‍♂️
And finally, after a day of work and some time on the board it is time to get some rest. As you all might know I'd love to put some vinyl on my turntable and listen along. I'd love to discuss again with Me and myself about artists and their songs they made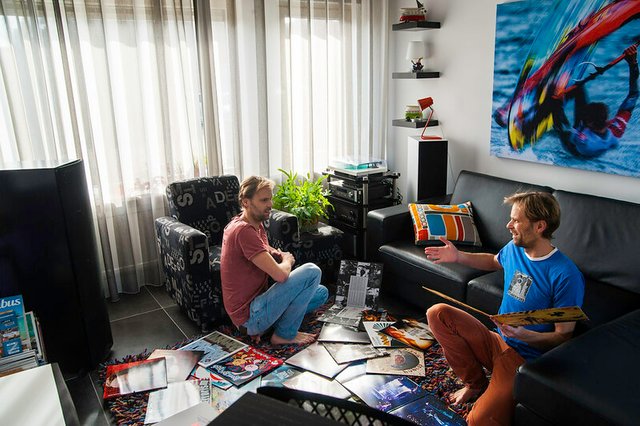 I know this one is used before in an older post
Well I had some fun while making these pictures for @nathanpieters his contest. If you're sitting at home and you don't know what to do with your spare time. It might be an idea to capture how you're dealing with the stress during a lockdown for Nathan his contest. You can find the original post here. Looking forward what other people come up with!

Splinterlands Guild
We're a group of players who love the game and are waiting for the upcoming feature the guild wars. Surfingnomad is a guild where you decide how much you play and donate. Why donate? To grow our guild we need to raise a certain amount of DEC and Daily Quests to reach higher levels. When we reach the higher levels you will earn extra DEC rewards in ranked play but also get discounts in the shop. These discounts and extra DEC rewards depends on the level of the guild. Would you like to join us on the battlefields?