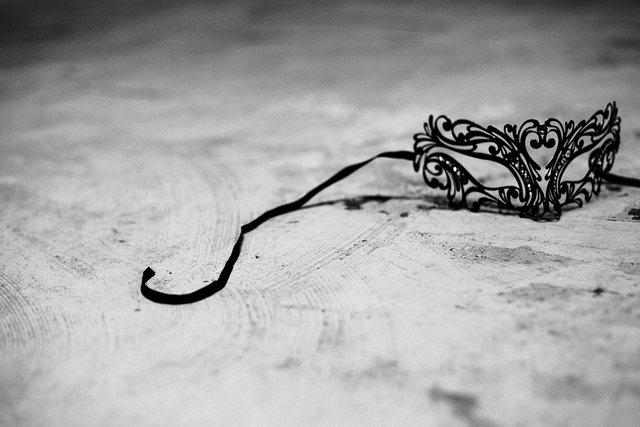 "Defuq am I going to bag my tools in?" I wail, as I throw another dress from my un-organised cupboard on the floor. 'Defenestrate that crystal cow in knackerland' I think to myself, before collapsing on my double bed like a negative boner. Eluding a groan thats sound can only be compared to someone trying to strangle a wildebeest with their bare hands, I cover my face with one of the many pillows in proximity.
Carmen walks in, takes a deep breath and cowboys the fuck up, then she starts picking up the discarded clothing from my floordrobe. "Why don't you just get a loner from me?" She asked
I throw the pillow to the ground like a ghetto jellyfish and roll my eyes in a way that would make a crayfish proud. "You know as well as I do, that your clothes will fit me as shitly as Clooney fits batman" I replied.
Carmen flicks the pillow back in my direction. "You are a smoke show and you know it."
"Well I have been hitting the gym hard lately... harder than a honeymoon cock in fact" I replied while reflecting on my sexy ass and my oneitis for my personal trainer Bob, good lord how he is able to make my whisker biscuit quiver when I am sprawled out on the floor like a starfish on strike after one of my workouts, and he helps me with my stretches. Fuck, it leaves me just about as wet and useless as the cold shower I am forced to take afterwards does. But now is certainly not the time to be focussed on that, tonight is Carmen's birthday party and there is bound to be a decent piece of meat there waiting to be carved up in stead of simply snacking on this vegetarian fantasy buffet of mine.
But this is a fancy event and I better look the part if I don't want to end up with just another poon-shark at this masked ball.
"Here, try this, I am sure you can get any man you want hornier than a two-dicked billy-goat wearing this" Carmen says pointing at a gorgeous wine red, full length, off the shoulder tit sling dress of hers that she had brought to my room in the meantime. I mean fuck – I was so deep in thought that I didn't even notice that the bitch was gone.
The dress was so gorgeous that it made my vagina sigh, and I immediately got undressed faster than a crack whore working for her next fix so that I could fit it on. The dress fit as perfect as a cock in a condom.
Carmen simply smiled at me and said "if this doesn't get your ring busted, nothing will"
I picked up a mask that I bought on the internet from a dodgy as fuck '50 shades sex shop, that offered free delivery and discount coupons on STD testing, I held the mask up to my face 'perfect' I thought.
---
Let the party commence
The venue looks more like a palace than a house, and I am hoping to Cinderella the fuck out of this night. Normally at parties like these I lie in wait like a dormant seed with half a soul, but tonight I just want to shake my snatch on the dance-floor like a nymphomaniac at a grindfest.
I walk up the stairs of this mansion each step being longer than an elephant cock, pulling down my dress with every step I take so that the split would not ride up high enough to reveal my twat hammock. I manage to make it to the top with my dignity in tack, or at least that was what I thought until I cock-gazed at Carmen dad who came to greet me at the entrance with a skinny upfish.
Once inside I was greeted by a prick handing out free champagne in crystal glasses, you know the fancy AF kind, I quickly grab a champagne flute, and chugged that shit down like a tequila at a strip joint, then another, and of course one for the road then made my way to the dining-room area. There were fairy lights and candles burning everywhere you looked, the place was more lit than a hippy at a trance fest and as decorated than saint Nik himself. I rested my glass on the mantle piece next to a shimmaged family photo of Carmen and her brothers, and started looking through the crowd of pompous fuckers herding together like sheep.
I hear a familiar voice over the droning voices of the guests "Jess," Carmen squeals like a pig being mounted, she walked up to me with her fiancée wearing something that resembled a green lantern mask, clinging to her arm like shit to a woolly blanket, "love the mask" she exclaims.
Carmen's fiancée hands us each another glass of champagne, I realized that my chances of getting blasted and calling Jimmy on the porcelain phone was better than me getting laid at this rate and decided to sip this one slowly.
---
Two hours later
The party was now in full swing, all the more mature guests were huddling around the fire place watching the flames in a 0 girls 1 cup fashion, while the rest of us were out on the dance-floor playing patty cake with no hands, to shitty repetitive music.
After a while I decided to sneak out the French doors like a back alley bitch, in an attempt to get some fresh air, it's a beautiful night, the dark sky littered with stars blinking in Morse code. The cold air bitch slaps me straight away and all of a sudden the cumulative amount of slut juice I drank contributed in unison to my inebriation, and I decide to find a secluded bench to rest my ass on. I was just about to take the fucken mask off my face when I felt someones arm sneaking around my waist. At first I thought it was Carmen, so I smiled and turned around just to realise that I was facing the most fuckablessed guy I have ever encountered, we locked in a stare and I was captivated by his blue eyes shining through his knock-off Zorro mask. "Fuuuucckkk" I whispered as I took a step back.
"Wait, don't take your mask off" he mansplained in a voice that immediately made me want to flick my bean, then he slowly drew me towards him.
"Who the fuck are you?" I whisper. My heart was pounding, like police at a black mans door. He pulled me even closer and I could now feel his breath on my left earlobe as he softly whispered "You don't remember me, do you?"
I look up at him in a disconfuckulated manner, trying to place the son-of-a-bitch, who the fuck is this guy? Could it be the booze jockey from the last visited drunken clam or a fuck and chuck I picked up at some or other tool shed over the years? It couldn't be, what the hell would they be doing HERE? There must be a connection.
Suddenly, I notice the french doors sliding open by the sudden influx of shitty music escaping from the gap. It was that very moment that he reached for my hand "Come," he said. I took his hand and we dipped into the shadows together, he guided me carefully along a path that lead to the swimming-pool, a path that he seemed to magically know off by heart. He hasn't said a word since, but every now and then he would look at me over his shoulder and smile like a special uncle at a Christmas party.
I tried to think again who this could be, but then I realised that I don't really give a fuck.
He stops right in front of the pool house and turns to face me, then he works in a quick look over my shoulder to see if anyone saw us, at this point it was clear that this guy was as slippery as goose shit.
"I don't....." I start saying, but he silenced me by placing his mouth on my dick pillows while cupping my face, I groan softly as I felt his tongue intertwine with mine.
Then he pushes open the door behind himself pulling me into the pool house and quickly pushing the door shut behind me, he certainly was not dicking around the cockbush. He started kissing me frivolously then tips my chin upwards and leans in to kiss my neck, while his hands explore my body like a blind gnome child; my leg benders were instantly weak as I melted into a lust puddle. I know I'm going to get it, and get it good, right here, right now.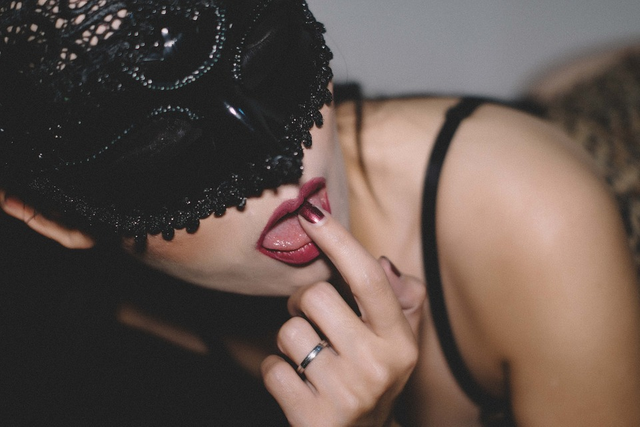 He guides me backwards until my arse hits the wooden table, then lifts me gently up onto the table. The slit in my dress was still straight but no longer narrow as my calves separate automatically, as if they were under the watch of a shitty cattle herder.
I start to take my mask off again, but realized that he is not going to take his off so I decided not to bother. In one movement he retrieves a dong mitten from his jacket pocket before taking the jacket off the foil packet of the banana burka catches the light and I immediately spread myself open like a spatchcock chicken. I starts undoing his bowtie while I reach up to unbutton his shirt, and like grapple hooks on a rescue mission I sink my nails into his broad chest as I go. Without breaking eye contact, he smiles, pushing dress up to my hips, fingers spidering their way up to the edge of my clamwrapper.
I can barely contain myself as he begins to trace the outside of the damp stamp on my sloppy toe. I take a breath and drape my arms around his shoulders, knowing I'm wet and ready for his moisture seeking missile.
He revealed my bushy plate, slipping two fingers deeply in and served himself a helping of all the fuzzy taco he could eat. He finds the zip at the side of my dress with his other hand and pulls it down firmly, exposing my naked fleshbulbs.
"You're so wet," he whispers, pushing me down so I'm lying flat on the table, his tongue was hot and greedy, resembling a bulldog eating custard off the floor, then finally he found the man in the boat and gently circled it with his tongue. I place my hand on top of his head, feeling quite cuntfidant, I pushed his head down firmly while I whispered "get in there you bastard" all while I matched his strokes with my own. The familiar feeling of orgasm begins to build inside me.
"Don't stop,"' I groan, pushing myself into him, hanging onto the side of table for dear fuckin life thinking to myself 'stay away from the light'...
Just as I start steadying myself to recover, I realize he's stood in front of me, stepping out of his trousers and tearing the love glove packaging, I push myself up on my elbows while still trying to figure out what the fuck just happened, we kiss passionately and I can still taste the steamed clam on his lips. He bagged his jimmy with a squeaky rubber and I folded my legs around him as he took his baby batter blaster and guided it into my pink and sloppy. Suddenly, he's picking me up and laying me down on the day bed and while my body is still tingling, I appreciate the softness after the hard, wooden table. With my legs still wrapped round him, he plunges his one eye skin flute deep into my splash mountain.
"Jess..." he breaths into my ear.
As my second orgasm builds, my mind is jumbled, he knows my fuckin name. But there was not a lot of time to focus on that, as he picks up the pace and I explode once again, with him pounding against me, I feel stretched to my ears as he rears back, moans and slams into me one last time, catching the end of my orgasm by surprise. Then we're clinging to each other, sweating like gerbils in a gay bar. As our breathing steadies, I reach for his mask, but he shakes his head. I lie back, confused as fuck, and shivering from a combination of excitement and sudden possible hypothermia setting in, he pulls a blanket over us and strokes my hair. I roll over and we spoon, holding hands and linking our fingers, I cant hear any shitty music coming from the house, the party must be over, I think before I drift off…
---
Walk of Shame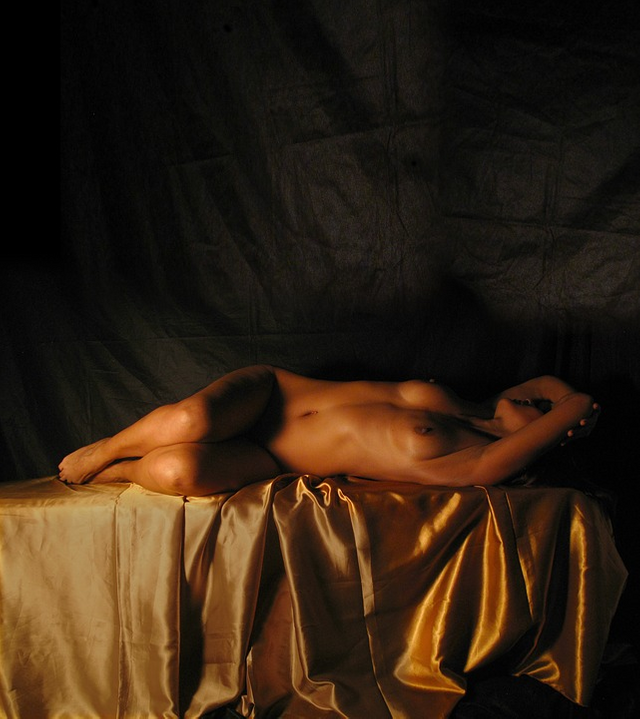 I throw the blanket off me and nearly fall off the bed, 'where the fuck am I' I think to myself. And although I would love to sleep it off, the bright sunlight flooding the room, and my hangover feels unbearable.
As memories of last night come flooding back, I realize I'm alone, with not even as much as a screvinir. Oh, right, it's like that, just another pump and dump I think, kicking myself as disappointment overwhelms me. I put my head in my hands... I'm still wearing the fuckin mask.
I tear off the mask, and glance out the window to make sure no one can see me before I drag my naked ass over to the table, airing out the puppies in the process, on the table lays my neatly folded dress with my knickers on top.
"At least the cunt has some manners," I say out loud as I slip them back on and zip up my dress.
Gathering my shoes, I make my way back up the coitus regretus path to the house, hoping I don't bump into anyone. I don't even know what time it is.
I try creeping past the dining room, but Carmen spots me and calls me over to the table, I try to pretend that I did not hear her and ducked down in an attempt of avoiding the inevitable.
"Jessica," Carmen squeals. "Get in here now."
Sheepishly, I enter the room and find myself facing Carmen's entire fucking family. And everyone seems to be staring knowingly at me as I walk in.
"Morning," I say, looking only at Carmen.
"You look like shit – what happened to you?" she asks.
I wipe my placenta eyes and say "I fell asleep in the pool house," Not going into detail as to what happened running up to that. Then I caught a glimpse of myself in a wall mounted mirror across the room; 'sweet mamma, I am certainly not rocking the freshly fucked look!' I thought to myself as I noted the thick layers of bleeding mascara under my eyes 'I look like a raccoon in a trailer park' and wipe my eyes again in an attempt to get some of it off.
"Sit down, have some breakfast,"Carmen says, while her fiancée passes me some coffee
"And where the hell did you disappear to Zorro?" she asks. "If I didn't know better…"
I immediately looked up to see who she was addressing, as my stomach flipped with horny butterflies.
It was HIM, I know those eyes even without the mask...
"Well fuck me sideways" I exclaimed as my fork fell to the floor.
"You remember my brother George, don't you Jess?" Carmen asks innocently...