Beer Review: Knee Deep Brewing Co. (Auburn, CA) Simtra Triple India Pale Ale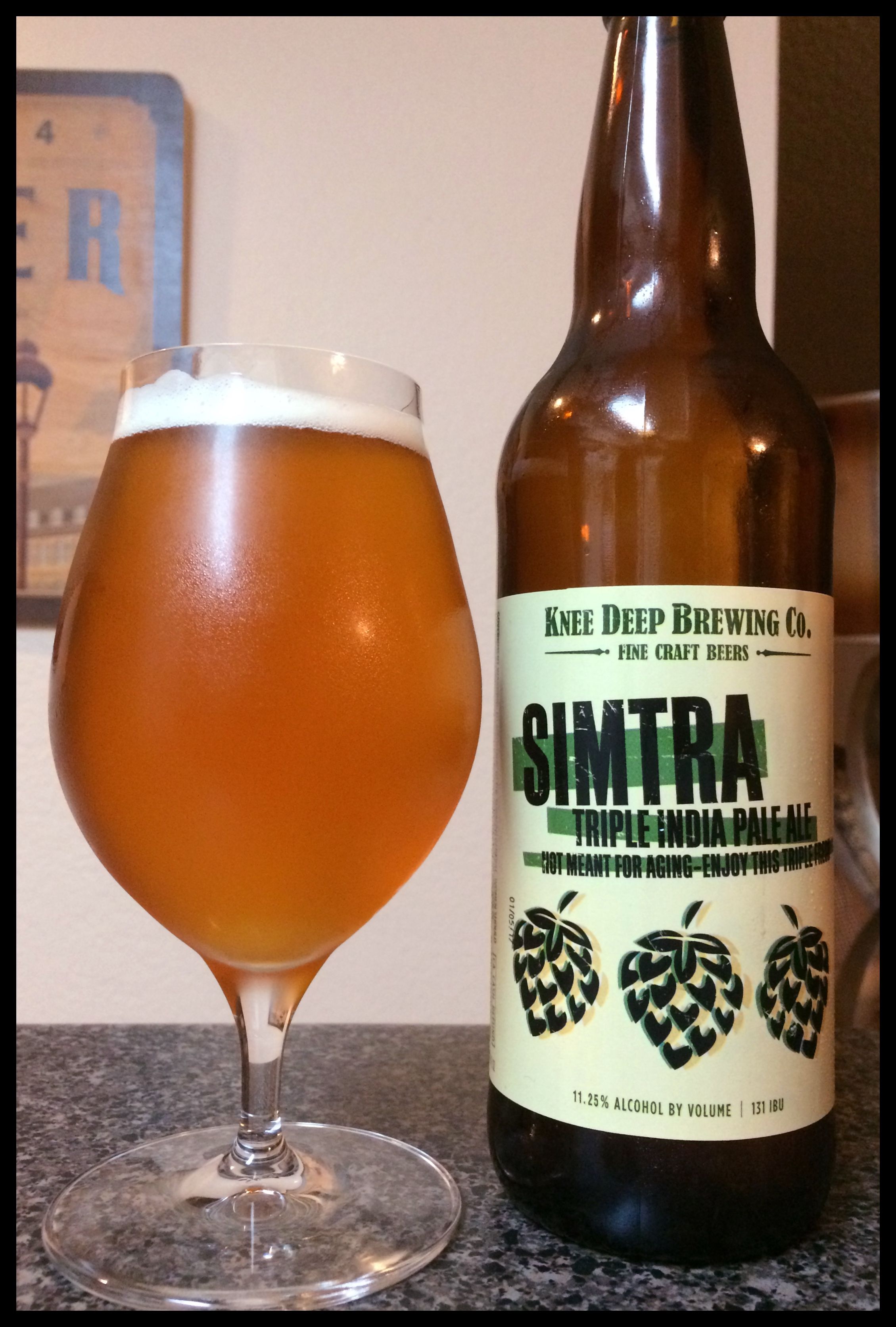 ABV 11.25% 22oz. Bottled on 1/5/17 Consumed on 1/24/17. IBU 144 Color ??? Not suitable for ageing. Brewed with Simcoe and Citra hops.
Appearance: Pours an almost perfect, clear light-amber. Hues of bright gold are revealed when held to the light. A robust pour yields a frothy head that quickly fades to a light dusting topping the beer.
Aroma: Tropical fruit jumps out immediately. Mango is most prominent, but there is also pineapple and passionfruit. This beer reeks with dankness; the typical whiffs of cat piss are followed by a nice herbal, eucalyptus character. Watermelon, cantaloupe and honeydew follow the initial burst of tropical and dank aromas. Behind this lies a very subtle garlic presence.
Palate: Orange and grapefruit zest. Parsley, coriander and sweet peppers. The bitterness is certainly apparent and one of the main flavor components, but it's not a harsh or astringent bitterness. It's smooth and balances the sweetness of the alcohol well. There are also herbal, vegetal, grassy hop notes that add some spice to counter all of the citrus and melon character. Watermelon, honeydew and hop spice round out the finish.
Overall: I first tried this beer about four years ago. Every tasting I've had of this one has been an amazing experience. The virtue of drinking an IPA, or any hop forward beer for that matter, as fresh as possible is drilled into our psyche. However, Simtra seems to be an exception. The oldest I've tasted Simtra is five months from the bottling date. It wasn't old or oxidized, in fact it was quite the opposite, it belted out high notes. Dare I say this one may benefit from a little patience? Drink it two to three months from the bottling date and prepare to be amazed. If there is a quintessential, archetypal triple IPA this is it. Sorry Pliny the Younger.
Final Score: 10