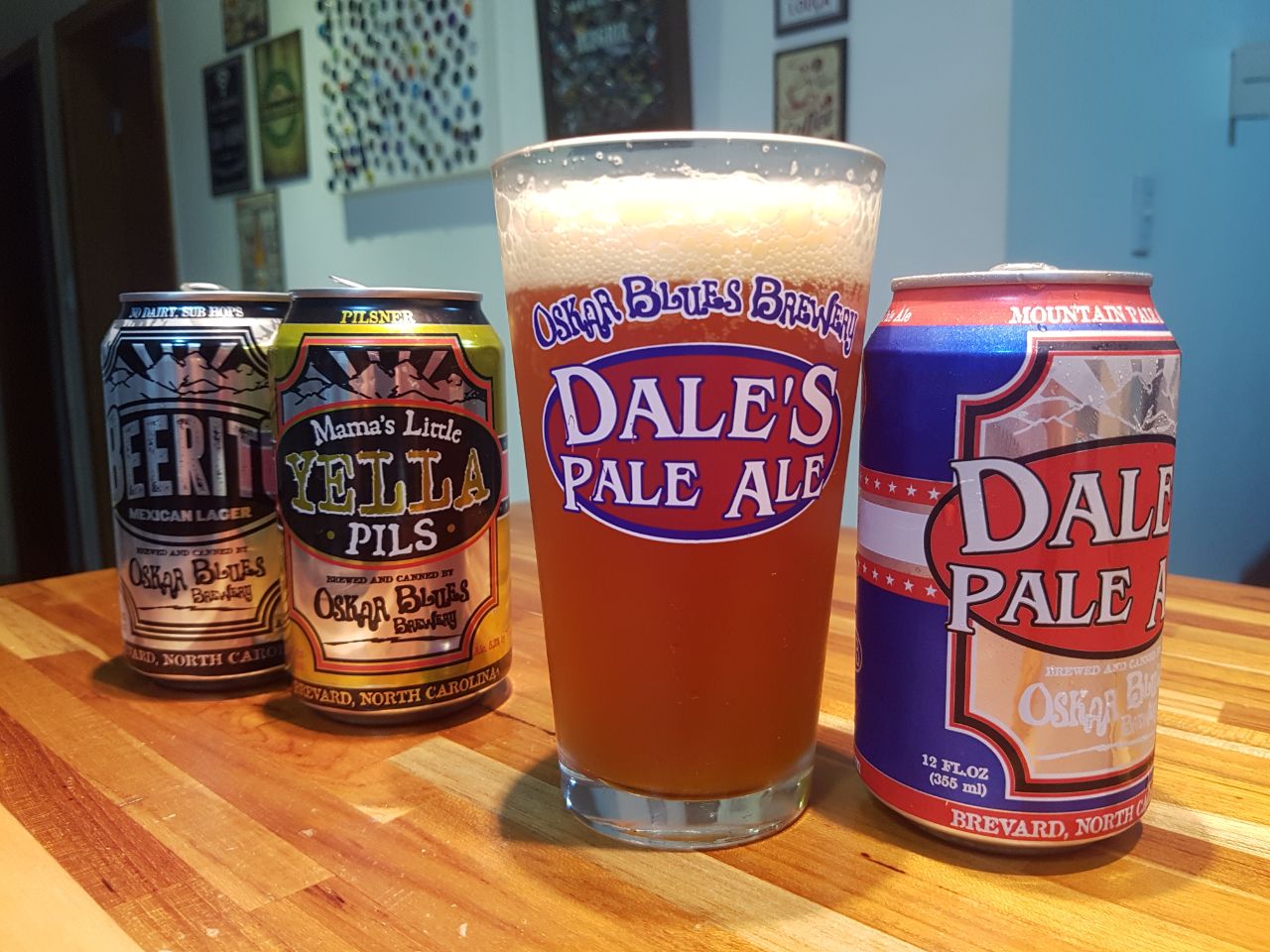 [EN-US]
Description: Oskar Blues beer is a can of beer from the United States. Produced with large quantities of European malts and four types of American hops. The founder of the Oskar Blues brewery named this beer, they say he decided to make the first canned beer, so they can go where the bottled beers can not and the places where flavorless beers do not belong, just like festivals of cool songs with bad beer, soccer football games and so on. A toast to Oskar Blues !!! Cheers!!!

Style: American Pale Ale.

Note: 3.50.

Dark amber color, slight turbidity, beige foam of medium formation and persistence.

Taste and aroma tending to the caramel, light woody, nothing very extraordinary as I expected. On the aroma still, not very intense yellow fruits like melon and passion fruit.

Good beer. But I do not know if I'll drink again.
[PT-BR]
Descrição: A cerveja Oskar Blues é uma lata de cerveja artesanal dos Estados Unidos. Produzida com grandes quantidades de maltes europeus e quatro tipos de lúpulo americano. O fundador da cervejaria Oskar Blues é que dá nome a essa cerveja, dizem que ele decidiu fazer a primeira cerveja artesanal em lata, pos elas podem ir onde as cervejas em garrafa não podem e a locais onde cervejas sem sabor não pertencem, igual a festivais de músicas legais com cerveja ruim, jogos de futebol futebol e etc. Um brinde a Oskar Blues!!! Saúde!!!

Estilo: American Pale Ale.

Nota: 3,50.

Cor âmbar escuro, leve turbidez, espuma bege de media formação e persistência.

Sabor e aroma tendendo ao caramelo, leve amadeirado, nada muito extraordinário como eu esperava. Sobre o aroma ainda, não muito intensos de frutas amarelas como melão e maracujá.

Cerveja boa. Mas não sei se beberei novamente.

Preço de mercado R$23,90. Vale uns R$12,00.