By now, most of you know me as a craft beer guy, while pretty welcoming to all styles, but predominantly a hop juice and barrel-aged stout kinda guy. This weekend I wanted to do something different. My dad really enjoys German-style beer while I usually tend to stay away. I heard of a new place opening called Metropolitan Brewing here in Chicago and decided to bring him there!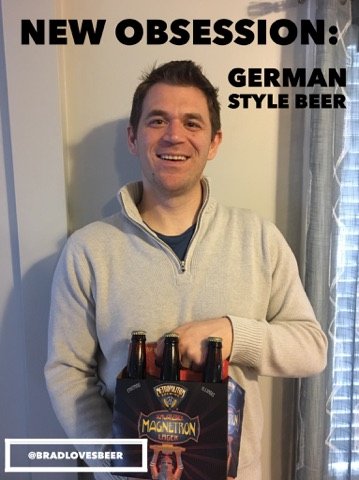 It was a very "interesting" location, by "interesting" I mean it was located on a construction site inside one room within a giant building being renovated. It felt like we were trespassing.It took a series of drywall corridors to get to an unmarked room. Upon entering, we were greeted by a beautiful taproom. Solid wood and industrial tables, antique crankshaft and other machinery parts, and a smiling bartender who waved us over. There was a giant bay window calling around with a gorgeous view of the Chicago River! This place is incredible once you make the journey to get in!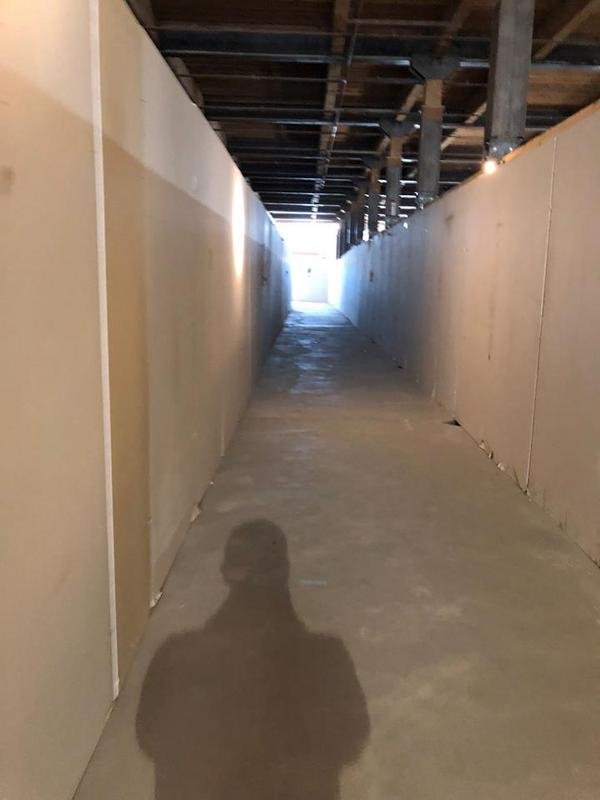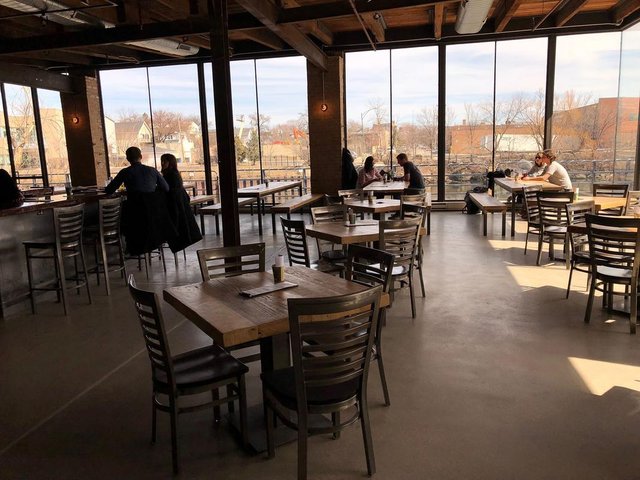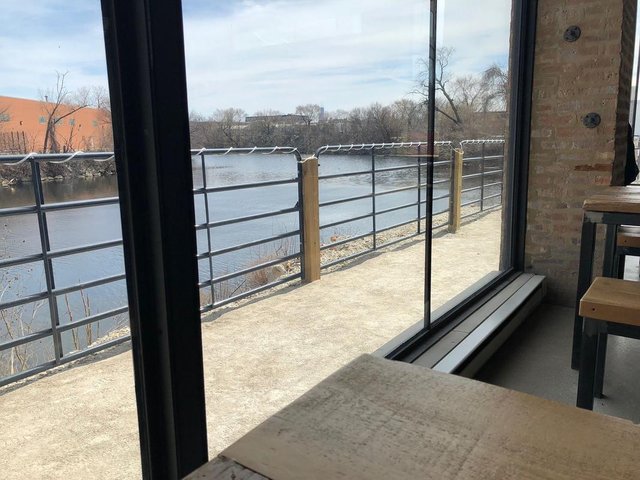 I perused the tap list - Schwarzbier, Helles, Lager, Pilsner, Kolsch - Yes, this was my dad's kinda place. While I am quite familiar with these style, I don't have them often. This place is already well known for no-frills German-style beers. No barrel aging, no IPA's, no weird ingredients, just water, yeast, malt, and a little hops. I was skeptical.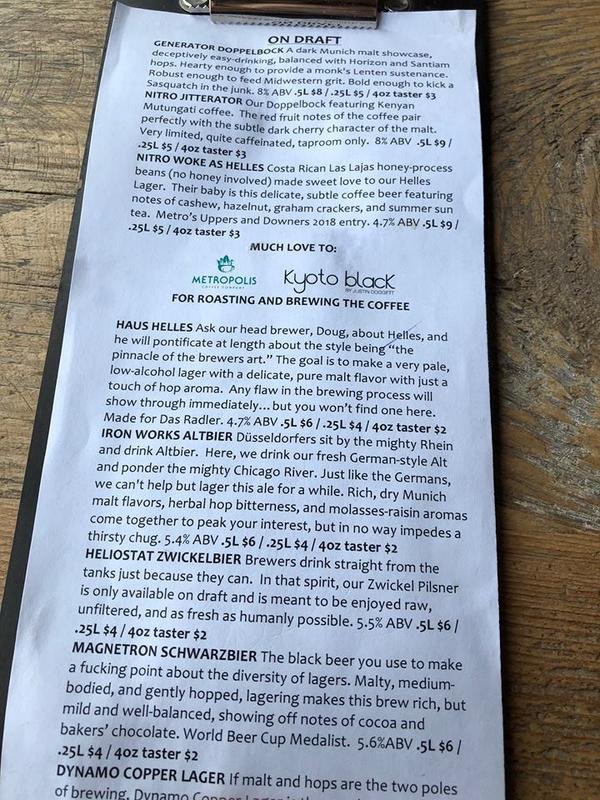 I ordered the weirdest thing they offered of course, I was still in relatively unfamiliar territory. It was a Nitro Helles Lager made with Costa Rican coffee and incredibly delicious! I didn't even miss the flogging of chocolate and barrel or pounding of fruity hop. It was smooth, crisp, simple, but flavorful….just very refreshing and interesting without fitting the mold of all the wackiness I am used to drinking.
I tried another called Heliostat Zwickelbier, a raw and unfiltered Pilsner. Again, just went down incredibly smooth. The flavors and hop profile are so simple but it was refreshing and pleasant beyond belief. My love for German-style beers has officially been reawakened! I do still want to keep on top of the awesome stouts and IPA's coming out, but all I have been thinking about all week is GERMAN BEER! Will it be all I drink? No. But it has officially entered my repertoire. Lagers will no longer be ignored!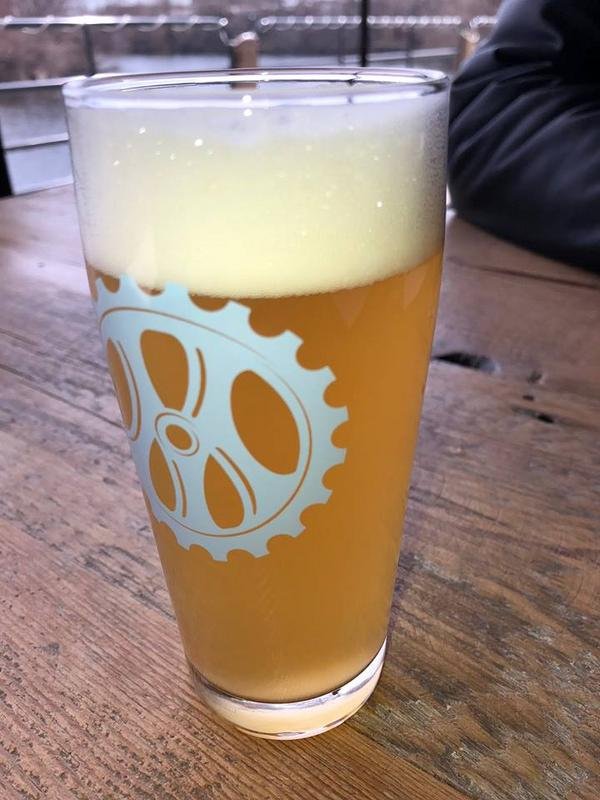 I even took some for home and am having one tonight! It is called Magnetron Schwarzbier. It is essentially a dark lager. Made same as the classic light lager, but using more roasted malts causing a darker color. This is a perfect balance between german-style and stouts as I still get some of the roastiness and chocolate I seek from stouts.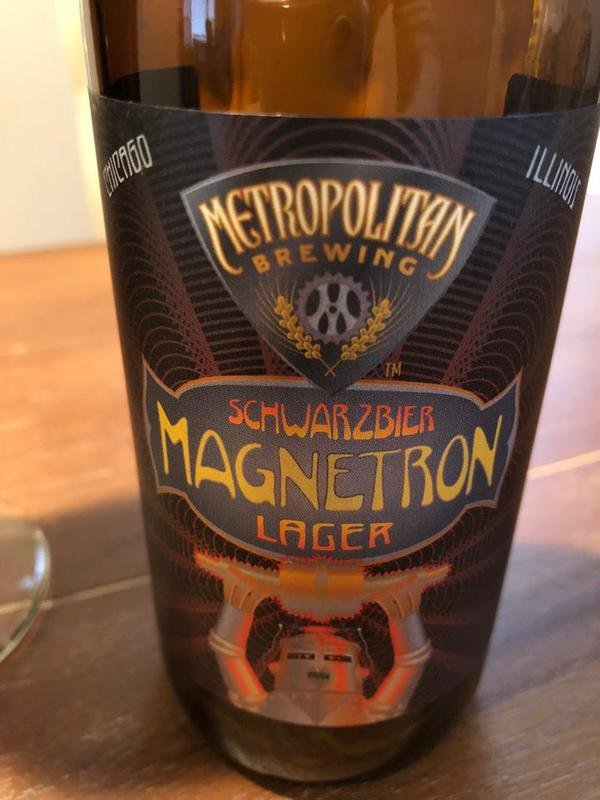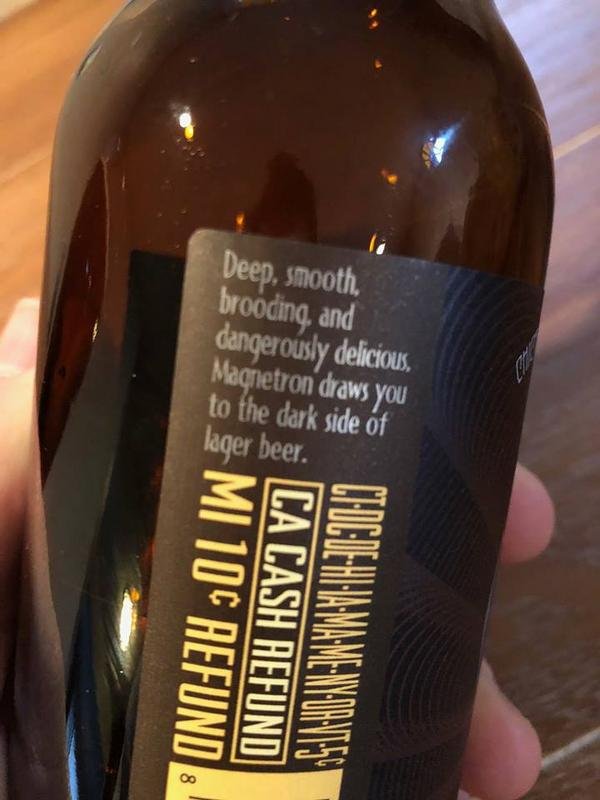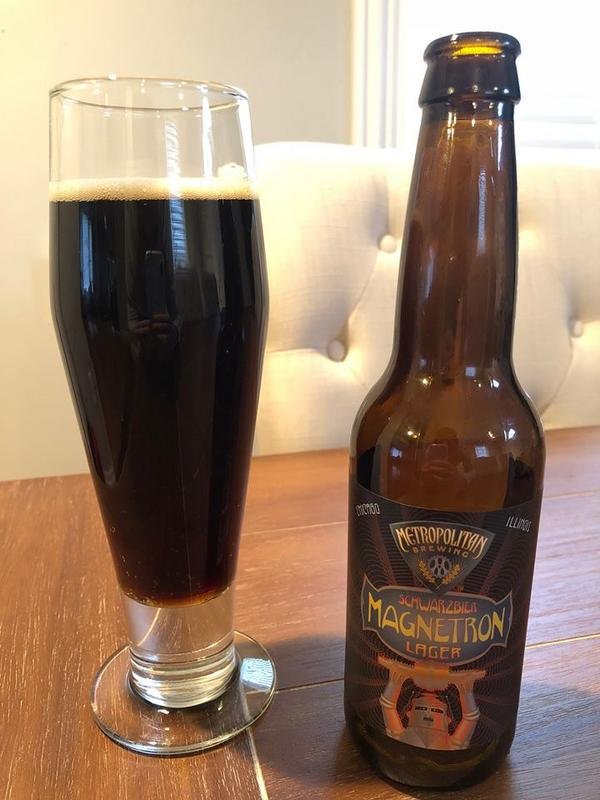 Guys, you're gonna drink what you want to, but if this story shows anything, it is don't be afraid to do something outside your comfort zone. You have your routine, what you like doing and what you know you want, but once in awhile, just go for it. Do something different. It's such a nice change of pace . It makes life more interesting. I try to do this once a day in some regard and cannot tell you how much it enhances life. What do you have to lose?
Cheers everyone! Raising my glass to all of you. Please follow and/or upvote if you enjoyed the post!