Covid-19 Lockdown Virtual Events Calender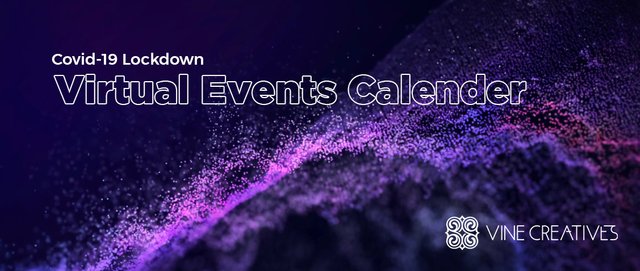 With everyone on lockdown, there has been an explosion of online content. And it has been A LOT. This has been put together as we feel it's useful to have events in one place. It is very easy now to miss an event that would prove really useful. Is also a great way to discover new communities and access to new knowledge. Its also focused on knowledge that will help once this pandemic is over as there is plenty about how to cope with it currently. In no particular order so scroll to the bottom. Updated daily.
Hustle and Heels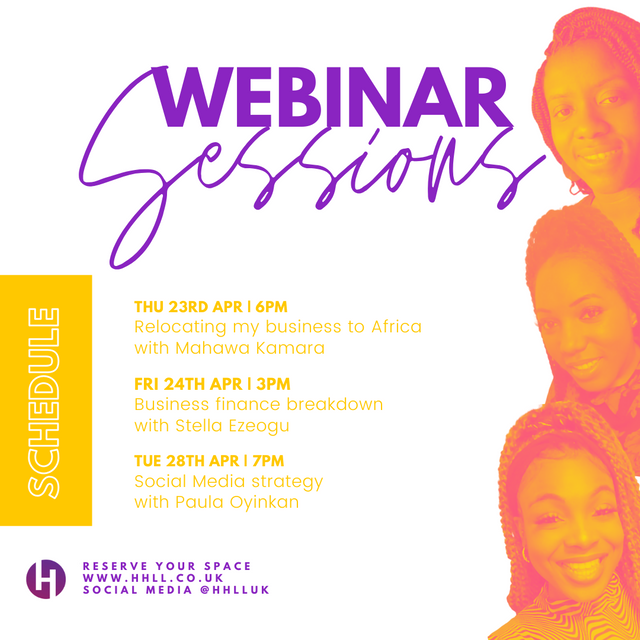 Business Finance Breakdown (Friday 24 April, 3pm) - The aim of this webinar is to breakdown the crazy world of business finance in a way which is relevant for the business owners and the self-employed within the network. Senior accountant Stella will talk to us about business finance and answer any questions you may have touching on how Covid-19 plays a part in our business finances.
https://www.eventbrite.co.uk/e/business-finance-breakdownonline-event-tickets-103341747950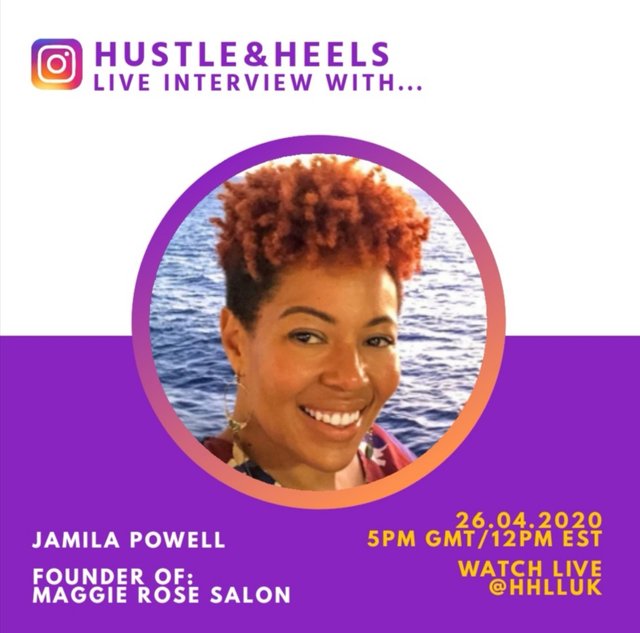 Hustle & Heels Instagram Interview with Jamila Powell, owner of Maggie Rose Salon (Sunday 26 April, 5pm) - A candid conversation with a US based business owner with multiple streams of income.
https://www.instagram.com/hhlluk/?hl=en
Social Media Strategy (Tuesday 28 April 7pm) - The aim of this webinar is to look at how we can make the best use of social media without getting drowned out by our competitors. We will be joined by senior digital marketing expert, Paula, who works for Bauer Media.
https://www.eventbrite.co.uk/e/social-media-strategy-online-event-tickets-103343270504
Hustle & Heels Instagram Interview with Rochelle Gapere, attorney and happiness coach (Thursday 30 April, 6pm) An honest chat with US based attorney who now travels the world teaching people how to remain happy.
https://www.instagram.com/hhlluk/?hl=en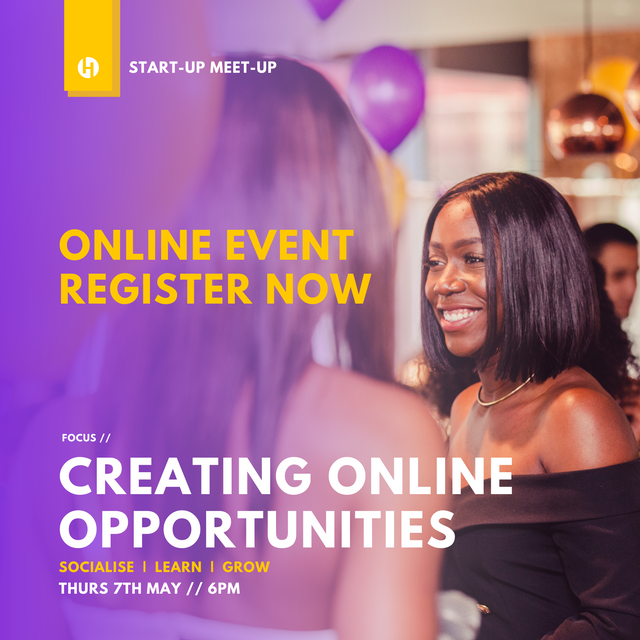 Creating Online Opportunities (Thurs 7 May, 6pm) - The aim of this webinar is to help people identify how they can use this time to still be productive. A director at Google will be joining us to provide his take on how we can pivot during this time.
https://www.eventbrite.co.uk/e/creating-online-opportunities-online-event-tickets-87904357299
Out The Box
The Money Edition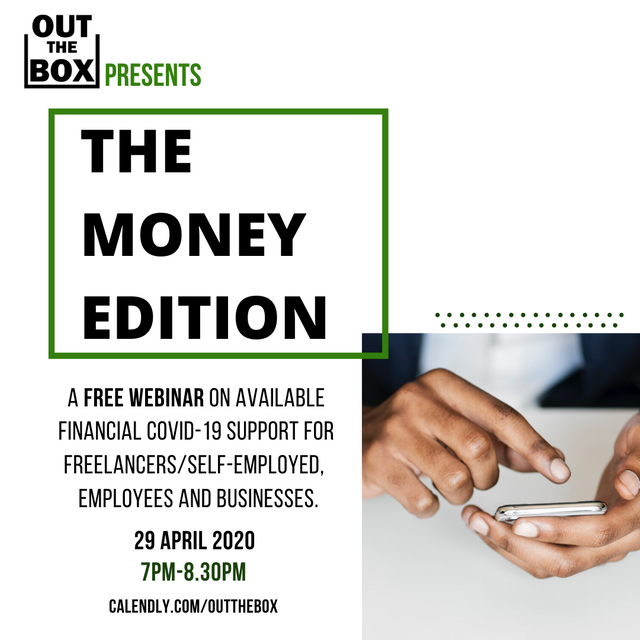 We've put together a FREE Zoom webinar for those who are self employed/freelance, run a business or employed by a company and have been going through a tough time financially due to COVID-19.
The session will be led by Jaspreet Kaur, Finance Business Analyst, Qualified Accountant and BA(Hons).
Jaspreet has coherently rounded up the information and help available for freelancers, employees and businesses during this COVID-19 period.
https://calendly.com/outthebox
Girls Talk London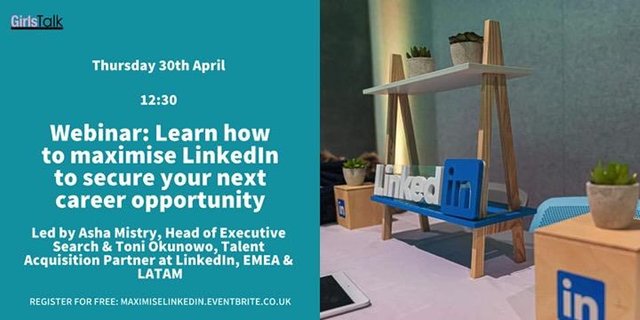 Girls Talk London are teaming up with LinkedIn next week on Thursday 30th April at 12:30pm UK Time to host a webinar to support attendees with understanding how to access jobs, attract clients if self-employed/freelance, training and to also maximise your profile to strengthen your personal brand.
This workshop is free and will be delivered by Asha Mistry, Head of Executive Search and Toni Okunowo, Talent Acquisiton Partner at LinkedIn, EMEA & LATAM.
This webinar is suitable for those who maybe have recently been furloughed, lost their job or are self-employed and have lost clients and work. OR anyone who wants to learn more about maximising LinkedIn!
https://www.eventbrite.co.uk/e/how-to-maximise-linkedin-to-secure-your-next-career-opportunity-tickets-103123585420
Black Women Leaders Virtual Conference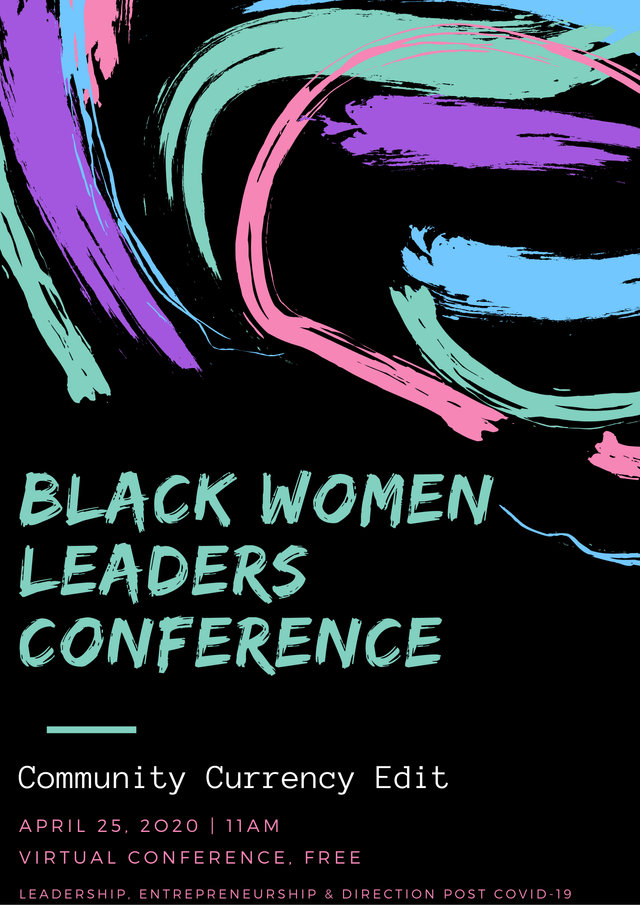 Remi Ray will be hosting the Black Women Leaders Virtual Conference on Saturday. There's a fantastic line up of Black British Women Speakers, Experts & Professionals sharing tangible advice about how black women can thrive beyond this crisis. Register for your FREE ticket without delay.
https://www.eventbrite.co.uk/e/black-women-leaders-virtual-conference-tickets-102792378772
The Colour Comms Network
The colour comms network is a network of POC who work in Advertising, Marketing and Communication. They are based in the States and have a division over in the UK. They have their own calendar of events usually and have moved to virtual events during this time. Events are usually for members but a priced reasonably for non-members to attend.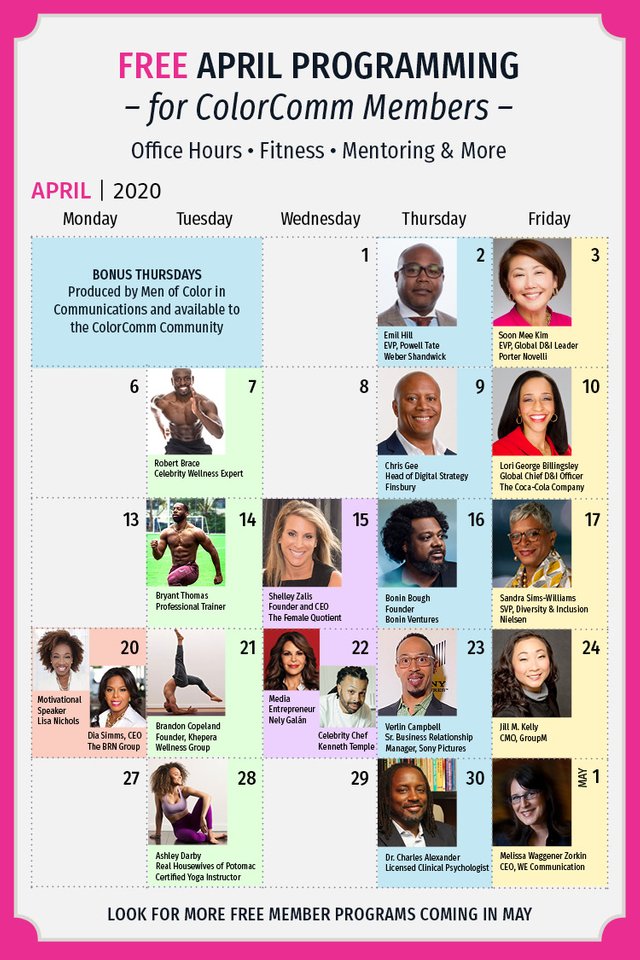 https://www.colorcommnetwork.com/events/?mc_cid=5a08e3cb4b&mc_eid=dc60ca942d
Africa Fashion Week London
This annual event has now moved completely online. A special mention of Meeting of Minds (https://meetingofmindsuk.uk/), a platfrom for events from the Black community and its founder is speaking at one of the webinars.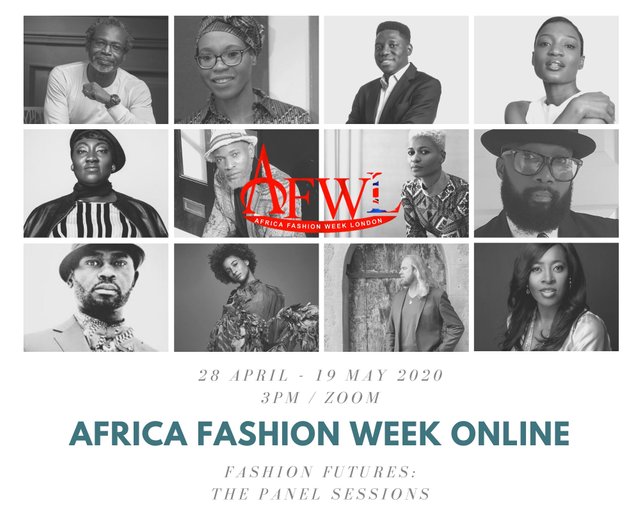 https://www.africafashionweeklondonuk.com/webinars
BYP Network
The Black Young Professionals Network is a platform which connects black professionals with each other and corporations. They have recently raised money for at risk workers from the black community. They have moved their events online with senior leaders and professionals.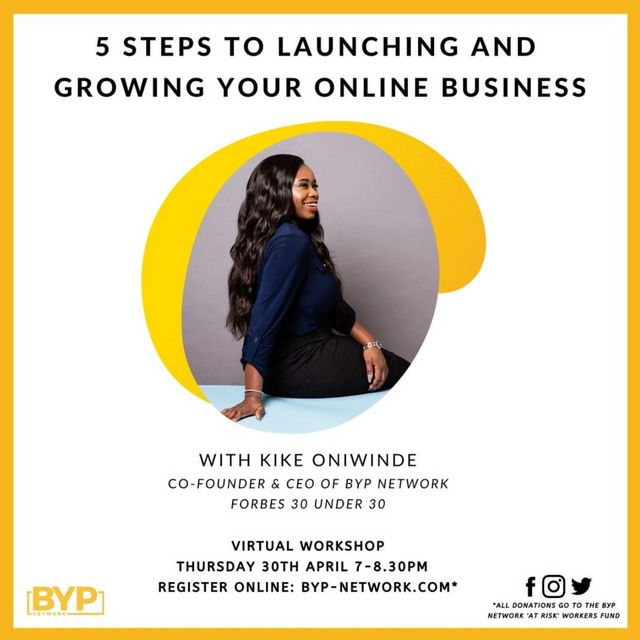 https://byp-network.com/events/34176
Nova Reid Courageous Courage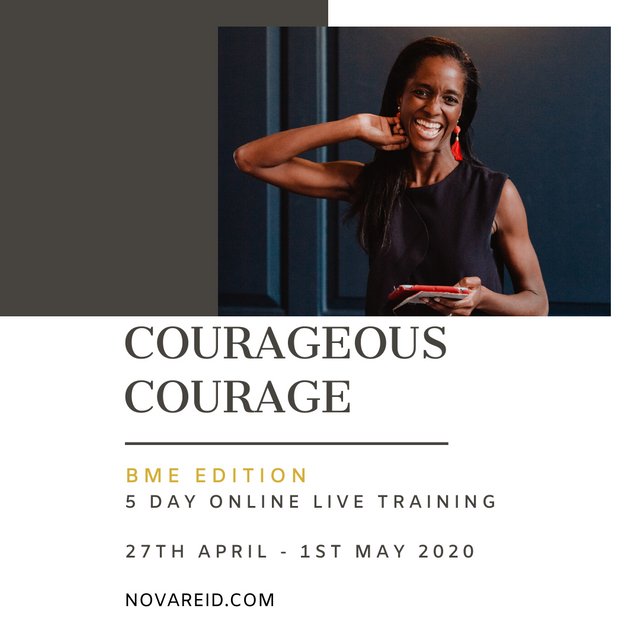 Nova Reid is a Diversity & Anti Racism campaigner, Tedx Speaker and writer and is passionate about helping companies and individuals recognise their own power in being the change they want to see in the world. She is also the founder of Nu Bride.
https://novareid.com/services/courageous-courage-bme-edition/
Clear Channel Presents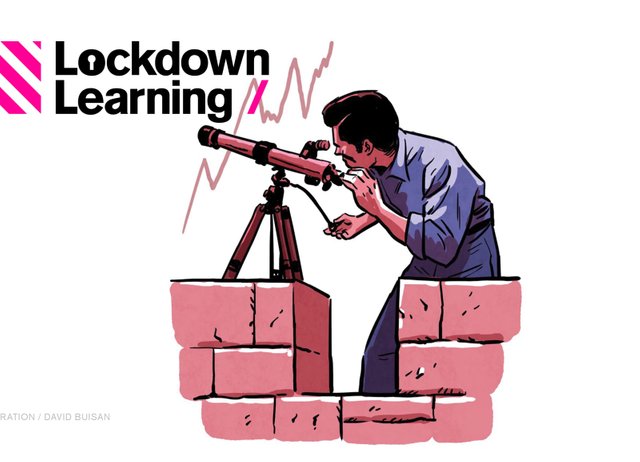 Clear Channel is well known for supporting diverse communities. Their webinar series wraps up some of the smartest advertising insights and entertaining creative outlooks to bring you a binge-worthy dose of learning.
https://www.clearchannel.co.uk/cc-presents-webinars?utm_source=social&utm_medium=social&utm_campaign=webinars
Remix Academy Culture x Technology x Entrepreneurship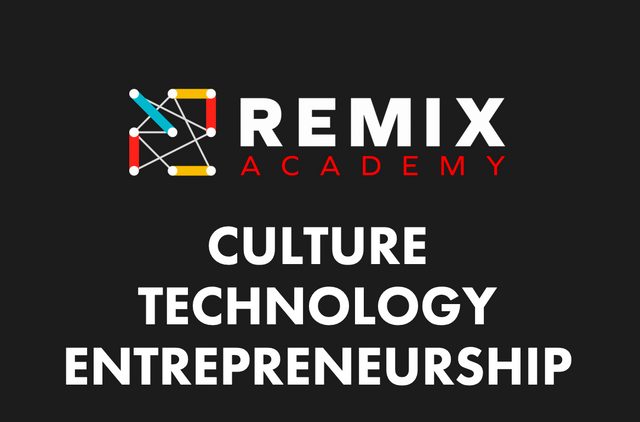 Hundreds of the best minds from across arts and culture, technology and entrepreneurship share lessons from their experience - from the creator of Glastonbury to the CEO of Burning Man. Subjects include experience design, storytelling, marketing, placemaking, leadership, digital content, income generation, arts/tech, sustainability and many more.
There is free access to some talks and all from senior leaders.
Rocking Ur Teens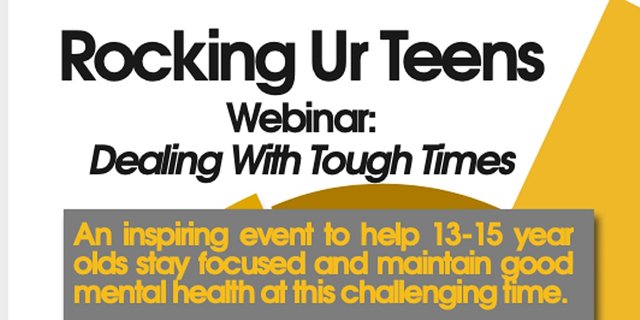 Rocking Ur Teens is a social enterprise and this webinar supported by the Institute of Leadership Management. They inspire young people and equip them with the knowledge and skills they need for future success. This webinar is an event to help 13-15-year-olds develop coping strategies at this challenging time.
https://www.eventbrite.co.uk/e/rocking-ur-teens-dealing-with-tough-times-tickets-102888869378
We Are the City
A large platform focusing on supporting female talent in the corporate space. They have everything from awards to career advice to gender networks. Their career advice is now online in the form of webinars.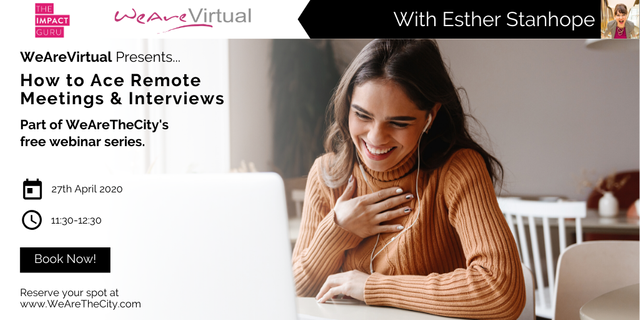 https://wearethecity.com/27-04-2020-wearevirtual-how-to-ace-remote-meetings-interviews-webinar-esther-stanhope/?mc_cid=b00baf2109&mc_eid=341cdf0926
British Library Resilience Toolkit
Covering all aspects of the business from investing to PR, to bid writing to confidence, webinars are on a weekly basis. Next up are empowerment talks by Madeline McQueen.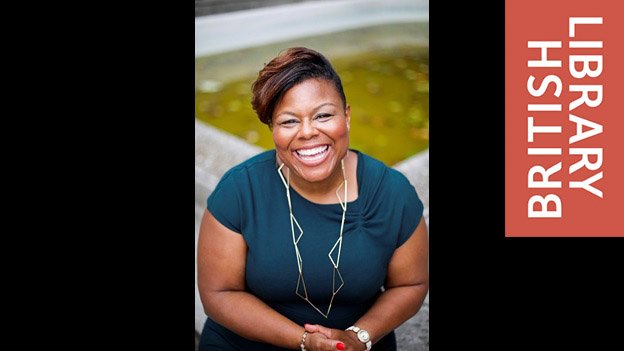 https://www.bl.uk/events/webinar-whats-stopping-you-may-2020
Strong for every day
A fitness platform run by mum and personal trainer Fumi Olatoye. Live workouts every week.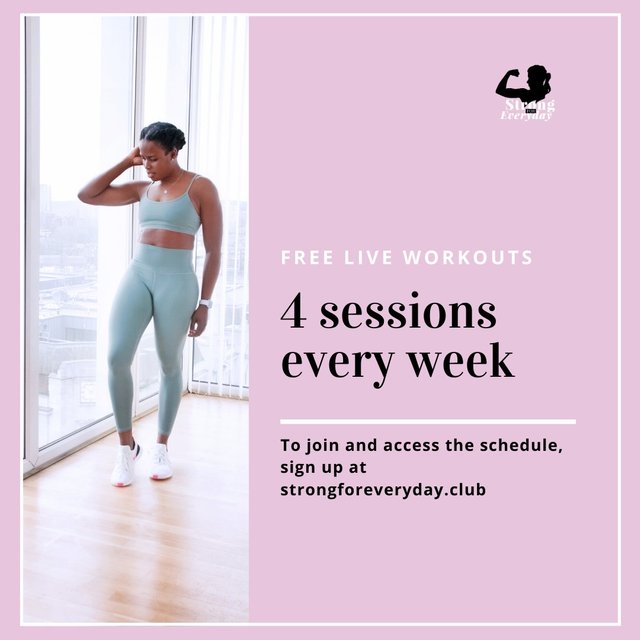 https://strongforeveryday.club/
Chukus
Whilst Chuku's Nigerian tapas restaurant is closed, to continue to bring their feel-good vibes and social spirit they are hosting a series of virtual supper clubs and Nollywood Netflix Parties. All events are free and family-friendly with invitations going out via their community newsletter.
Their first Nollywood Netflix Party is on Thursday 30th April at 7pm, where they'll be watching Nollywood fave, Up North. To access the booking link for your free spot (and to stay in the know about their upcoming virtual supper clubs), sign up to their newsletter here:
http://www.chukuslondon.co.uk/nigerian-tapas-restaurant-community-sign-up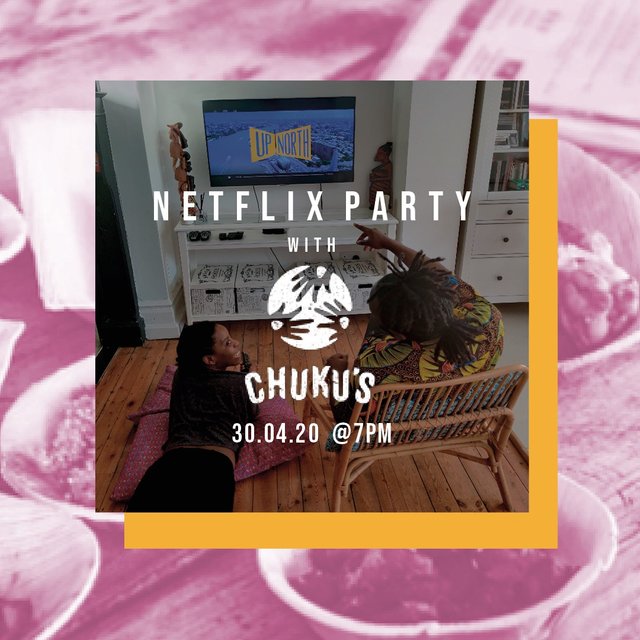 Lori Bee MUA presents*
This is a free webinar event, focusing on Q&As around how best to promote good health - through diet, nutrition, lifestyle and exercise.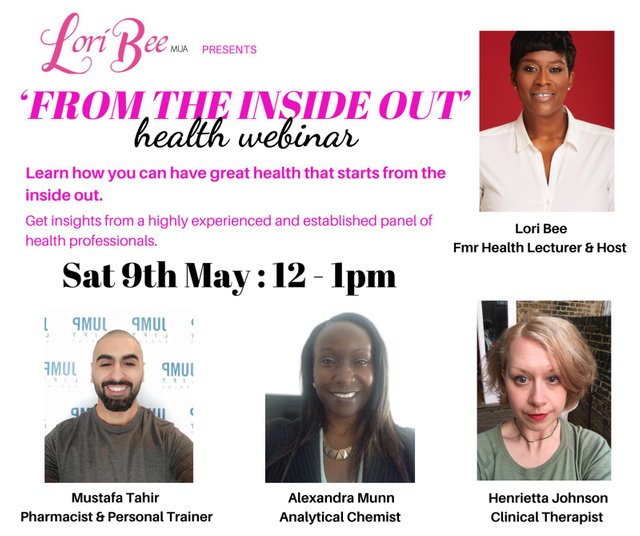 https://www.eventbrite.co.uk/e/from-the-inside-out-health-webinar-tickets-103803972476?utm_campaign=post_publish&utm_content=EBLinkEvent&utm_medium=email&utm_source=eventbrite&utm_term=fullLink