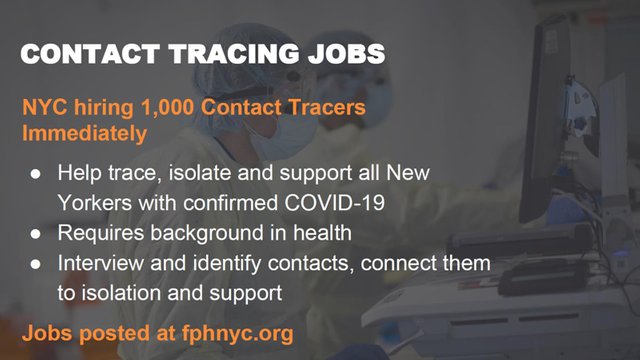 Contact Tracer.
In spite of and because of the current pandemic an entirely new set of jobs are becoming available in the help wanted ads in your local or regional job search site. The new jobs are Contact Tracer and Disease Investigator.
Here in Wisconsin –
The Wisconsin Department of Health Services (DHS), Division of Public Health (DPH) is recruiting a large team of Contact Tracers to assist in tracking and limiting the spread of COVID-19 in the State of Wisconsin.
Applications will be accepted until our needs are met.
Wisconsin like so many other states are proceeding down the slippery slope in the violation of residents' personal privacy and their civil rights. I'm not holding my breath that any of the following questions have been asked or answered by Governor Evers or his staff.
• First, has the government shown its surveillance would be effective at solving the problem?
• Second, if the government shows efficacy, we ask: Would the surveillance do too much harm to our freedoms?
• Third, if the government shows efficacy and the harm to our freedoms is not excessive, we ask: Are there sufficient guardrails around the surveillance?
An addition to the first question would be, just what problem are they attempting to solve here in Wisconsin? Here in our county, we've had three confirmed cases of COVID19 and all have been more than six weeks ago. According to the Wisconsin Department of Health Services (DHS), 19% – 1,732 – of the confirmed cases in the state have been hospitalized. In a state with 11,066 total hospital beds, the current COVID19 in the state doesn't appear to be taxing the hospital system.
I would presume that the Contact Tracer and Disease Investigator positions would be prioritized to go and research those who are hospitalized first. I'm not sure as to just how many of these positions would be needed here in Wisconsin.
Will the Contract Tracer and Disease Investigator individuals or teams be equipped with drones to enforce or monitor social distancing, or monitor gatherings with fever detecting thermal imaging and facial recognition software?
Currently, there are a dozen countries that have contact tracing apps in mobile deployment. In April of this year both Apple and Google announced that they were developing contact tracing capabilities into their respective Android and iOS operating systems.