An Inquiry into COVID-19 in Ireland
COVID-19 and Ireland – Part 1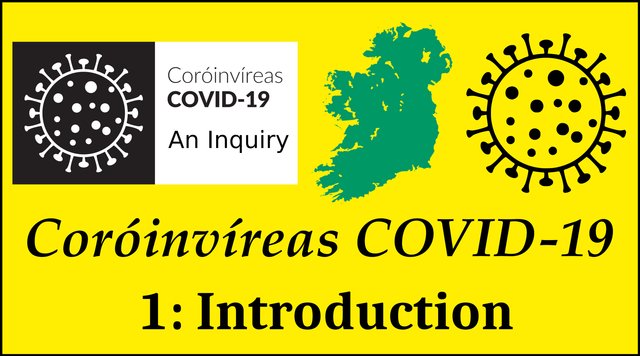 The Metamorphosis
2020 will be forever remembered as the Year of the Pandemic. Never in the course of human history has so much havoc been wrought in the name of public health. As I write, routine behaviours that have served us well for centuries are now seen as socially unacceptable, practices that have never before given us the least pause are now looked upon with suspicion, and actions that would once have been deemed insane are now embraced with enthusiasm and held up as shining examples of one's civic duty or marks of one's virtue. It is as though our very civilization is being systematically dismantled and replaced with something strange and unprecedented. And this metamorphosis is happening under our very noses, not only with our consent but with our willing participation.
This history of this momentous year will, no doubt, be written by those who welcome these changes and who see them as inevitable and long-overdue marks of human progress. It behoves those of us who dissent from these views to write the true history of this year and to ensure that posterity is bequeathed a balanced assessment of this curious transformation. This series of articles represents my contribution to the debate. As the title of the series implies, I will be focusing on the impact of the pandemic on my own country, Ireland. The geographical island of Ireland is partitioned among two political jurisdictions, the Irish Republic (Ireland or Éire) and the United Kingdom (Northern Ireland), whose independent responses to the crisis make this an interesting case study.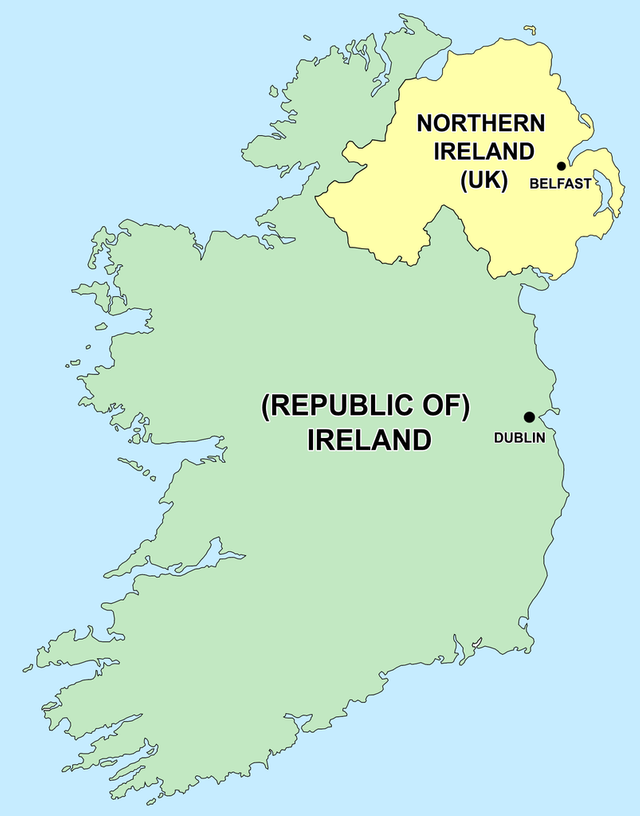 Ireland Partitioned
The Official Narrative
When embarking upon an inquiry that seeks to question the "official" narrative, one should always begin by clearly stating what official narrative is. Wikipedia is usually a reliable repository of the received opinions on any controversial subject: if you wish to know what the powers-that-be want you to believe, study the relevant articles on Wikipedia. Government publications—which are usually accessible online here or here—are also valuable sources of the authorized version.
So, what do these sources lead us—by the nose—to believe?
COVID-19—Coronavirus Disease 2019— is a global pandemic.

COVID-19 is caused by a pathogenic virus known as SARS-CoV-2 (Severe Acute Respiratory Syndrome Coronavirus 2).

SARS-CoV-2 is a novel coronavirus. It is a positive-sense single-stranded RNA virus.

This virus possibly first entered the human population at the Huanan Seafood Wholesale Market in Wuhan, China, in November 2019, but this is still disputed. As of March 2021, the exact origin of the pandemic is still a matter of ongoing debate and study.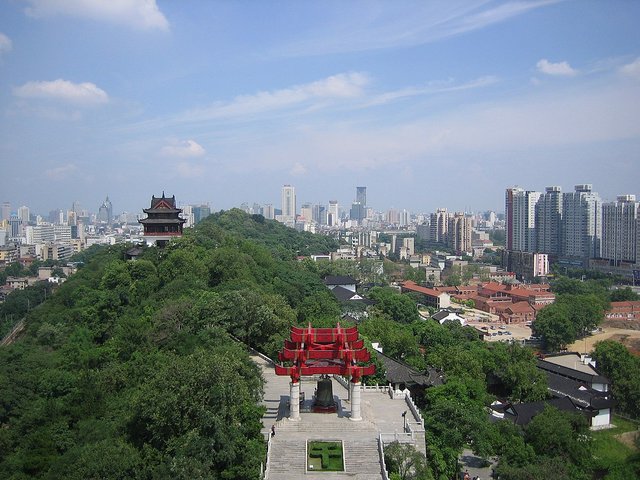 Wuhan, China
The World Health Organization (WHO) declared COVID-19 a Public Health Emergency of International Concern on 30 January 2020.

WHO declared COVID-19 a pandemic on 11 March 2020. At this point, the disease had caused 4292 deaths globally in 114 countries, territories or areas.

COVID-19 is an infectious disease. Each infection results in 1.4 to 3.9 new ones when no members of the community are immune and no preventive or prophylactic measures are taken.

The virus spreads between people primarily through close contact and via respiratory droplets produced from coughs or sneezes.

Symptoms of COVID-19 include fever, cough, fatigue, shortness of breath, loss of the sense of smell, loss of the sense of taste. Sometimes, however, there are no symptoms at all.
COVID Symptoms
The Timeline of the Pandemic
The timeline of the pandemic's progress in the Republic and in Northern Ireland can be briefly summarized for the initial months (Green = Irish Republic, Orange = Northern Ireland, White = Both):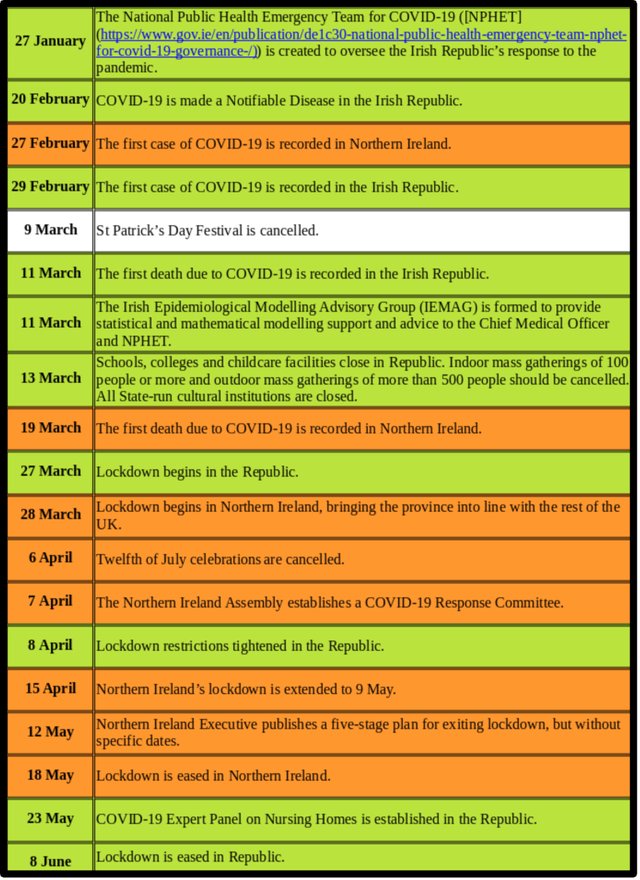 Early COVID Timeline
Evolution of a Crisis
The pandemic continued to evolve rapidly after its initial onset. At the end of January 2020, the European Centre for Disease Prevention and Control (ECDC) was downplaying the seriousness of COVID-19. On 27 January, the National Public Health Emergency Team for COVID-19 (NPHET) was convened for the first time. The minutes of this first meeting include the following:
It was noted that the ECDC's risk assessment for the EU / EEA is now 'moderate' but that, subject to appropriate control measures being in place, the risk of onward transmission is rated as 'low'. (NPHET COVID-19 Meeting Note - 27th January 2020)
Less than a month later, events in Italy caused the ECDC to radically alter its position, as noted in a statement issued by NPHET on 23 February:
Following on from the increased number of COVID-19 cases in Italy, the National Public Health Emergency Team has today noted that the European Centre for Disease Prevention and Control (ECDC) now rates the risk of the occurrence of similar clusters of cases in other EU countries as moderate to high. ([NPHET(https://www.gov.ie/en/press-release/4a1f06-statement-from-the-national-public-health-emergency-team-sunday-23-f/))
At the end of February, after both the Republic and the North had recorded their first cases of COVID-19, the public were told:
It is important to note that the risk of transmission through casual contact is low. (Dr John Cuddihy)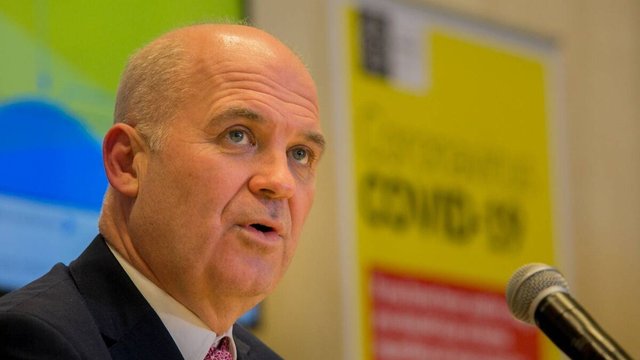 Tony Holohan, Chief Medical Officer and Chairman of NPHET
Social distancing was noticeably absent from the government advice being given to the public, and there was no mention at this stage of masks or face coverings:
Things you can do to protect yourself from getting COVID-19 (Coronavirus) include:

wash your hands properly and regularly
cover your mouth and nose with a tissue when you cough and sneeze.
In a statement made on 12 March, the caretaker Taoiseach (acting Prime Minister of the Irish Republic) Leo Varadkar advised businesses to look at ways that they can implement the public health advice on social distancing (Statement by An Taoiseach on measures to tackle Covid-19).
Three days later, the government advised that all pubs should close until 29 March and that people should avoid having house parties in the interest of social distancing. (Department of the Taoiseach)
On 24 March, the restrictions were extended:
All non-essential businesses should close.

Places of worship are to restrict numbers visiting and no unnecessary travel should take place in the country or overseas, now or during the Easter break.

People should stay at home and only leave to go to work, to care for others, or to do essential shopping.
Three days later, on 27 March, the Republic went into a full lockdown. The public were ordered to STAY AT HOME. The only cases in which one was permitted to leave one's house were:
To travel to or from work if one was providing an essential service.

To shop for food.

To collect medical prescriptions or medical supplies or to attend medical appointments.

To carry out vital services like caring (including family carers).

For brief individual exercise—within 2 kilometres of your house. One could bring children but must keep 2 metres away from others for social distancing.

For farming.
These restrictions were tightened on 8 April. Initially, these new restrictions were to remain in force for just four days, but this was later extended to 5 May.
On 22 April, Simon Harris, then acting Minister for Health in the Republic, stated during an interview on RTÉ's 2FM radio channel:
Remember this is coronavirus Covid-19—that means there have been 18 other coronaviruses and I don't think they have actually successfully found a vaccine for any.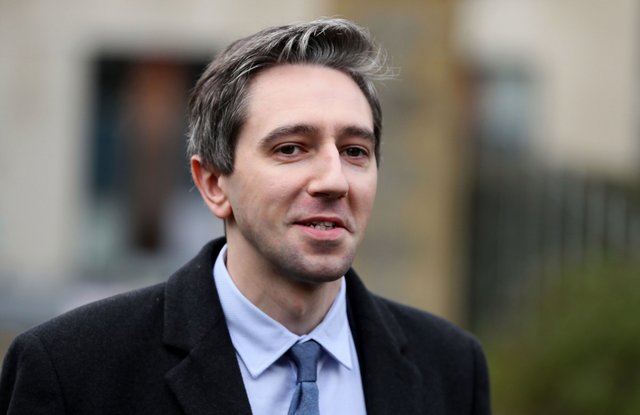 Simon Harris, Minister for Health
On 5 May, the 2 km limit was extended to 5 km, but the other restrictions were now extended to 18 May. Also on this day, the first Amárach Opinion Poll on the pandemic was released. Subsequently, similar opinion polls were released on an approximately weekly basis.
On 18 May, the lockdown restrictions were extended to 8 June.
On 28 May, regulations were introduced to deal with visitors arriving in the Republic from abroad.
On 8 June, the restrictions on travel and outdoor gatherings were significantly relaxed:
Travel was permitted within a 20 km radius of one's home or anywhere within one's county for social and recreational purposes.

Gatherings were permitted for social or recreational purposes in other people's homes, subject to a maximum of 6 people at such a gathering.

Outdoor exercise and gatherings for social and recreational purposes were permitted, subject to a maximum of 15 people.

People were allowed to travel outside these geographical limits to visit vulnerable persons.

Many shops and businesses were allowed to reopen. Facilities which by their nature involved close contact with other people, however, were obliged to remain closed for the time being.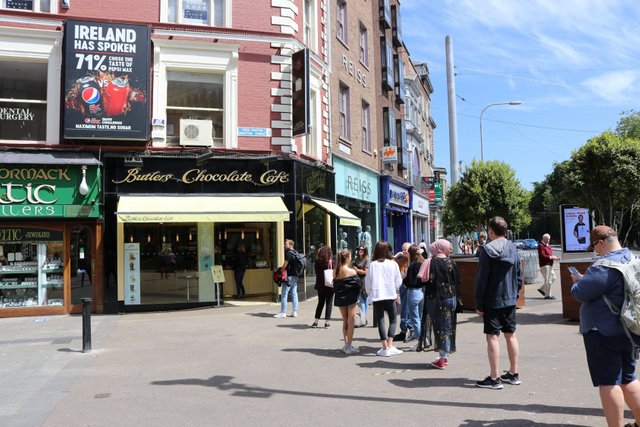 Queueing for Coffee on Grafton Street, Dublin
On 15 June, all retail outlets were permitted to reopen. Amendments were also made in regard to access to certain sports facilities for the purposes of organizing or holding outdoor sporting or educational gatherings (such as summer camps) of no more than 15 persons. The use of certain premises for meetings of registered political parties was also authorized.
On 3 July Leo Varadkar, in a tweet in response to revelations that Excess deaths in Ireland from March to June were "substantially" less than the officially reported Covid-19 figures, admitted that the Covid-19 figures were being deliberately skewed:
Interesting but not a surprise. In Ireland we counted all deaths, in all settings, suspected cases even when no lab test was done, and included people with underlying terminal illnesses who died with Covid but not of it ... This was right approach but skewed the numbers. Priority is to save lives not look good in league tables.
On 7 July, the government released a COVID Tracker App.
On 13 July, face coverings were made mandatory on all public transport (applicable to teenagers and older):
"face covering" means a covering of any type which when worn by a person covers the person's nose and mouth.
This was later emended by the insertion of the phrase without leaving a visible gap after covers.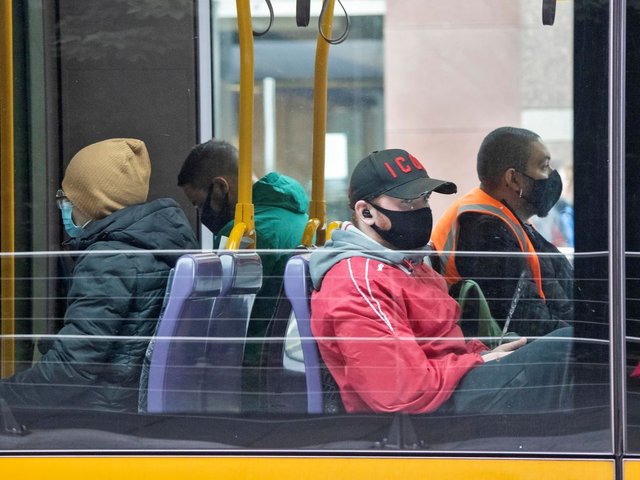 Masked Passengers on the Luas at St Stephen's Green, Dublin
On 18 July, Phase 4 of the easing of the restrictions was postponed from 20 July to 10 August.
On 8 August, lockdown restrictions were reimposed in Counties Kildare, Offaly and Laois. On 23 August, these restrictions were relaxed in the cases of Offaly and Laois but extended to 6 September in the case of Kildare.
On 10 August, the wearing of face coverings became mandatory in all shops and shopping centres in the Republic.
On 21 August, the Minister for Agriculture, Food and the Marine Dara Calleary and the deputy chairperson of the Seanad Jerry Buttimer resigned after attending a golf dinner in which social distancing rules were flouted.
On 28 August, the Central Statistics Office (CSO) revised the number of COVID-19-related deaths in Ireland from 1763 to 850-900 for the period ending 31 July. See also George Lee.
On 31 August, temporary restrictions were introduced which affected sporting events, businesses and households. Under this legislation, social events held in private residences, indoor and outdoor sporting events, and businesses that sold intoxicating liquor were subjected to various restrictions. These restrictions, which were originally due to expire on 14 September, were later extended to 5 October
On 19 September, Dublin was moved back from Level 2 Lockdown to Level 3, with tighter restrictions, due to increasing numbers of positive tests.
On 26 September, Donegal was moved back from Level 2 Lockdown to Level 3, with tighter restrictions, due to increasing numbers of positive tests.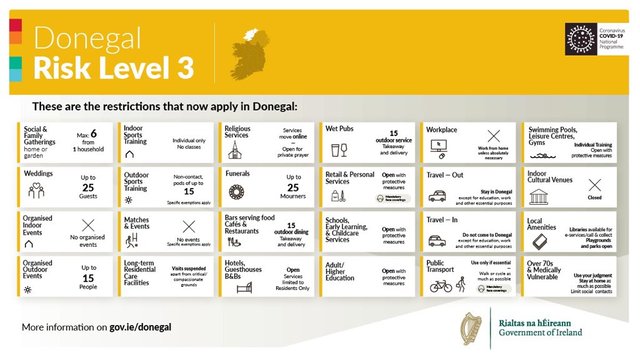 Level Three Restrictions, County Donegal
On 3 October, the mandatory wearing of face coverings on public transport and in Certain Premises and Businesses was extended from 5 October to 9 November.
On 7 October, the entire country was moved back to Level 3 Lockdown due to increasing numbers of positive tests.
On 22 October, the entire country was moved back to Level 5 until 1 December.
On 6 November, the mandatory wearing of face coverings on public transport was extended to 9 June 2021.
On 6 November, the mandatory wearing of face coverings in shops and other businesses was extended to 9 June 2021.
On 1 December, the country was returned to Level 3 Lockdown.
On 24 December, the whole country was returned to Level 5 "due to the alarming scale of the growth in incidence of the virus in recent days" (Briefing).
As I write—24 March 2021—the country is still in Level 5 Lockdown, with no end in sight. Several so-called vaccines have been rolled out but there is still no indication that the vaccination of substantial numbers of people will lead to a return to normality.
In the Irish Republic, public transport continued throughout the crisis, though restrictions were placed on the maximum number of passengers a vehicle could carry. Eventually, the wearing of face coverings was made mandatory. Supermarkets, foodstores and coffee-shops (take-away only) also remained open irrespective of the level of the lockdown, and there have been few if any shortages in supplies.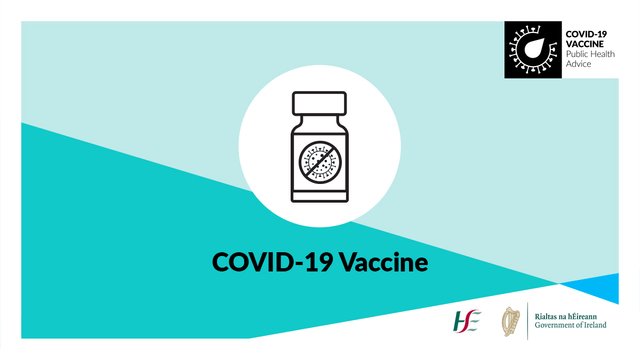 The HSE's COVID-19 Vaccine Poster
Disclaimer
I am not a doctor. I do not have any medical training or experience in the field. I have not received any "official" medical education, though I have taken some online courses in the field of medicine. For example, I recently worked my way through Dr Barry C Fox's series of lectures, An Introduction to Infectious Diseases on The Great Courses Plus, and I audited Coursera's course COVID-19 Contact Tracing.
And that's a good place to stop.
---
References
Robert Edgar Hope-Simpson, The Transmission of Epidemic Influenza, Springer Science+Business Media, New York (1992)
Kenneth J Rothman, Sander Greenland, Timothy L Lash, Modern Epidemiology, 3rd Edition, Lippincott William & Wilkins, Wolters Kluwer, Philadelphia (2008)
Image Credits
Online Resources