Covid-19 Update - India
There was a sharp increase in numbers in positive Coronavirus cases in India from the last 4-5 days only because of the stupidity of some people. Though still, we are in control but given the number of the population we have, it will be really difficult in the coming days to control this pandemic, especially in India.
At the time of writing, there are 2640 Positive cases, out of which 192 has recovered whereas 72 are dead.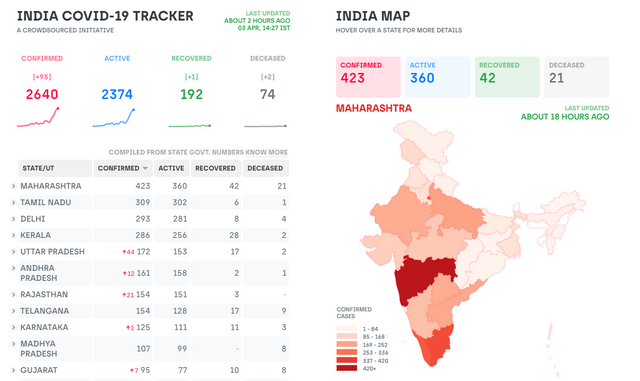 PC: https://www.covid19india.org/
Living in Bangalore I can say that people here are following the lockdown quite seriously and it's good. But I am afraid what will happen after 14th April when the lockdown is lifted. People will start going out in large numbers which will make the virus spread again.
Till now people were thinking that how to test if they have coronavirus or not. One of the reason was no one can walk simply and ask the doctors to do the test and other was it is a little risky to go to that hospital where the tests are going on. The good news is Bengaluru-based startup BIONE has launched India's first at-home testing kit for COVID-19.
This kit as claimed by BIONE is very easy to use and it can display accurate results within minutes. This kit is also approved by the Indian Council of Medical Research (ICMR), displays accurate results within minutes. If you want to test, you need to clean your finger with an alcohol swab and use the lancet provided to finger-prick. The cartridge provided reads the results from the blood sample within 5-10 minutes.
Stay Home and Stay Safe