Ten Steem Dollars go to @millionairemark as thanks for suggesting a GekeVenn on New York Life Insurance. Would you like 10 Steem Dollars? There's still one slot left! If you'd like to see a corporation covered in a GekeVenn, please suggest it in the comments. For the next relevant suggestion that turns up a viable list of revolving door insiders, I'll not only produce the requested venn, but I'll tag you in the post and award 10 Steem Dollars to your Steemit account.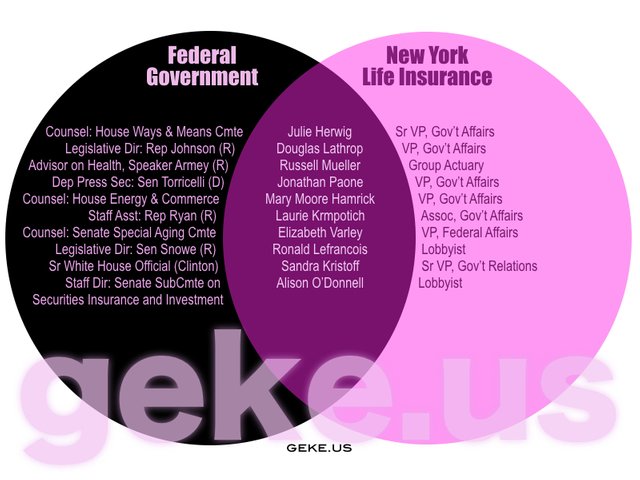 This one only netted 10 government employees through the revolving door, with the most notable being Alison O'Donnell. In 2015, O'Donnell, a Vice President for Government Affairs at New York Life, participated in a panel of "government relations insiders" (that's a quote from the event's published agenda) for the retirement income industry.
What made her an insider? In addition to being a prominent lobbyist for New York Life, O'Donnell also served as the staff director for the Senate Subcomittee on Securities Insurance and Investment. Prior to her time in the Senate subcomittee, she also served as senior economic policy advisor for Senator Jon Tester, a Democrat from Montana.