On Blockchain and Digital Copyright Protection: Copytrack CEO Marcus Schmitt on the CryptoCoinShow
"Why blockchain? In our eyes it's the best technology to secure copyrights."
On the day after our $7.6M USD pre-sale, Copytrack CEO Marcus Schmitt went on the CryptoCoinShow to talk to Ashton Addison.
In the 15 minute conversation they touched upon topics such as:
How Copytrack successfully operates since its foundation in 2014
Copytrack's vision to make the image licensing market more transparent
The use of the CPY token to reduce fees in global licensing payments
How creators can gain up to 80% from their licensing deals through a decentralized copyrights registry
The scalability of the Ethereum blockchain vs Copytrack's own blockchain
There are lots of takeaways for anyone who already invested into Copytrack or plans to invest in our current main sale ICO that still runs until February 10.
Here are some of our favorite quotes from the interview:
On why Copytrack decided to make an ICO as an existing and profitable business:
"Why blockchain? In our eyes it's the best technology in order to secure copyrights. That's why we came up with the Global Copyright Register. Photographers will be able to authenticate themselves and register their images. Which means we will connect their personal data with data of their image and we'll store hashes on our blockchain. And then it's irreversible. That's why blockchain is the perfect technology for us." (1:10)
Why the image industry needs more transparency:
"Creators worldwide, whether they produce images, video or music, are doing a fantastic job. Many of them live on that. And they earn less and less. […] In the image industry, everybody knows that photographers are giving away images on the big image platforms and maybe earn a dollar or two once it's sold. That's a very small cut of the money that the agencies get. [...] This is why the industry needs transparency. And this is what the Register will bring." (2:20)
How creators will benefit from the Global Copyright Register:
"Creators today earn 2% or 5% of the money, but they should get 70% or 80%. We're a small step away from reaching that goal." (04:00)
How the CPY token will be used:
"With the CPY coin on our platform we will be able to transfer the money in almost real time and eliminate all the fees. In the end, the rights holders will have more in their pockets." (6:20)
Listen to the full interview here: The CryptoCoinShow with Copytrack CEO Marcus Schmitt
Got questions?
Join the COPYTRACK Telegram group and interact directly with our team and more than 2,300 community members.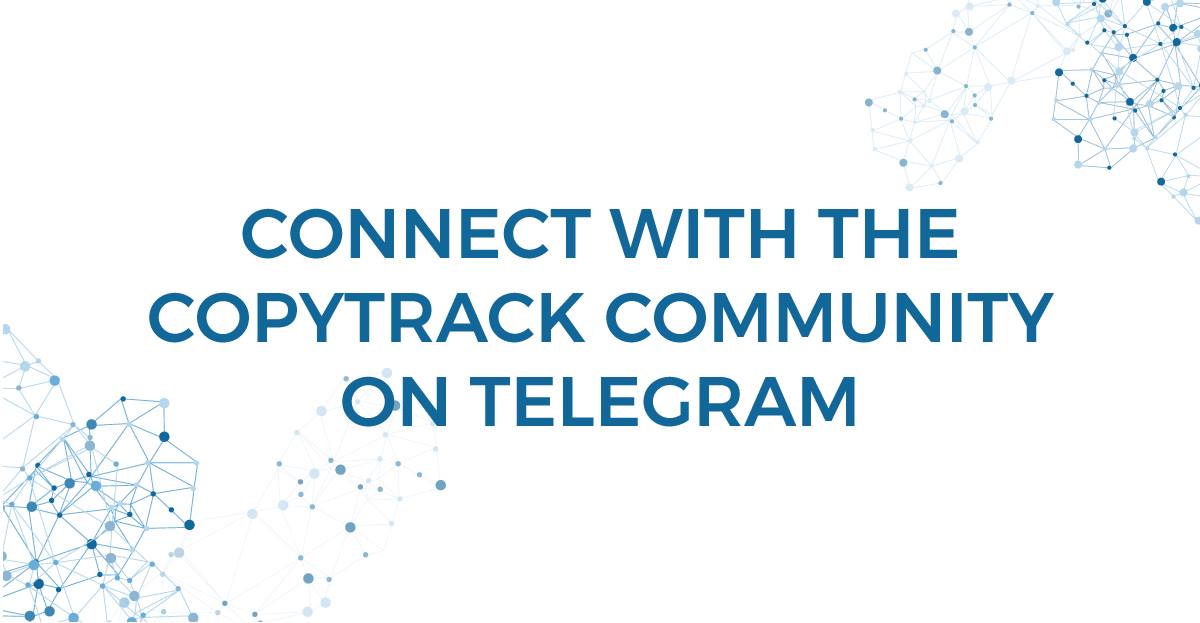 About Copytrack
Copytrack is the undisputed market leader in uncovering image theft with headquarters in Berlin and Singapore and subsidiaries in New York and Tokyo. Over the past three years we have helped the photography community to claim image rights in over 50.000 of unsolicited use cases.
Learn more about Copytrack at: https://copytrack.io/
Read the Copytrack Whitepaper at: https://copytrack.io/pdf/Copytrack_ICO_Whitepaper.pdf
Read the Copytrack Technical Whitepaper: https://copytrack.io/pdf/Copytrack_ICO_Technical_Whitepaper.pdf
Join the Copytrack Bounty Program: https://copytrack.io/bounty
Join us on Telegram and get live chat support: https://t.me/copytrackhq
Follow Copytrack on Twitter at: https://twitter.com/copytrackhq
Thank you,
Your Copytrack Team