Abkühlung
Heute hat es nach vielen Tagen endlich mal wieder kräftig geschüttet. Die Natur und unser Garten haben das auch dringend gebraucht. Nach dem Blitz und Donner verzogen waren , bin ich raus und konnte die herrlich frische Luft genießen. O.K., geraucht hab ich auch noch eine und vorher diese schicke Schnecke mit dem Handy fotografiert. Wenn man nun aber das Smartphone nah an die Schnecke hielt, verzog sie sich sofort, stand starr bzw. klebte starr am Stein. Nun also ca. ein, zwei Minuten warten und siehe da, die Dauercamperin zeigt sich. Aufnahme: iPhone 5, Abstand ca. 15cm.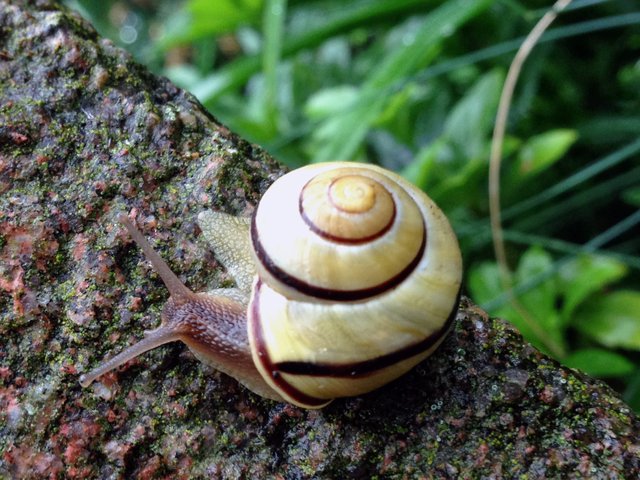 Coolingdown
Today it has finally poured again after many days. Nature and our garden also needed it urgently. After the thunder and lightning had gone, I was out and could enjoy the wonderful fresh air. OK, I also smoked one and before that I photographed this chic snail with the mobile phone. But if you now hold the smartphone close to the snail, it immediately warped, stood rigidly or stuck rigidly to the stone. Now wait about one or two minutes and look, the permanent camper shows up. Recording: iPhone 5, distance approx. 15cm.
---
Follow @montiamore for music and more.