greetings to people of steemit! This week's theme for CWU is a interesting yet challenging one "raw dish". When it comes to raw food we often think fruits and vegetables but when you try thinking harder you remember that there are so many savoury food item that are raw too. prosciutto is one example of uncooked meat but thanks to the curing process, it's not only tende and delicious but it's safe to be consumed too. There are actually so many cuisine in the world that have uncooked meat products starred in their menu, in France there is beef tartar, in Japan there is sushi, in Denmark there is pickled Mackerel, and in Thailand they have lime treated prawns. There are many way to prepare food which is safe to be to be consume other than heat, there is pickled, cure, ferment and dried. This time I'm going in Thai cuisine therefore I'll be using lime juice to marinated my raw prawns along with some pickled vegetables all presented with my little twist.
Spicy Thai salad with coconut flakes coated honey cashew ball, pickled plum sauce cucumber , lime cured prawn drizzle with sweet and spicy chille sauce and mayonnaise.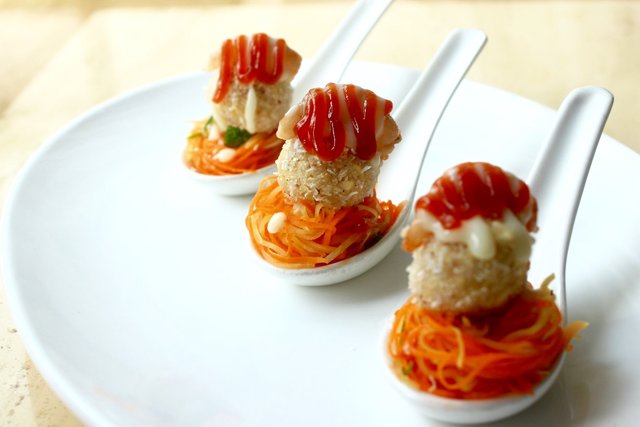 What's in it
---
Vegetable used
( cucumber, carrot, unripe papaya)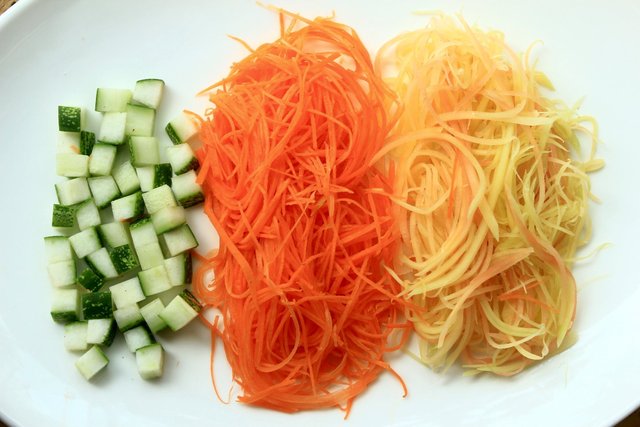 In this cuisine or even other Asian cuisine we usually use unripe fruits for salads mainly because they hold their shape well in the dressings. Plus tropical fruits like papaya and mango are widely grown in south east Asia . I wanted to used unripe mango to add some sourness to the salad but unfortunately I could not find any at the moment but no big deal, I'll just add more lime juice as a substitution. Carrot is chosen mainly because it's sweet, colourful and crunchy. Papaya for its mild tropical flavour and cucumber because its literally absorbs flavour like a sponge and hack it's packed with a juicy crunch went bite into it.
The sweet, salty, spicy, sour Thai salad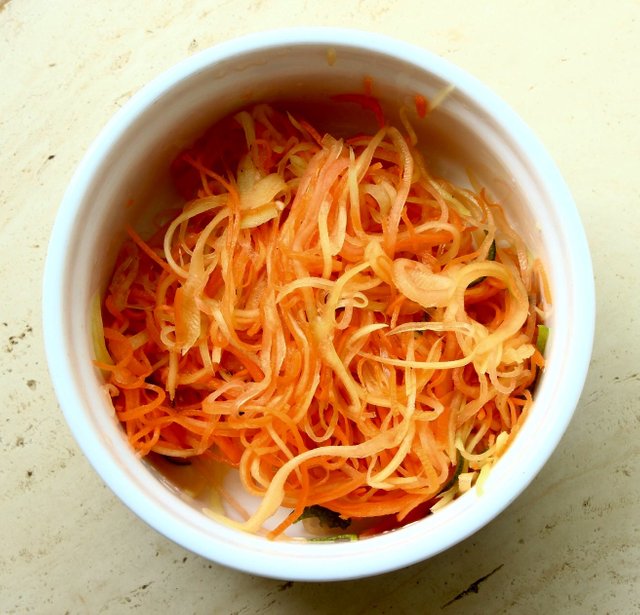 To prepare this you will need to make the sauce with consist of mixing coconut sugar which has a fragrant coconut scent, fish sauce for saltiness and funk, lime juice to mellow down the funk of the fish sauce and for sourness and some sliced bird eye chille for heat and flavour.
Once it's made just drizzle and mixed with the vegetable that was cut in a way to resembles noodles. You can use a peeler for that or just a chef knife if your comfortable with it.
pickled cucumber in plum sauce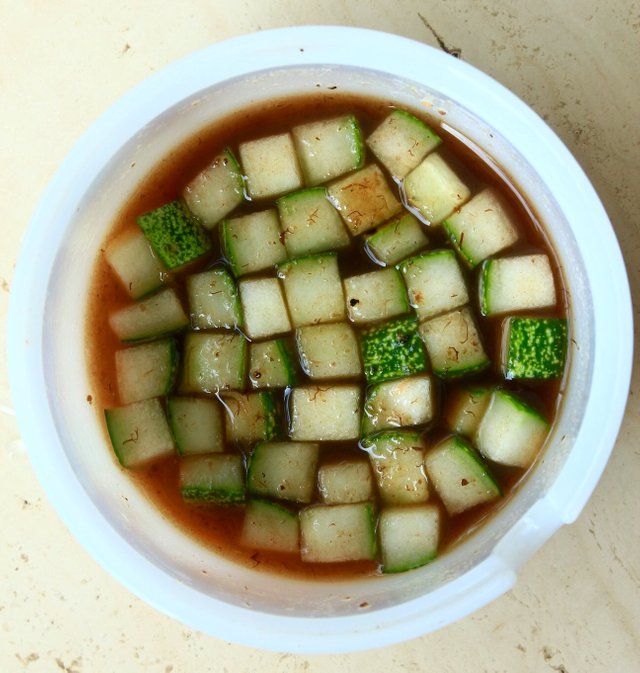 Picked cucumber, never fails to refresh the palate. This element is very straightforward, first you will need to prepare the pickling liquid which consist for plum purée, fish sauce, sugar, rice wine, and lime. Mix well and mix it with the cubed cucumber for 30minutes.
coconut flakes coated cashew honey ball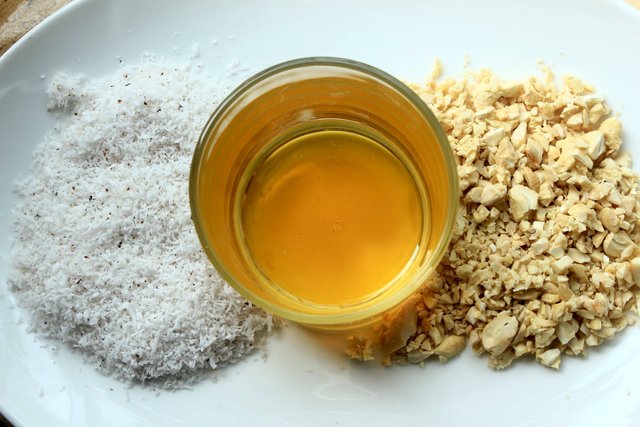 My idea was to build a ball exploding with flavours and texture when bit into it. I have combine common Thai flavours to avoid any unpleasant flavour combo. As you can see in The picture above i have used coconut flakes , cashew nuts and honey for this element. A lot of different type of crunch in each layer.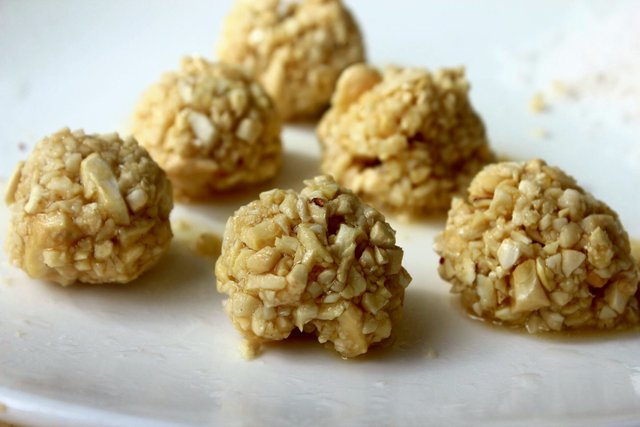 The first step to make this is to chop the cashew nut into small chunks, you can use a food processor or just the traditional chef knife, both gets the job done pretty easy. Add honey to the chopped cashew nut until its enough to hold its shape then press with you plump. Divide it into equal size and refrigerate it until it's much more hard, this will help with the shaping. After its hard enough to handle, roll it in between your plumps to form a sphere as you can see in the picture above.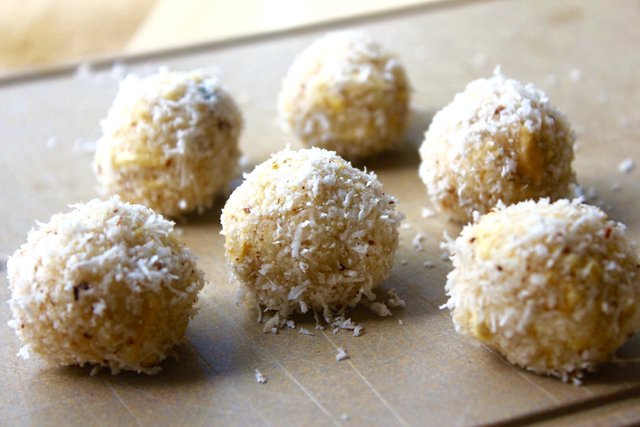 Lastly coat it with coconut flakes and it's good to be used. The picture above is what the final product should look like.
lime cured prawn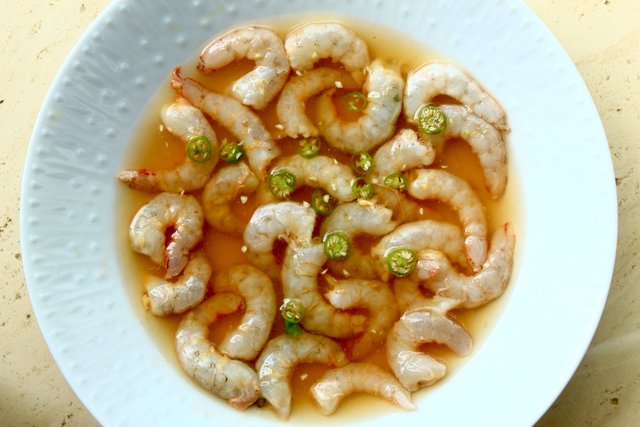 Okay this may scare some people, yes the prawn when cured with acid is not the same as when it's cooked but it would gives a totally different mouthfeel and flavour to the dish which in my opinion goes well with Thai salad, plus if done right you don't have to worry about getting food poisoning of anything. To describe what's it taste and feel like, it kinda like sashimi but without the fattiness and it's much more bouncier. Taste wise, it taste like what you marinated it in.
To prepare the prawn, you first have to pick the right type, I usually deep freeze the prawn overnight to kill any possible parasite. Another improtant point is to make sure the prawn is fresh, prawns that are left out in the open for too long tend to get contaminated with bacteria from the environment. It's easy to spot if the prawn is fresh or not, you just have to smell it, if it's fishy and stinky then it's not fresh. If you cannot find fresh prawns, it's better to get the quick individual frozen prawns. Next is the cure or marinade, you have to make sure the solution is sour enough to kill any bacteria in it. For the marinade I added sliced birds eye chile, coconut sugar, fish sauce, and rice wine into the lime juice and marinade the prawns in it until the colour of the prawn turns orangish which takes about 30minutes, make sure to not over cure it or it will just turn into mush.
The condiments
( sweet and spicy chile sauce, mayonnaise )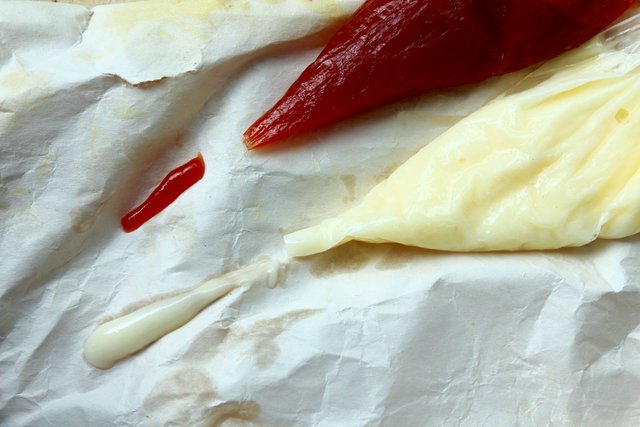 The mayonnaise is there to add richness as this dish is kinda lack of oil or fats. This will definitely add a smoother mouth feel to the dish. As for the sweet and sour chille sauce, i won't be doing justice to a Thai dish without it. But it's there because it adds a stronger punch of sweetness and spicyness to the dish in whole.
When it comes to mayonnaise, I believe we don't really have to buy them as its really easy to be made. You simple need egg yolk, and some neutral oil. If your not good at making it by hand just use a food processor.
food porn