Garlic and Cheese Monkey Bread
I don't often bake bread at home because I can never wait long enough for my dough to rise. Especially during fall and winter, I find the cooler weather makes the dough rise at a slower rate. This weekend was one of my lazy weekends and since I had more free time, I thought I would bake a loaf of monkey bread. Monkey breads are a variation of pull apart breads. You can flavor your bread sweet or savory and it's fun to eat. Whenever possible, I prefer to make yeasted doughs with fresh yeast, also known as cake yeast. Fresh yeast is easy to work with and you don't have to worry about the liquid temperature. With dry yeast, in order to activate it, you have to use lukewarm temperature liquid. Fresh yeast, you use cold liquids so you don't have to worry about killing the yeast. If you can't find fresh yeast, just substitute half the amount with dry yeast.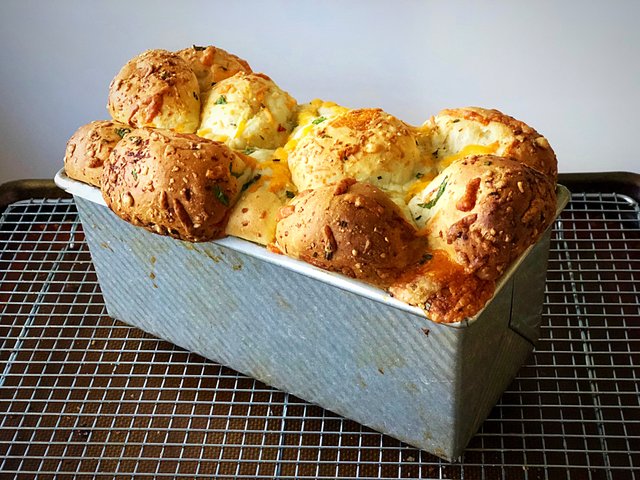 Cheese and Garlic Monkey Bread
adapted from Home Cooking Adventure
440g all-purpose flour
1 1/2 tsp salt
25g fresh yeast or 2 1/4 tsp dry yeast
15g sugar
180g milk
60g water
1egg
45g olive oil
Place the flour, salt, and sugar into a mixing bowl. In a small bowl stir together the milk, water, egg and olive oil. Crumble in the fresh yeast. If using dry yeast, add the water to the yeast and let it sit for a few minutes. Combine all the wet ingredients into the dry ingredients. Using the dough hook on the machine, knead the dough until smooth and a ball forms. Cover the dough with plastic wrap and let the dough proof until double in size.
Cheese Mixture
110g butter
4 cloves of garlic, minced
chopped parsley
chopped chives
chopped fresh thyme
50g Parmesan cheese, grated
100g Cheddar cheese, grated
100g Monterey Jack cheese, grated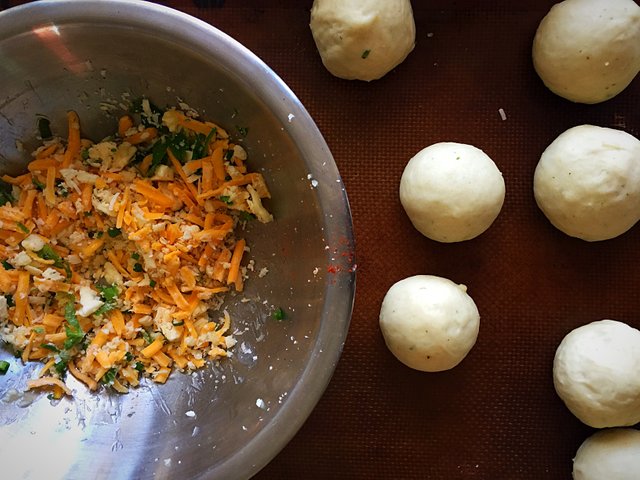 Add the garlic into the butter and melt over low heat. Combine the cheeses and herbs together. Portion the dough into golf ball sizes and dip each ball into the garlic butter mixture, then roll the balls of dough into the cheese mixture.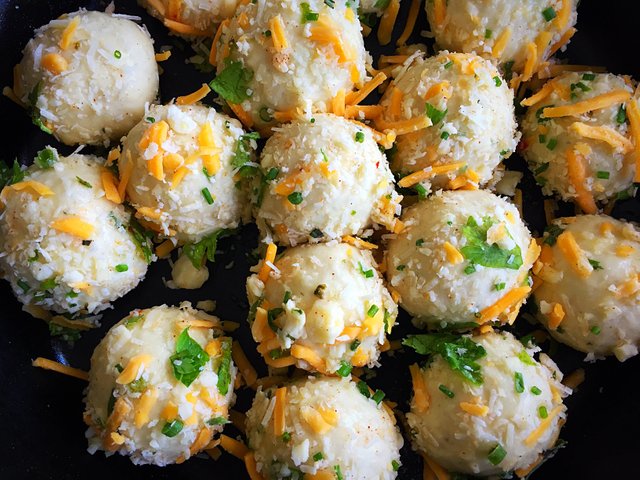 Place the bread dough into a greased 9" loaf pan or a cake pan, leaving some space in between each ball. Lightly cover the top with a greased plastic wrap and place the pan in a draft free place until the dough doubles in size. Place in a preheated 350 degrees F oven for 30-45 minutes or until the bread is golden brown on the top.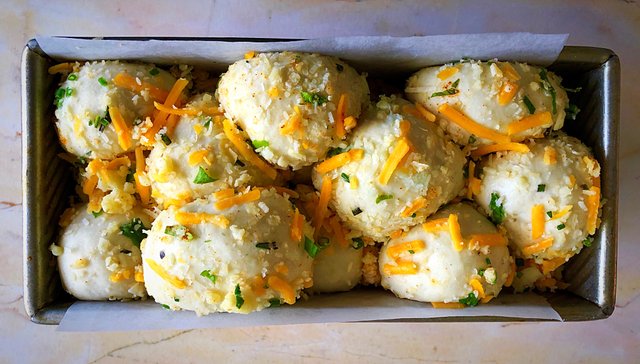 The smell of this freshly baked bread is filled with the garlic and herbs. Plus the melted cheese on top...it's hard to resist not pulling a piece while the bread is still hot. As you can see...someone could not resist! Happy Sunday!