Grandpa Gotta Cook—CARNITAS: Crockpot Style
Not A Big Pork Fan
I like ham quite a bit, but after that, it can be hit and miss, especially with bacon (I know—heresy. Stick with me here).
But, in order to make carnitas, a favorite Mexican dish, you need to use some pork to do it. The recipe called for pork shoulder, butt or loin. I suppose there could be substitutes, but in my case, I was going to do it the old fashioned way.
Sort of.
On this week's edition of Grandpa Gotta Cook, Carnitas: Crockpot Style.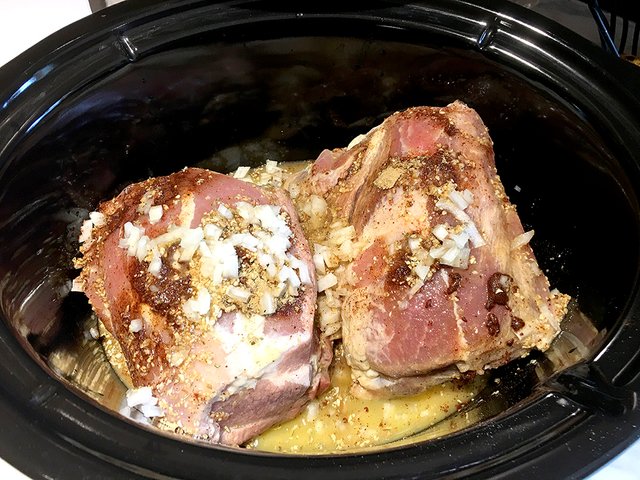 The image above shows the meat I had to work with. I have no idea what part of the pig it was, since the packaging simply referred to it as a pork picnic pack. Thanks WinCo.
However, I needed something in between 3-4 pounds worth, and these two large chunks were supposed to be roughly 3.5 pounds, so I figured I was good. I don't know if you can tell, but they didn't quite sit down in the bottom of the crockpot at first, so they're angled a little on the ends.
Once the meat was in, everything else was added—salt, chili powder, cumin, oregano, garlic, onion, lime and orange juice.
Now, I don't know about you, but when I read that there was going to be lime and orange juice, I got kind of excited. It's not everyday I get to cook with orange juice, especially where meat was involved, and so I actually started to look forward to what might happen.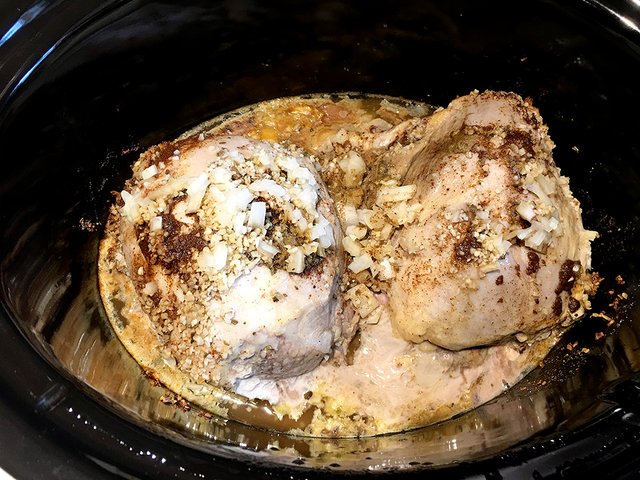 Well, as you can see, this is what started to happen. A few hours in, the meat shrunk down as it got cooking, and all of the rest of the ingredients started sliding around and eventually falling and accumulating at the bottom of the crockpot.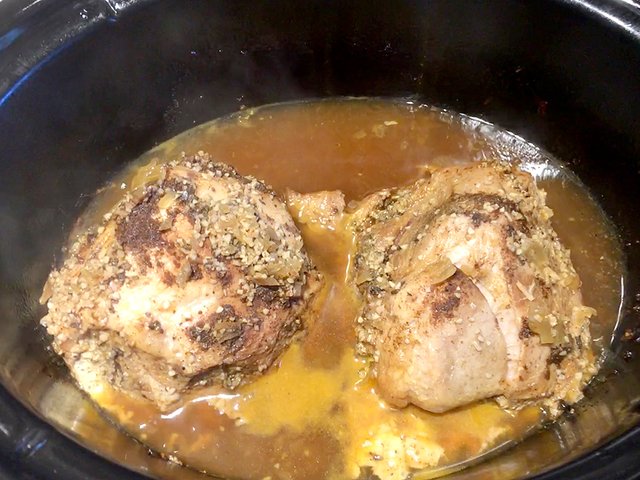 Then, we have about six hours in, with the juices from the pork mystery meat mixing with the orange juice and other ingredients there as it bubbled. At this point it had another couple hours to go.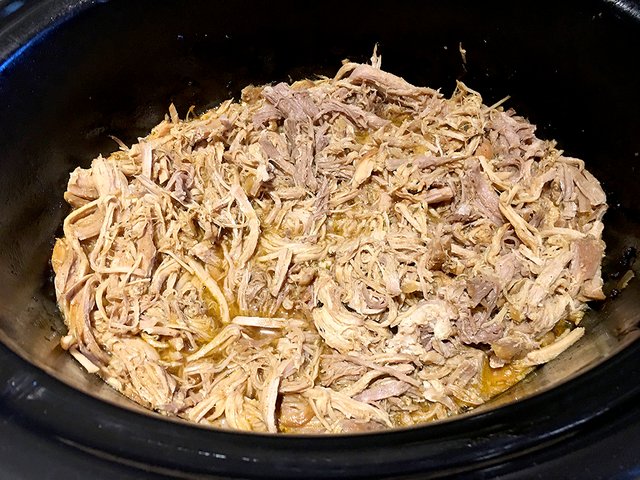 Once it reached the eight hour mark, it was time to shred the meat. That went pretty quickly, though I suppose it could have waited another half an hour or so to be even more tender.
However, the smell of this cooking all day was just simply amazing, and by this point, it was like, we've got to eat this now!
Taste Test
The meat was tender, and tasty. However, not much of the spices and other ingredients came through as far as I could tell. It was very tasty pork, but the smell of it cooking was much more enjoyable in my mind than the taste.
Now, the way carnitas are generally eaten is in taco form, with corn tortillas, cilantro, maybe more onion and then salsa. So, that's what we did. Trust me, even if there is no photographic proof.
I would make this recipe again, but next time, I'd probably throw it on the grill towards the end to crisp things up a little. It was great as pulled pork, but carnitas goes beyond that really. The slow cooking, though, really helped, and as I said, the aroma wafting from the crockpot throughout the day was marvelous. I kept saying we needed to come up with a perfume of this stuff, call it Eau de Pork or something.
I'll keep working on the title.
That's it for this week's meal. Next week, I'm not sure what's going to happen. It's one of the them play it by ear deals.
So, until then...
Enjoy!
All photos courtesy of Glen Anthony Albrethsen