Tempeh is one of Indonesian kitchen staple. They are made of fermented soy bean and ended up looking like a firm beef patty. Tempeh is a good source of vegetable protein, which is good for once in a week protein consumption subtitute. As someone who grows up with it, I am very glad to say that they are sold in most Asian stores in the Netherlands, no more cravings for that one of a kind food.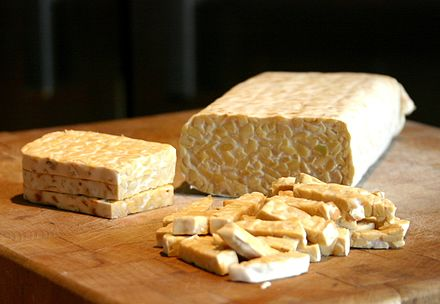 Raw Tempeh (photo source)
I do have tons of recipes for how to forge this beauty into your taste, but let's start with this one. Kering Tempe is a way to preserve tempeh with palm sugar and spices. They can be stored for up to a month in a cool dry place and would be a delicious side dish alongside with warm white rice. For me, it's my Indonesian comfort food.
This recipe is from my future mother in law, without further ado, Let's begin cooking!
Ingredients :
250 g Tempeh, cut into thick matchsticks (as shown in the picture above)
1,5 tsp ground Galanga root
1.5 tsp ground coriander
1 stalk lemongrass, bruised with the back of your knife
2 leaves of Indonesian Bayleaf, but I guess using normal bayleaf will do
2 leaves of kaffir lime leaves
2 bird eyes chillies, finely chopped
3 cloves garlic, finely chopped
2 shallots, finely chopped
1 tbsp oil (any oil will do, but please use the one with no particular taste) + oil to deep fry the tempeh
water
Brown sugar/palm sugar, to taste
salt
How To :
Deep fry the tempeh chunks until they are golden brown, set aside
On another pan, heat 1 tbsp of oil on low heat then add Galanga root, coriander, lemongrass, bayleaf, kaffir lime leaves, chillies, garlic, and shallots
Keep frying the spices on low heat until they are fragrant and starts to turn brown.
Add the brown sugar, salt, and a splash of water ( ±1/4 cup) and heat until it forms like a thick sticky goodness
Add the fried tempeh to the spiced caramel and mix until the tempeh is thoroughly coated. Remove for heat.
Let it cool down, the caramel will get stickier while it cools down.
Serve with warm white rice, and voila!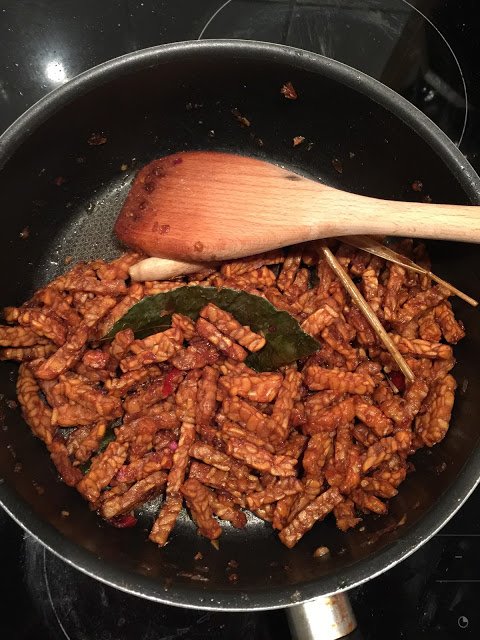 Wait for it to cool down, wait for it to cool down....
Have a good cooking!
If you ever try this recipe and have any questions about it, let me know what you think!
Have any request for Indonesian recipes? let me know and perhaps it would be on my next post!
Disclaimer: this recipe was on my old blog, and I figured out that I will keep a new archive (besides on my computer drive) on Steemit blog and start closing down my old blog.