Whaddup Steem It People! Today, Imma be showing you an artwork I made for @cookiespooky's Contest entitled: "Daily Drawing Challenge #6 / Get 50% of rewards for this post".
FORESIGHT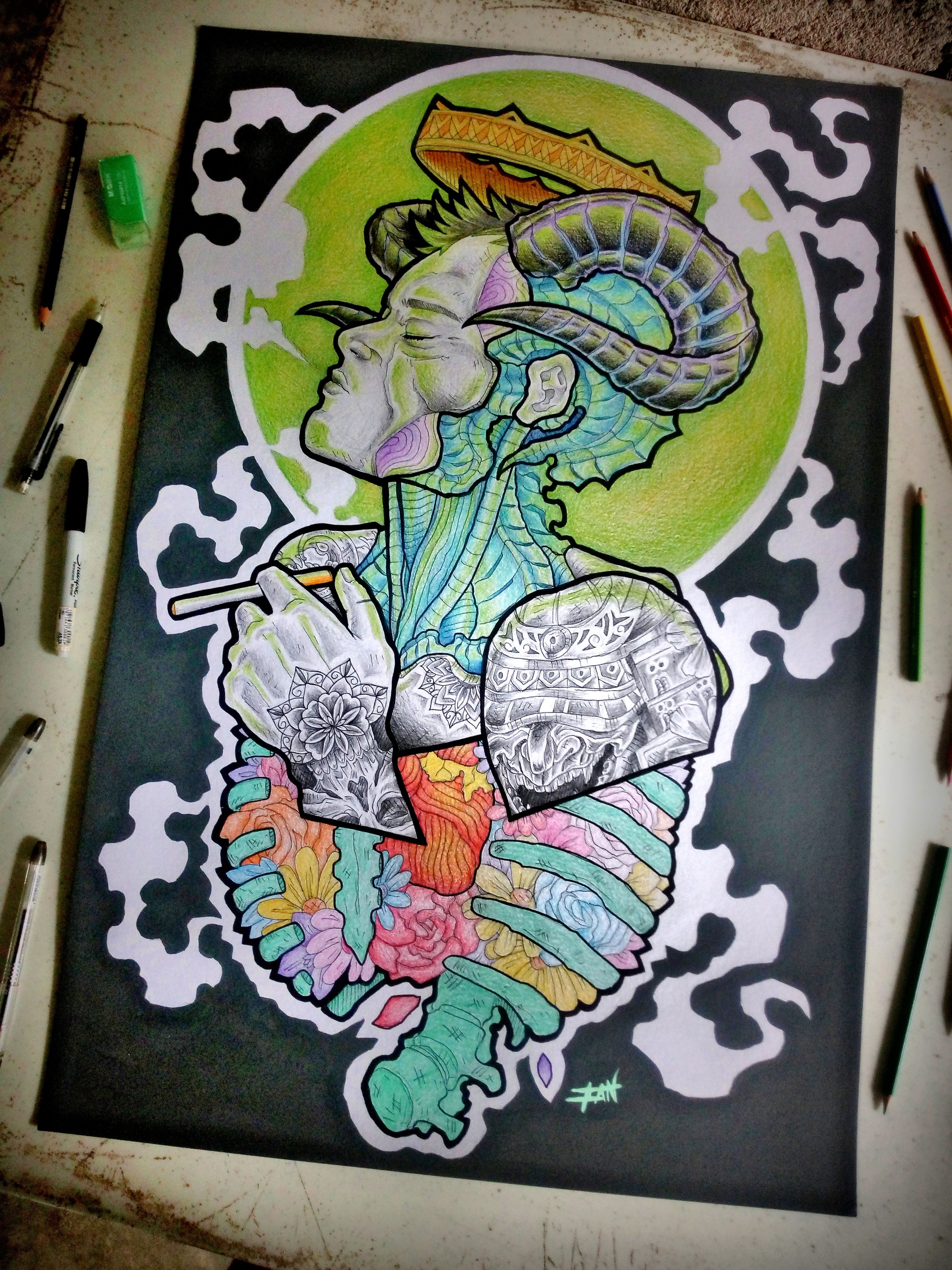 This gon' be my second time on joining @cookiespookie's contest. And, as for the record, this is also my second time joining a contest on Steemit.
If anybody of you missed my first contest entry. Ya'll might as well check this out.
Piece Title "The Awakening"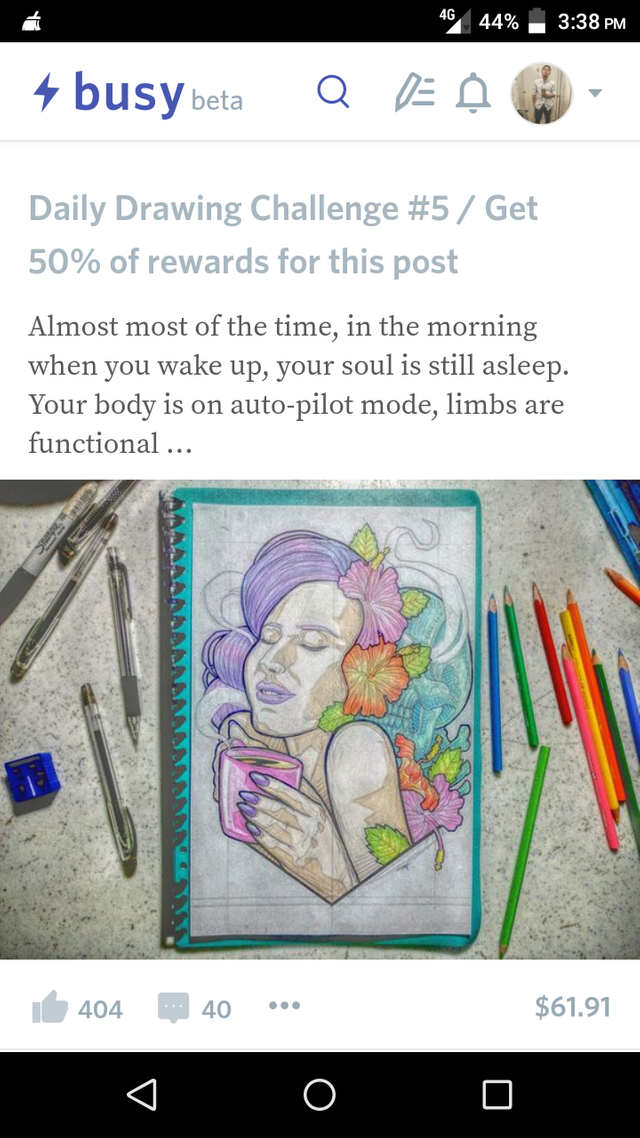 Here's the link to the post:
https://busy.org/@ianceaz/daily-drawing-challenge-5-get-50-of-rewards-for-this-post
Haven't been a month here on Steemit, but it kinda like pinches me to make more artworks exclusive for this platform. Hey, I gotta tell ya. I earned a lot on my first post, took it about 61.91$. You folks my think that "nah, it ain't that big. I gotta tell ya, I haven't reached a month here on Steemit and 61$ is a large cash for me.
I'm a beginner, a plankton. And I really do appreciate a large value worth for my post, got me more inspired. Somehow it becomes really rewarding and kinda like make you learn that making an original piece for Steemit will give you the reward you truly deserve.
I Noticed people who did appreciate my work on the upvote section. I was truly honored to be upvoted by amazing users/members on Steemit. I'd like to take this opportunity and thank these users who uplifted me and my post.
Thank you so much @hendrikdegrote, @meerkat, @curie, @slothicorn, @creative-commons and all the other 399 user who have upvoted my post. Thank you so, so much! You people really make me inspired to make more artworks here on Steemit.
Aside from me earning a good value for my last contest entry. I would also like to thank @cookiespooky for making these contests. For, his contest themes somehow challenges me if how would I portray it on an uncommon type of representation on art and illustration.
Personally, as an artist. I am not really into giving my audience the mere physical thought of my art, but I want them to witness beyond that. I want them to see the emotional expressions, the spiritual aura, and the psychological meaning behind my every artwork.
@cookiespooky clearly stated the contest theme.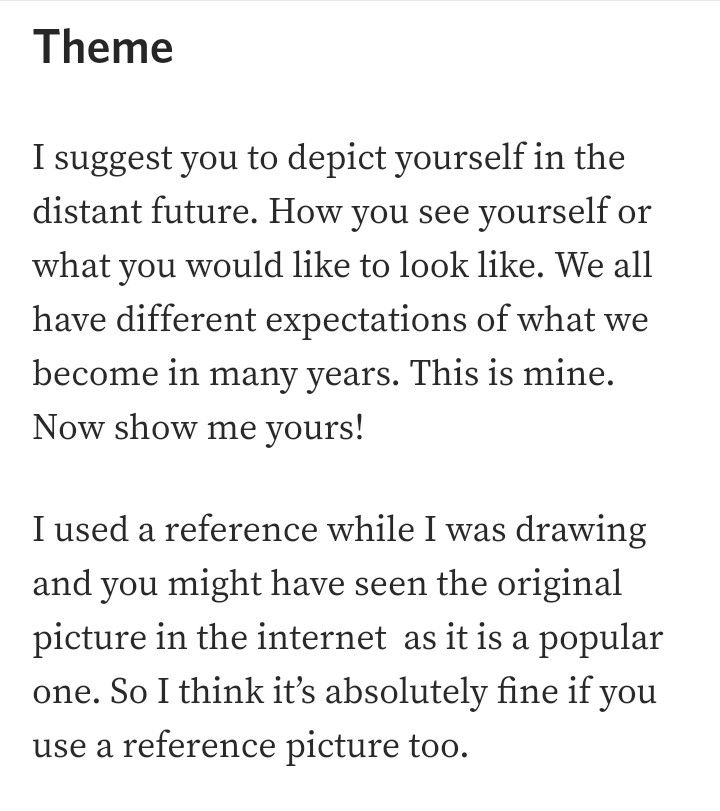 Please, check the link of his post here:
https://busy.org/@cookiespooky/daily-drawing-challenge-6-get-50-of-rewards-for-this-post
So, after I was reading the theme. I kinda thought how would I present it on art on how would I be depicting myself in the near future.
The theme solely explains the physical features on one's self. But, I thought of it very, very differently.
I, as a human being have really no idea of what I would look like in the near future, physically. But, in the emotional, Spiritual and psychological aspect perhaps I could still present it flawlessly on art. For I have been always thinking of how would I be in the near future, despite of how would I look like.
As you can see, my piece isn't really realistic. Quite a bit of a fantasy with full of unknown figures, but not faceless and both angelic and demonic which I would explain later along it's process.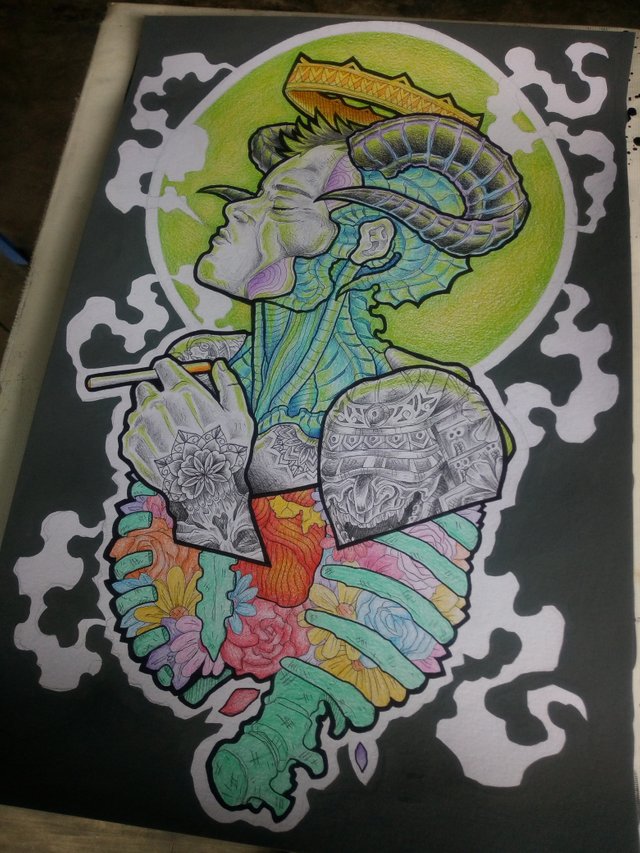 A good theme deserves the least best canvass. So, I wanted it to be illustrated on a illustration board.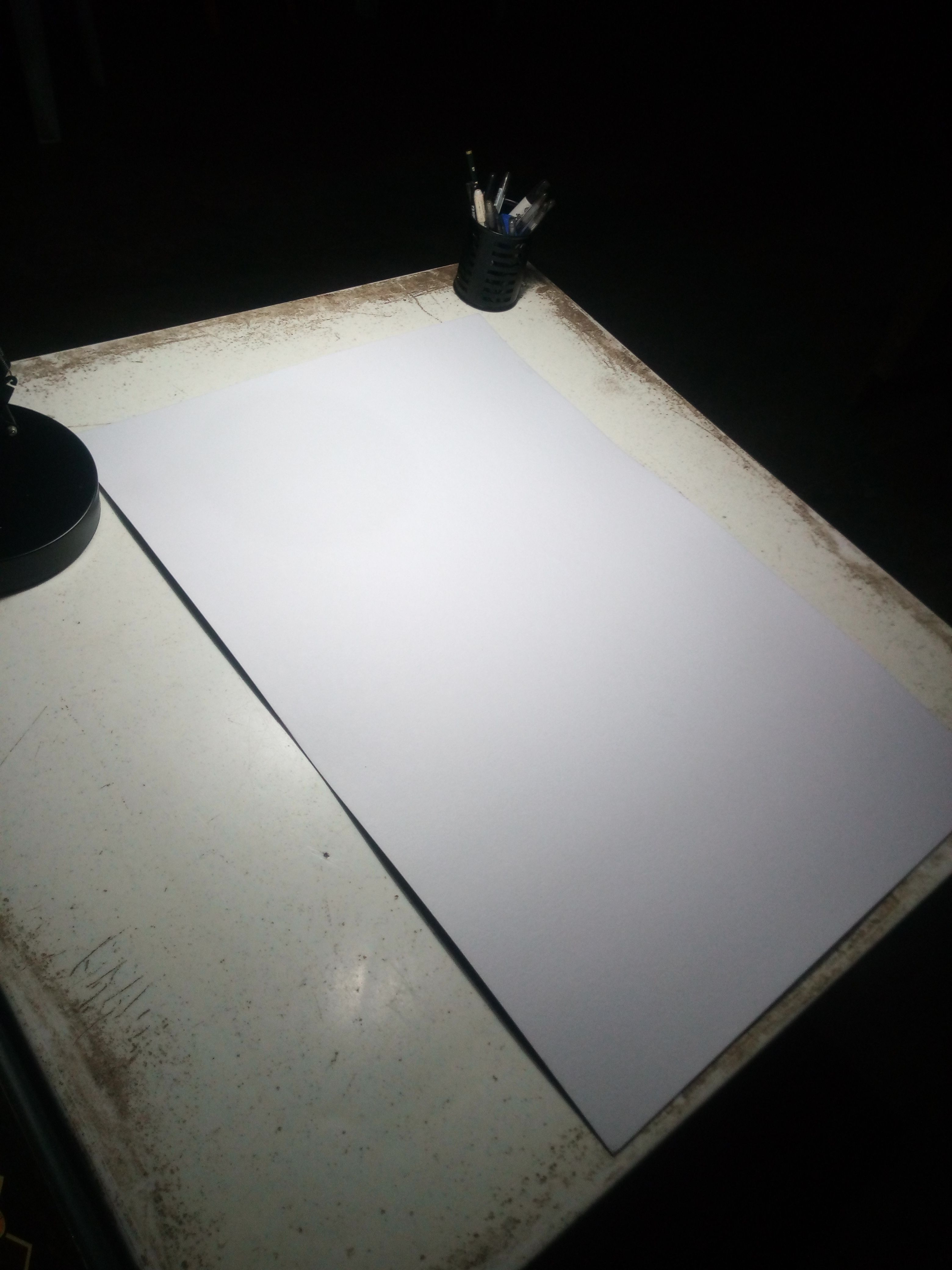 Sketched a lil' plan on paper. . .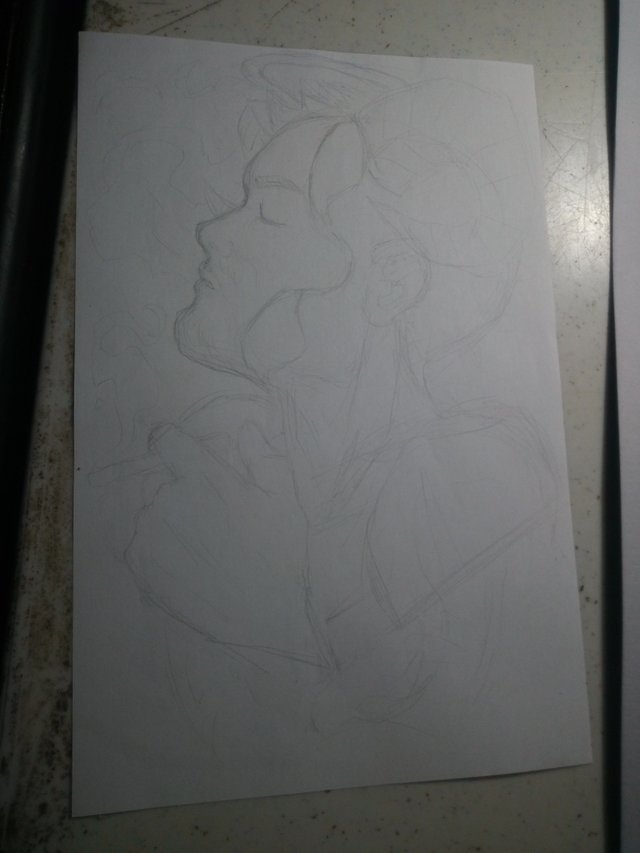 Eventually, transfered it on board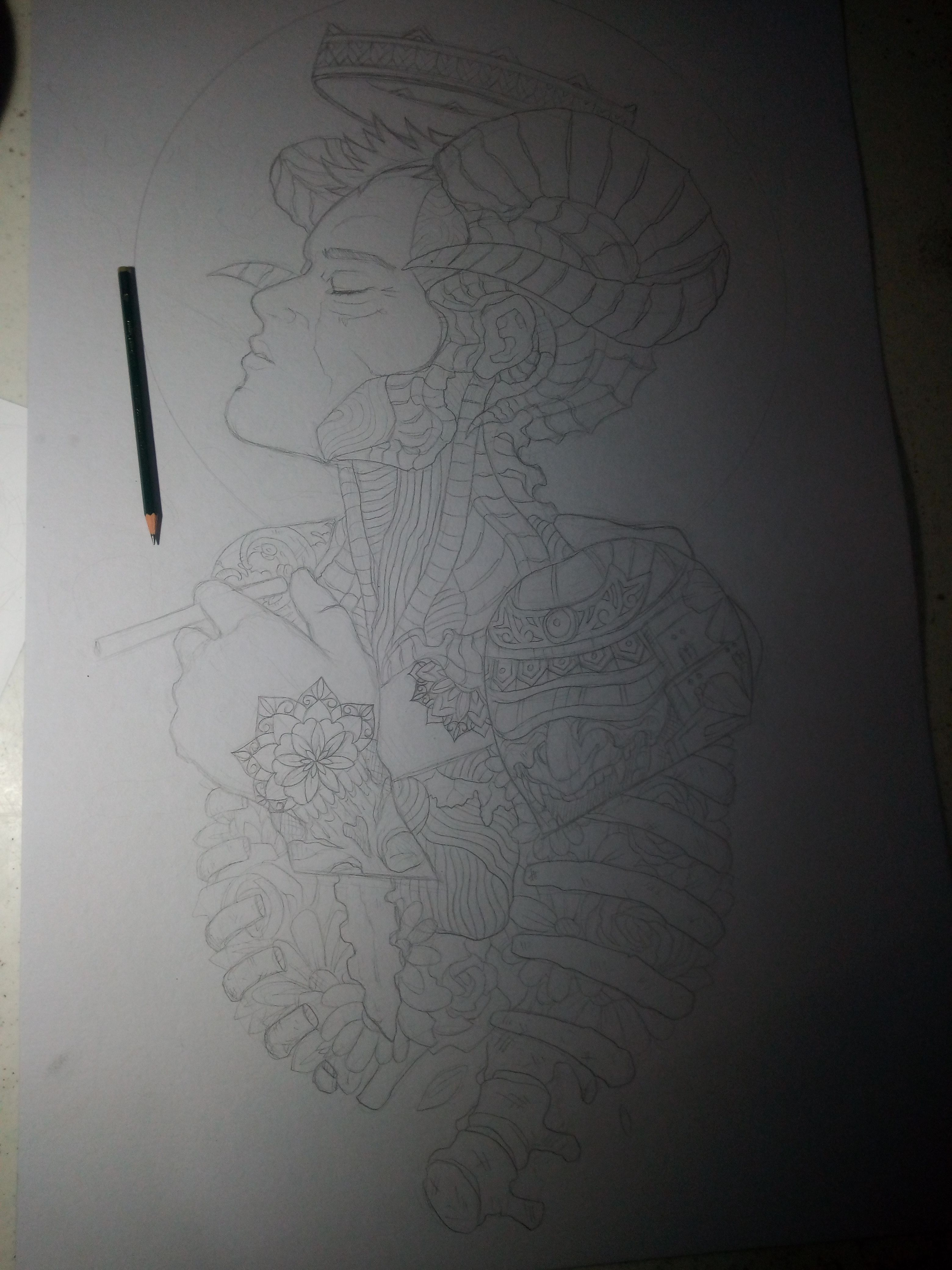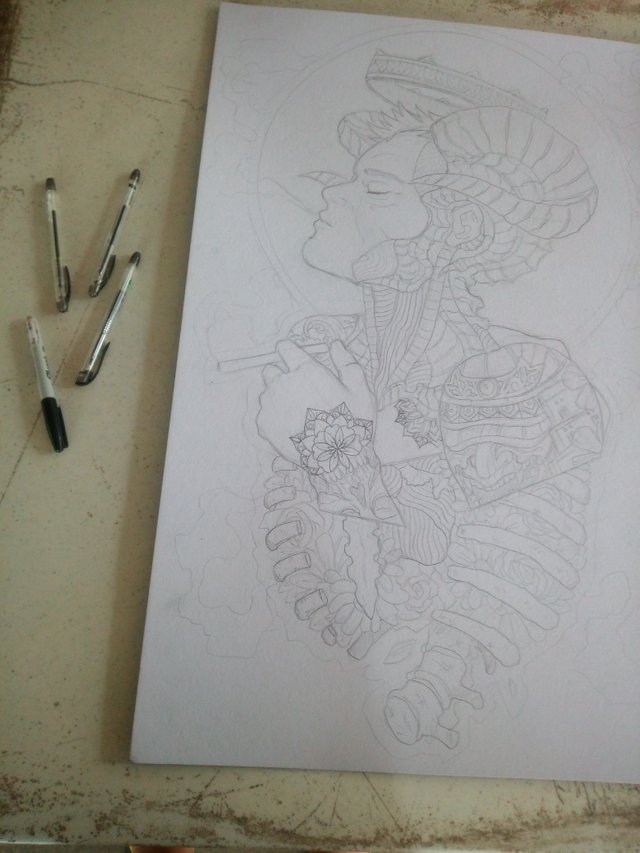 Now I secured the sketch. Imma now be doing the outline. . .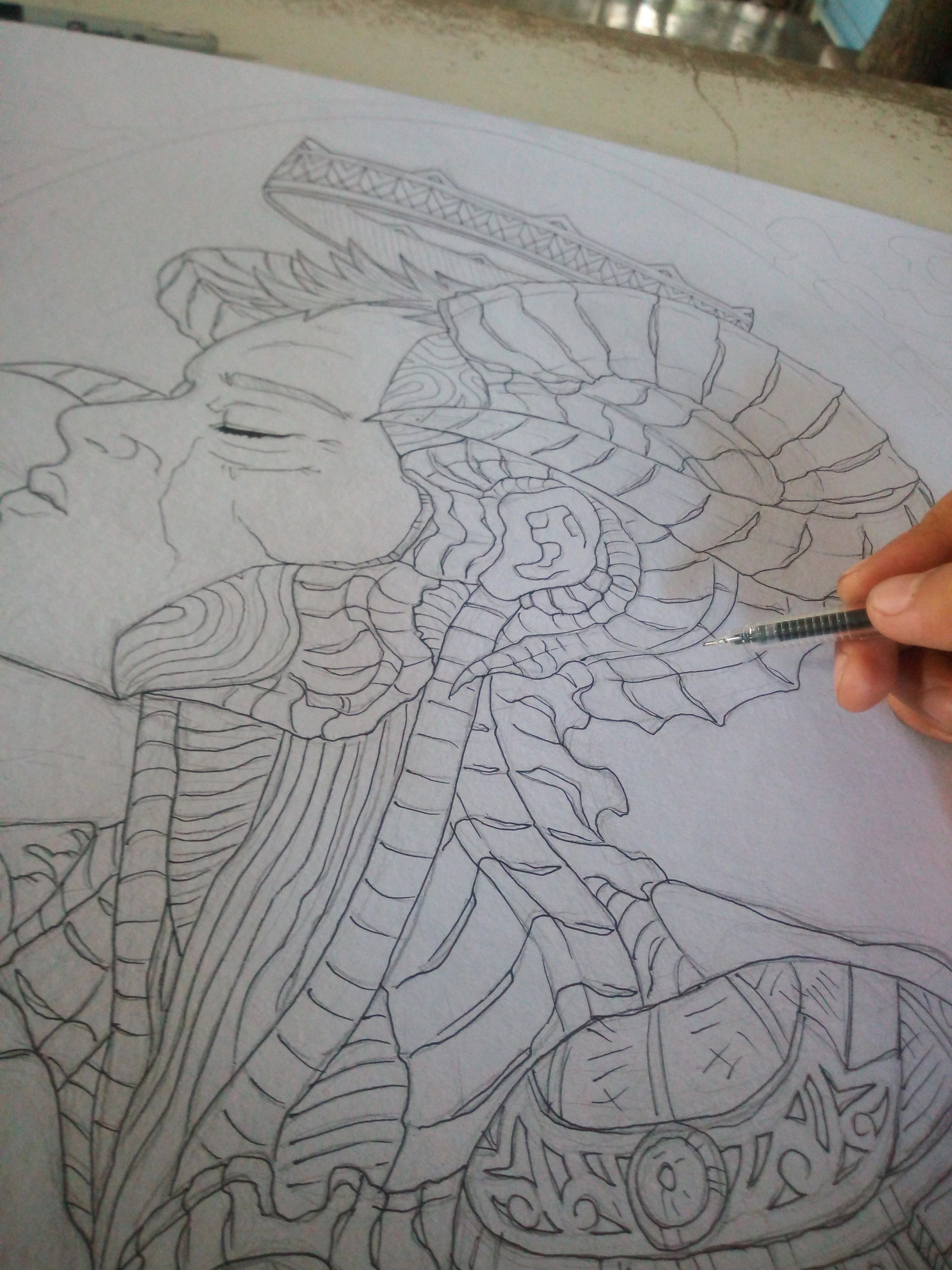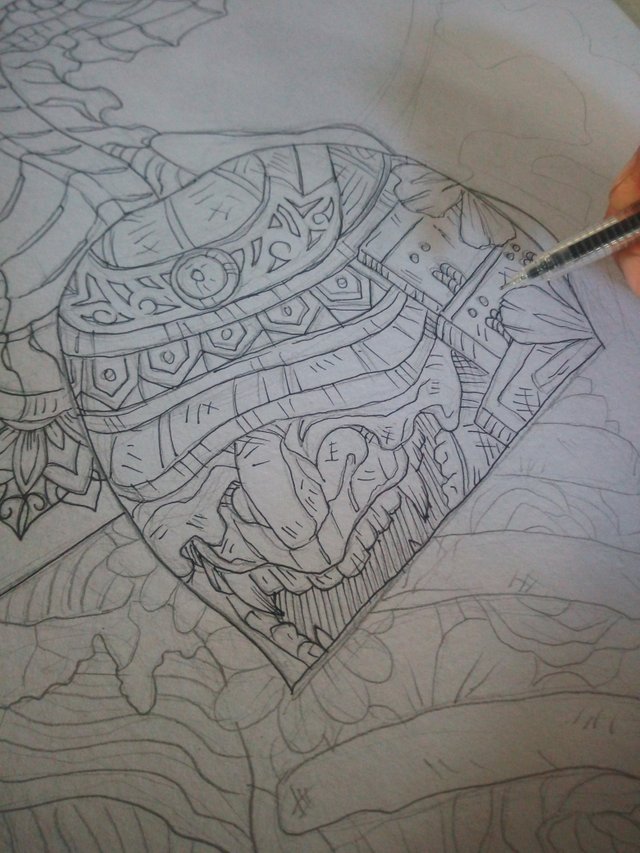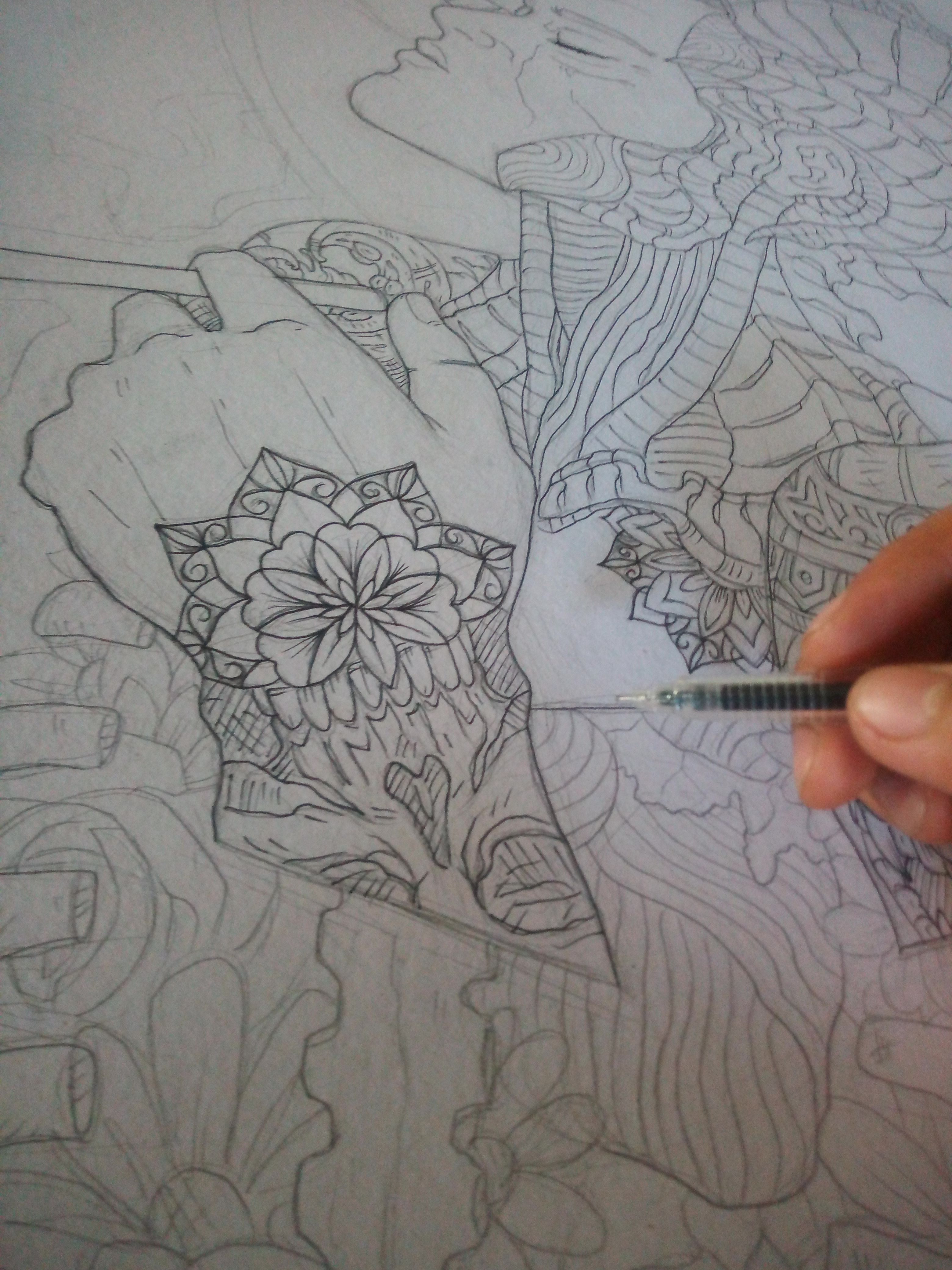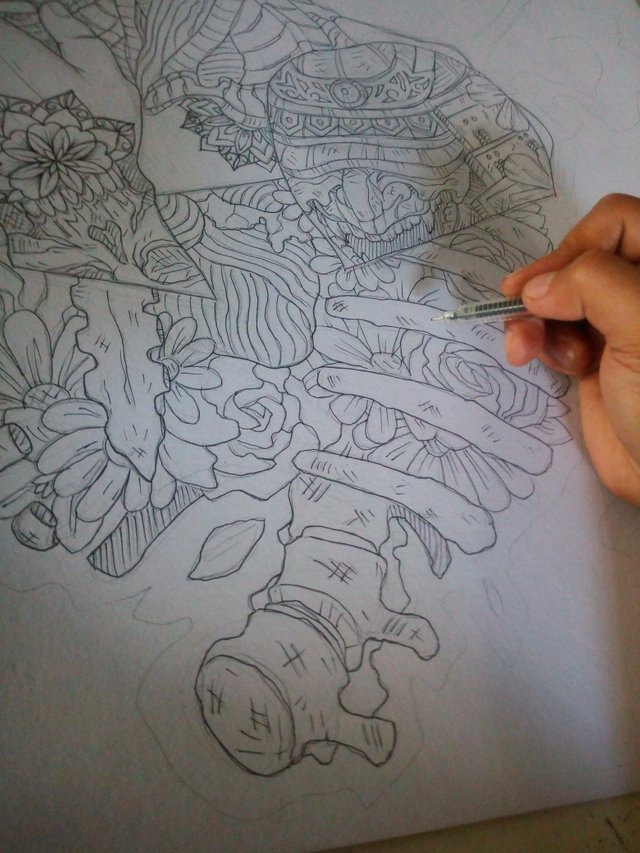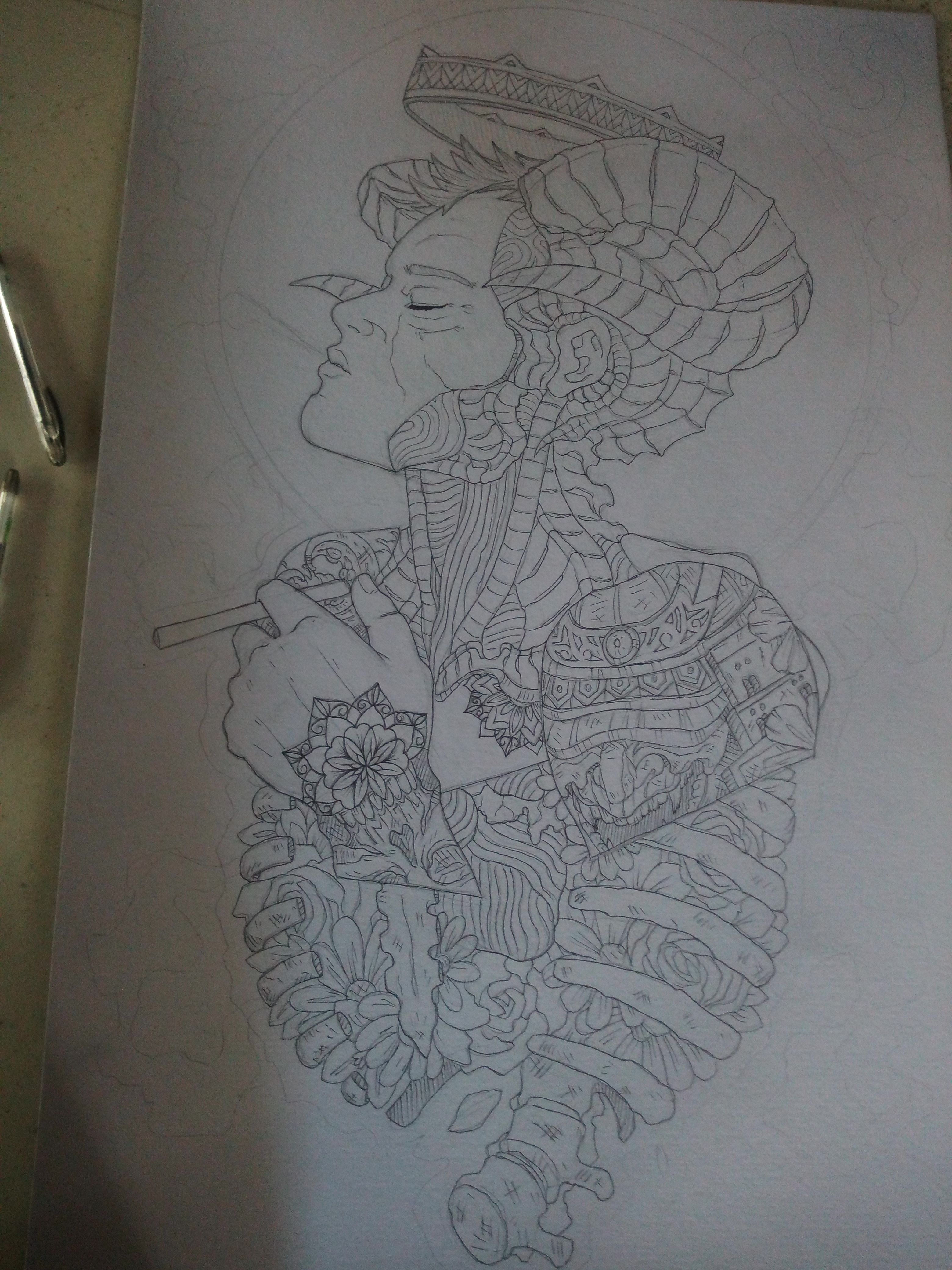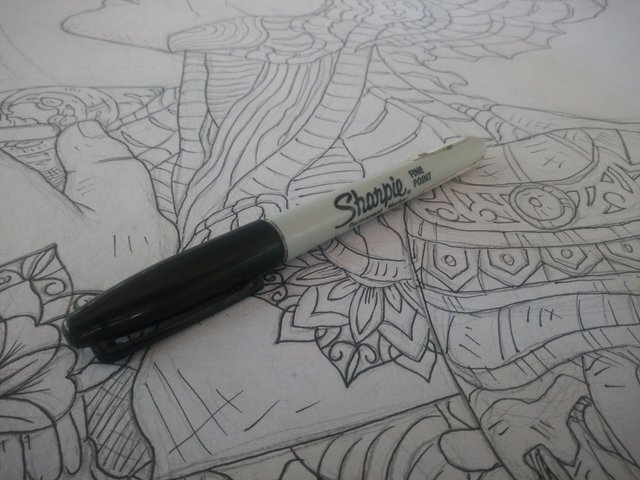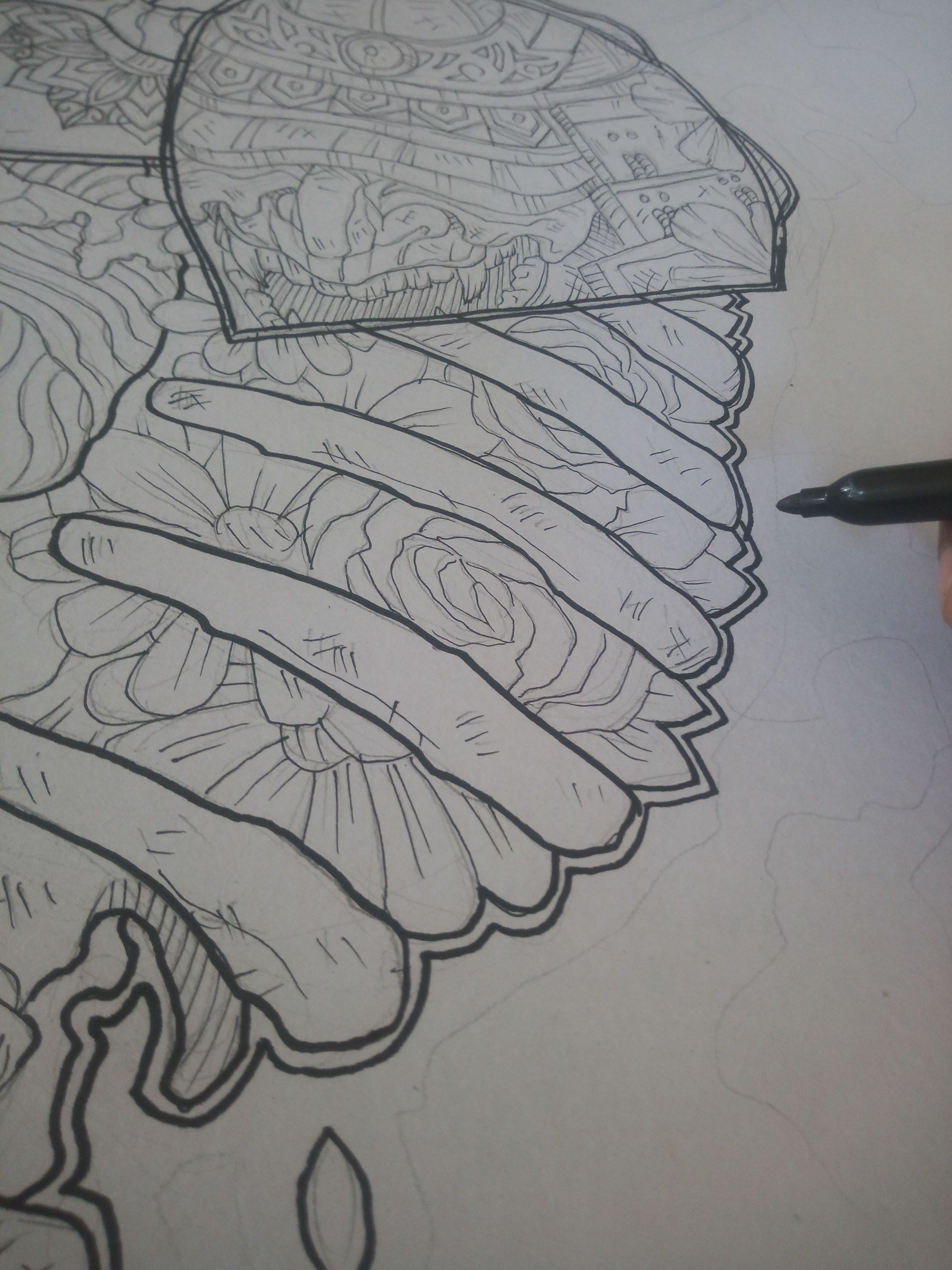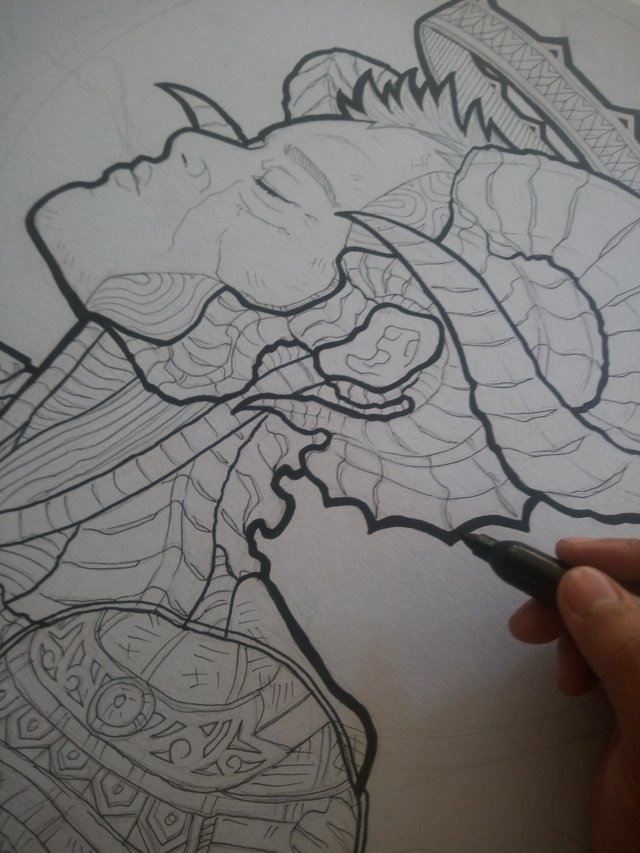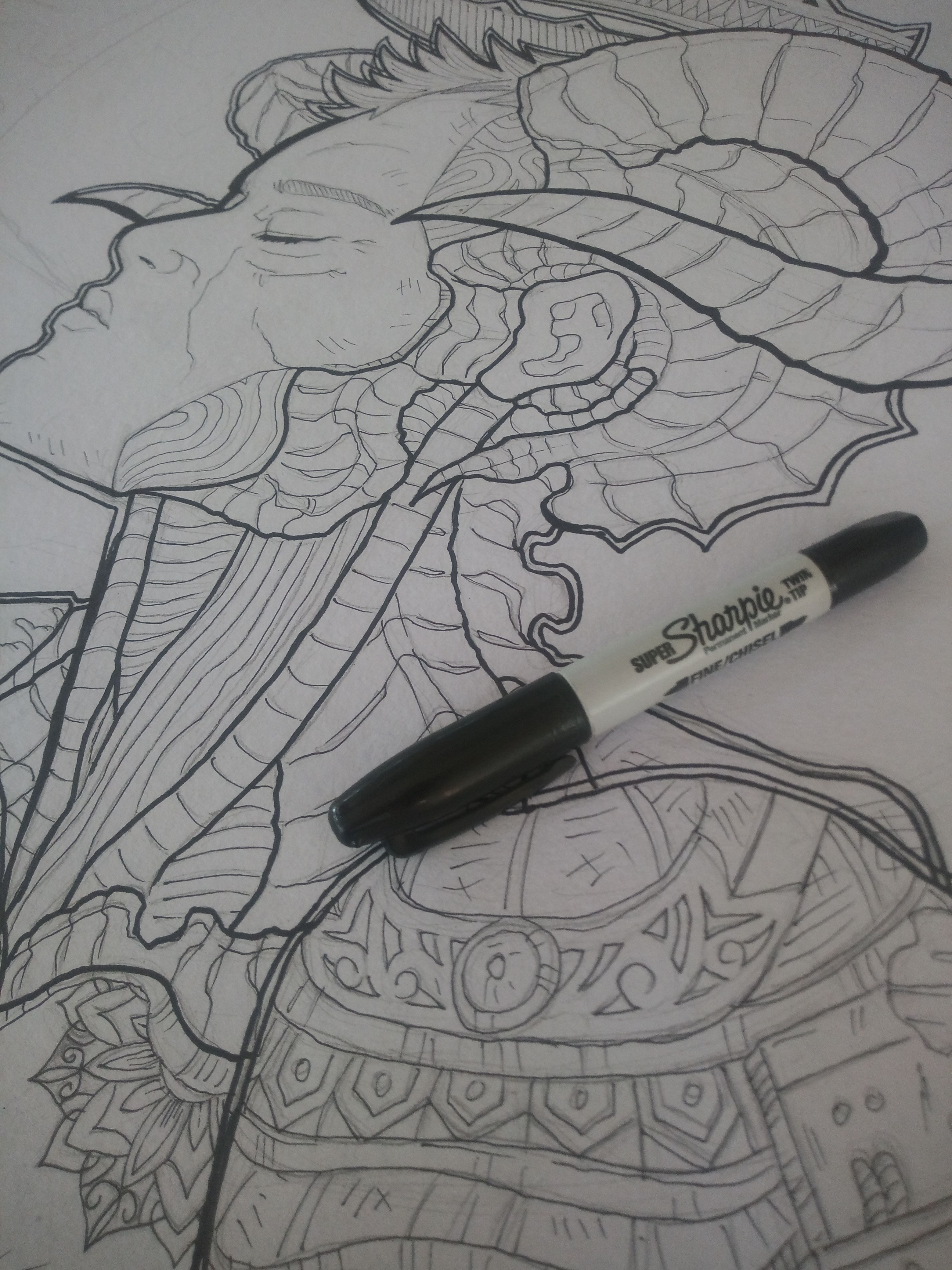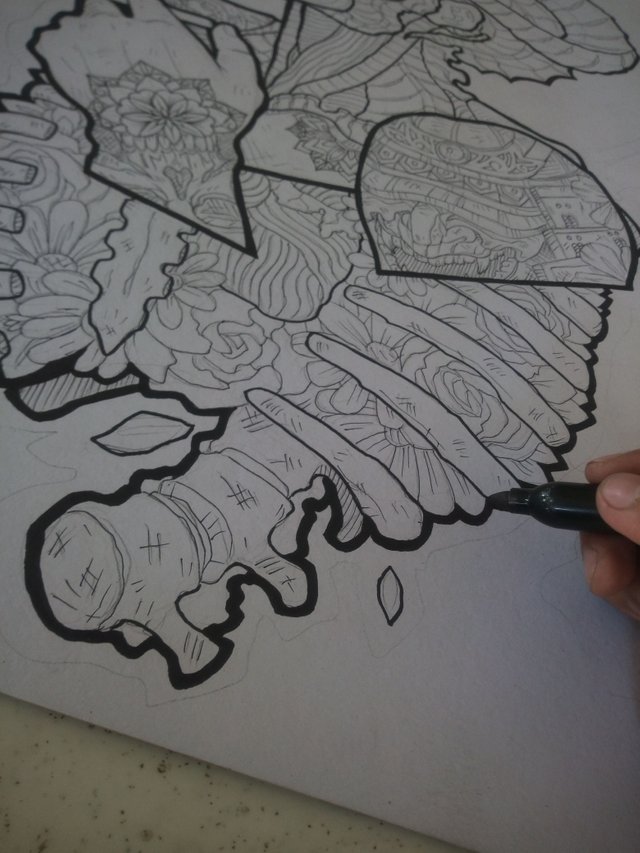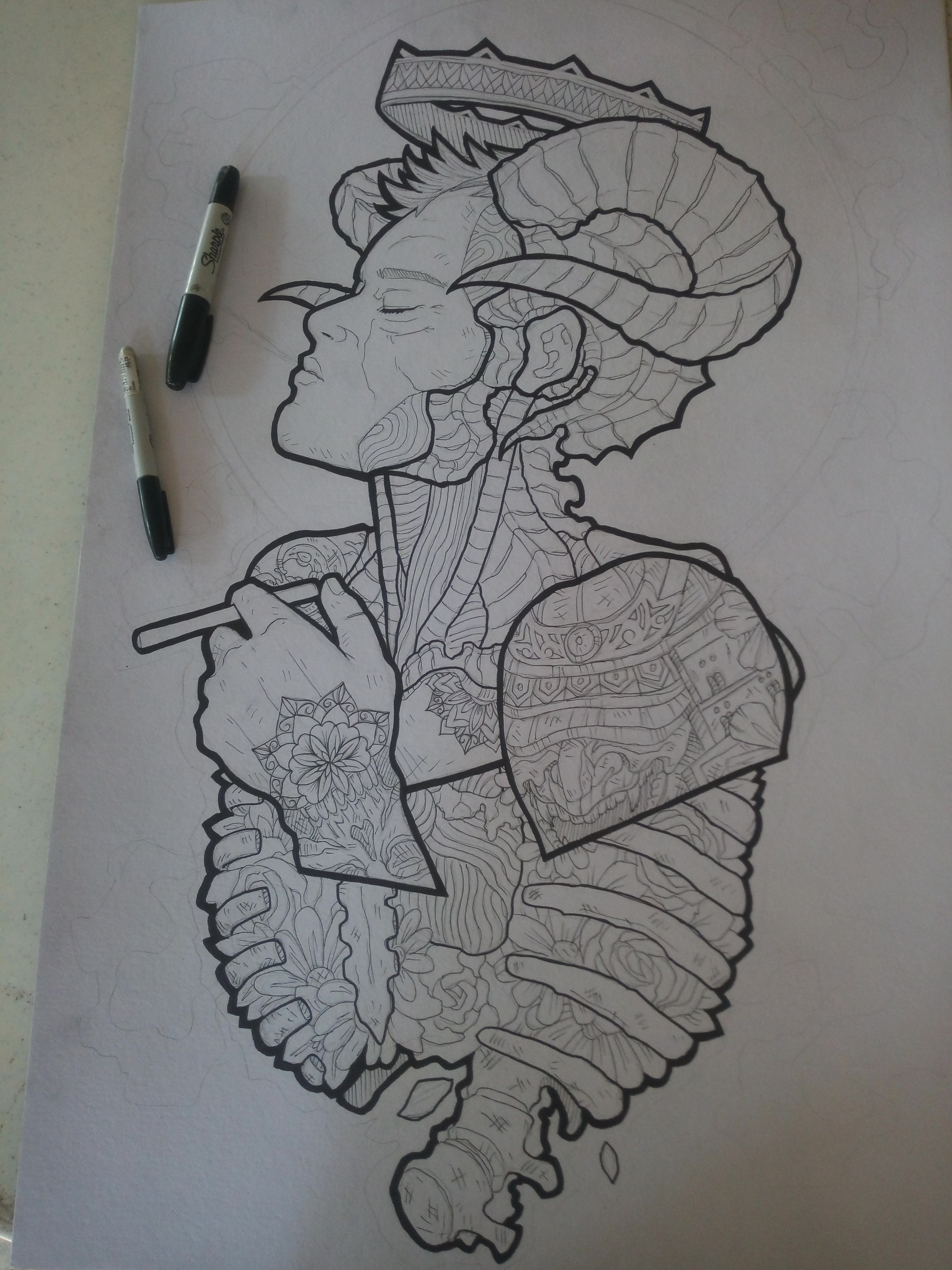 Inked and outlined, we now proceed in coloring.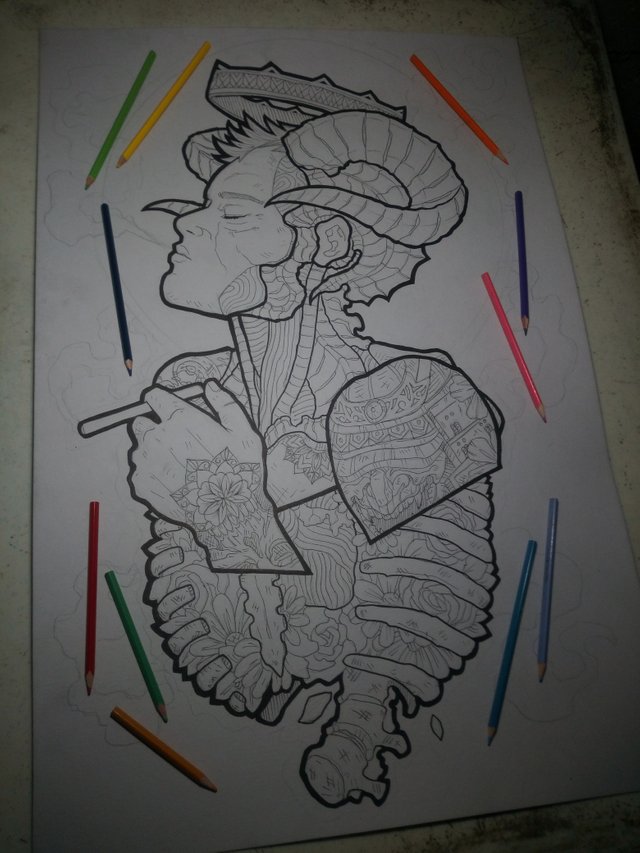 Used Maped Color Pencils on this piece.
Here's the fun part. I would explain why I came up with the design along with the coloring process. (Kindly try to make that "Morgan Freeman" voice while reading my explanation. 😂)
FORESIGHT
Art by @ianceaz
As the flow of time rushed along the river of ages, the golden yellow light of day shall meet the saphire blue darkness of the night.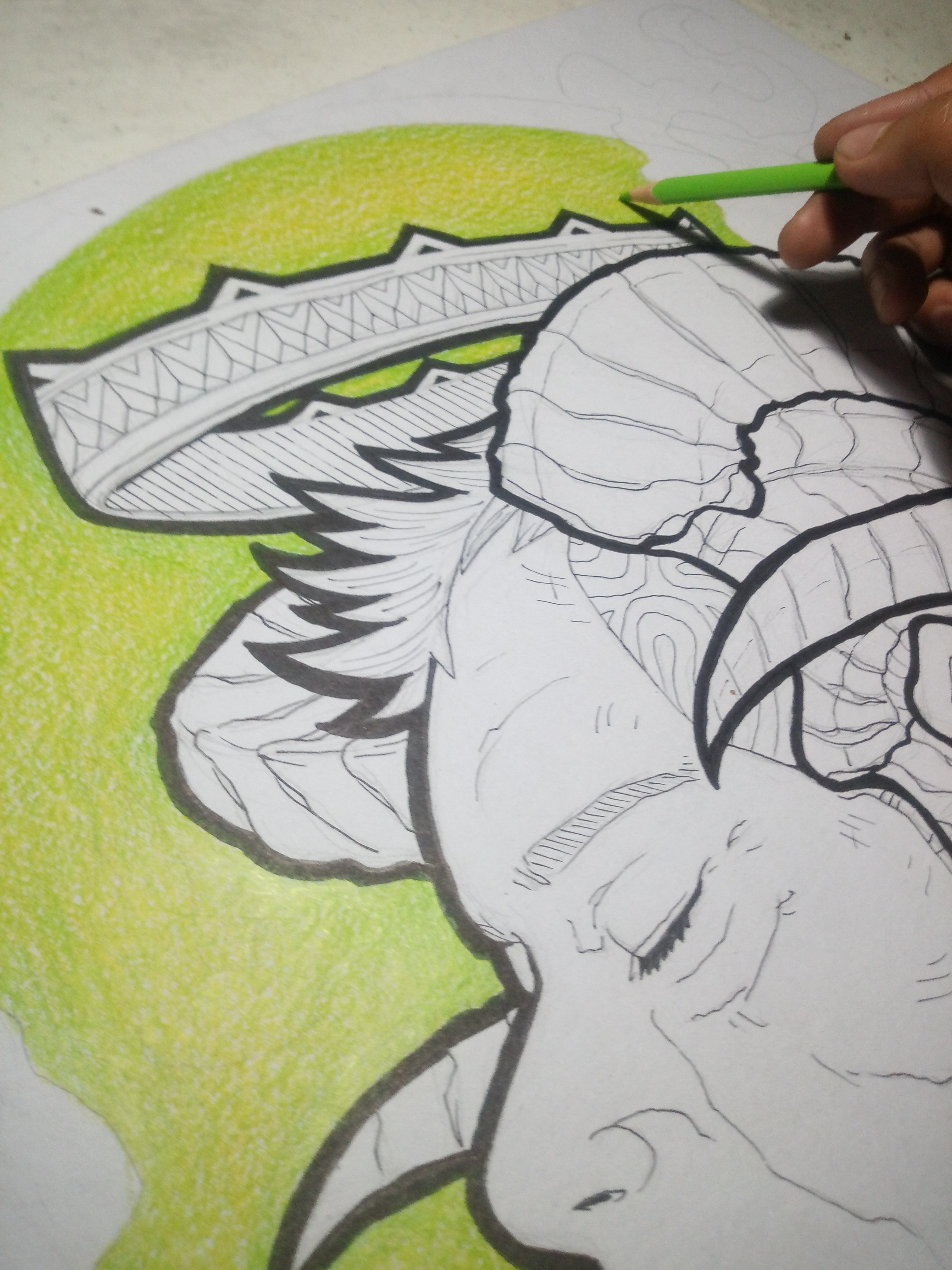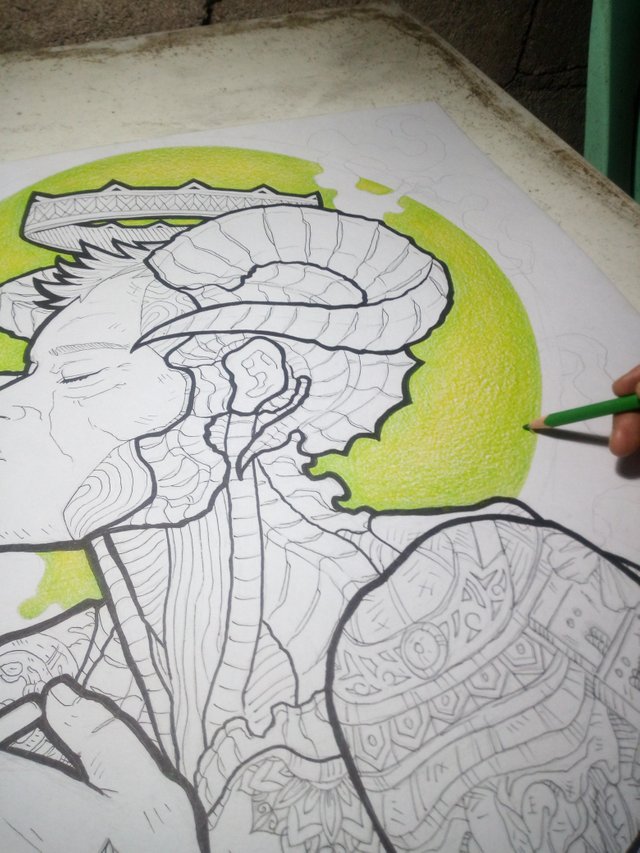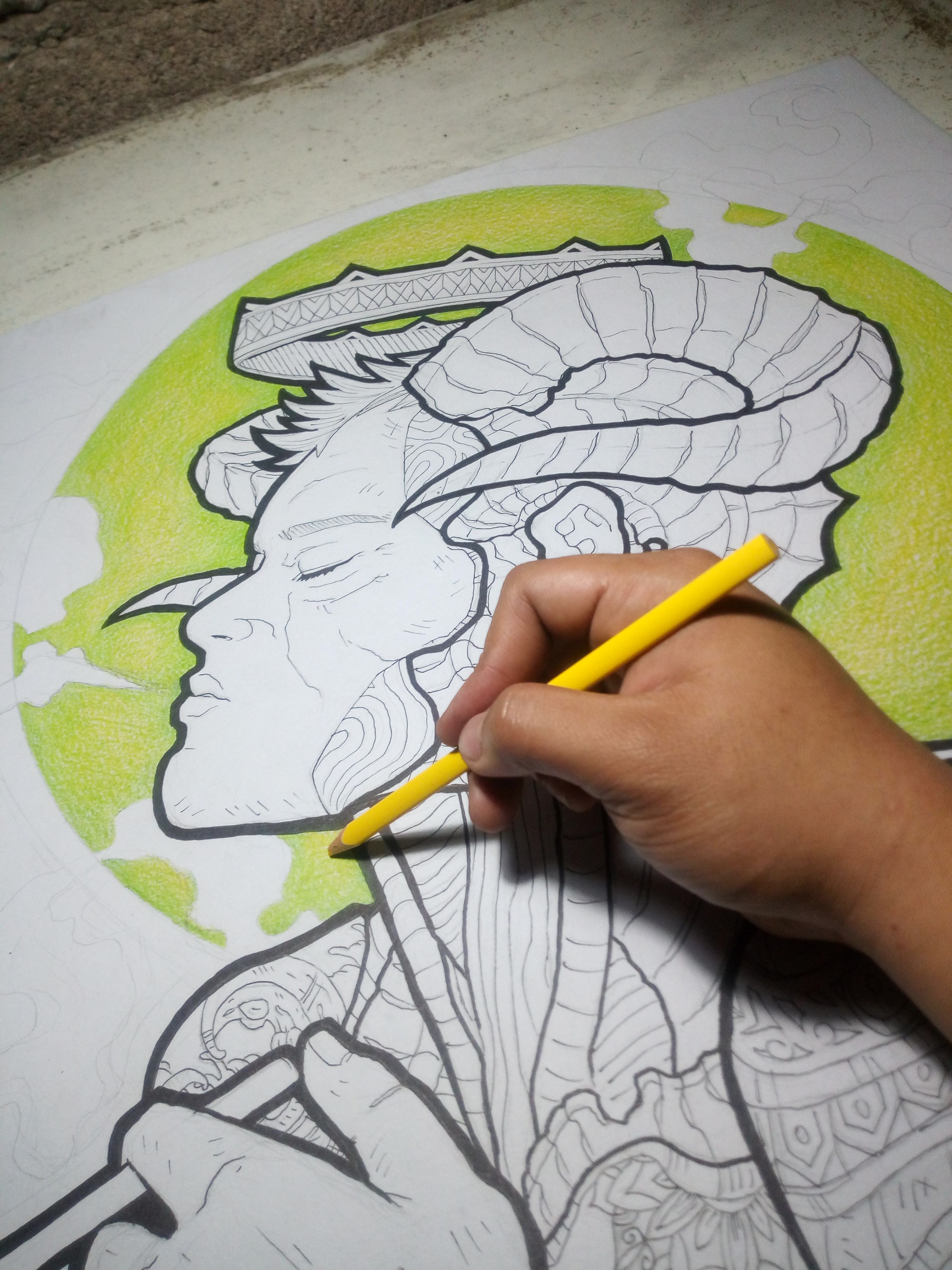 Making a clear form of life like the color of the leaf that sprouted from the seed as it feeds from my dying flesh, roots of trials and struggles shall be the foundation of the tree while I slowly fade away from this earth.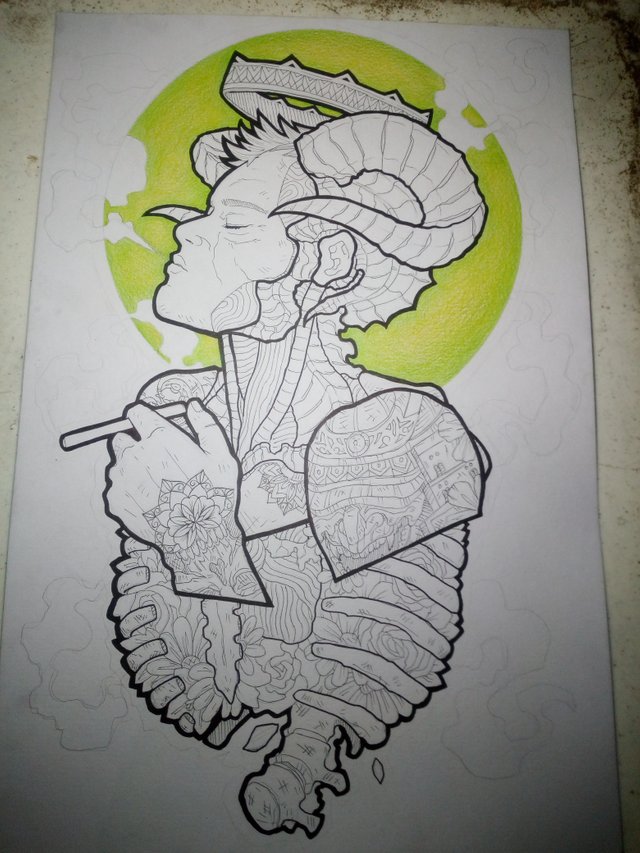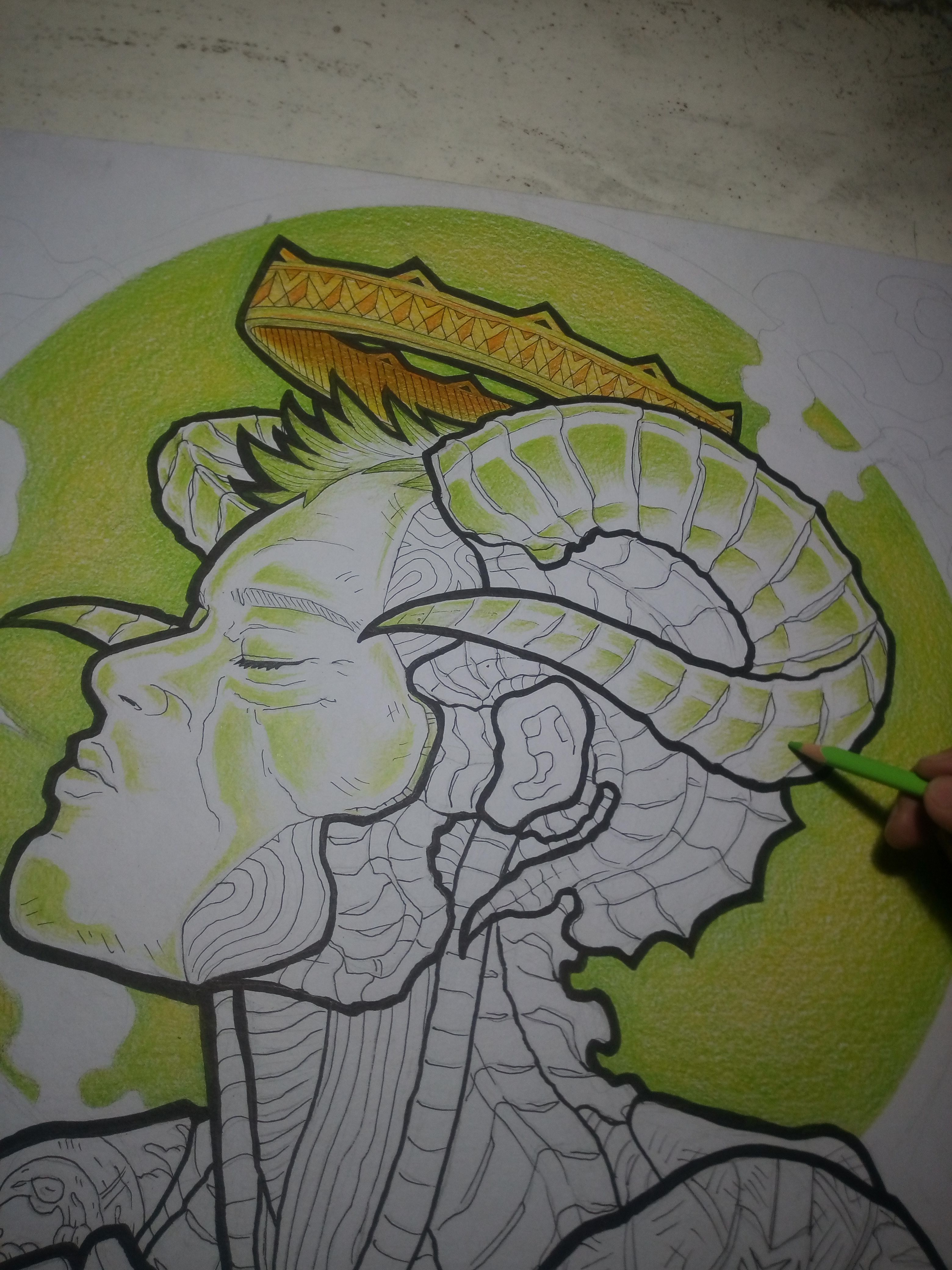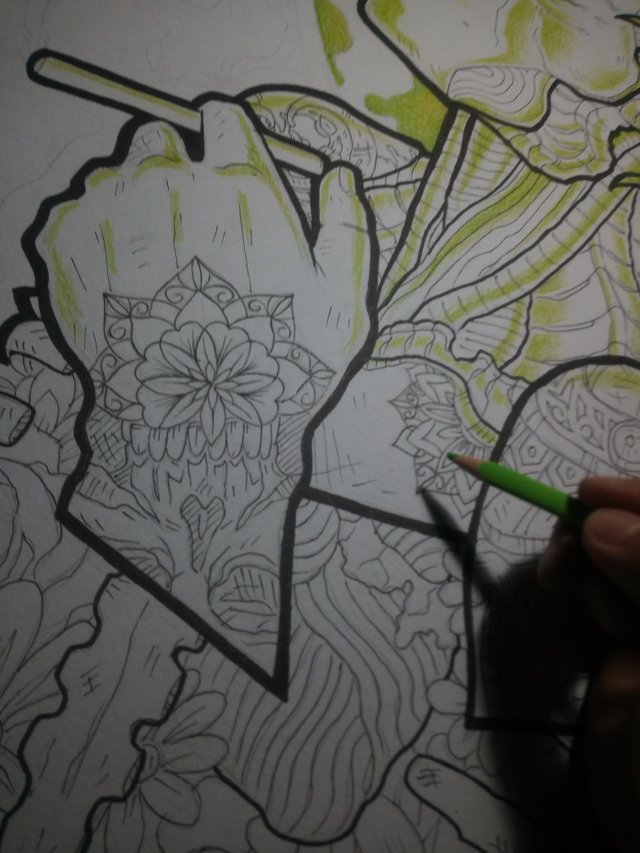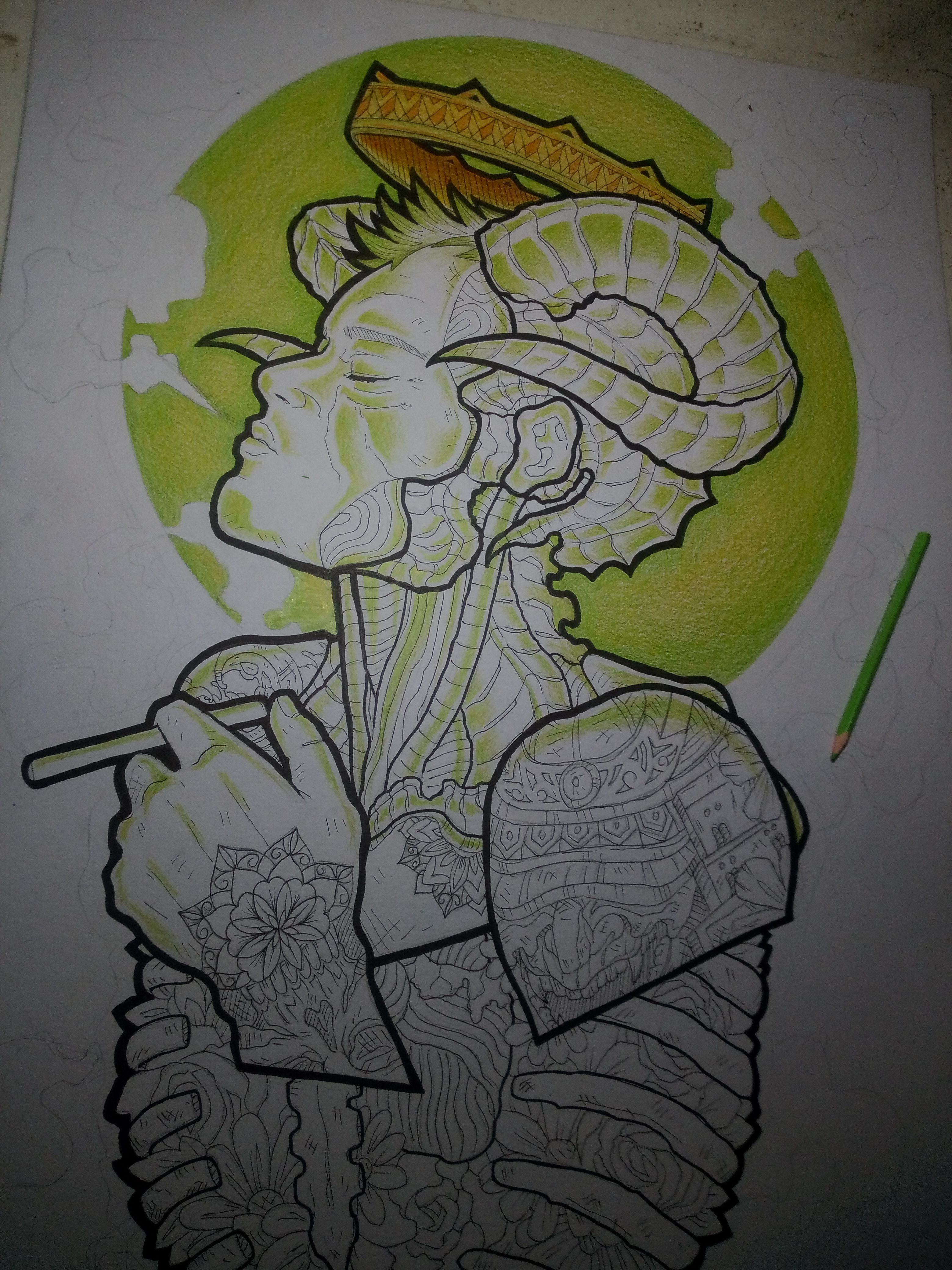 I am not great and I haven't created any absolute greatness that I would sought to carve on my stone along with my grave when my time would come, I have been made of good and bad, I have earned both halo and horns which I intend to use whenever my service shall be needed.
I am not an angel, I could be a devil and I would be willing to be tossed in hell only if I truly deserve it.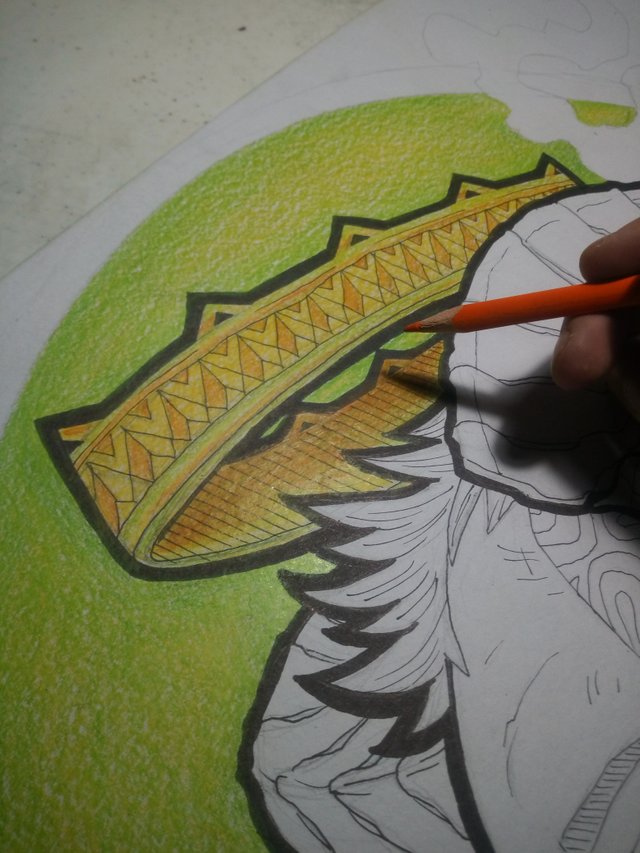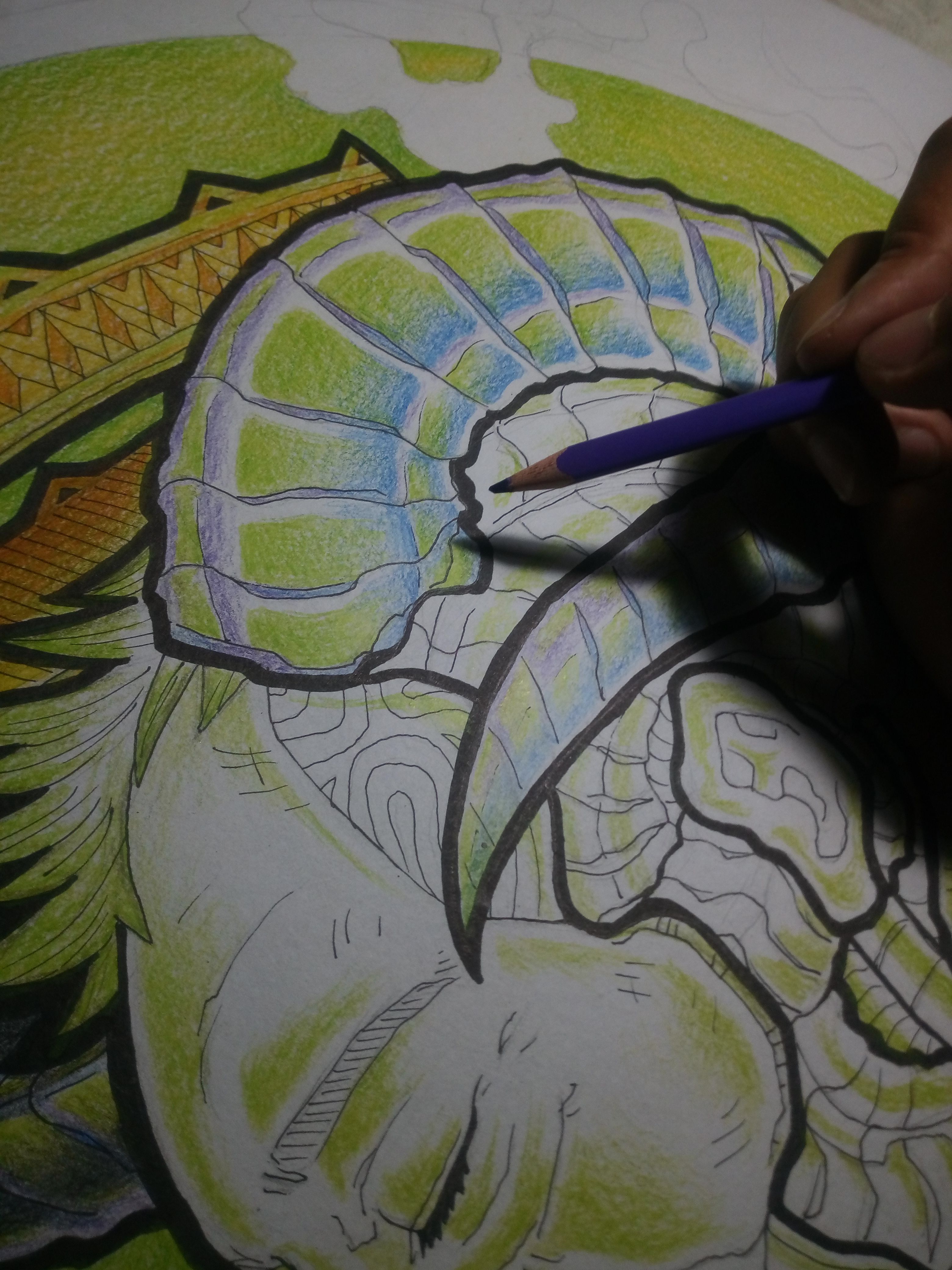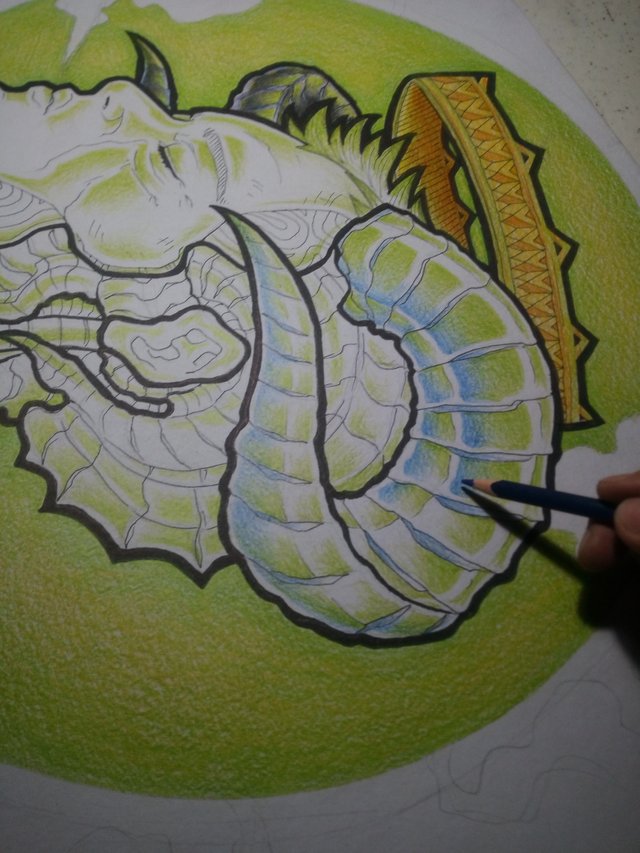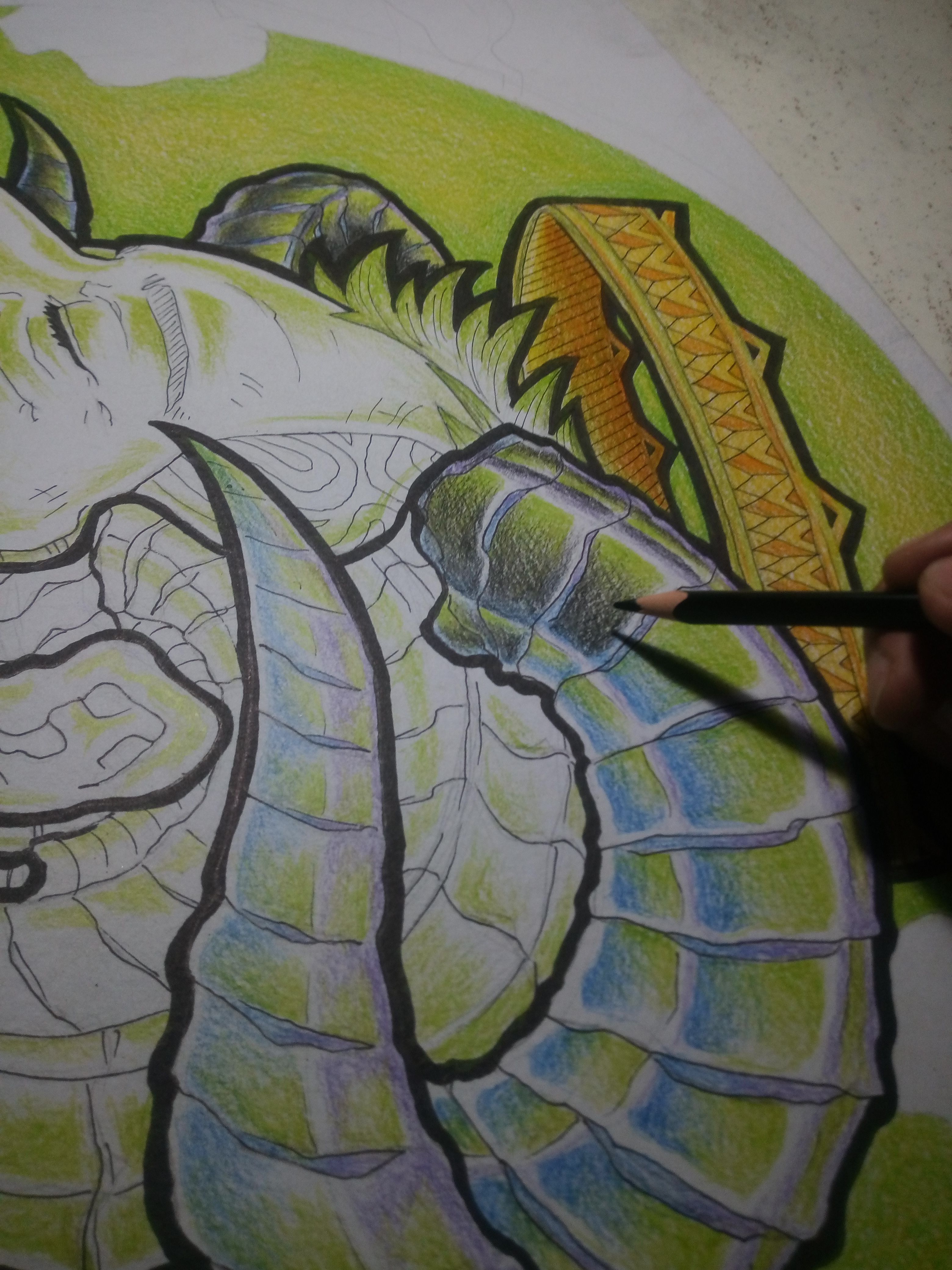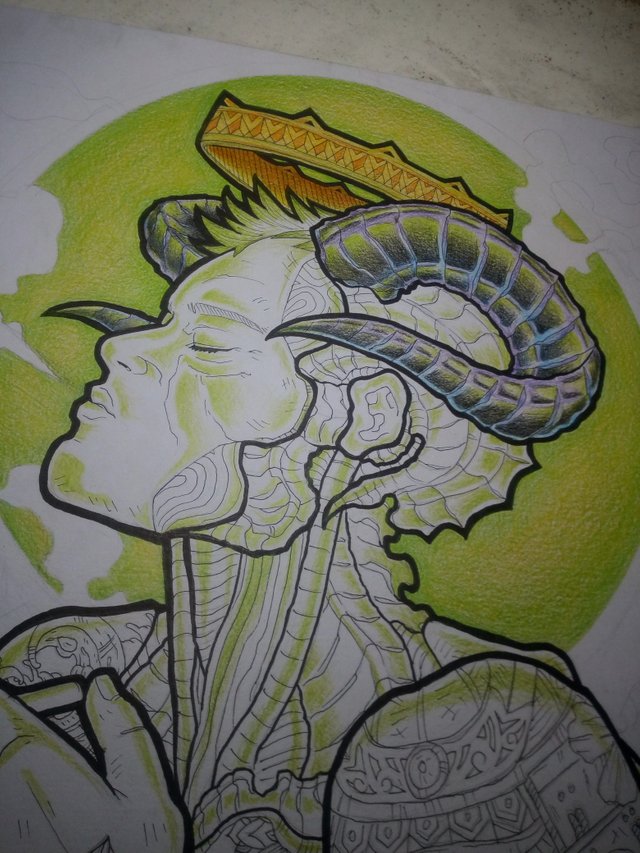 My head will soon be sealed from the new evils life would come up with, for I have obtained all the wisdom and knowledge I needed to go along with the remaining days of my life.
For as long as I am still walking on to the midst of this world, I will pass all what I know onto my offsprings and to remind the young minds to be prepared if they would come on to my present age.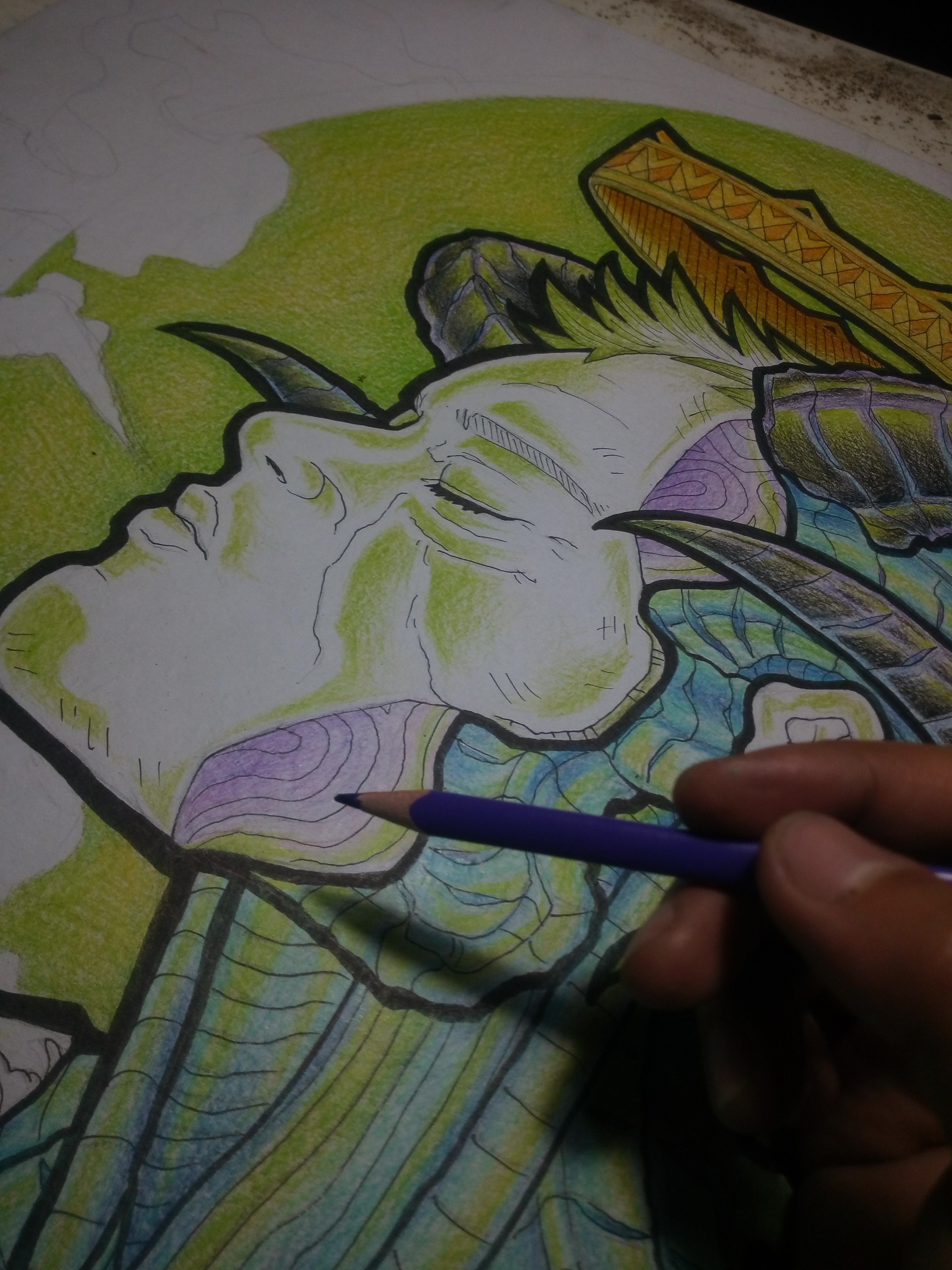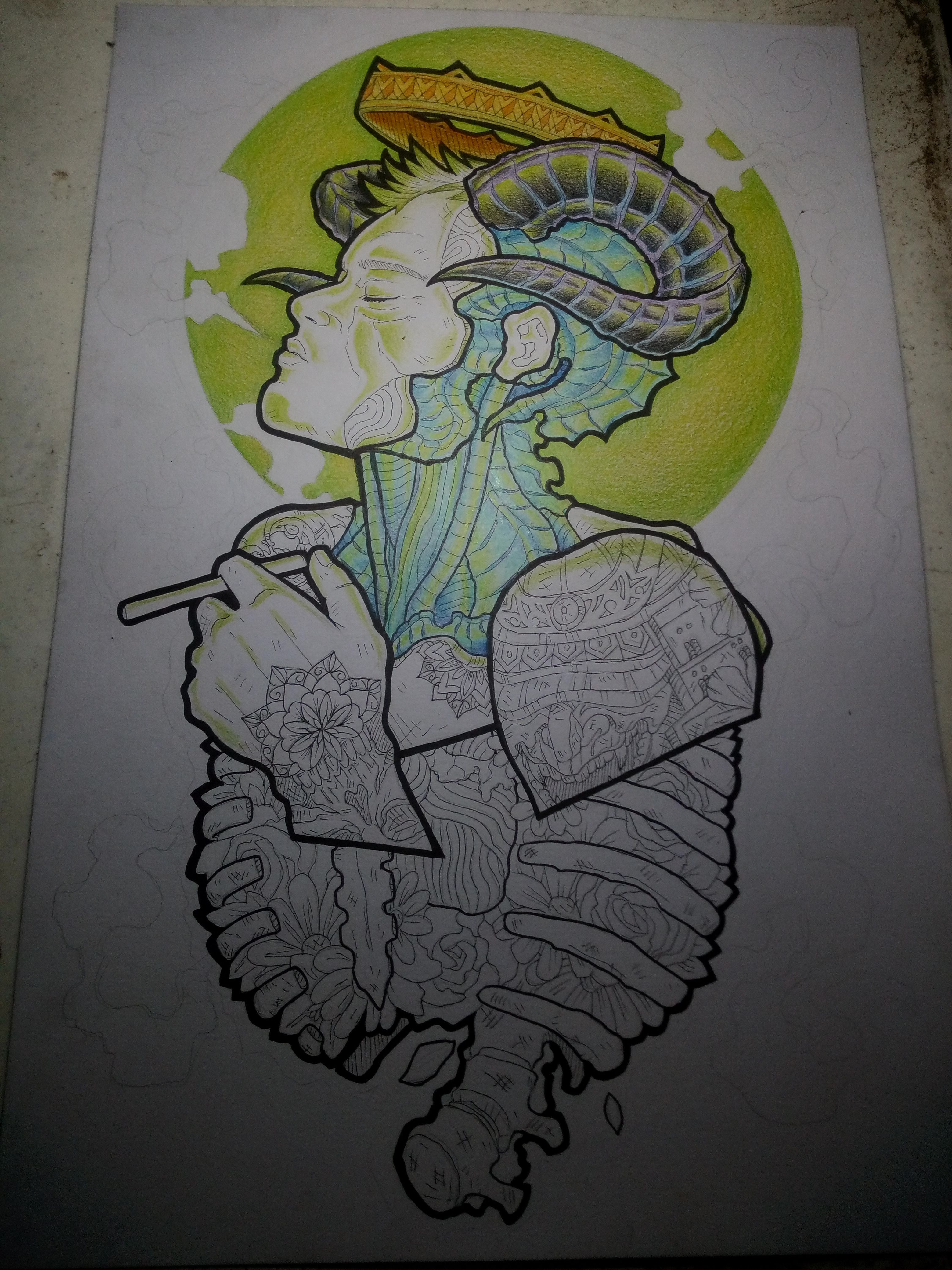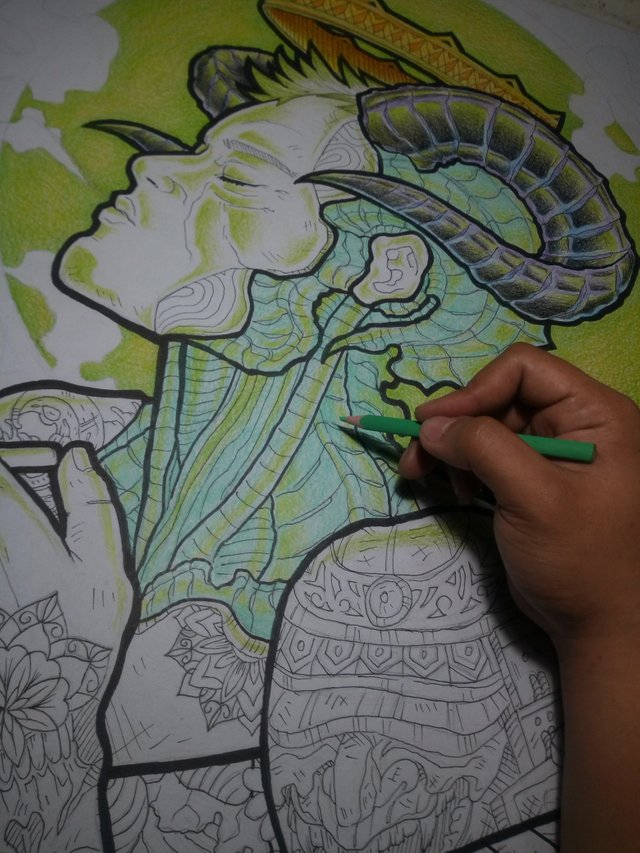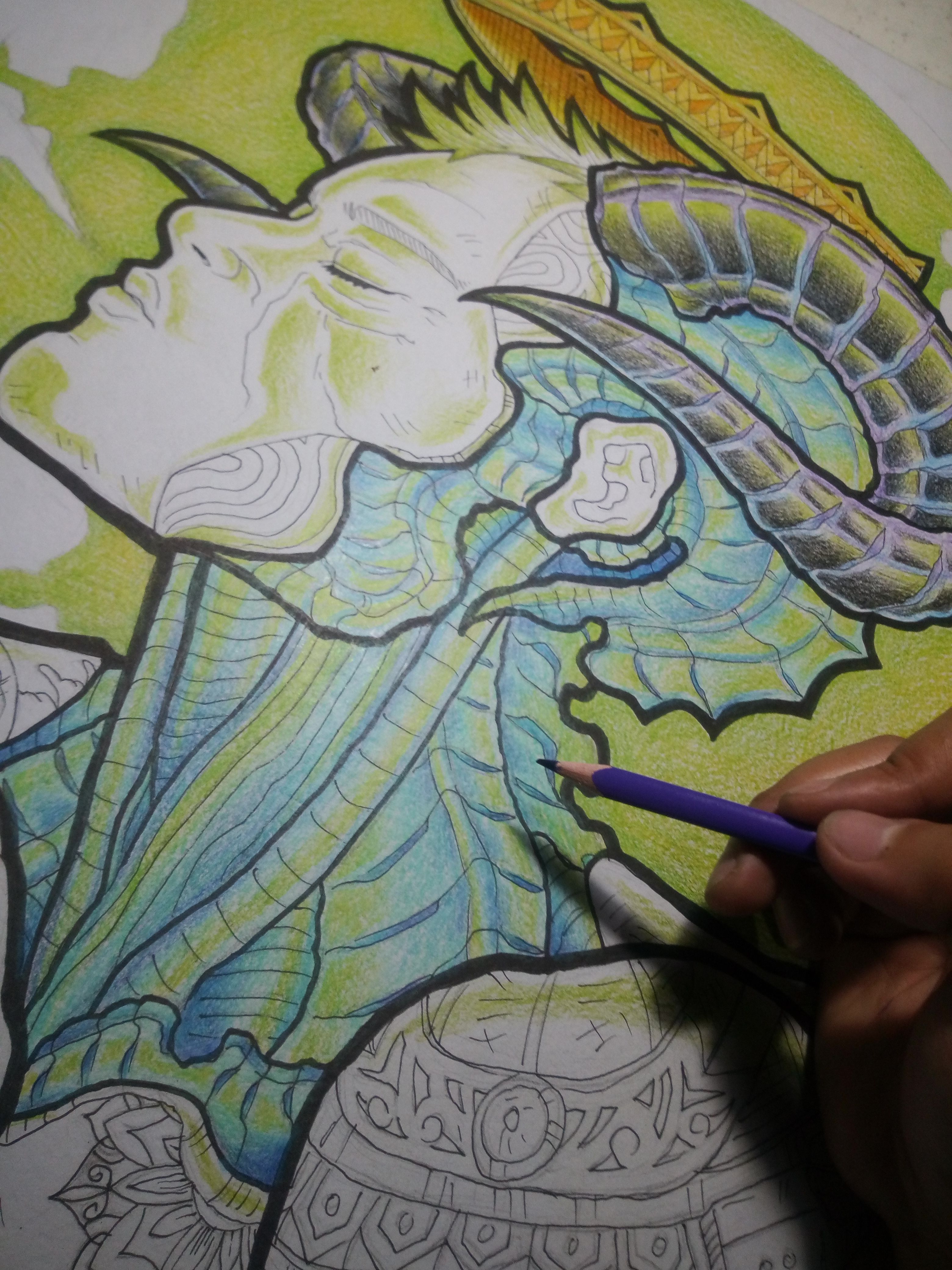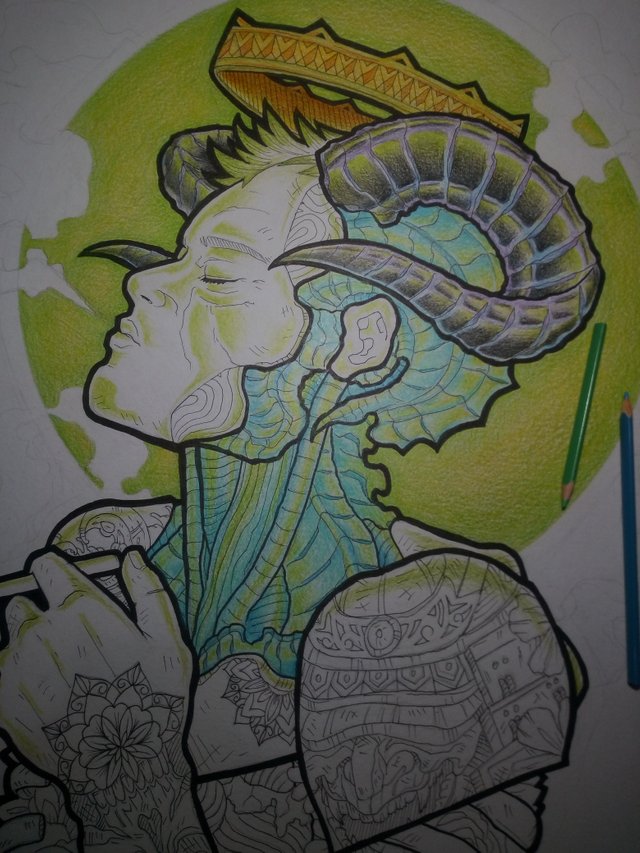 My body would slowly rot and be infested by earth's creations but my soul shall remain strong along with my heart that shall beat until ther'es no blood to be rushed out.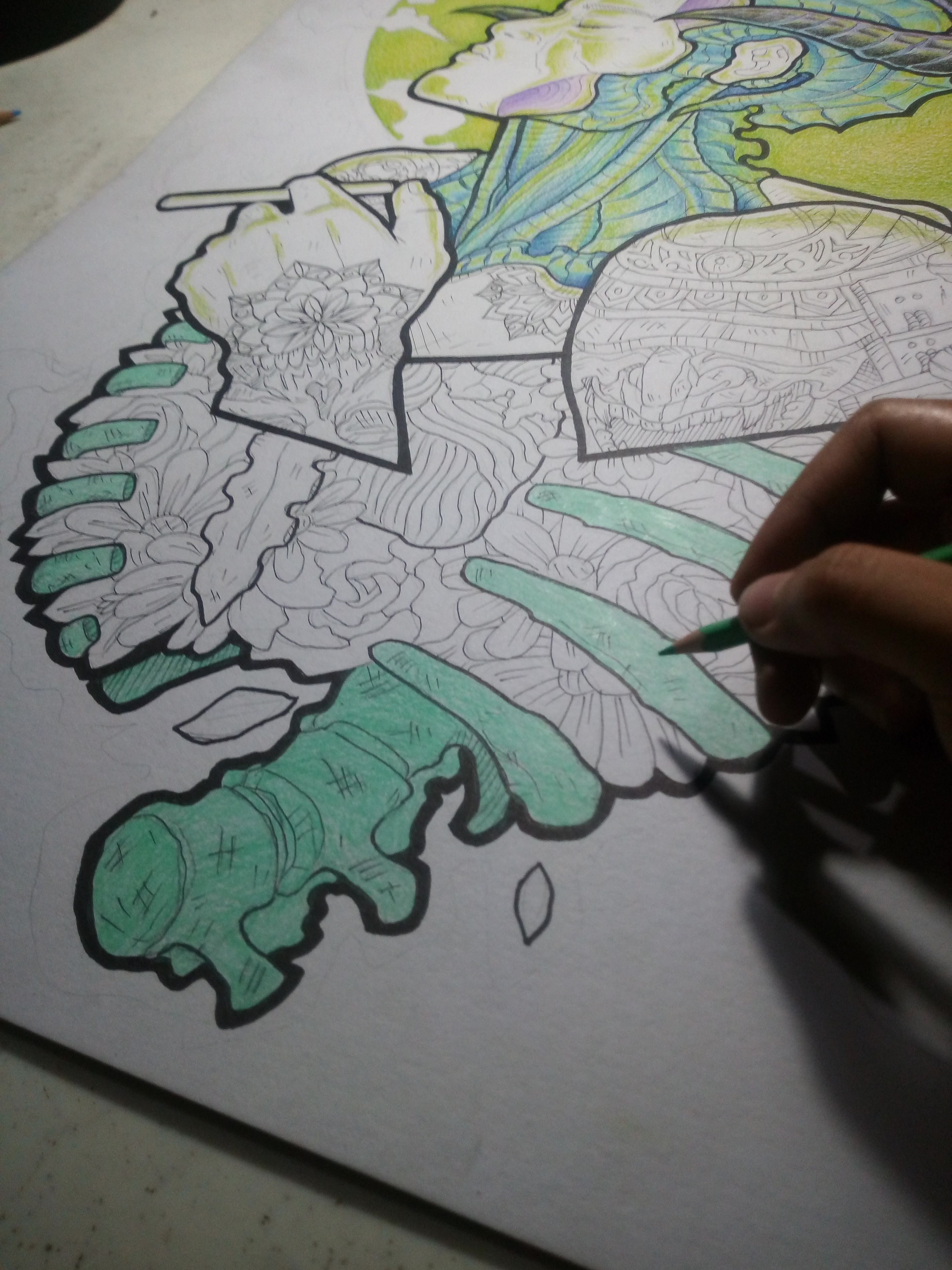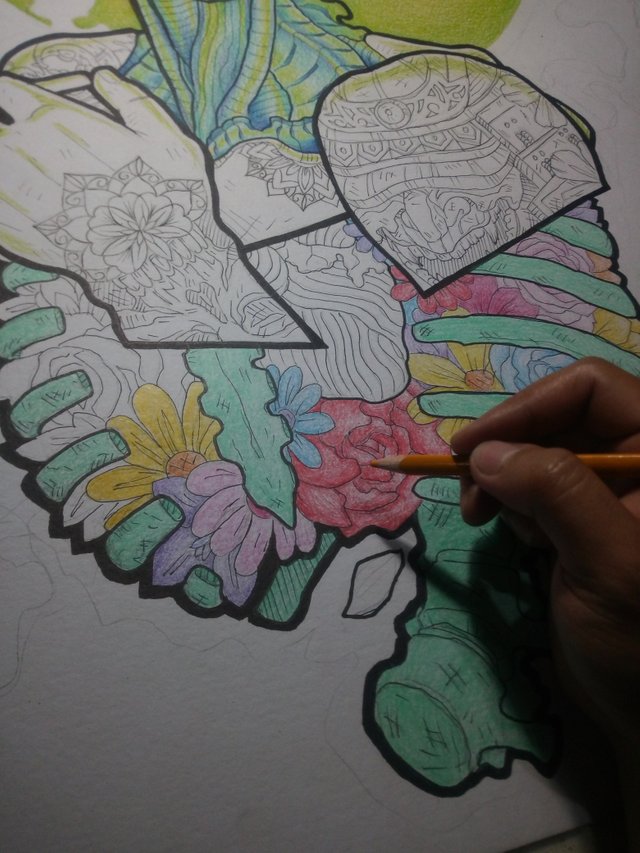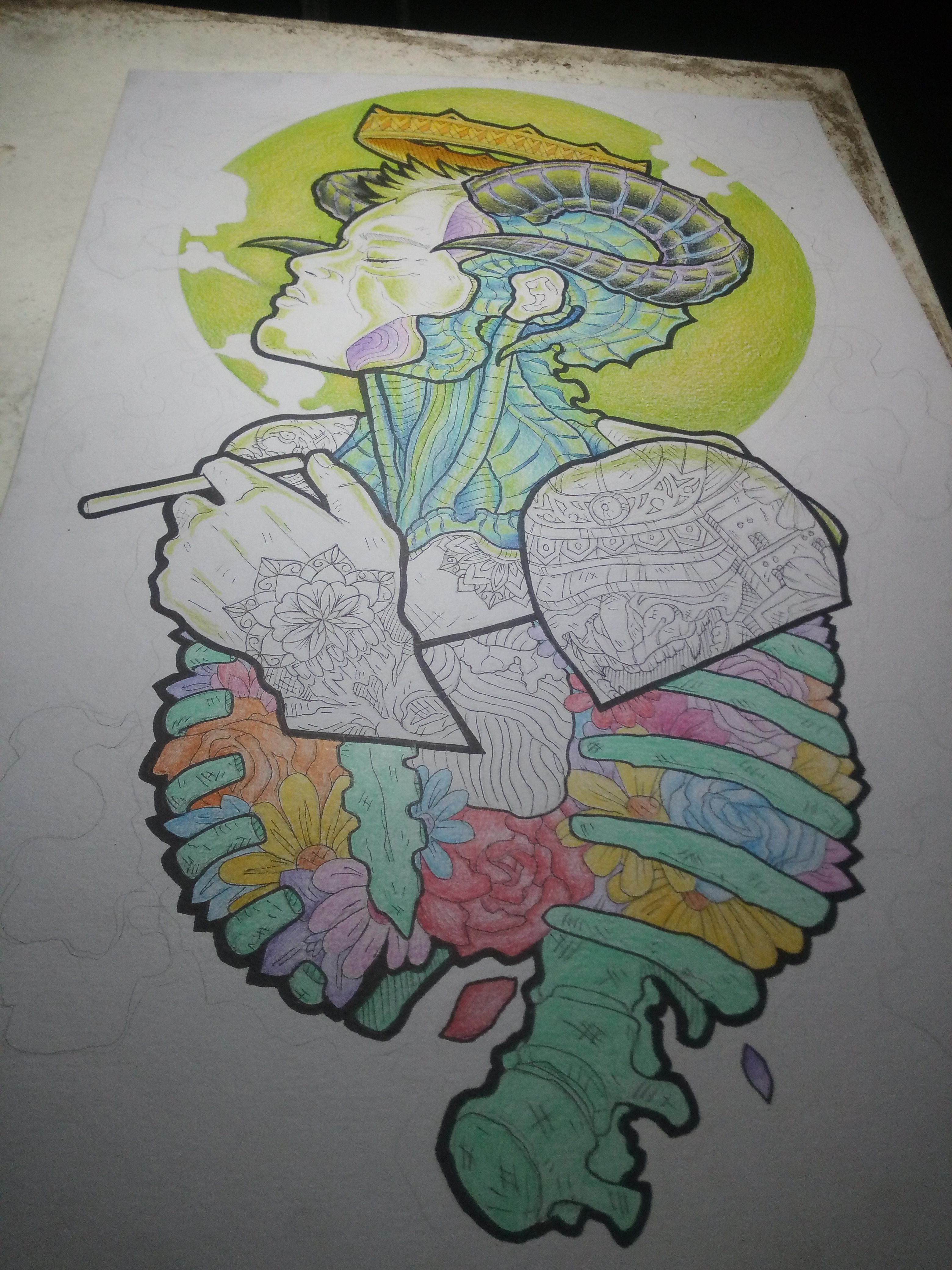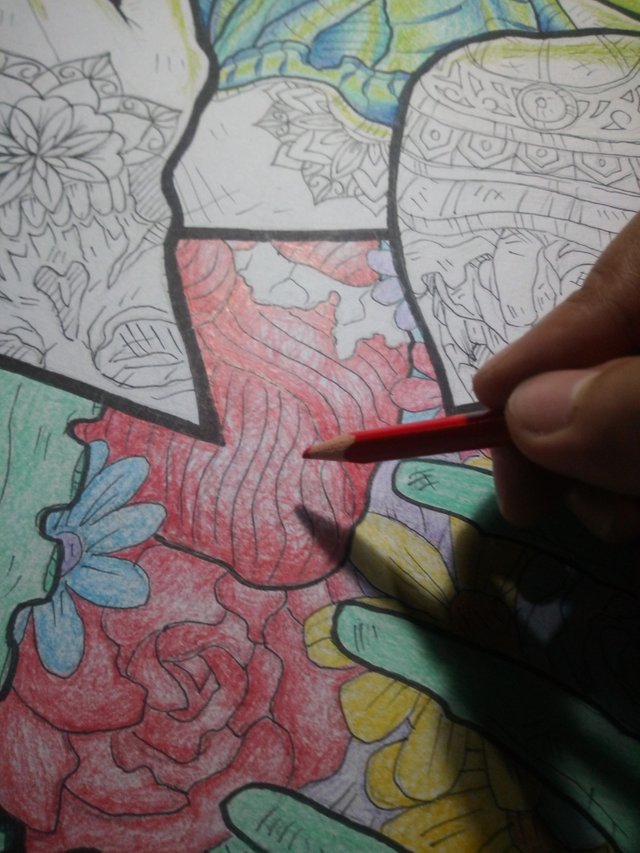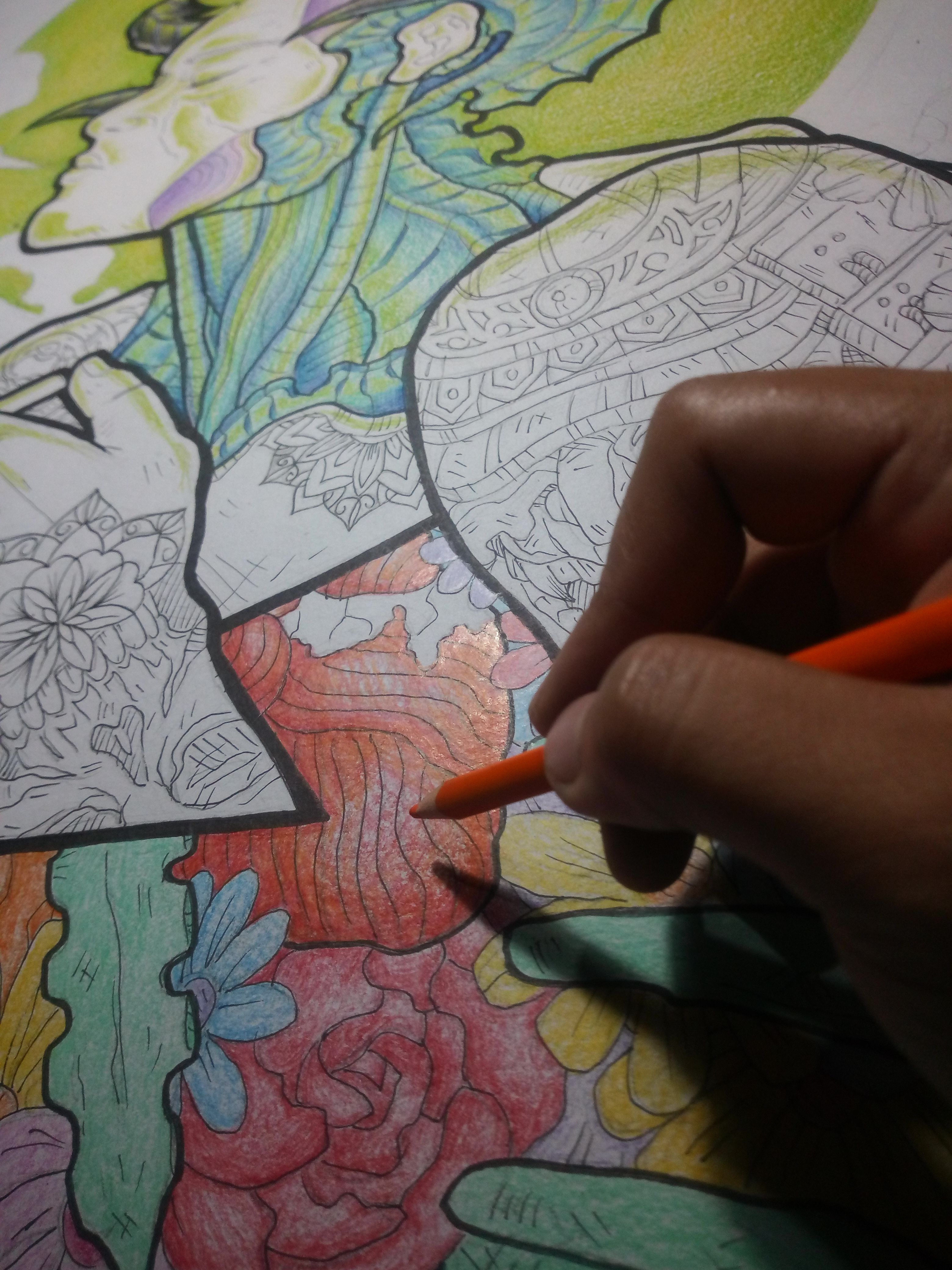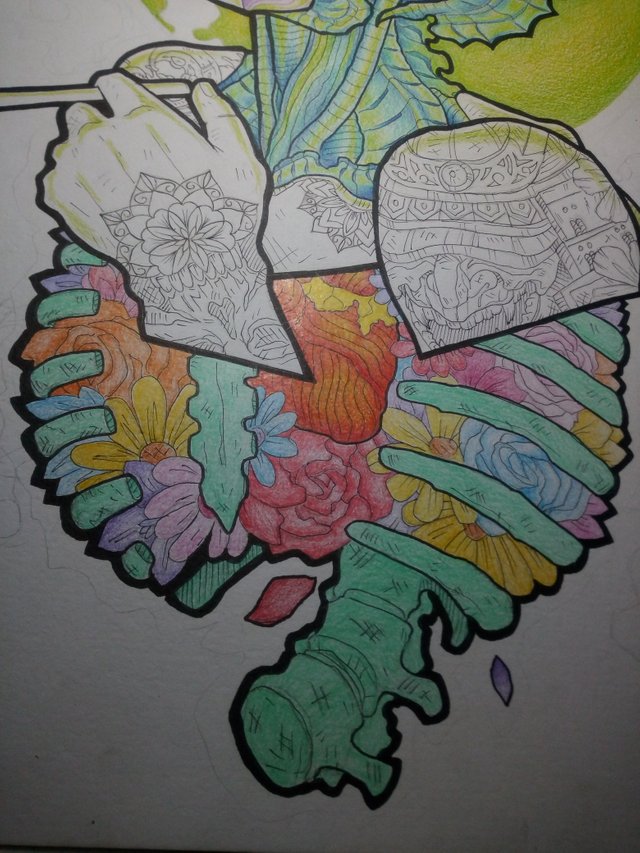 I shall soon have markings printed on my skin that shall represent all the hardships this life has given me, for every goal I would achieve and every failures that I have commited. For I don't want to die naked and plain, this shall serve as my own identity and reputation.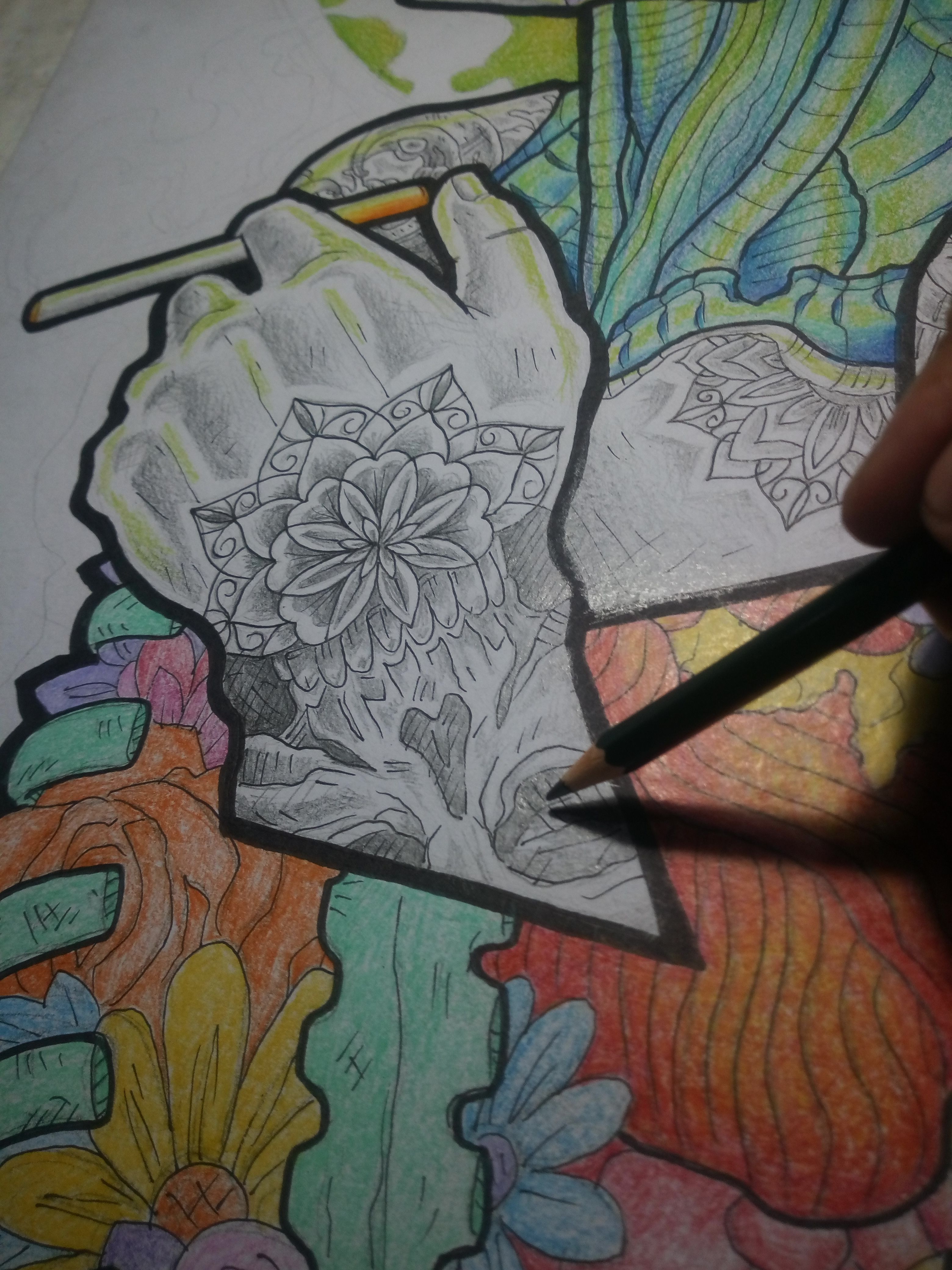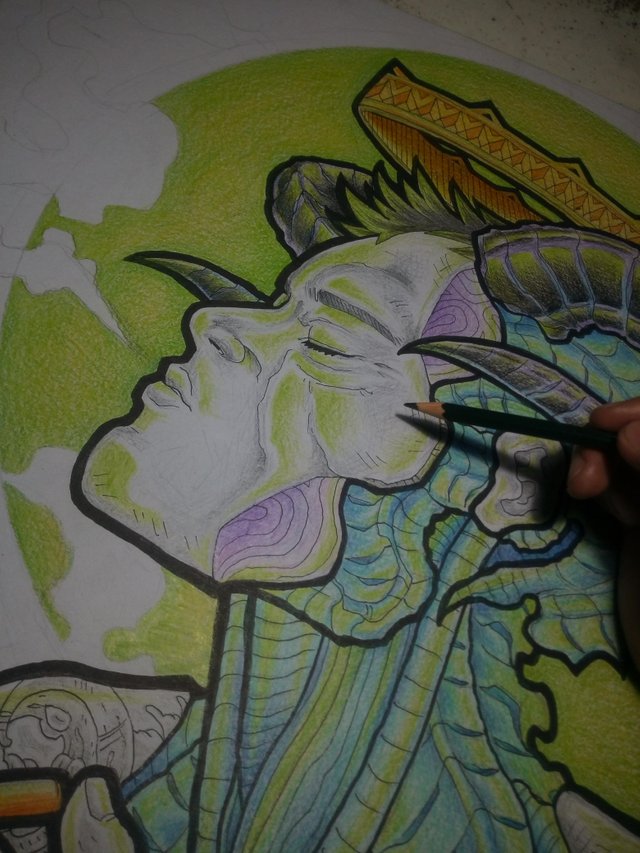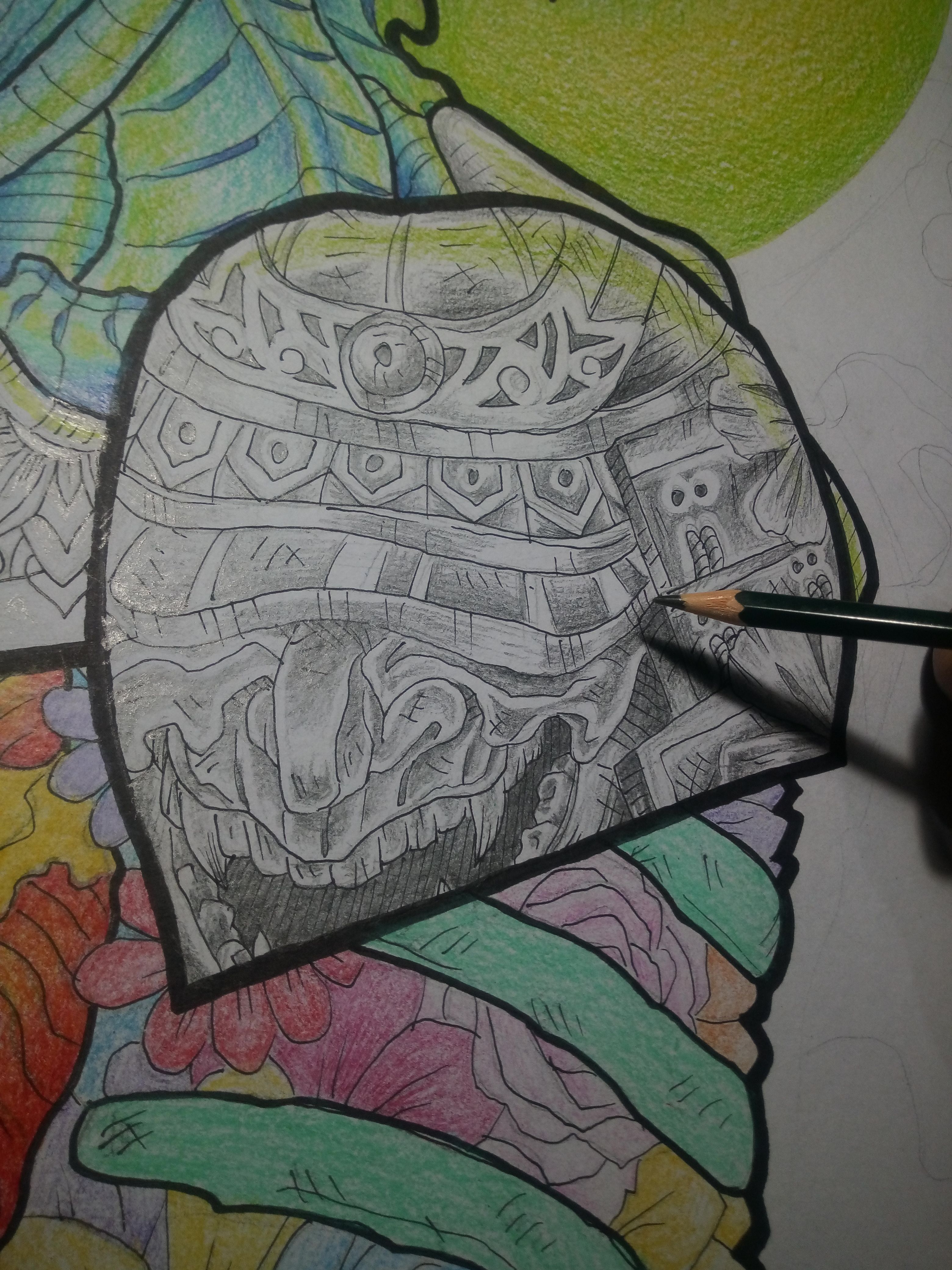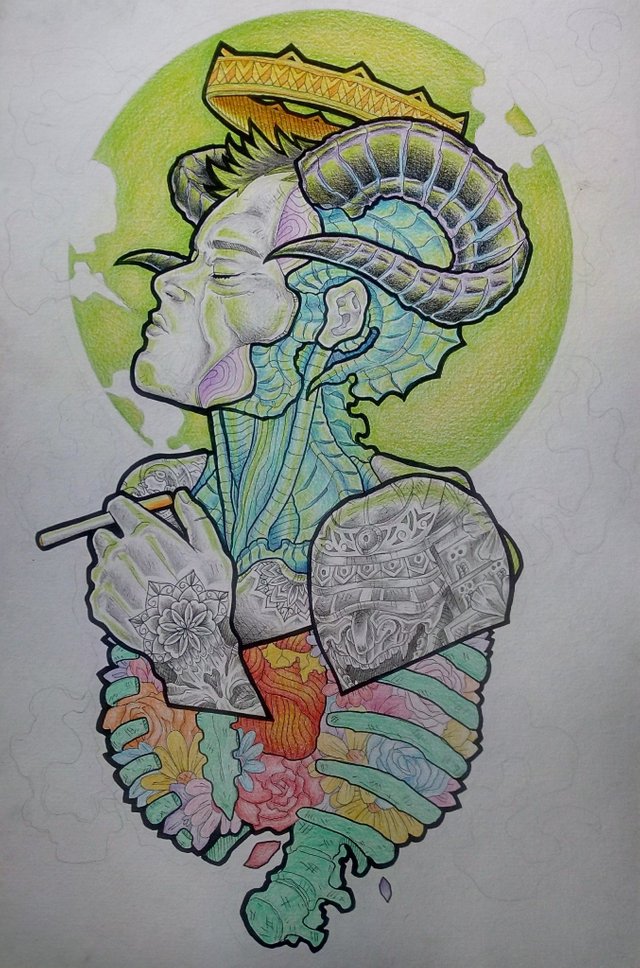 I shall cherish all the moment that have come into my time, I would never regret all the things I did above this earth. Good or bad, it'll be all psrt of my choice and by these choices, I have built what I am and What am I to become.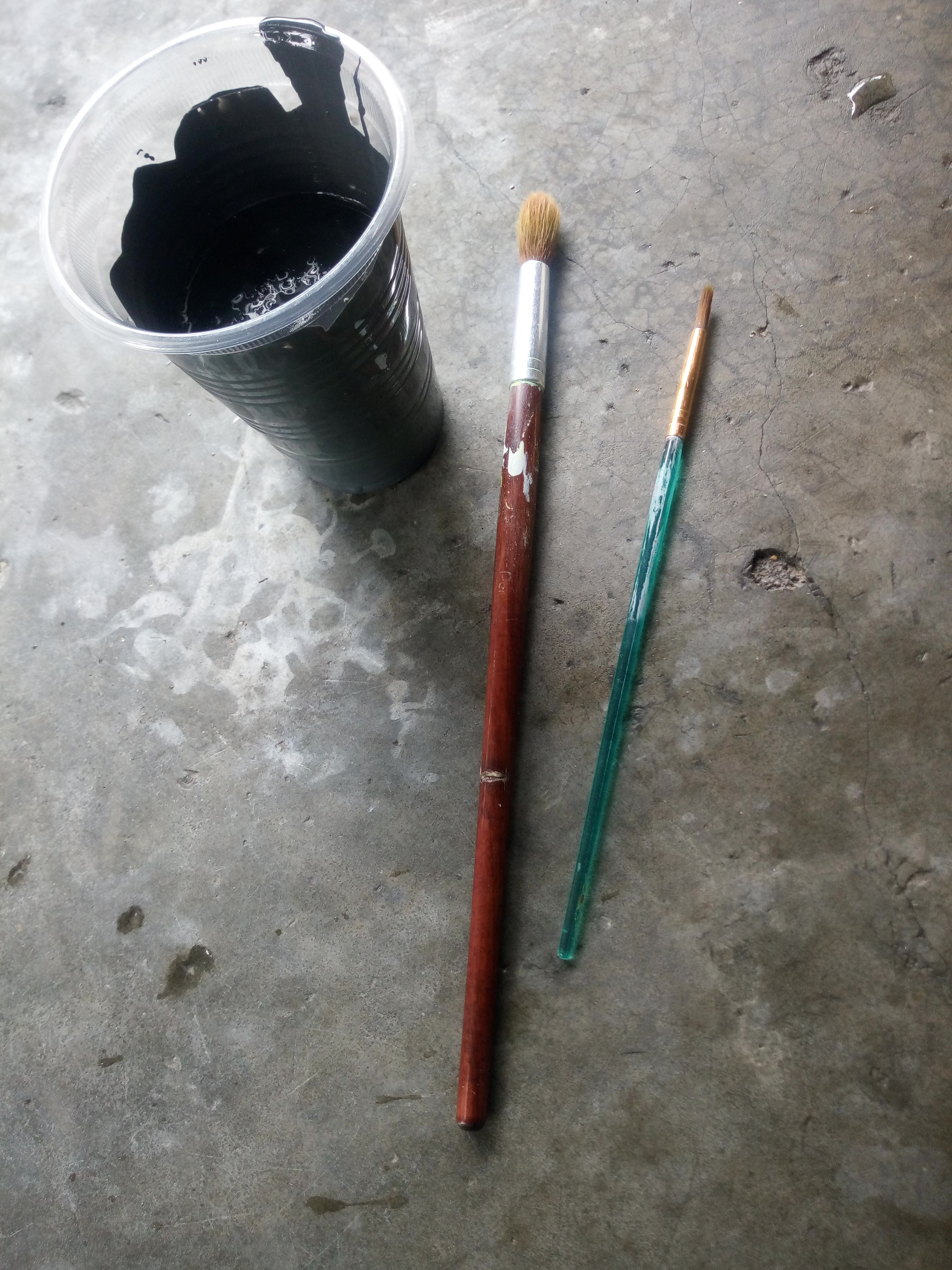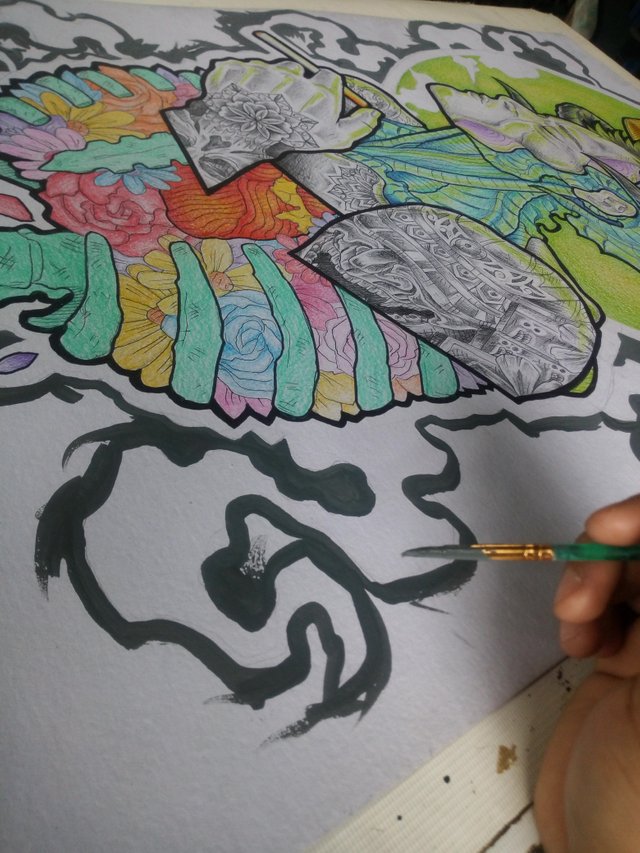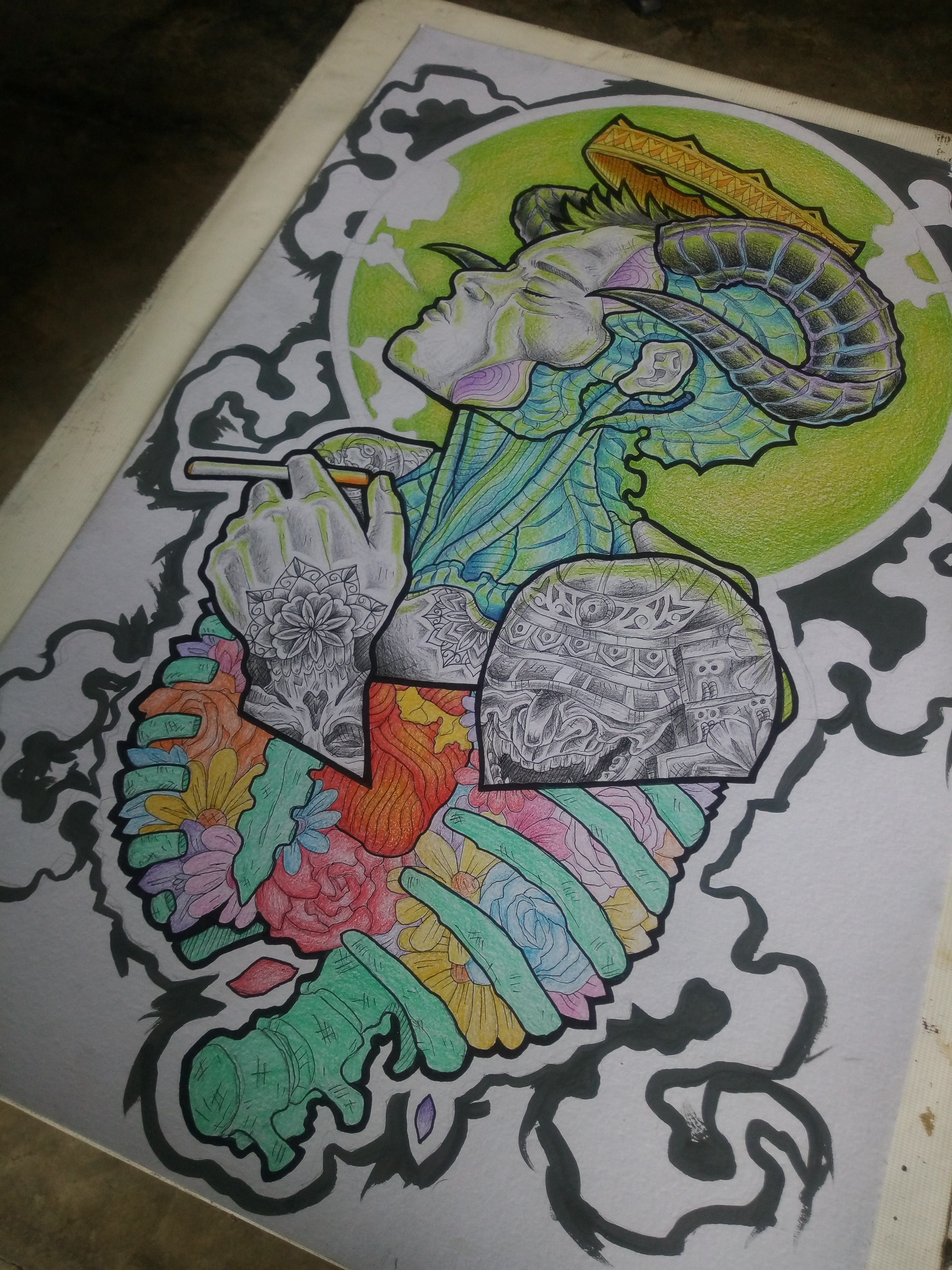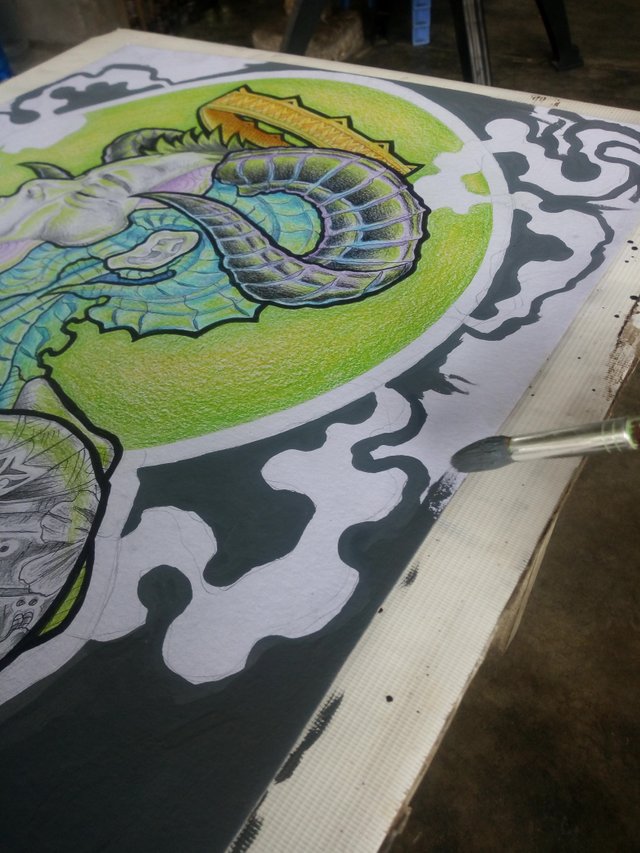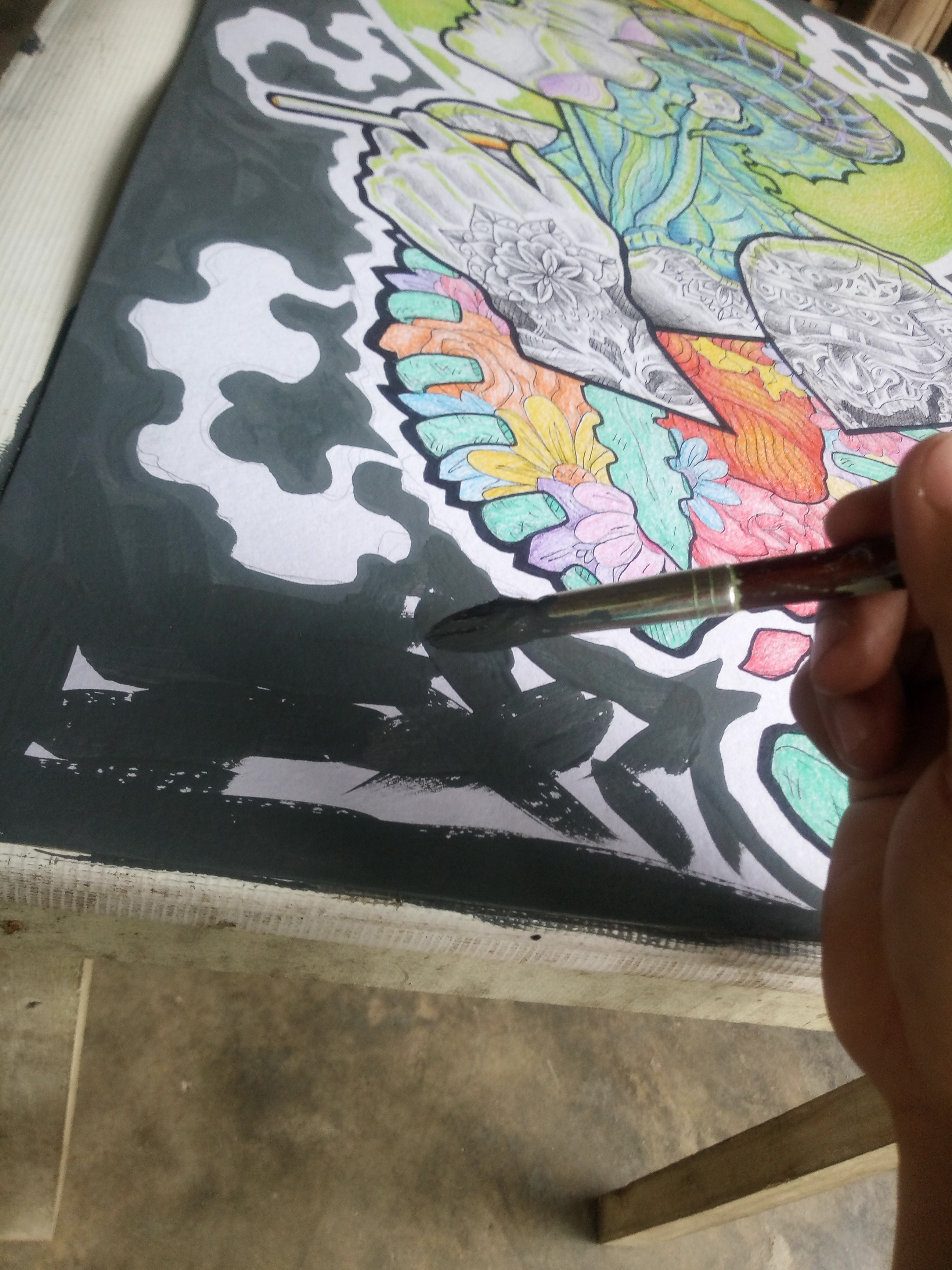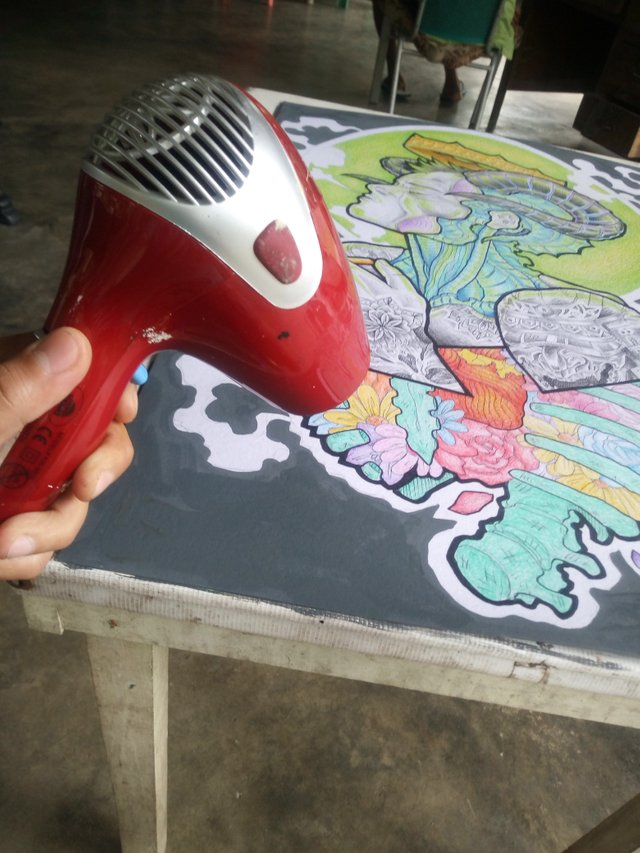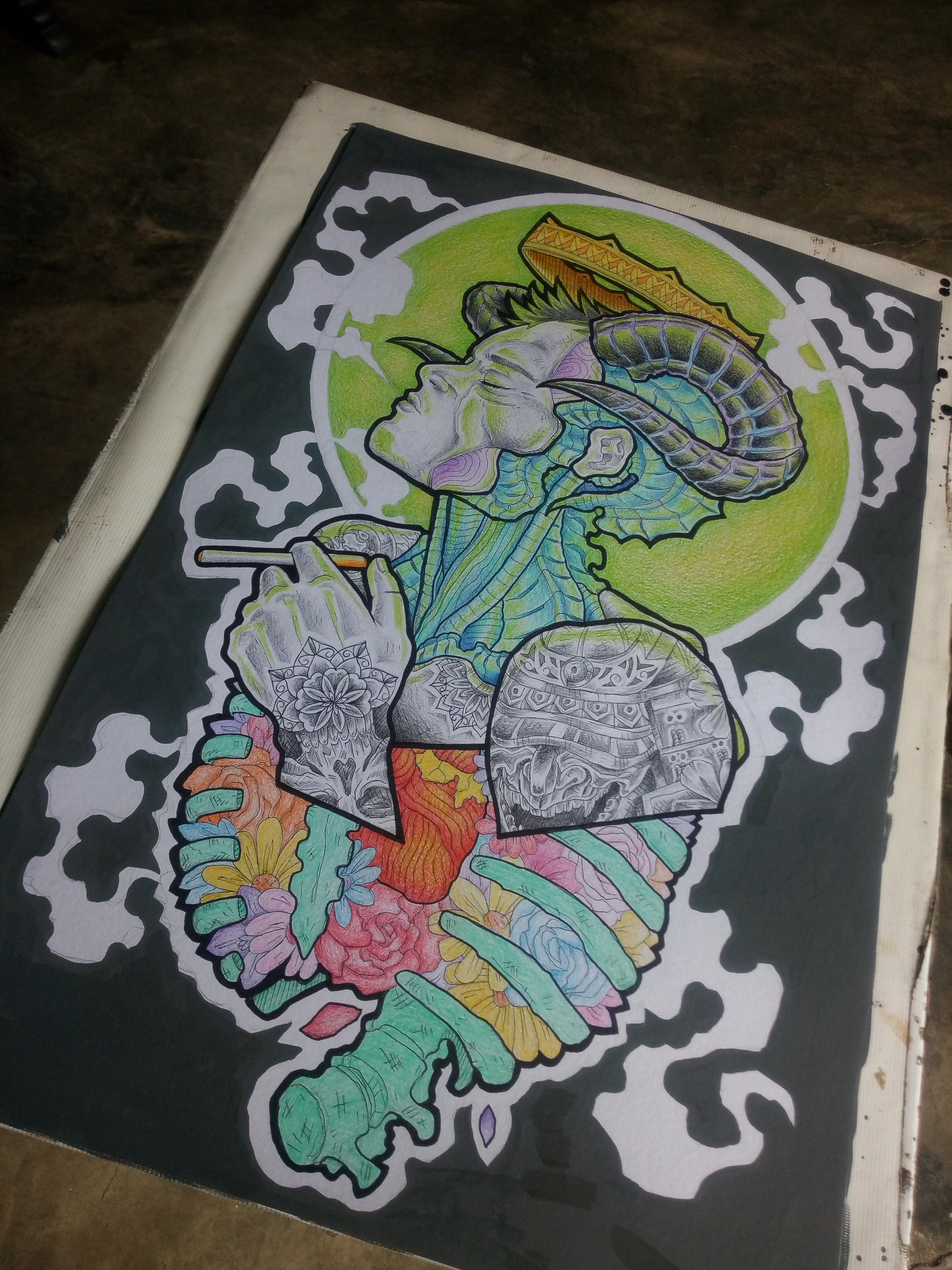 Wew! Now, that's something I haven't did for a long time.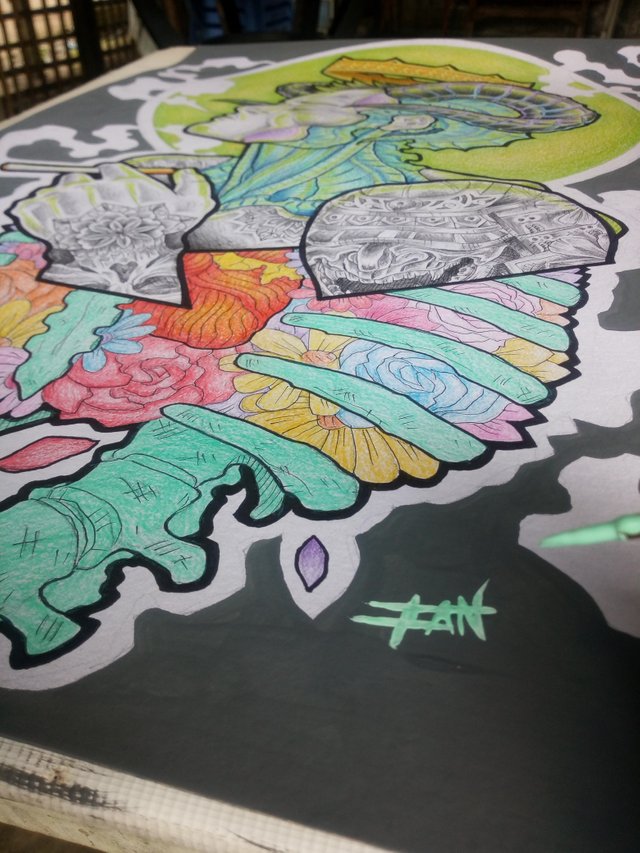 With all that done, we now put it into sharing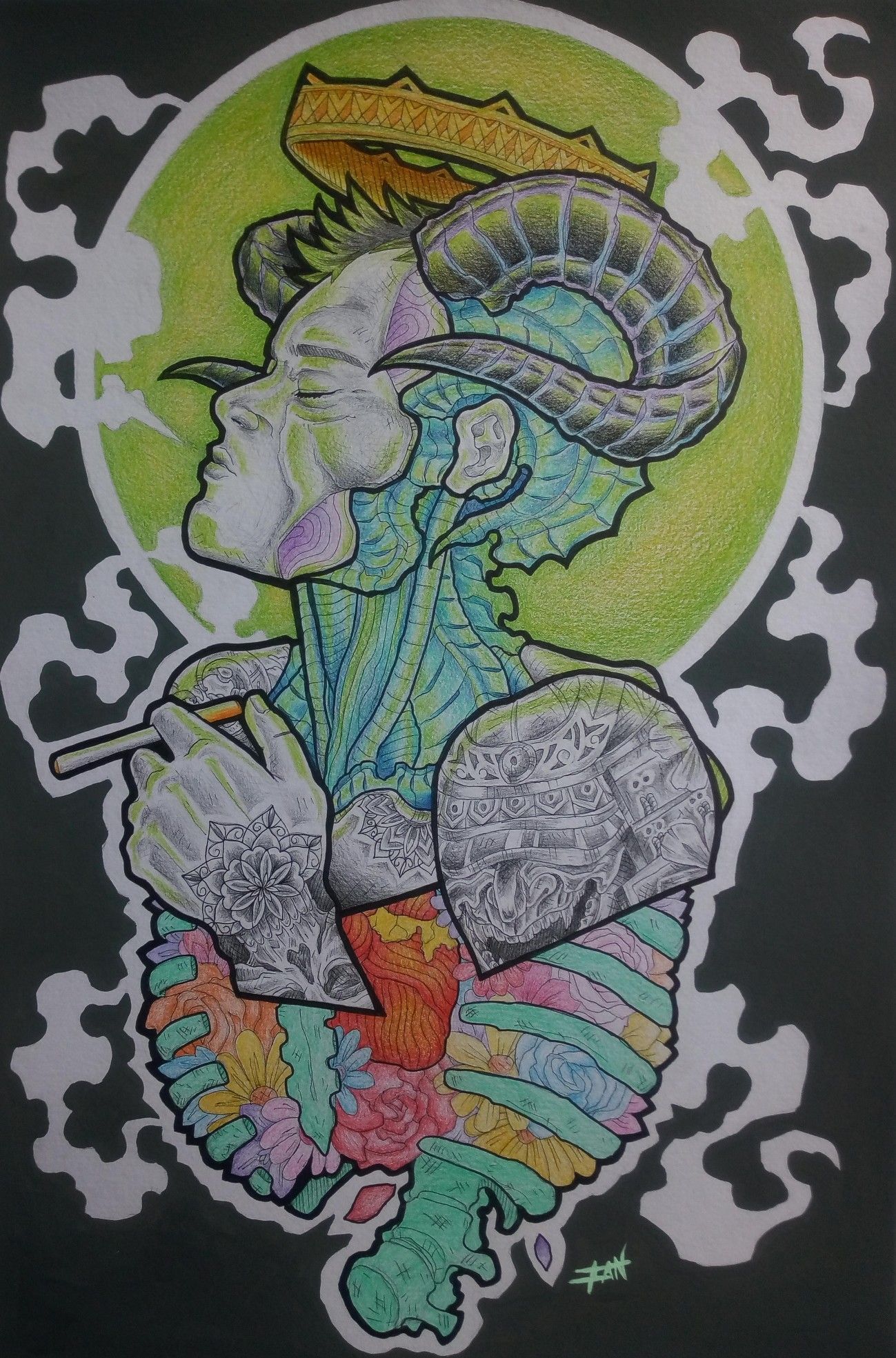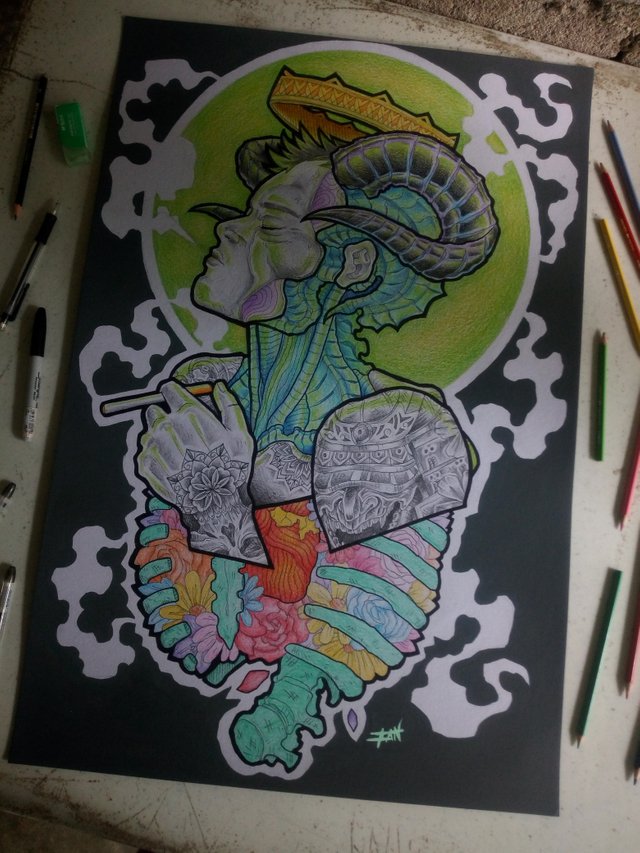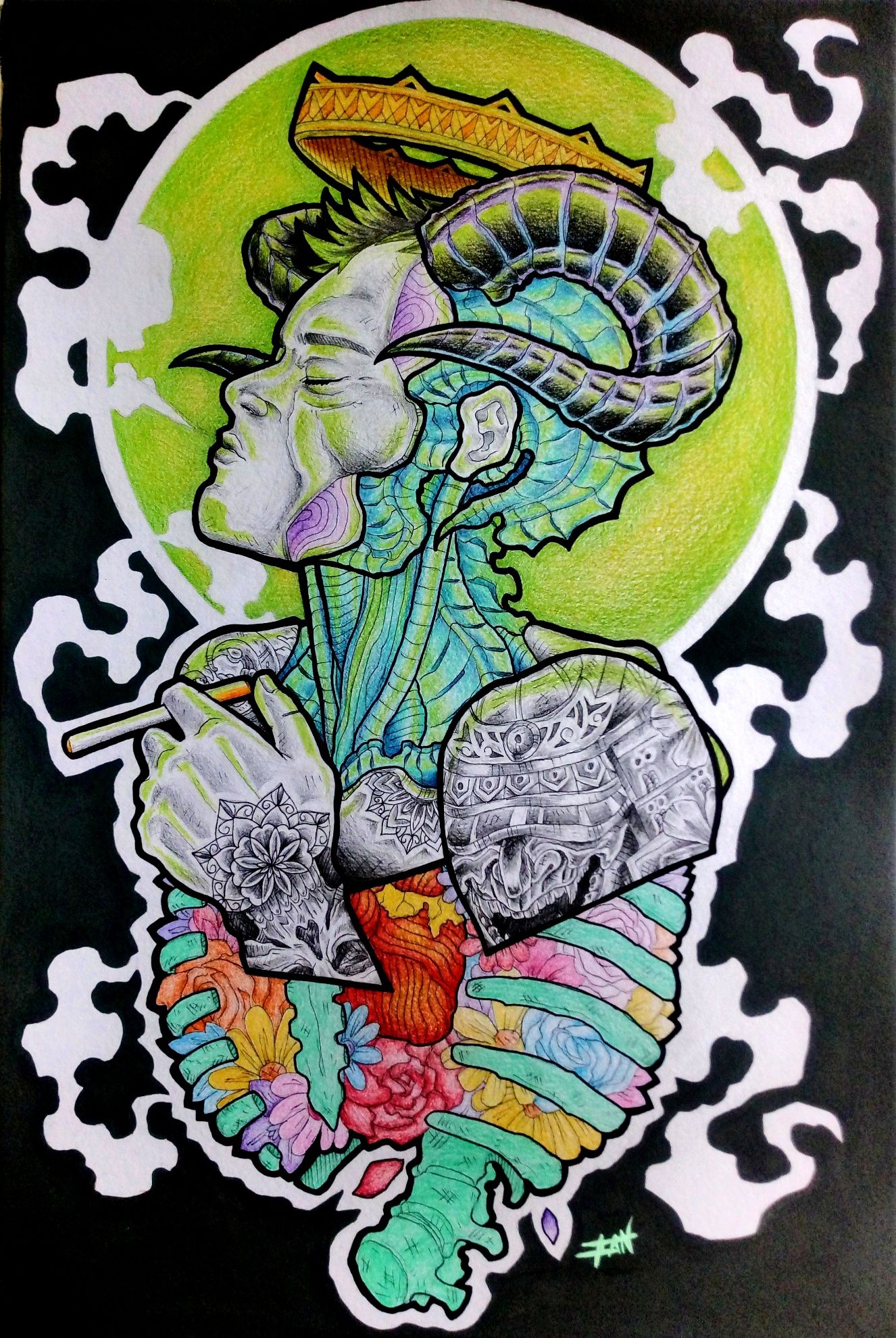 This work is licensed under a Creative Commons Attribution 4.0 International License.
That'll be all for now guys! I would love to have this framed up. This will be the first huge artwork I made for myself. I always do art for commissions and I would love to have this hangin in my wall soon if I would have my own house. Hopefully, Steemit would change my life and I would always be dedicated on sharing pieces of art here.
Thank you for checking out my post! This is @ianceaz saying "Life is not made out of chances, it is made out of our own choices."
Until next time folks! Chow!