Cook Defi Protocol is an innovative Defi protocol is coming in our way to join the game of Defi in the crypto world
The price of Defi project right now is soaring high that is why many investors jump to join in the crypto space to invest in Defi project that will give them a good return of their investment in a shortest period of time, we can see also many projects are get in to it and most of the Defi that is already on the market right now are on the top 20 in cryptomarketcap they even surpass the other crypto that is already on the market for many years, new Defi projects like uniswap, synthetic, sushiswap, compound, yearn.finance and more other just begin a few months ago but if you look at them in the cryptomakertcap they are already on the top 10 in the market today.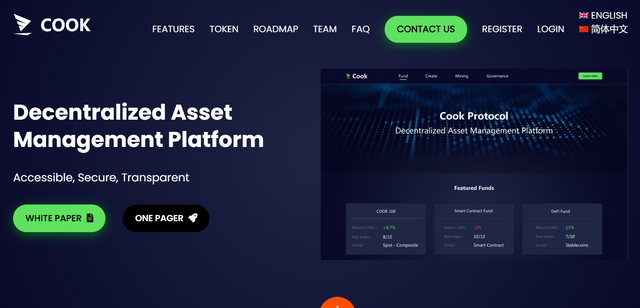 A new innovative Defi project that is coming in our way is Cook Defi Protocol project it is completely decentralized Ethereum-based asset management platform built for investors and professional asset managers to unlock an entirely new universe of DeFi innovations. An this is a perfect time for every one to join in this project while it is on its early stage, because if you are an investors this is your time to hold COOK Token as many as you want for you can buy Cook Token in a cheaper price in there pre-sale, as you can see it to the other projects that I mention earlier they also begin in a very low price and now there price is already much much higher, as you know that uniswap price is less than 0.5 cent$ five months ago? So this is your time to buy much Cook Token before it goes to the moon because Cook Defi Protocol is a unique one they have a lot of features and investment product that they offers to their investors and a team of professional assets manager is on there way to help and offer you a good return of investment project to the Cook Defi Protocol platform. Every thing on the platform is transparent sense the Cook Token is a governance token the entire community of Cook token holders can decide whether to add or remove a particular DeFi protocol to the protocol-level whitelist. To know more about Cook Defi Protocol project you can visit their website here: https://www.cook.finance/
Cook Finance will bring Defi to the masses they want every one to have access to the financial world and give opportunity to any one how want to invest on it. Cook Finance will be provide a transparent and high quality service, a variety of fund management tools to accelerate the adoption of decentralized finance. Decentralize finance is making a way to reach out many people to help in their financial need buy investing in Defi projects such as Cook Defi Protocol. This project is a perfect place to invest because it was built for the investors and professional fund managers, it will bring confidence to the investors who trust there assets the professional managers that will give them a good return of there investment.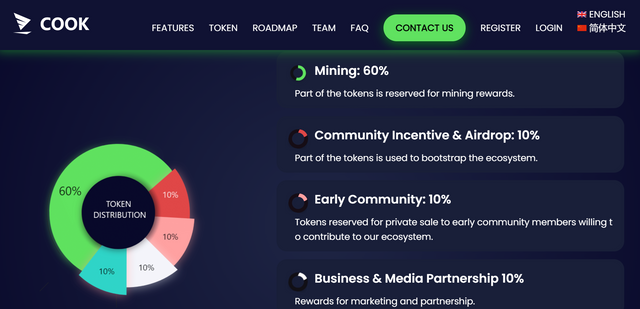 In Cook Defi Protocol is a very secure way of investing your assets because when you invest your assets to a certain products and deposit your assets to the Cook Defi platform for investment you will automatically mint ckToken as a proof of ownership on that investment. That concept is perfect for investors because ckToken can be exchange any time for any assets you like in the Cook Defi Protocol platform.
There is so many Defi project today but when you are new to the world of crypto this is the best project that you have to invest, a project that will give you a good return and never scam you. Cook Defi Protocol is the best project right now because you investment is always in good hand and you will never loss money on this platform. To know more about Cook Defi Protocol project you can visit their site here: https://www.cook.finance/
Defi now is the fastest money generating concept that is running online and you can see it on the charts that Defi sky rocket to 16 Billion on Feb. 2020. And it will be come bigger and bigger every year. Big financial institution and whales form stock market are also getting into it. Defi projects also one who fuel cryptocurrency like Bitcoin and Ethereum to sky rocket as we can see today Bitcoin break 40, 000$ price and they predict that will will go to 500k or more in the end of the year 2021.
Cook Token also have many function because it a governance token any token holder can vote on the proposals that they like or dislike, they can vote to adjust the fees if they want it to low the fees or make it higher. It token holders are unsatisfied with the current governance model, they can propose modifications to better serve their interests. Cook Defi Protocol is a community driven Defi Project where any Cook Token holder have a change to cast there vote if they against or agree to a certain proposal that is brought to the community.
Cook Defi Token Information
Symbol: COOK
Decimal: 18
Contract Address: 0xd2fcf0140e298b572c97331cd66fdb760f53a01d
Max Total Supply: 10,000,000,000 COOK
Official Website : https://www.cook.finance/
Official social media channels
Twitter: https://twitter.com/cook_finance
LinkedIn: https://www.linkedin.com/company/cook-finanace/
Medium: https://cook-protocol.medium.com/
Reddit: https://www.reddit.com/r/CookProtocol/
White paper: https://www.cook.finance/whitepaper/
---
---