The Devil is in the Details (XPILAR's B&W Photo Contest, Week 071)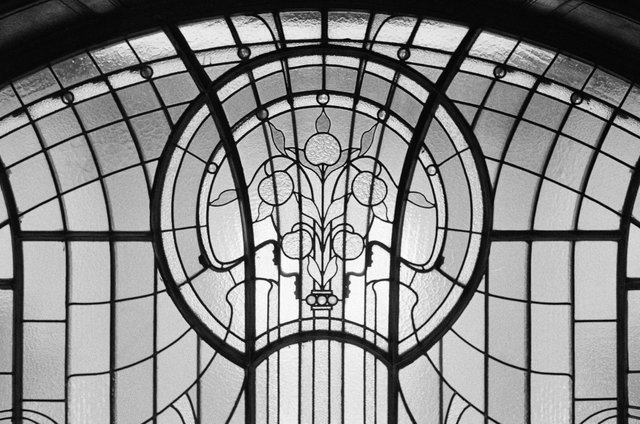 The Devil is in the Details
This imposing Art Nouveau stained glass piece caught my attention during a photoshoot at Château Charles. Intended (I presume) to be a vase of fruits and flowers (which is quite clear in colours), shooting the glass partition in black and white revealed a whole different story. Coincidence?
This glass wall partition is located between the lobby and the main staircase of Château Charles, a French castle nestled between the hills of Pepinster, a small town of Southern Belgium.
Whether you are looking for a romantic getaway, a relaxing break, a conference venue or an exclusive location for your wedding reception or a party with friends, its unique position and luxurious settings (…) are guaranteed to satisfy all your needs.
— Château Charles' website
Photo Specs
| Command | Description |
| --- | --- |
| Camera | Nikon FE2 |
| Lens | Nikkor 50mm f / 1.8 |
| Film | Ilford HP5 Plus (400, 35mm) |
| Developed | At the lab (Germany) |
Please, tell me I'm the only one seeing a demonic face in this image. 😅