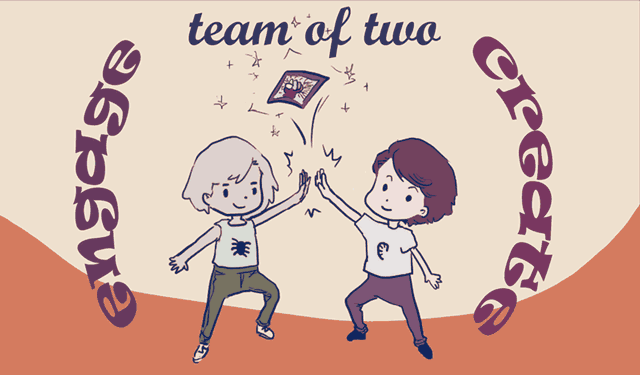 A COLLABORATIVE ENGAGEMENT CONTEST
Idea is to promote and reward authors reaching out to other authors on Steemit in the spirit of driving engagement within the blockchain. To be interested in what others are doing is the most basic step of engagement. And who doesn't want others to be interested in what they are doing? In this spirit, both authors are benefiting by connecting and finding another and forming a team!
Team of Two – The foundation of partnership!

Find someone on Steemit whose work have always been of interest to you and create something together :D
In the spirit of this contest, @veryspider and @scrawly have teamed up to provide pooled resources to encourage other creators on Steemit to also find their (dance) partner!
The contest is about Art and Engagement!
Both of the authors must contribute into creating a work of art together.
These are examples of accepted contributions, but there may be more variations, don't hesitate to ask in the comments if what you are doing will be accepted :)
Partner A sketches, Partner B colours
Partner A creates art, Partner B creates accompanying story (maximum 1000 words, pls)
Partner A writes script, Partner B draws a comic strip
Partner A and B work together on creating an artwork
Photography works are accepted as long as they are yours. But the post must have a picture, be it drawing or photography :D
PRIZES
• 1st Place: 5 STEEMs each for Partner A and B (10 STEEMs)
• 2nd Place: 3 STEEMs each for Partner A and B (6 STEEMs)
• 3rd Place: 1 STEEM each for Partner A and B (2 STEEMs)
Total Prize Pool: 18 STEEMs
Winners may also be featured in Champions' compilation post which will be published on @veryspider's blog.
THEME
For our first rodeo, we thought we should pick something exciting that most authors would be able to participate in, so the theme of our first Team of Two contest is: ……POWERS!!!
It can be superpowers like the heroes of Marvel and DC universes, but it can be powers of the High Elves of the high fantasy Tolkien universe. Basically, anything with extraordinary abilities, be it the power to defeat any enemies with a SINGLE PUNCH or the powers of warging into a beast form despite that you are a cripple, or even the powers to transform and change your clothes into different outfits! Anything goes :D
Find a partner and create a post that features the topic of POWERS (with a picture in it), and you will be eligible to enter this contest!
RULES
Upvote and Resteem this post
Only one entry per team
If entering, reply in the comment with your partnership's members (both members must be on Steemit)
Art / Photo must be new and has been created for this contest – and it must be safe for work
Entries may be nominated on one author's blog, and posted as a comment to this post
Entries should have a clear explanation of which author does which part. Progress shots are highly recommended <3
Use #teamoftwo as tag in your entry post
Deadline is two weeks from the time this post is dropped (since it will be a collaborative effort, we thought giving participants two weeks would suit the theme)
Because of the length of the contest, there will be a second contest announcement post to make sure those that are entering in the second week may still resteem and participate. The schedule is, as follows:
This post (today) - @veryspider
Second announcement (a week from now) - @scrawly
Contest is closed (two weeks from now)
Winners' announcement (approximately three weeks from now) - @veryspider
Winners are decided by how good the collaboration is, by presentation of the artworks, by success in expression but also by judges' preferences.
CLOSING
Any questions, don't be shy and ask in the comments :D
To illustrate a joint effort, here is @veryspider and @scrawly 's collaborative effort!
@veryspider made the sketch - link:
https://steemit.com/drawing/@veryspider/witch-and-skull
@scrawly coloured it :D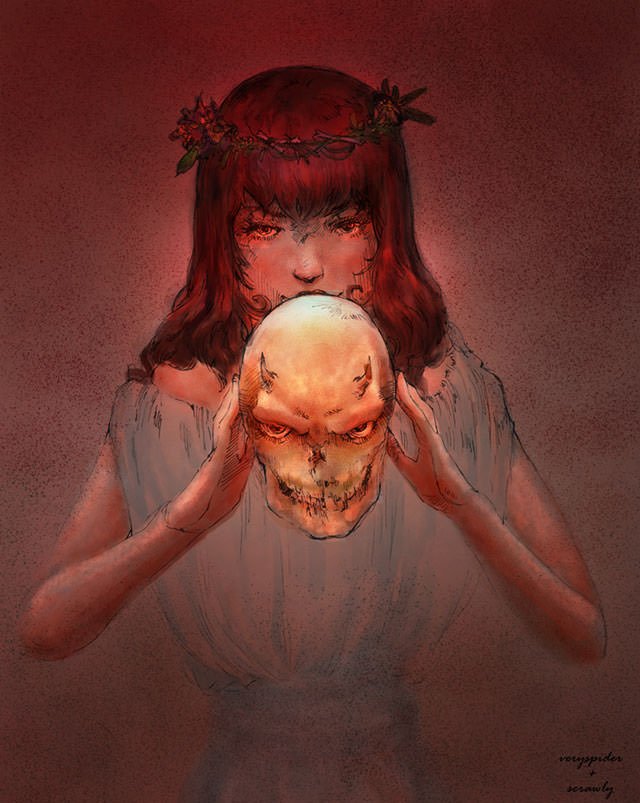 see post by clicking here
THE MESOPOTAMIANS - LEVEL UP PROJECT
This contest is borne out of the project managed and initiated by @tcpolymath, The Mesopotamians. Those of you who are active and engaged with Steemit as a blogging platform, and wish to grow your account and do your bits to help the platform succeed, you can read more about it here and here.
Basically, @tcpolymath is using his own funds to provide free upvotes to select users that he has identified to be consistent quality bloggers whose primary intentions are to give back into the platform through retention of valuable content generators and growth of said accounts. He is always on the look out for quality authors, so if you're keen to grow your Steemit, give @themesopotamians your support and reach out to @tcpolymath :)
@veryspider is at Level 2, trying to level up to 3, and @scrawly's at Level 1, working hard to level up to 2 :D
Any questions about The Mesopotamians, please don't hesitate to ask in the comments section :D
GOOD LUCK EVERYONE \o/

Contest's closing time (in a few of the world's timezones):
24-Sep-18 19:00:00 AUS Canberra
24-Sep-18 11:00:00 Central Euro (CET)
24-Sep-18 10:00:00 UK London
24-Sep-18 05:00:00 US Eastern
24-Sep-18 03:00:00 US Mountain
24-Sep-18 02:00:00 US Pacific


Timer Click HERE