Handcrafted, Soft AF T-Shirt Give Away Contest! - Veritees Apparel Co.

Hello Everyone! This is my first giveaway on Steemit! I have just relaunched Veritees with a website facelift and 5 new designs. It is a one-man operation (I do the web design, web development, apparel designs, apparel screen printing, packing, shipping, etc). So any support given is going to a real "small" business :D
Here is a little bit about the company:
Those who are mindful enough to look beyond the norm tend to also live a life of full of passion. Like us, this bleeds over into how we craft our product. We are not built on mass production but on carefully designing and hand-crafting. We pour our energy into creating an experience versus a product.
All apparel is limited edition, handcrafted in the U.S., soft AF and ready to snuggle your body while outwardly revealing a personal perspective.
Veritees Apparel Co.: https://veriteesapparel.com/
About the Giveaway: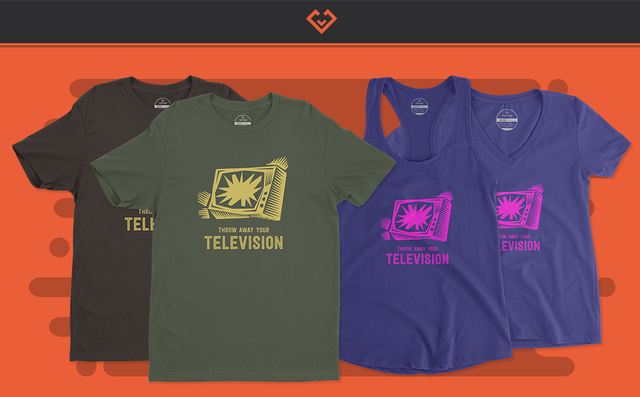 Up for grabs is one of our "Throw Away Your Television" Designed Apparel.
Winner can choose from a Mens/Unisex Military Green or Chocolate T-Shirt or a Women's Purple Rush V-Neck or Racerback Tank. Sizes S-2XL. Size charts can be found on respective product pages: https://veriteesapparel.com/products/?s=tv&post_type=product
How to Enter:
Must be in the USA or Canada to Enter
Upvote this post
Leave a Comment on this post ( hopefully about how awesome these designs are :D )
Resteem this post
Winner will be choose on Monday, July 2nd, 2018 @ 10PM EST by random number generator going in order of comments. Winner has 5 days to contact me to claim prize. Will ship prize, for free, on the next business day.
There must be at least 10 entries and a minimum of $10 in earnings through upvotes to qualify the contest as official and valid. Therefor it is vital that the community assist in resteeming.
Terms are subject to change, if needed, by O.P., to make the contest fair for everyone involved. They will be posted here with date/time of change (if any occur).
I appreciate any followers and any additional social media interactions. Even a FB like is an awesome action of support for this small business:
Thank you for your attention and consideration. <3