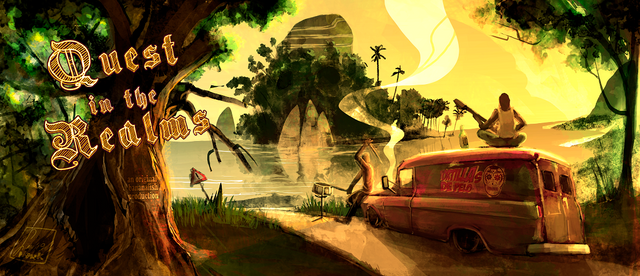 Look who's there, a wandering adventurer looking for the Bananafish treasure! This episode is part of the interactive story/treasure hunt called "Quest In The Realms". If you landed on this page because you're trying to solve the mystery, don't hesitate and keep delving in the story. If you came here through random loitering, what are you waiting for!?

3
The sign on the lawn reads:
Bright Rollers Retirement Home
Noticing footprints leading through the grass, you spot a red shoe with a five inch heel stuck in the ground. You pick up the shoe and follow the footprints.
You spot a great horned owl sitting like a gargoyle on a corner. Swiveling its head, its bulging eyes stare at you like a piece of meat.
Not far off in the distance is a house. You think it resembles a creepy face. There are two stain glass window eyes on the third story depicting Virgin Marys. It's eyelashes are loose boards clacking against the windows in the light breeze. The second story has a stain glass window depicting two spiral staircases beside each other that look like a nose. The mouth is a mahogany door in the shape of an O.
Gravel crunches beneath your feet. With every step you take, there's a steady, eerie drum beat that sends a chill up your spine. You skip a step to see if the sound follows you.
It does.
You hear the lyrics, "...midnight's risky dollhouse," as you step onto the deck.
On the door, you see a silver satyr knocker. Two big ball sacks hang down between the legs. Intrigued, you touch it.
Clack-clack. Clack-clack. Clack-clack.
The music stops.
The door squeaks open into a reception area. At the desk sits the woman you were following. A smile crosses her face.
"Bad boy," her voice is charming and sensuous, "following me to my place of work. What am I to do?" Her tongue wets her lips.
You shove your pelvis forward, accentuating your tented pants.
"I have some naughty ideas of what you could do," you say, flashing her a smile and a wink. Leaning forward on the desk, you place the shoe on top.
A door buzzes.
"Come with me, Mendo," she instructs you as she passes through the doorway. It's dark and you're unable to see anything. The door clicks shut behind you.
A bright light suddenly comes on. You snap your eyes shut.
"Fuck! Warn me next time."
You hear giggling. The image that comes to mind is that of Machete's grandmother. Suddenly, you aren't as into her as you thought.
Blinking your eyes, your vision is restored. The first thing you see is musical equipment. Then you see a group of tattooed, leather-clad crones with different kinds of chastity devices, chains, and whips swinging from their hands.
Dungeon irons cover the floor, the ceiling, and the walls accompanied by spreader bars, hoods, and muzzles.
Getting a clear look at your admirer, you become completely flaccid. She holds a straitjacket in her hand and steps toward you.
"Welcome to our Metalhead Grannies Dungeon, young Mendo. You'll be treated rather ... badly."
You hear more giggling from the lascivious metalhead grannies.
Your eyes widen as terrifying images snake their way throughout your mind.
The grannies promise to release you when they're all dead.
Your adventure ends here.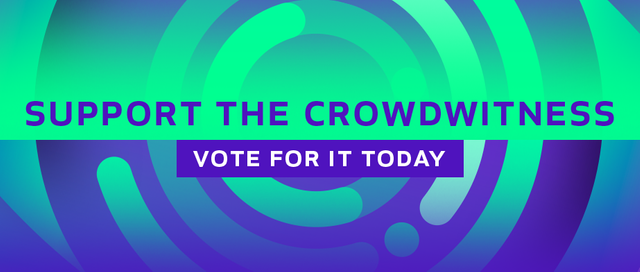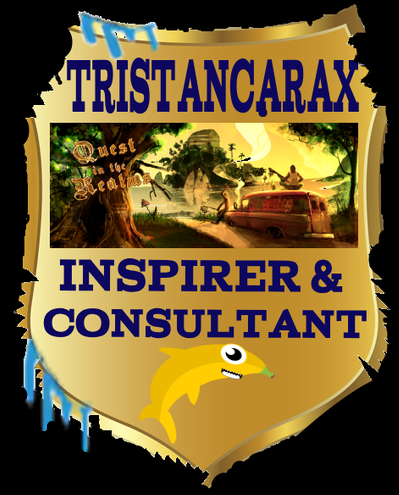 [created by @ brisby]
---
---
If you are enjoying my work, please -
===
Upvote my posts through steem auto and add the other people and groups you would like to support.

Support me and others through steembasicincome shares. (This also helps you because you will also get a share for sponsoring somebody.)

Click here --> Steemmonsters. This is an offical affiliate link. So, not only will you get awesome cards, but you will also be helping me out.
---
---
Tools:
---
---
Ongoing Contests