Round 2 was hilarious and there was quite a range of entries from praying to God, full bellies and even a mouth wash comment was in there - Loved the imagination and creativity that is in this amazing Steemit community. I can't thank everyone enough for entering and making me laugh whilst I sit on a boat in the Drake Passage on seas that are currently 5-6m|15-20ft in height.
---
ONE THING THOUGH ~ ELEPHANT SEALS DO NOT EAT PENGUINS!!!
It is one of my pet peeves, as I do get asked this question more often then I should when working in Antarctica. Their main food source is various squid & Octopi species that they hunt at deep depths, as well as, fish species.
---
However, only a few winners can be chosen and I do in fact run past various friends whom provide feedback on the chosen 3.
---
Here they are...*
1st Place ~ @andyfishman
"Bwahahahahahaha! Bwahahahahahaha!"
2nd Place ~ @ohkaaay
"Oh my God, that's the SEALiest thing I've ever heard!"
3rd Place ~ @dreamer007
"Lord give me strength before I smack these lazy buggers"
---
ROUND 3 OF ~ CAPTION THIS
The Rules are simple:
1.In the comments below write a caption about what you believe the animal or animals are thinking/saying.
2.Only 2 comments/entries per photo MAXIMUM
3.HAVE fun and be creative otherwise what is the point :)
Side note: upvoting & resteeming isn't a rule but is greatly appreciated. If this contest gets bigger and bigger than the winnings will in turn become bigger and bigger
---
PRIZE FOR THE WINNERS!!!
1st place - 8SBD
2nd place - 6SBD
3rd place - 4SBD
YOU WILL HAVE UNTIL TUESDAY MARCH 5, 2018 TO GET IN YOUR ENTRIES!
WINNERS WILL BE ANNOUNCED ON MARCH 6, 2018
---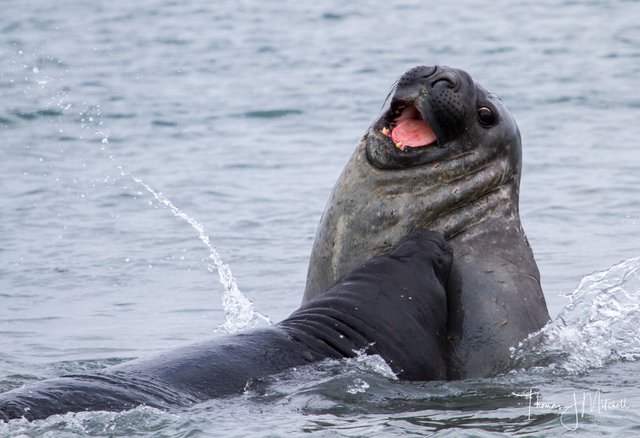 Yep, another one of southern elephant seals being funny and entertaining and just simply awesome.
CAPTION IT BELOW IN THE COMMENTS
GOOD LUCK
---
Thanks for reading and all the support, Steemit!!

Dont forget to Upvote & Resteem!!!

All stories & photographs are of my own work unless noted under the picture in question.

For more stories and photos check out my Instagram feed: https://www.instagram.com/thomas_mitchell2912/