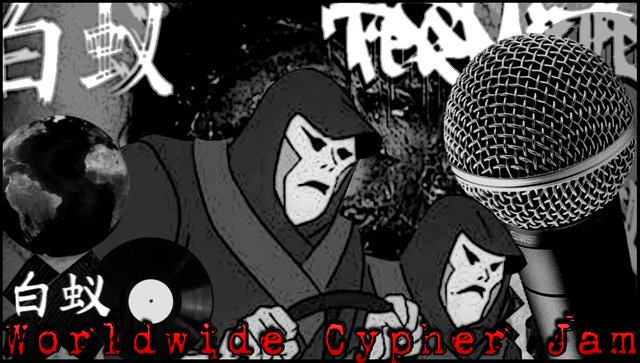 RRAAAAHH!!!!!! Worldwide Cypher Jam Crew!!!!!!
... Blessing the beat for Round 80 was ...
The Worldwide Cypher Jam is open for anybody on planet earth to participate!!!
SUPPORT THE JAMMERS!!! KEEP THE CRYPTO FLOWING!!!

I was playing 2 festivals this weekend. I managed to get just enough phone signal to see the entries come in but couldnt listen to em until right now. I was trippin balls in a welsh nowhere land thinkin on the cypher jam concept ... AND WE ARE A NEXT LEVEL MOVEMENT!!!!! 4REAL!!
Nuff respect to all involved and all who get the vibe!!!
YOU MAKE THIS!!!!!!! BIG UP!!!
... Here is the 'thing' from the Round 80 post.


So ... 1.266 SBD for this round is gonna get split between @djslurk and @scribblingwilly (0.64 each) as decided this week by Holly Flo Lightly . Massive shout out to her!!! We smashin the live scene this year!!! Im also gonna chuck the 0.45 STEEM at @onemedia cos I'm nice like dat!!! ... Buy yurself somfink niiice!! haha!! Nuff love!!!!!!!!!

Peace and Respect,
TERMITE. @termitemusic 白蚁.