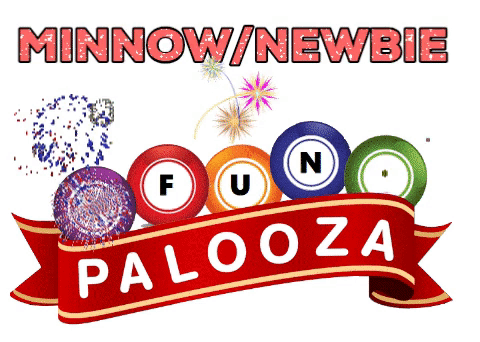 Minnow/Newbie Palooza

-More than 200 sbds worth of Cards, Packs, Dustsweepers, SBI Shares, and Upvotes Awarded.
-We had 123 Players in the Game
-We had 1650 Comments On Our 2 Posts
-We had the #1 Post (ranked by comments) and the #3 Post on the Continuation
-We had 30 Sponsors to the Game

Make Sure To Check Your Steem Monster Wallets, You Might Just Find A Surprise ;)

All prizes have been awarded. The winners of the SBI shares are: @tryskele @wizardave @tsnaks @cryptocopy @eoj @quekery @polysen.
And the winner of the best comment which won a free gold Steem Monster was @brisby

Thank you very very much to all our great sponsors of this truly one of a kind game!
@yabapmatt @abh12345 @steemcommunity @newbieresteemday @comedyopenmic @dustsweeper @nealmcspadden @mightypanda @malloryblythe @johndoer123 @culgin @sparkesy43 @sweetjoy @beeyou @bashadow @doomsdaychassis @headchange @clove71 @charisma777 @shoemanchu @littlescribe @heyimsnuffles @cryptkeeper17 @reazuliqbal @gillianpearce @palikari123 @oghie @everydaycoach @simplymike @davemccoy

Thank you to all our wonderful players as well!
@headchange @johndoer123 @aiyumi @rentmoney @palikari123 @cryptkeeper17 @thetimetravelerz @gillianpearce @profanereviews @holybranches @bashadow @tsnaks @gmatthe2 @muhammad007 @giddyupngo @pirateofthedtube @ayasha @crystalpacheco30 @diogosantos @ijmmai @almostpeter @everydaycoach @cryptocopy @wizardave @carrieallen @heyimsnuffles @sparkesy43 @thaishps @beany-inhinyero @beeyou @tryskele @sfturzo @rezoanulvibes @motordrive @nealmcspadden @curatorcat @cryptocurator @mitrado @gracefavour @viking-ventures @leeart @yati @trincowski @choco11oreo11 @buzzbee @enjar @andynesa @evans-adventures @mellofello @lynncoyle1 @doomsdaychassis @tamala @donna-metcalfe @wonderwop @brisby @reazuliqbal @marinaart @lastravage @caoimhin @delishtreats @bengy @andysantics48 @paramimd @reinaldoverdu @littleshadow @jorgeddln @ranatalha @kimbygrr @noobsin @cicisaja @eoj @quekery @nolem @robertperini @virtualself @onefatindian @trisquelwhare @karamyog @jadyclem @manup @nexit @wolfhart @poetrybyjeremy @gduran @snowy-june @coinsandchains @ange.nkuru @polysen @jan23com @foxfiction @aliabdullah1 @melinda010100 @joshmarkes @paulomurilo @chamudiliyanage @the01crow @steamdan @lavanyalakshman @mapleleaf123 @paradigm42 @buddyboyb @poyim @felixgarciap @apple96 @minimining @crypto-econom1st @antigourmet @onionking @r-k-m @maquemali @benadapt @veganadventurist @benzene @sweetcha @shoemanchu @ptcmyanmar @mashiliyanage @fw206 @chireerocks @rubelynmacion @trazar @allright @mysearchisover