Source of Image
What is Cotton Coin?
Cotton coin is a revolutionary cryptocurrency that was created to solve the problems of the cotton growing industry in third world countries. Its main objective is to help farmers market their products efficiently and quickly without intermediaries to the consumer.
This cryptocurrency was born in response to the high number of suicides among cotton farmers in the third world, mainly in India, who were unable to sell their crops at competitive prices in those of international markets and burdened by debt, without much hope. They lost their crops and lands. Taking as a consequence the decision to commit suicide.

Source of Image
Use of the Blockchain as a Solution
Cotton Coin seeks to solve the challenges that arise in the stock markets and with the different actors and involve them in the ecosystem. How to achieve it? It was the question that was posed. The blockchain technology was the answer to the business model that Cotton Coin was looking for.
With the blockchain Cotton Coin seeks to offer instant payments between pairs and an advanced traceability system between the producer and the buyer. It helps authenticate cotton sources, track delivery, identify and report problems and control cotton prices.
For producers in poor countries this cryptocurrency will solve many problems that are presented today: late payment, corruption, product commercialization, lack of trust between the actors in the distribution chain and emerging markets.
Thanks to Cotton Coin the biggest problem to solve will be to provide producers with the necessary tools to make them successful and avoid the despair and bankruptcy that has caused in India as in other countries, the suicide rate among cotton producers.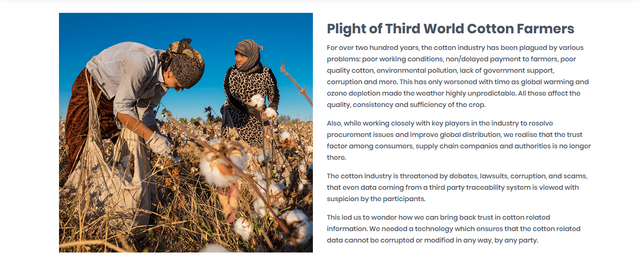 Source of Image
Launch of Cotton Coin (COTN)
20,000,000 COTN will be made available to users to assist in the distribution and acquisition of cotton in emerging markets. Two decentralized mobile applications will be created to facilitate processes among buyers and sellers that will make transactions faster, safer and more reliable.
Advantages of Decentralized Mobile Applications Cotton Coin
Traceability solution from back-end producers to buyers, managing a large flow of transactions and reaching 30 million customers worldwide with the help of our distributors and agents.
A front-end B2B dApp helps identify cotton sources, tracks delivery and controls cotton prices, while a B2C dApp helps consumers buy directly.
As the blockchain is a book of accounting records, all transactions are recorded and encrypted, giving reliability and security to all actors.
It can not be hacked or corrupted.
It is an alternative to the fiduciary currency for instant payment.
You are at your fingertips just to own a smartphone.
You can track your transactions from anywhere in the world.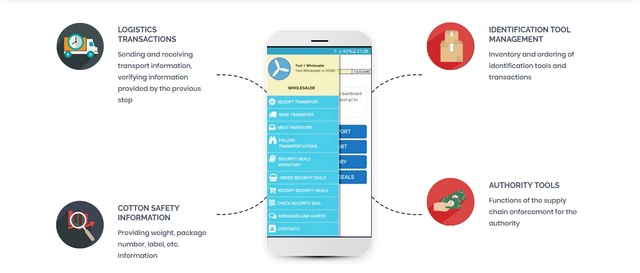 Source of Image
Final Considerations
Cotton Coin is an innovative project that seeks to effectively and efficiently solve problems in the cotton industry between small producers and large consumers. Creating a fairer way to market cotton and giving producers tools that allow them to have greater and direct access to markets, thus avoiding intermediaries that hinder the process generating delays in shipments and payments.
A serious example: that a producer who would like to sell his products would only have to access the cotton coin platform to see what prices the cotton market is for, the product information to place his sale and the buyer to pay for it. Once the transaction is made, the buyer would track the entire process until the product is obtained and the seller would obtain his payment. Without other actors becoming involved, increasing the costs of the process. Making the whole process fast, safe and efficient.
Thanks to the Cotton Coin project, cotton will be commercialized in a way that is more convenient for all stakeholders, allowing small farmers to obtain benefits in a safe manner without delays that allow them to be successful and productive. Saving hundreds of lives in the process by helping Third World farmers access international markets.
---
For more information
Some additional info about Cotton Coin: