Contest Kitchen 1
Hellooooo Pioneer Steemians!
CONTEST KITCHEN 1 IS NOW OPEN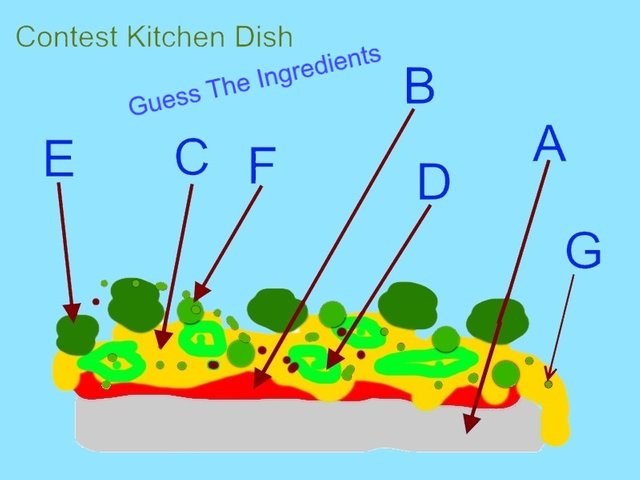 Steemit Pioneers and Kitchen Chefs! Plans changed a bit, we are splitting the original idea into two separate contest postings.
We begin our virtual Contest Kitchen series with a simple Recipe Contest 1, judged by fumbling-junior-chef @leeuw.
Here, Contest Judge @perlanacarada and Kitchen-Chef Judge @jennimorillo are our non-playing honourable observers at 1 STEEM remuneration each, payable from @leeuw's wallet. They are welcome to comment with their culinary insights at their pleasure (without revealing solutions of course hahaha).
To play, our worthy contestants (many of them Kitchen Chefs in their own right) will make one comment guessing the name of the simple dish and the names of 7 the ingredients A through G as per the image of the dish.
These are the ingredients that Junior Chef @leeuw uses for this dish - NOT the ingredients that a contestant would or would like to use!
for example:
dish name is xxxxxxxx
A = ....
B = ....
C = ....
etc
Winner #1 (3 STEEM), decided by Junior Chef @leeuw will be the first to comment the exact (or the most close) ingredients of @leeuw's recipe.
Junior Chef @leeuw will also announce 3 runners-up to win 1 STEEM
A much more sophisticated recipe contest (Contest Kitchen 2) next up is scheduled to be judged by Kitchen-Chef Judge @jennimorillo with @perlanacarada planned as Honourable Observer and as a tie-breaking Judge if needed.
CONTEST KITCHEN 1 IS NOW OPEN AND EXPIRES FRIDAY 5 OCTOBER 16:00 GMT/UTC
Good Luck to all! Can we smell the ingredients yet?