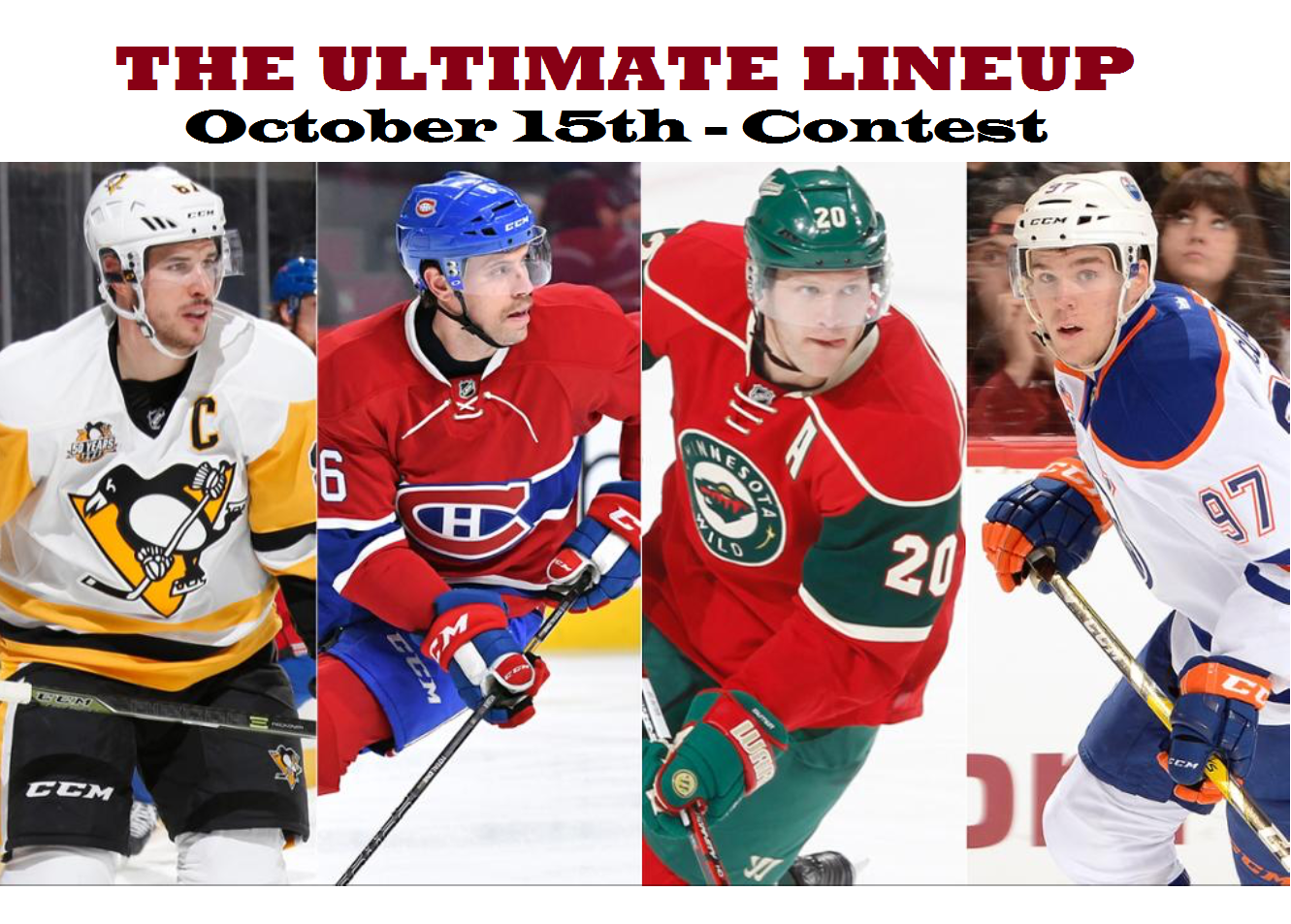 NHL - THE ULTIMATE LINEUP CONTEST!
Here's how it works
Contest Breakdown
Everyday there is at least 2 hockey games being played there will be a contest.
Rules for when the contest closes each day
The contest will close at the posted time always in EST time zone.
Prizes
1st Place - 100% of the daily SBD on post payout. There will be only one winner.
Winner
The winner is the person who has the highest scoring lineup of the night.
Tie Breaker
If there is more then one person with the same overall score then whoever placed there picks first wins.
Scoring

How to Play
Everday you will create your "Ultimate Lineup" by selecting one Left Winger, one Center, one Right Winger, two Defenceman and one Goalie from the lists below.

Example Lineup
LW - J. Voracek (PHI)
C - M. Scheifele (WPG)
RW - P. Maroon (EDM)
D - B. Burns (SJS)
D - M. Giordano (CGY)
G - Mike Smith (CGY)
Game List
Left Winger - Pick 1
Marchand (BOS)
Perron (VGK)
Girgensons (BUF)
Gogliano (ANA)
Lee (NYI)
Iafallo (LAK)
Center - Pick 1
Nash (BOS)
Eakin (VGK)
Eichel (BUF)
Getzlaf (ANA)
Tavares (NYI)
Kopitar (LAK)
Right Winger - Pick 1
Pastrnak (BOS)
Neal (VGK)
Pominville (BUF)
Perry (ANA)
Eberle (NYI)
Brown (LAK)
Defenceman - Pick 2
Chara (BOS)
Carlo (BOS)
Schmidt (VGK)
Sbisa (VGK)
Scandella (BUF)
Ristolainen (BUF)
Fowler (ANA)
Manson (ANA)
Leddy (NYI)
Boychuk (NYI)
Doughty (LAK)
Muzzin (LAK)
Goalie - Pick 1
Please note the CONFIRMED goalies are listed in GREEN and the UNCONFIRMED goalies are listed in RED. This list will be updated throughout the day as news comes out. Goalies in RED could change as the news breaks.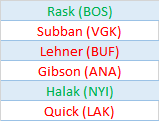 Rask (BOS)
Subban (VGK)
Lehner (BUF)
Gibson (ANA)
Halak (NYI)
Quick (LAK)
Good Luck Everyone
Here are some must play contest providers to check out.