I donated a couple of SBD to @ijmmai for the continuation of this contest.
Because of that conflict / involvement, this is a promotional entry only.
This is my image.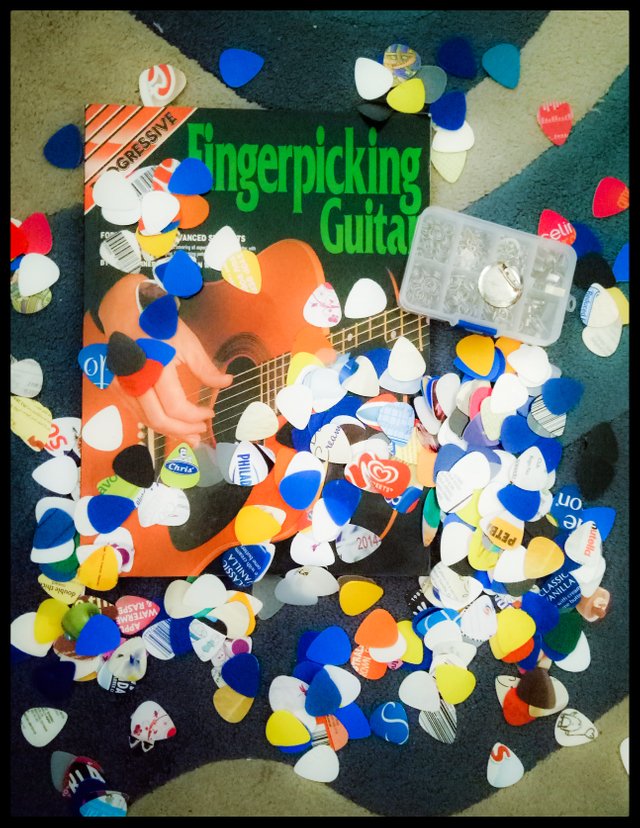 The idea of the contest is to utilise the objects to interpret, inspire and create your own image.
This week's image resonated with me.
These simple objects were a reminder of some of the personal pursuits I have adopted during recent difficulties, to distract and fill my time.
It also got me Steeming again after a bit of a break.
---
This is the original image from @ijmmai.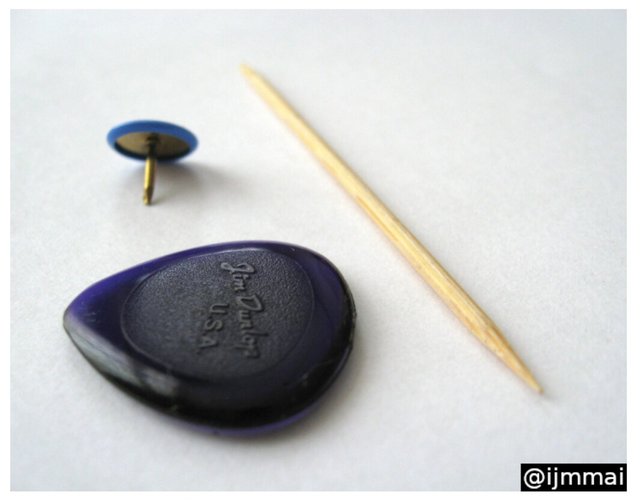 1. The guitar picks.
In my image I used the numerous picks I have hand punched from recyclable / upcycled plastic.
I can't throw out this kind of plastic anymore, I just see guitar plectrums.
PM me if you would like some, I like steemit snail mail.
2. Pin.
Along with the picks I have tried my hand at some jewellery, badges, pins etc.
The little box has some different pins and fastenings in it, with a crafting pin badge shell on top of it.
3. Tooth pick.
I took from this the pick element.
When my hands behaved I enjoyed picking style guitar playing.
This is something @cabelindsay reminded me of with his beautiful playing, and encouraged me to pick the guitar up again too with- The vision quest challenge.
@d-pends also prompted me to write about my humble guitar during his 100 days challenge too. Even if I did only make it half way through the challenge, and am an unreliable contributor to steemit, all of these things have helped me immensely.
---
This is the link to the contest.
https://steemit.com/steembasicincome/@ijmmai/contest-keep-the-link-6-f5b3dbffbd259est
I recently took a break and a trip in pursuit of treatment for my health. I have had some helpful advice from some informed doctors and continue to try, with a degree of renewed hope.
Much of my energy has been renewed by engagement on this platform. I will hopefully be back into this soon.
Thank you steemians for your kindness and support.