Doomsday 5 SBD GIVEAWAY CONTEST
Okay boys and girls. Its time for some free shit some come on in and get ya some sweet lovin.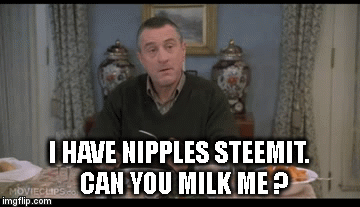 Here is the deal. I am almost at 1 mega vest. that Is kind of a big thing right. Probably not but I like to party. So here is the deal. Who ever guesses the time and date closest to when I get that magic number will get 5 SBD. These are your options.
You can take the money and run
I will do 5 shares of STEEM BASIC INCOME
I will send in 5 SBD in your name to @dustsweeper
We can drive down into the inner city and I will buy ya a Rusty Trombone from a lovely lady of the night like this.
Number 4 is a lie
Sounds easy right?
There is always a catch when making a deal with the devil.
Rules
You must full upvote this post. 100% . I will check.
Resteem this post
Post a day in date format mm/dd/yy . None of that format you folks that have not landed a man on the moon use.
Post the time down to the minute. Only exact times or the nearest guess after get the prize. You never want to come to early in my contests. If 2 people chose the same time the prize will be split. Not sure how you split a Rusty Trombone but we will work it out.
Collect your money
---
HERE IS WHERE I AM RIGHT NOW

HERE IS THE FIXED GOAL SINCE 1 MEGA VEST FLOATS AROUND A BIT.

This post will close out before I reach this goal so you will just have to trust that i am not a shady fuck.