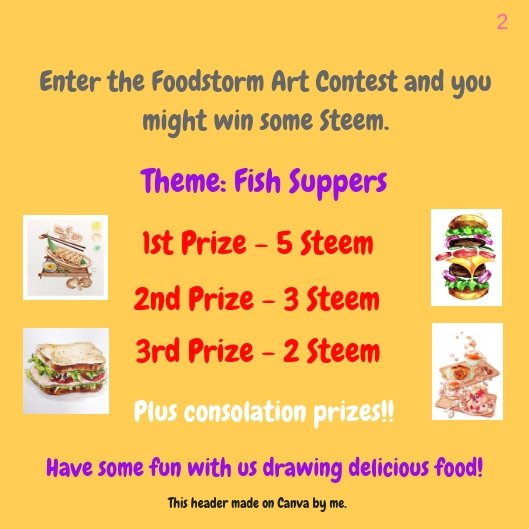 Hi Everyone!
Foodstormers love eating delicious food so draw some for this contest!
You could win a prize.
1st Prize - 5 Steem
2nd Prize - 3 Steem
3rd Prize - 2 Steem
Plus consolation prizes, as big as I can afford.

This week the theme is: 'Fish Suppers'

Draw your Fish Suppers however you want. Fish can be raw or cooked, snacks or banquets. Use your imagination and surprise me!
I will be looking for originality, cool design and creativity.
Both traditional art and digital art are welcome.
Your entry must be your own original work created for this contest and relating to the theme. No old art, please.
One entry per person please.
The contest closes on Friday 11th January.

This is what you need to do:
• Make a post for your entry with the title 'Foodstorm Contest #2'.
• Leave a link to your post and a picture of your entry in the comments below so that I know you are entering the contest.
• 100% Upvoting and resteeming this post helps me to afford more contests.
Sorry, photography is not accepted.
Here's a video to inspire you and make your mouth water:
Source
I hope you will enter!