THE BIGGEST CONTEST EVER! | WIN 1000SP DELEGATION BY YOUR MUSIC!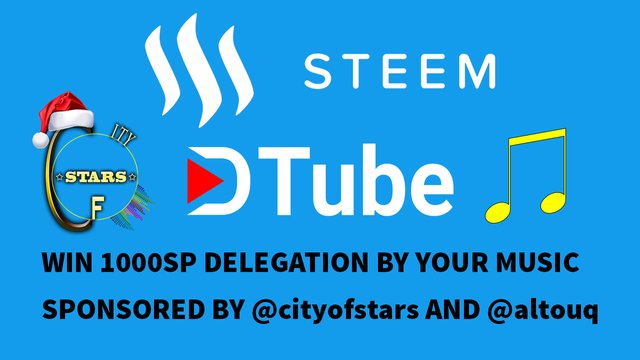 Hi Steemians and Dtubers and welcome to this big huge contest...
This contest will be about music...what ever kind of music (instrumental, openmic...etc ).
here it is, you will make any kind of music but it MUST be an original by you plus it's Must be as a Dtube video and as we said at the title the winner will get 1000SP Delegation for 1 month, it's a great chance or deal for new people who are they just joined Steem platform to start and any Steemian or a Dtuber to get this huge support and to get some motivation :)
How to participate ? :
Upvote this post.
Resteem this post.
That's it!
i'm saying it again it MUST be your original work and as a Dtube video.
the contest starts from today (20th of January) until ( 9th of February)
means from 1/20/2019 to 2/9/2019 after this date we will show the winner and all works of Steemians who are they participate in this contest.
of course i will show some updates of this work, i mean i will show the work of people who are they participate in this contest in those 20 days as new post and i would like to see your hard work to get succeed in this contest :)
this is a 20 days to make and post your original work as a Dtube video, i prefer to mention me @cityofstars to get my attention to your work and not forget you :) or you could send your work to me on Discord to get my attention.
Don't forget to tell your friends to participate too hehe :)
This is my Discord : cityofstars#8381
if you have any question feel free to contact me.
This contest sponsored by @cityofstars and @altouq
Take your time and have fun :)