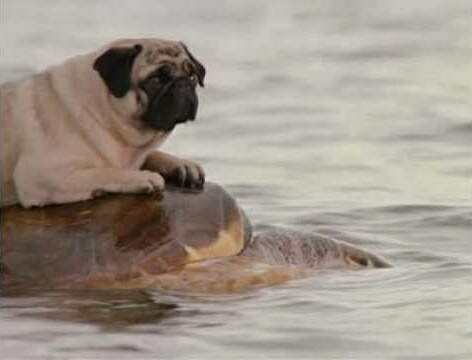 I love Milo and Otis. It's a great animal movie, with tons of fun and hilarious scenes. One of my favorite scenes is the sea turtle that comes to rescue Otis when he is stranded by the tide. His "Well...now you know, " line is epic (can't think off the right adjective rn 😛), and I find myself wanting to quote it pretty often.
Not everyone has watched the movie though, and even if they have watched it, they might not get the reference, so I need something else for all those times I'm chatting and want to use it...a GIF.
Entry Details
Create a GIF of the turtle with his "famous" line. It doesn't have to be exactly when he says it, as long as the turtle is in it. You can look up the scene on YouTube (search "Milo and Otis turtle"), or make the GIF from the movie (if you own it).
If your entry is very similar to someone else's, only the first entry will be considered for first place, though the other could get a runner up prize if it has a higher resolution/looks better.
Try to give the GIF the same feel as the movie. Punctuate or show the text in whatever way works best to do that.
Prizes:
My favorite entry will get a lvl 4 Spineback Turtle SteemMonster card. If I choose any runner ups, the runner ups will each get a lvl 2 Spineback Turtle.
Deadline:
Post Payout
Good luck!
Posted using Partiko Android