Friday Funny Contest
I used to run #FridayFunny on my Facebook and Twitter accounts with great success, but since I'm focusing less on those channels and onto Steemit now, let's see if we can revive this contest here.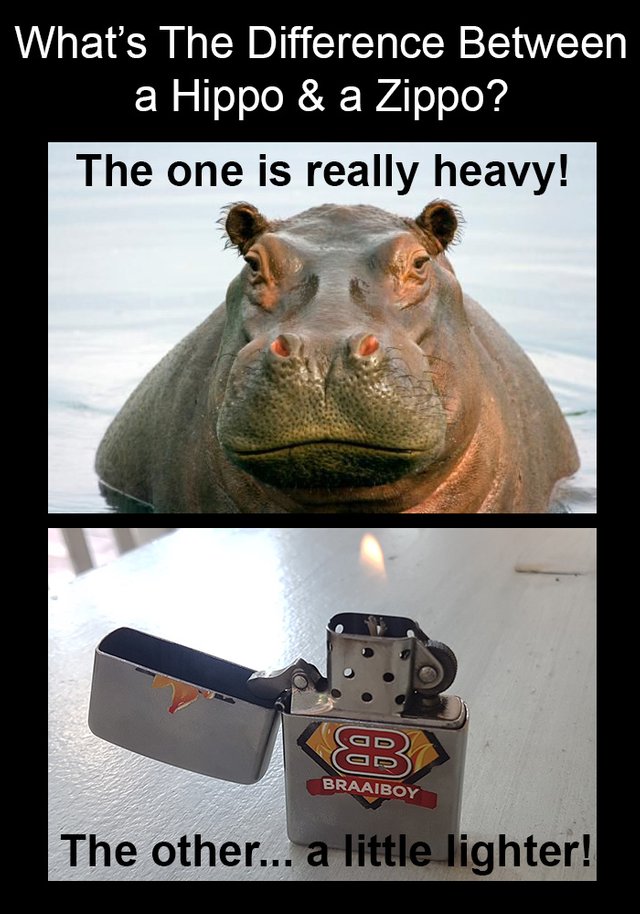 One of my favourites :p

How does it work?
UpVote this post
Resteem this post (optional)

but if you do, more people will enter and your prize will be larger.

I'll pick 3 random UpVoters as winners, and they'll receive 100% of the SBD received, a BraaiBoy Zippo, and a few other bonuses as well.
Share a "Dad Joke" in the comments below (optional)
a) Because it's fun to laugh!
b) If I haven't heard/seen it before, then I'll UpVote your comment... should nett you about $0.01 :p
c) We're filming a new series and 1 of the segments is "Dad Jokes"... and if I use yours, I'll give you a shoutout in the resulting video.
Prizes
Since I only have ~ 20 followers at the moment, and likely to only get 3 entries for this comp, I will put up a guaranteed minimum of 10 SBD (BIG WIN, I know... but hey, it's a start) for prizes.
1st Prize
A BraaiBoy Zippo as pictured in the meme/joke above. *** NB: See note below
50% of SBD received
5 UpVotes on posts of your choice (over 5 days)
2nd Prize
30% of SBD received
3 UpVotes on posts of your choice (over 3 days)
3rd Prize
20% of SBD received
2 UpVotes on posts of your choice (over 2 days)
*** Note:
I'm out of Stock on the BraaiBoy Zippos at the moment, ETA 2-3 Weeks.
If you aren't from South Africa, then you will be liable for the shipping cost of the lighter from South Africa.
Competition closes at midnight SA time (GMT +2) on 8 Feb
Prizes will be paid out within 2 days of receiving post payout.