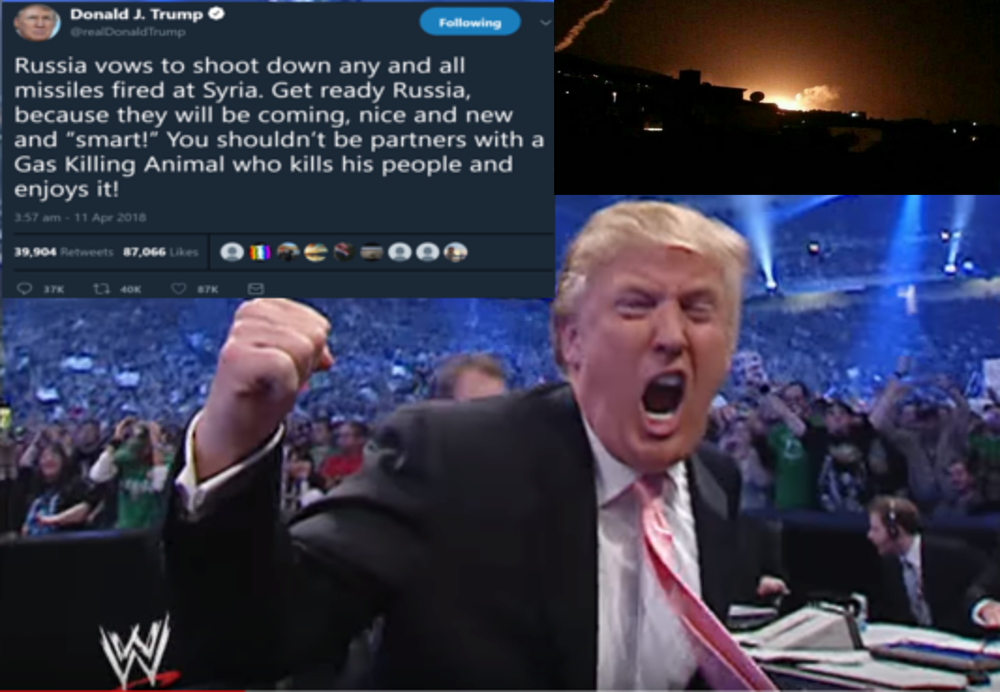 The day I saw Donald Trump's taunting tweet I realized the attack would likely be just pantomime, like WWF Wrestling which Trump is so familiar with.
There's puppeteers (Banks, Military contractors, Energy Companies) behind the scenes who write the script and decide who fights who, how and even the outcome.
The World is a Stage.
I wrote about it in a comment 3 days ago (+ great comment there also by @world-travel-pro ):
https://steemit.com/conspiracy/@lavater/chemical-attack-hoaxes-leading-to-real-war-and-a-few-words-about-agent-emma-aka-asma-al-assad#@lavater/re-lavater-chemical-attack-hoaxes-leading-to-real-war-and-a-few-words-about-agent-emma-aka-asma-al-assad-20180411t150730698z
Last night it became obvious the Syria Strikes were launched just to give another handout to the Military Industrial Complex without dragging the US or Russia into an hot war, not yet anyway.
The US used over 100 Tomahawks cruise missiles.
Tomahawks cost at least $1.5 million each.
France and the UK used dozens of Storm Shadows which cost 1 million dollar each.
The attack, considering all logistics, easily cost 500 million to Western taxpayers.
That's for only 1 hour of strikes.
And they've spent already billions fighting the ISIS scam they created.
And imagine how much a war with Russia would cost.....
On the other side of the charade:
to fend off the attack the Syrian Army used most of their anti-air missiles. 71 cruise missiles were supposedly intercepted.
Now Syria will need to buy more anti-air from Russia.
S-400 batteries cost 400 million for 112 missiles.
So also Russia's Military contractors are to greatly benefit from these strikes.
It's very likely that the attack was discussed and targets were agreed with Russia. Mattis said the Russians were not given prior warning, however France stated the contrary.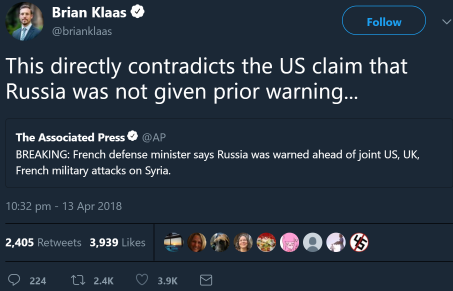 The attack - thankfully - resulted in no casualties and no significant damage apart from an empty Research centre on the outskirts of Damascus, probably chosen to give the Media some rubble to film and report about.
The US are saying it was chosen as target because they believed it was a "chemical weapons centre" which for obvious reasons it is a lie.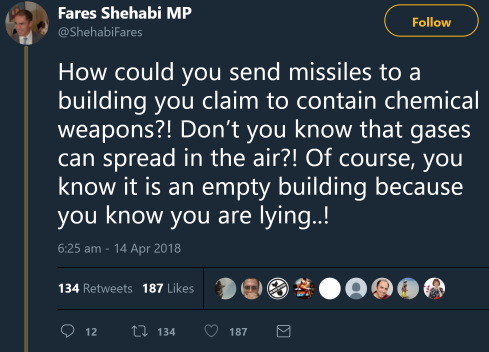 Moreover reports on the ground are saying that the few army bases that were targeted had been evacuated by the Syrian Army days before the strikes, and that's why there were no casualties. Another indication that it was all a phony fake show.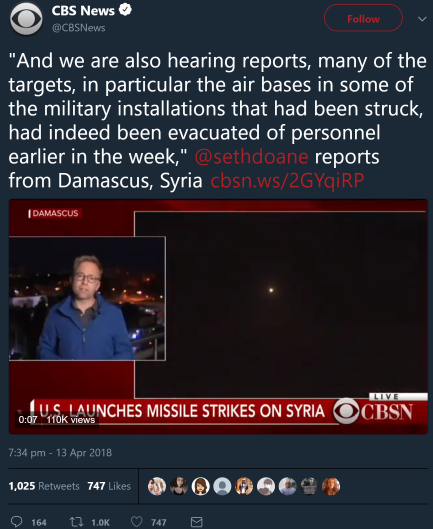 There was some sort of victims in this attack actually... and it was Western Taxpayers! And they're starting to realize it: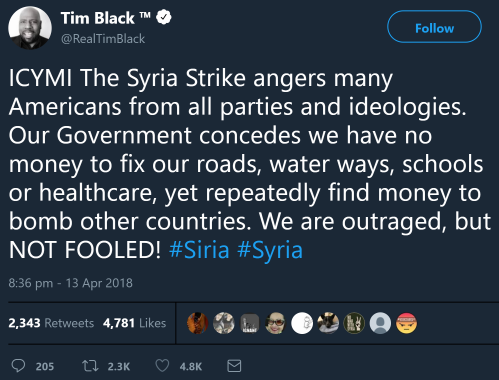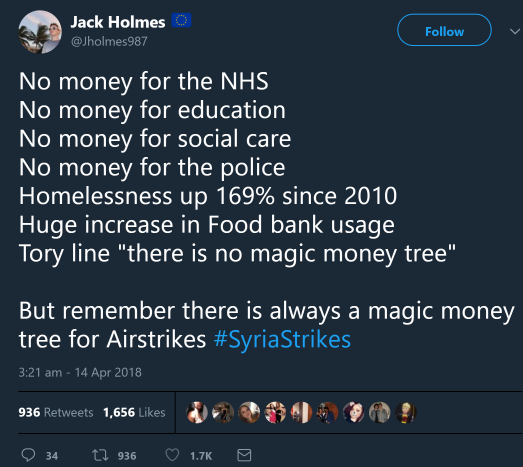 On one hand we should be extremely happy that noone died in the attacks and that we avoided a WW3 escalation, but on the other we can't ignore the scam being played on all of us.
I don't know if eventually all this artificially created grudge match between the West and Russia will lead to a WW3, but in the meanwhile both Western and Russian military contractors are making a killing at our expense.
And they're already coming for our cryptocurrencies with their bullshit regulations to pay for the next bombs...