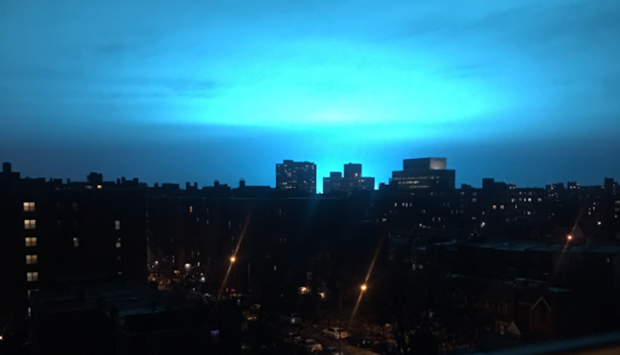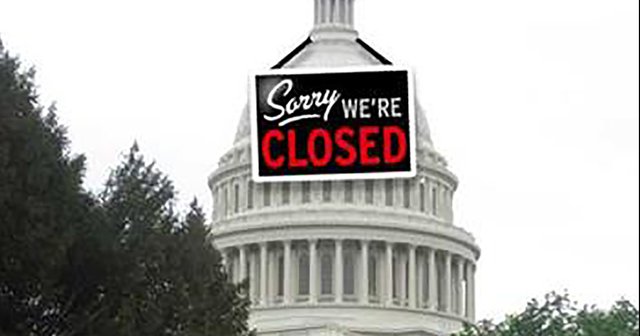 Compiled by Lisa Phillips of OpDeepState.com
December 24, 2018
What Are They Getting Ready For?!?! As of midnight on the evening of Sat. December 22nd, 2018, a partial government shutdown was announced after "funding expired." This is the third government shutdown of 2018. According to mainstream reports, negotiations between congressional Democrats and the Trump administration over the President's demands for a border wall have so far not yielded an agreement — making it likely that the "shutdown" will continue for a few more days, if not up to a week.
However, is it a surprise or a coincidence how this partial government shutdown coincides with the weekend, "holiday season," AND also follows barely two weeks after the Department of Homeland Security (DHS) released their report on preparing the nation for catastrophic power outages?
These reports from the President's National Infrastructure Advisory Council (NIAC) concern a nationwide power outage that could last up to six months. In the actual report, "tens of millions" refers up to 75 million people, or nearly a quarter of the U.S. population.
Here's how the NIAC defines a "catastrophic power outage": - Events beyond modern experience that exhaust or exceed mutual aid capabilities - Likely to be no-notice or limited-notice events that could be complicated by a cyber-physical attack - Long duration, lasting several weeks to months due to physical infrastructure damage - Affects a broad geographic area, covering multiple states or regions and affecting tens of millions of people - Causes severe cascading impacts that force critical sectors—drinking water and wastewater systems, communications, transportation, healthcare, and financial services—to operate in a degraded state And let's not forget about the Federal Emergency Management Agency (FEMA) and their most recent 2018-2022 Strategic Plan's 3 strategic goals: 1. Build a Culture of Preparedness 2. Ready the Nation for Catastrophic Disasters 3. Reduce the Complexity of FEMA Along with the Continuity of Government Readiness Conditions (COGCON) — A system that establishes executive branch readiness levels based on possible threats to the National Capital Region, and their 4 COGCON Levels (See White House Continuity Plan Linked Below!!) WHY all of this preparation, especially within the "continuity of government" and shadow governments?
WHAT are they REALLY preparing for, and WHAT are they conditioning the masses to accept? THE TRUTH REVEALED!!! ALWAYS BE PREPARED! PLEASE SEEK YAHUAH AND HIS TRUE SON YAHUSHA — SO THAT YOU WILL ALWAYS BE READY FOR WHAT'S TO COME!!!

What They're NOT Telling You About The Government Shutdown
https://www.bitchute.com/video/J9AUHVbEmEGv/
Published (mirrored) on December 24, 2018 courtesy of TruthUnveiled777
**
See also: Catastrophic Power Outage Study Quarterly Business Meeting September 13, 2018
FEMA - Be Prepared For Power Outages
DHS Says Americans Need to Start Prepping for up to six months without electricity!
LaGuardia Airport Power Restored After Con Ed Explosion

Insane NYC POWER OUTAGE AND BLUE SKY (2018)
Published (mirrored) on December 27, 2018 courtesy of Platano

DHS walks back utility cyber warnings as Southern CEO says no grid emergency
July 31, 2018
by Gavin Bade

Dive Brief:
Hackers targeting the U.S. electric system do not have the ability today to cause widespread power outages, a senior Department of Homeland Security official said Tuesday, tempering an announcement from the agency a week ago that said cyber criminals have the ability to "throw switches" on the grid and cause large power disruptions. ​
Cyberattacks on the grid are a constant, DHS Undersecretary Christopher Krebs told reporters on the sidelines of a security summit, but the only power asset that hackers have successfully accessed was a renewable energy generator that "would not disrupt the grid" if it were taken offline.
The cybersecurity threat to the grid does not constitute an "emergency" that demands federal intervention to save coal and nuclear plants from retirement, Southern Co. CEO Tom Fanning told reporters at the same conference. Krebs declined to say whether he considers the threat an emergency, as did Secretary of Energy Rick Perry, whose agency is crafting a bailout plan for coal and nuclear generators on the grounds of national security.
Dive Insight:
The U.S. electricity grid and other critical infrastructure assets face nearly continuous cyberattacks from both state-sponsored and independent adversaries. Last week, DHS announced during a public webinar that hackers have
infiltrated multiple utility control rooms
, gaining the ability to "throw switches" on the grid and cause blackouts.
Some cybersecurity experts, however, said the DHS statements may have overstated the threat. The agency said the cyberattacks have claimed "hundreds" of victims, more than the dozens it previously disclosed, but analysts said the hackers still do not have the ability to cause widespread outages.
"I think they're right," Krebs said Tuesday on the sidelines of the National Cybersecurity Summit, hosted by DHS in New York.
"In the initial webinar I think there was some context that was lacking," he told reporters. "The important thing to recognize is that was a very targeted threat at the electricity subsector. For the most part the system worked."
Hackers were able to access a "non-baseload generation facility," Krebs said.
"That is not a nuclear plant, that is not a coal plant, that is not a gas plant," he said. "That is a renewable source of energy that would not disrupt the grid."
Southern CEO Fanning echoed Krebs's comments about the webinar in a conversation with Utility Dive.
"I think [the hackers] got into one or two wind turbines," said Fanning, head of the Electricity Subsector Coordinating Committee, a cybersecurity liaison group between industry and the federal government. "It was very limited. They never got the ability to interface with the broad electric infrastructure."
Attackers may be able to cause localized outages, Fanning said, but "not anything broad."
DHS's new characterization of the cybersecurity threat comes as the subject takes on special importance as justification for the Trump administration's broader energy policy. In March, President Trump ordered the Department of Energy to create a plan to save coal and nuclear plants from retirement, saying threats to natural gas pipelines would constitute a grid emergency if the large generators were to go offline.
Fanning, however, disagreed, answering simply "no" when asked if the generator retirements constitute a grid emergency. More important than individual plants, he said, is protecting the internal software systems that operate them.
"Some of [Southern's] crown jewels from a cyber protection standpoint really deal with the nerve center of being able to deliver electricity, not necessarily fuel stock that generates electricity," Fanning said. "That would be our energy management systems."
The federal government should take a broad approach to cyberprotections, Fanning said, focusing not just on prevention, but also resilience — the ability to bounce back from disruptions.
"Resilience takes the form of fuel diversity, technology diversity, supply chain security, a whole host of different issues," he said.
The Federal Energy Regulatory Commission is currently considering changes to wholesale market rules to reward plants that demonstrate resilience capabilities. Fanning, whose utilities do not operate in the organized markets FERC regulates, declined to weigh in on that debate.
"How resilience is manifested in these markets is up to other people, not me," he said.
Fanning's perspective on threats to the power system aligns with findings from the nation's grid operators, FERC, federal reliability coordinators and many of his utility peers, like the CEO of Exelon, the largest nuclear generator in the country — all of whom say there is no grid emergency.
DOE, however, has declined to comment on its perception of the grid threat since February, when Assistant Secretary Bruce Walker told Utility Dive entities like FERC "may not have the visibility" to identify national security threats to the grid.
That silence continued at the cybersecurity summit, despite the presence of senior agency officials. Secretary of Energy Rick Perry did not mention coal and nuclear plants during an hour-long panel discussion on cybersecurity Tuesday morning, and both he and Undersecretary Mark Menezes declined to comment when reached by Utility Dive after the discussion.
DHS, despite walking back its cybersecurity warning, also declined to comment on whether the threat constitutes an emergency.
"That is a question that we need to take a closer look at," Krebs said.
Follow Gavin Bade on Twitter
Source: DHS walks back utility cyber warnings as Southern CEO says no grid emergency

However! What everyone is leaving out, is Israel's Kill Switch:
Bi BI'S Got A Kill Switch | No One Is Safe
No matter what Netanyahu and his crew do, they keep on keeping on. Why? How? Israel is a cyber technology juggernaut.
Bi BI'S Got A Kill Switch | No One Is Safe
Published (mirrored) on November 22, 2018 courtesy of Brendon O'Connell
**
See also: Journalist Accuses Israel of Fukushima Sabotage
ISRAEL – THE GREATEST SPY MACHINE OF ALL TIME #OperationTalpiot
Much more will be added to this report! Stay tuned to OpDeepState.com!